Abstract
The fluorescent probe-aminoderivative of benzanthrone, ABM (developed at Riga Technical University, Riga, Latvia) was used to characterize the membranes of lymphocytes of cancer patients: 46 patients with gastrointestinal diseases, 13 patients having different primary localizations with massive metastases and intoxication. Patients were divided into three groups: (1) with decreased fluorescence intensity, (2) normal fluorescence intensity, (3) increased fluorescence intensity. The lymphocytes distribution among subsets differed between groups, in correspondence to the level of florescence intensity. Surgical treatment affected the main immunological parameters and elevated the functional activity of lymphocytes. In the advanced tumors group, fluorescence intensity correlates with the survival rate. Results suggest that determination of lymphocytes functional activity by ABM can aid evaluation of the immune status in cancer patients.
Access options
Buy single article
Instant access to the full article PDF.
US$ 39.95
Tax calculation will be finalised during checkout.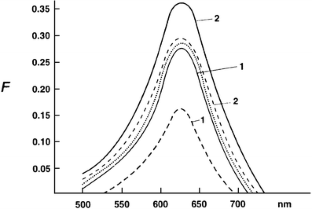 Abbreviations
ABM:

a derivative of 3-aminobenzanthrone (conditional name)

r :

correlation coefficient
References
1.

Inbar M (1976) Fluidity of membrane lipids: a single cell analysis of mouse normal lymphocytes and malignant lymphoma cells. FEBS Lett 67(2):180–185

2.

Kalofoutis A, Nicolaidou-Politis V, Bouloukuos A (1996) Significance of lymphocyte fatty acid changes in chronic renal failure. Nephron 73:704–706

3.

Skapenko A, Wendler J, Lipsky PE, Kalden JR, Schulzekoops H (1999) Altered emory T-cell differentiation in patients with early rheumatoid arthritis. J Immunol 49(4):298–304

4.

Robinson LE, Clandinin MT, Field CI (2001) R3230 AC Rat mammary tumor and dietary long-chain (n = 3) fatty acid change immune cell composition and function during mitogen activation. J Nutr 131:2001–2027

5.

Slavik J (1994) Fluorescent probes in cell biology. CRC Press, Boca Raton

6.

Lakowicz JR (1999) Principles of fluorescence spectroscopy, 2nd edn. Plenum, New York

7.

Kalnina I, Meirovics I (1999) A new fluorescent probe, ABM: properties and application in clinical diagnostics. J Fluoresc 9:27–32

8.

Kalnina I, Meirovics I, Rashkina E (1996) Some benzanthrone aminoderatives as potential fluorescent probes. Funct Mater 3(4):551–555

9.

Kalnina I, Meirovics I, Klimkane L, Bruvere R (1999) In: Greve J, Puppels GJ, Otto C (eds) Spectroscopy of biological molecules: new directions, eight European conference on spectroscopy of biological molecules. Kluwer, Dordrecht, pp 443–444

10.

Duncan DB (1970) Query multiple comparison methods for comparison methods for comparing regression coefficient. Biometrics 26:141–143

11.

Kalnina I, Metra M, Licitis I, Meirovics I (1999) In: Kotyk A (ed) Fluorescent microscopy and fluorescent probes. Espero Publishing, Prague, pp 295–300

12.

Kalnina I, Zvagule T, Bruvere R, Meirovics I (2005) Fluorescent characteristics of rheumatoid arthritis patients blood lymphocytes. J Fluoresc 15(2):105–110

13.

Bruvere R, Gabruseva N, Kalnina I, Feldmane G, Meirovics I (2003) Fluorescent characteristics of blood leukocytes of patients with malignant and nonmalignant diseases. J Fluoresc 13(2):149–156

14.

Kalnina I, Gabruseva N, Bruvere R, Zvagule T, Heislere O,Volrate A, Feldmane G, Meirovics I (2001) Phenotypical characteristics of leukocyte membranes in Chernobyl clean-up workers from Latvia: use of the fluorescent probe ABM. Proc Latv Acad Sci B Nat Sci 55(1):6–13
About this article
Cite this article
Kalnina, I., Klimkane, L., Kirilova, E. et al. Fluorescent Probe ABM for Screening Gastrointestinal Patient's Immune State. J Fluoresc 17, 619–625 (2007). https://doi.org/10.1007/s10895-007-0249-2
Received:

Accepted:

Published:

Issue Date:
Keywords
Fluorescent probe

Lymphocytes

Immune state