Abstract
In this study, a numerical analysis and an analysis of variance (ANOVA) are applied to find the best suitable neutronic parameters for the performance analysis in a thorium fusion rector. The numerical and ANOVA approach are employed to investigate the neutronic characteristics of a fusion reactor using ThO2 90% + FR spent fuel 10% fuel mixtures. Three different neutronic parameters for the ANOVA and numerical approach, namely, moderator/fuel volume fractions (Vm/Vf), plasma chamber dimensions (PCD) and neutron wall loading (NWLs) as time dependent are selected for neutronic performance characteristics including tritium breeding ratio (TBR), multiplication factor (M), total fission rate (Σf), 232Th(n,γ) reaction, burn up and/or transmutation (B/T) and fissile fuel breeding (FFBR). Moreover, effects of the NWLs, Vm/Vf fractions and PCD in the B/T of FR spent fuel mixed thorium are investigated. Numerical and statistics approach results are evaluated for TBR, M, Σf fission rate, 232Th(n,γ) reaction, B/T and FFBR.
Access options
Buy single article
Instant access to the full article PDF.
US$ 39.95
Tax calculation will be finalised during checkout.
Subscribe to journal
Immediate online access to all issues from 2019. Subscription will auto renew annually.
US$ 79
Tax calculation will be finalised during checkout.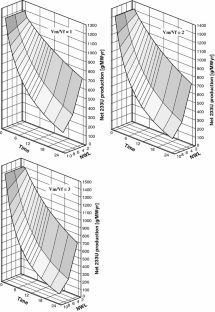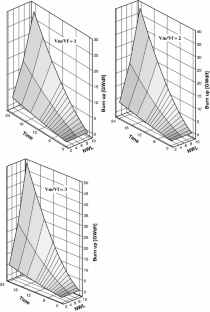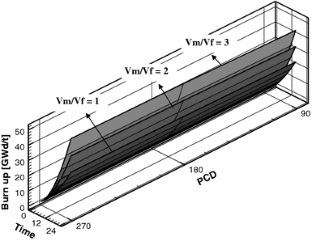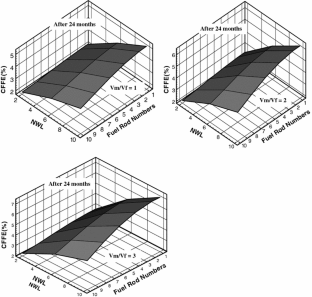 References
1.

R.W. Conn et al., Nucl. Technol. 49, 458 (1980)

2.

R.W. Moir, The fusion breeder, submitted to the National Science Foundation Policy Workshop, Washington, DC, March 4–5, 1982 (Lawrence Livermore Laboratory, CA, UCRL-87290, 1982)

3.

D.H. Berwald et al., Fission Suppressed Hybrid Reactor Fusion Breeder (Lawrence Livermore National Laboratory, UCID-19327, 1982)

4.

E. Greenspan, in Fusion-Fission Hybrid Reactors, ed. by J. Lewins, M. Becker. Advances in Science and Technology, vol. 16(Plenum Press, 1984), p. 289

5.

S. Şahin, T. Al-Kusayer, Kerntechnik 47, 259–266 (1985)

6.

S. Şahin et al., Fusion Technol. 10, 84–99 (1986)

7.

H.M. Şahin, Ann. Nucl. Energy 34, 861–870 (2007)

8.

S. Ünalan, Fusion Eng. Des. 38, 393 (1998)

9.

F.M. Feng, Fusion Eng. Des. 51–52, 505–513 (2000)

10.

K.M. Feng, G. Hu, Fusion Eng. Des. 41, 449–454 (1998)

11.

S. Şahin, H. Yapıcı, Ann. Nucl. Energy 25(16), 1317 (1998)

12.

S. Sahin et al., Kerntechnik 59(6), 243–277 (1994)

13.

M. Übeyli, A. Acır, Ş. Yalçın, Appl. Energy 85(9), 855–866 (2008)

14.

H. Yapıcı, Ann. Nucl. Energy 30, 413–436 (2003)

15.

S. Şahin et al., Fusion Eng. Des. 47, 9 (1999)

16.

S. Şahin, H. Yapıcı, Fusion Technol. 16, 331 (1989)

17.

S. Ünalan, Fusion Technol. 33, 398 (1998)

18.

S. Şahin, M. Übeyli, Ann. Nucl. Energy 31, 871–890 (2004)

19.

S. Şahin et al., Energy Convers. Manage. 43(6), 799–815 (2002)

20.

A. Acır, M. Übeyli, J. Fusion Energy 26(3), 293–298 (2007)

21.

Ismail, P.H. Liem et al., Prog. Nucl. Energy 50(2–6), 290–294 (2008)

22.

T. Ikegami, Prog. Nucl. Energy 50(2–6), 206–211 (2008)

23.

J. Yamashita et al., J. Nucl. Sci. Technol. 44(3), 257–263 (2007)

24.

J. Yamashita et al., Energy Convers. Manage. 47(17), 2801–2809 (2006)

25.

N.M. Greene, L.M. Petrie, XSDRNPM, A One-Dimensional Discrete-Ordinates Code for Transport Analysis, NUREG/CR-0200, Revision 7, vol. 2, Section F3, ORNL/NUREG/CSD-2/V2/R7 (Oak Ridge National Laboratory, 2004)

26.

W.C. Jordan, S.M. Bowman, Scale Cross-Section Libraries, NUREG/CR-0200, Revision 7, vol. 3, Section M4, ORNL/NUREG/CSD-2/V3/R7 (Oak Ridge National Laboratory, 2004)

27.

N.F. Landers, L.M. Petrie, D.F. Hollenbach, CSAS, Control Module for Enhanced Criticality Safety Analysis Sequences, NUREG/CR-0200, Revision 7, vol. 1, Section C4, ORNL/NUREG/CSD-2/V1/R7 (Oak Ridge National Laboratory, 2004)

28.

N.M. Greene, BONAMI, Resonance Self-Shielding by the Bondarenko Method, NUREG/CR-0200, Revision 7, vol. 2, Section F1, ORNL/NUREG/CSD-2/V2/R7 (Oak Ridge National Laboratory, 2004)

29.

N.M. Greene, L.M. Petrie, R.M. Westfall, NITAWL-III, Scale System Module For Performing Resonance Shielding and Working Library Production, NUREG/CR-0200, Revision 7, vol. 2, Section F2, ORNL/NUREG/CSD-2/V2/R7 (Oak Ridge National Laboratory, 2004)

30.

A. Acır, J. Fusion Energy 27, 301–307 (2008)

31.

S. Ünalan et al., Energy Convers. Manage. 44, 2567 (2003)

32.

K. Yıldız, J. Polytech. 7, 141–148 (2004) (in Turkish)

33.

S.O. Akansu, J. Chinese Inst. Eng. 30(1), 1–10 (2007)

34.

S. Şahin, H. Yapıcı, S. Ünalan, ERDEMLI, A Computer Program to Process ANISN Output Data (Gazi University, Ankara, Turkey, 1991)

35.

M.A. Abdou, the APEX Team, Fusion Eng. Des. 45, 145–167 (1999)

36.

M.Z. Youssef, C. Wong, Fusion Eng. Des. 49–50, 727–734 (2000)

37.

R.P. Ross, Taguchi Techniques for Quality Engineering—Loss Function, Orthogonal Experiments, Parameter and Tolerance Design, 1st edn. ISBN 0-07-053866-2 (1988)

38.

C.K. Toh, Mater. Des. 25, 41–50 (2004)

39.

Y. Tzeng, J. Mater. Process. Technol. 203, 355–364 (2008)

40.

V.N. Gaitonde et al., J. Mater. Process. Technol. 204, 459–464 (2008)
About this article
Cite this article
Acır, A. Numerical and Statistical Analysis of FR Spent Fuel Transmutation in a Thorium Fusion Breeder. J Fusion Energ 28, 258–267 (2009). https://doi.org/10.1007/s10894-008-9163-0
Received:

Accepted:

Published:

Issue Date:
Keywords
ANOVA statistical approach

FR spent fuel

Thorium

Optimization