Abstract
The polyphagous invasive brown marmorated stink bug, Halyomorpha halys, reportedly discriminates among phenological stages of host plants. To determine whether olfaction is involved in host plant stage discrimination, we selected (dwarf) sunflower, Helianthus annuus, as a model host plant species. When adult females of a still-air laboratory experiment were offered a choice of four potted sunflowers at distinct phenological stages (vegetative, pre-bloom, bloom, seeding), most females settled onto blooming plants but oviposited evenly on plants of all four stages. In moving-air two-choice olfactometer experiments, we then tested each plant stage versus filtered air and versus one another, for attraction of H. halys females. Blooming sunflowers performed best overall, but no one plant stage was most attractive in all experiments. Capturing and analyzing (by GC–MS) the headspace odorants of each plant stage revealed a marked increase of odorant abundance (e.g., monoterpenes) as plants transitioned from pre-bloom to bloom. Analyzing the headspace odorant blend of blooming sunflower by gas chromatographic-electroantennographic detection (GC-EAD) revealed 13 odorants that consistently elicited responses from female H. halys antennae. An 11-component synthetic blend of these odorants attracted H. halys females in laboratory olfactometer experiments. Furthermore, in field settings, the synthetic blend enhanced the attractiveness of synthetic H. halys pheromone as a trap lure, particularly in spring (April to mid-June). A simpler yet fully effective sunflower semiochemical blend could be developed and coupled with synthetic H. halys aggregation pheromones to improve monitoring efforts or could improve the efficacy of modified attract-and-kill control tactics for H. halys.
Access options
Buy single article
Instant access to the full article PDF.
US$ 39.95
Tax calculation will be finalised during checkout.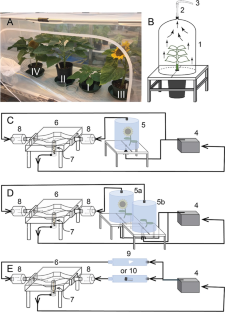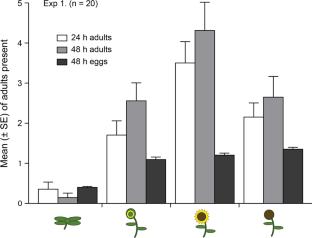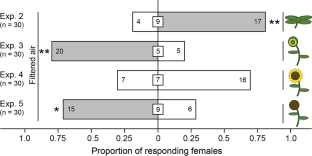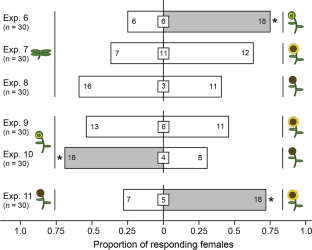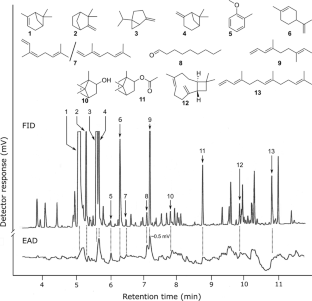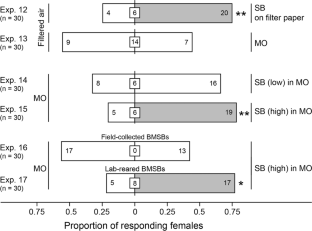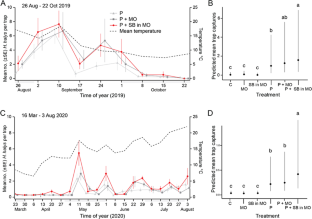 References
Arn H, Städler E, Rauscher S (1975) The electroantennographic detector—a selective and sensitive tool in the gas chromatographic analysis of insect pheromones. Z Naturforsch 30c:722–725

Arthur AP, Bauer D (1981) Evidence of the northerly dispersal of the sunflower moth by warm winds. Environ Entomol 10:528–533. https://doi.org/10.1093/ee/10.4.528

Bergmann EJ, Venugopal PD, Martinson HM, Raupp MJ, Shrewsbury PM (2016) Host plant use by the invasive Halyomorpha halys (Stal) on woody ornamental trees and shrubs. PLoS ONE 11:e0149975. https://doi.org/10.1371/journal.pone.0149975

Bjostad LB, Hibbard BE (1992) 6-Methoxy-2-benzoxazolinone: a semiochemical for host location by western corn rootworm larvae. J Chem Ecol 18:931–944. https://doi.org/10.1007/BF00980054

Blaauw BR, Morrison WR III, Mathews C, Leskey TC, Nielsen AL (2017) Measuring host plant selection and retention of Halyomorpha halys by a trap crop. Entomol Exp Appl 163:197–208. https://doi.org/10.1111/eea.12571

Blaauw BR, Hamilton G, Rodriguez-Saona C, Nielsen AL (2019) Plant stimuli and their impact on brown marmorated stink bug dispersal and host selection. Front Ecol Evol 7:414. https://doi.org/10.3389/fevo.2019.00414

Blake AJ, Go MC, Hahn GS, Grey H, Couture S, Gries G (2019) Polarization of foliar reflectance: novel host plant cue for insect herbivores. Proc Royal Soc B 286:20192198. https://doi.org/10.1098/rspb.2019.2198

Blake AJ, Couture S, Go MC, Gries G (2020) Approach trajectory and solar position affect host plant attractiveness to the small white butterfly. bioRxiv. https://doi.org/10.1101/2020.10.04.325639

Blight M, Pickett J, Wadhams L, Woodcock C (1995) Antennal perception of oilseed rape, Brassica napus (Brassicaceae), volatiles by the cabbage seed weevil Ceutorhynchus assimilis (Coleoptera, Curculionidae). J Chem Ecol 21:1649–1664. https://doi.org/10.1007/BF02033667

Boppré M (1984) Redefining "pharmacophagy." J Chem Ecol 10:1151–1154

Bruce TJ, Wadhams LJ, Woodcock CM (2005) Insect host location: a volatile situation. Trends Plant Sci 10:269–274. https://doi.org/10.1016/j.tplants.2005.04.003

Campbell SA, Borden JH (2009) Additive and synergistic integration of multimodal cues of both hosts and non-hosts during host selection by woodboring insects. Oikos 118:553–563. https://doi.org/10.1111/j.1600-0706.2009.16761.x

Deglow EK, Borden JH (1998) Green leaf volatiles disrupt and enhance response to aggregation pheromones by the ambrosia beetle, Gnathotrichus sulcatus (Coleoptera: Scolytidae). Can J for Res 28:1697–1705. https://doi.org/10.1139/x98-143

Epsky ND, Heath RR (1998) Exploiting the interactions of chemical and visual cues in behavioral control measures for pest tephritid fruit flies. Fla Entomol 81:273–282. https://doi.org/10.2307/3495918

Finch S, Collier R (2000) Host-plant selection by insects – a theory based on 'appropriate/inappropriate landings' by pest insects of cruciferous plants. Entomol Exp Appl 96:91–102. https://doi.org/10.1046/j.1570-7458.2000.00684.x

Forister ML (2004) Oviposition preference and larval performance within a diverging lineage of lycaenid butterflies. Ecol Entomol 29:264–272. https://doi.org/10.1111/j.0307-6946.2004.00596.x

Foster S, Harris M (1997) Behavioral manipulation methods for insect pest-management. Annu Rev Entomol 42:123–146. https://doi.org/10.1146/annurev.ento.42.1.123

Fox J, Weisberg S, Adler D, Bates D, Baud-Bovy G, Ellison S, Firth D, Friendly M, Gorjanc G, Graves S, Heiberger R, Graves S (2012) Package 'car' Vienna: R Foundation for Statistical Computing. https://CRAN.R-project.org/package=car. Accessed 15 Sept 2020

García-Robledo C, Horvitz CC (2012) Parent–offspring conflicts, "optimal bad motherhood" and the "mother knows best" principles in insect herbivores colonizing novel host plants. Ecol Evol 2:1446–1457. https://doi.org/10.1002/ece3.267

Geiselhardt S, Otte T, Hilker M (2012) Looking for a similar partner: host plants shape mating preferences of herbivorous insects by altering their contact pheromones. Ecol Lett 15:971–977. https://doi.org/10.1111/j.1461-0248.2012.01816.x

Graves S, Piepho H, Selzer L, Dorai-Raj S (2015) MultcompView: Visualizations of Paired Comparisons. R package version:01-05. https://cran.stat.unipd.it/web/packages/multcompView/multcompView.pd. Accessed on 15 Sept 2020

Gries G, Gries R, Perez AL, Gonzales LM, Pierce HD, Oehlschlager AC, Rhainds M, Zebeyou M, Kouame B (1994) Ethyl propionate: synergistic kairomone for African palm weevil, Rhynchophorus phoenicis L. (Coleoptera: Curculionidae). J Chem Ecol 20:889–897. https://doi.org/10.1007/BF02059585

Gries R, Khaskin G, Gries G, Bennett RG, King GGS, Morewood P, Slessor KN, Morewood WD (2002) (Z, Z)-4,7-Tridecadien-(S)-2-yl acetate: sex pheromone of Douglas-fir cone gall midge, Contarinia oregonensis. J Chem Ecol 28:469–478

Hallett RH (2007) Host plant susceptibility to the swede midge (Diptera: Cecidomyiidae). J Econ Entomol 100:1335–1343. https://doi.org/10.1093/jee/100.4.1335

Honda K, Matsumoto J, Sasaki K, Tsuruta Y, Honda Y (2018) Uptake of plant-derived specific alkaloids allows males of a butterfly to copulate. Sci Rep 8:5516. https://doi.org/10.1038/s41598-018-23917-y

Hothorn T, Bretz F, Westfall P, Heiberger RM, Schuetzenmeister A, Scheibe S (2013) Multcomp: simultaneous inference in general parametric models. R package version 1.2-18. Foundation for Statistical Computing, Vienna. http://multcomp.R-forge.R-project.org. Accessed 15 Sept 2020

House H (1961) Insect nutrition. Annu Rev Entomol 6:13–26. https://doi.org/10.1146/annurev.bi.31.070162.003253

Jaenike J (1978) On optimal oviposition behavior in phytophagous insects. Theor Popul Biol 14:350–356. https://doi.org/10.1016/0040-5809(78)90012-6

Jones WA Jr, Sullivan M (1981) Overwintering habitats, spring emergence patterns, and winter mortality of some South Carolina Hemiptera. Environ Entomol 10:409–414. https://doi.org/10.1016/S0003-3472(74)80047-3

Jönsson M, Lindkvist A, Anderson P (2005) Behavioural responses in three ichneumonid pollen beetle parasitoids to volatiles emitted from different phenological stages of oilseed rape. Entomol Exp Appl 115:363–369. https://doi.org/10.1111/j.1570-7458.2005.00271.x

Kerkut GA, Gilbert LI (1985) Comprehensive insect physiology, biochemistry, and pharmacology. Pergamon Press, Oxford

Khrimian A, Zhang A, Weber DC, Ho HY, Aldrich JR, Vermillion KE, Siegler MA, Shirali S, Guzman F, Leskey TC (2014) Discovery of the aggregation pheromone of the brown marmorated stink bug (Halyomorpha halys) through the creation of stereoisomeric libraries of 1-bisabolen-3-ols. J Nat Prod 77:1708–1717. https://doi.org/10.1021/np5003753

Kirkpatrick DM, Acebes-Doria AL, Rice KB, Short BD, Adams CG, Gut LJ, Leskey TC (2019) Estimating monitoring trap plume reach and trapping area for nymphal and adult Halyomorpha halys (Hemiptera: Pentatomidae) in crop and non-crop habitats. Environ Entomol 48:1104–1112

Lee DH, Short BD, Joseph SV, Bergh JC, Leskey TC (2013) Review of the biology, ecology, and management of Halyomorpha halys (Hemiptera: Pentatomidae) in China, Japan, and the Republic of Korea. Environ Entomol 42:627–641. https://doi.org/10.1603/EN13006

Lenth R, Singmann H, Love J, Buerkner P, Herve M (2018) Emmeans: Estimated marginal means, aka least-squares means R package version 1:3. https://cran.r-project.org/web/packages/emmeans/emmeans.pdf. Accessed 15 Sept 2020

Leskey TC, Agnello A, Bergh JC, Dively GP, Hamilton GC, Jentsch P, Khrimian A, Krawczyk G, Kuhar TP, Lee DH, Morrison WR, Folk DF, Rodriguez-Saona C, Shearer PW, Short BD, Shrewsbury PM, Walgenbach JF, Weber DC, Welty C, Whalen J, Wiman N, Zman F (2015) Attraction of the invasive Halyomorpha halys (Hemiptera: Pentatomidae) to traps baited with semiochemical stimuli across the United States. Environ Entomol 44:746–756. https://doi.org/10.1093/ee/nvv049

Maurer B, Hauser A, Froidevaux J-C (1986) (E)-4,8-Dimethyl-1,3,7-nonatriene and (E, E)-4,8,12-trimethyl-1,3,7,11-tridecatetraene, two unusual hydrocarbons from cardamom oil. Tetrahedron Lett 27:2111–2112. https://doi.org/10.1016/S0040-4039(00)84461-5

McNeil JN, Delisle J (1989) Host plant pollen influences calling behavior and ovarian development of the sunflower moth, Homoeosoma electellum. Oecologia 80:201–205. https://doi.org/10.1007/BF00380151

McPherson JE, McPherson R (2000) Stink bugs of economic importance in America North of Mexico. CRC Press, Boca Raton

Menzel U, Menzel MU (2015) Package 'EMT'. https://cran.uib.no/web/packages/EMT/EMT.pdf. Accessed 15 Sept 2020

Morrison WR, William R, Lee DH, Reissig WH, Combs D, Leahy K, Tuttle A, Cooley D, Leskey T (2016a) Inclusion of specialist and generalist stimuli in attract-and-kill programs: their relative efficacy in apple maggot fly (Diptera: Tephritidae) pest management. Environ Entomol 45:974–982. https://doi.org/10.1093/ee/nvw043

Morrison WR, Lee D-H, Short BD, Khrimian A, Leskey TC (2016b) Establishing the behavioral basis for an attract-and-kill strategy to manage the invasive Halyomorpha halys in apple orchards. J Pest Sci 89:81–96. https://doi.org/10.1007/s10340-015-0679-6

Morrison WR, Allen M, Leskey TC (2018) Behavioural response of the invasive Halyomorpha halys (Hemiptera: Pentatomidae) to host plant stimuli augmented with semiochemicals in the field. Agric For Entomol 20:62–72. https://doi.org/10.1111/afe.12229

Mphosi MS, Foster SP (2010) Female preference and larval performance of sunflower moth, Homoeosoma electellum, on sunflower pre-breeding lines. Entomol Exp Appl 134:182–190. https://doi.org/10.1111/j.1570-7458.2009.00949.x

Mulatu B, Applebaum SW, Coll M (2004) A recently acquired host plant provides an oligophagous insect herbivore with enemy-free space. Oikos 107:231–238. https://doi.org/10.1111/j.0030-1299.2004.13157.x

Nielsen AL, Dively G, Pote JM, Zinati G, Mathews C (2016) Identifying a potential trap crop for a novel insect pest, Halyomorpha halys (Hemiptera: Pentatomidae), in organic farms. Environ Entomol 45:472–478. https://doi.org/10.1093/ee/nvw006

Prokopy R, Owens E (1978) Visual generalist with visual specialist phytophagous insects: host selection behaviour and application to management. Entomol Exp Appl 24:609–620. https://doi.org/10.1111/j.1570-7458.1978.tb02824.x

R Core Team (2020) R: a language and environment for statistical computing. R Foundation for Statistical Computing, Vienna. Available online: https://www.R-project.org/

Rojas JC, Wyatt TD (1999) Role of visual cues and interaction with host odour during the host-finding behaviour of the cabbage moth. Entomol Exp Appl 91:59–65. https://doi.org/10.1046/j.1570-7458.1999.00466.x

RStudio Team (2016) RStudio: integrated development environment for R. RStudio Inc., Boston. https://www.rstudio.com/

Schneiter A, Miller J (1981) Description of sunflower growth stages. Crop Sci 21:901–903. https://doi.org/10.2135/cropsci1981.0011183X002100060024x

Scriber J, Slansky F Jr (1981) The nutritional ecology of immature insects. Annu Rev Entomol 26:183–211. https://doi.org/10.1146/annurev.en.26.010181.001151

Sinclair BJ (2015) Linking energetics and overwintering in temperate insects. J Therm Biol 54:5–11. https://doi.org/10.1016/j.jtherbio.2014.07.007

Soergel DC, Ostiguy N, Fleischer SJ, Troyer RR, Rajotte EG, Krawczyk G (2015) Sunflower as a potential trap crop of Halyomorpha halys (Hemiptera: Pentatomidae) in pepper fields. Environ Entomol 44:1581–1589. https://doi.org/10.1093/ee/nvv136

Staddon B, Everton I (1980) Haemolymph of the milkweed bug Oncopeltus fasciatus (Heteroptera; Lygaeidae): inorganic constituents and amino acids. Comp Biochem Pysiol Part A Physiol 65:371–374. https://doi.org/10.1016/0300-9629(80)90046-8

Thompson JN (1988) Evolutionary ecology of the relationship between oviposition preference and performance of offspring in phytophagous insects. Entomol Exp Appl 47:3–14. https://doi.org/10.1111/j.1570-7458.1988.tb02275.x

Tillman P, Aldrich J, Khrimian A, Cottrell T (2010) Pheromone attraction and cross-attraction of Nezara, Acrosternum, and Euschistus spp. stink bugs (Heteroptera: Pentatomidae) in the field. Environ Entomol 39:610–617. https://doi.org/10.1603/EN09114

Todd JW (1989) Ecology and behavior of Nezara viridula. Annu Rev Entomol 34:273–292. https://doi.org/10.1146/annurev.en.34.010189.001421

Urbaneja-Bernat P, Tena A, González-Cabrera J, Rodriguez-Saona C (2020) Plant guttation provides nutrient-rich food for insects. Proc Royal Soc B 287:20201080. https://doi.org/10.1098/rspb.2020.1080

Valladares G, Lawton JH (1991) Host-plant selection in the holly leaf-miner: does mother know best?. J Anim Ecol 60(1):227

Van den Dool H, Kratz PD (1963) A generalization of the retention index system including linear temperature programmed gas-liquid partition chromatography. J Chromatogr A 11: 463–471. Retrieved from: https://worldveg.tind.io/record/1766/

Via S (1986) Genetic covariance between oviposition preference and larval performance in an insect herbivore. Evol 40:778–785. https://doi.org/10.1111/j.1558-5646.1986.tb00537.x

Webster B, Cardé RT (2017) Use of habitat odour by host-seeking insects. Biol Rev 92:1241–1249. https://doi.org/10.1111/brv.12281

Xu H, Turlings TC (2018) Plant volatiles as mate-finding cues for insects. Trends Plant Sci 23:100–111. https://doi.org/10.1016/j.tplants.2017.11.004
Acknowledgements
We thank two anonymous reviewers for complimentary and constructive comments, Peggy Clarke, Jason Thiessen, Paul Kelner, Megan Marshall, Julie Pocock, Naomi Hashimoto at the Agassiz Research and Development Centre for growing sunflower plants and assisting with the rearing of experimental insects, Tracy Leskey for constructive comments on the manuscript, Stephen Takács for graphical illustrations, Sharon Oliver for some word processing, and Angela Oscienny, Chris Wu, Emily Grove, Jade Sherwood, Jessica Leung, Kennedy Bolstad, Matt Walz, Nemo de Jong and Sasha Tuttle for technical assistance.
Funding
The research was supported by a Graduate Fellowship from Simon Fraser University to WW, and by scholarships to WW from the Mutual Fire Insurance Company of BC, BC Professional Pest Management, the BC Council of Gardens Clubs, and Integrated Crop Management Services. The research was further supported by Agriculture and Agri-Food Canada, and a Natural Sciences and Engineering Research Council of Canada (NSERC) – Industrial Research Chair to GG, with BASF Canada Inc. and Scotts Canada Ltd. as the industrial sponsors.
Ethics declarations
Ethics Approval
Not applicable.
Consent to Participate
Not applicable.
Consent for Publication
All authors approved of the submission of the manuscript.
Conflict of Interest
The authors declare no conflicts of interest.
Supplementary Information
About this article
Cite this article
Wong, W.H.L., Gries, R.M., Abram, P.K. et al. Attraction of Brown Marmorated Stink Bugs, Halyomorpha halys, to Blooming Sunflower Semiochemicals. J Chem Ecol 47, 614–627 (2021). https://doi.org/10.1007/s10886-021-01281-y
Received:

Revised:

Accepted:

Published:

Issue Date:
Keywords
Plant phenology

Pentatomidae

Plant volatile compounds

Olfactometer bioassays

GC-EAD

GC–MS