Abstract
Hitchhikers (phoretic organisms) need vehicles to disperse out of unsuitable habitats. Therefore, finding vehicles with the right functional attributes is essential for phoretic organisms. To locate these vehicles, phoretic organisms employ cues within modalities, ranging from visual to chemical senses. However, how hitchhikers discriminate between individual vehicles has rarely been investigated. Using a phoretic nematode community associated with an obligate fig–fig wasp pollination mutualism, we had earlier established that hitchhiking nematodes make decisions based on vehicle species identity and number of conspecific hitchhikers already present on the vehicle. Here we investigate if hitchhikers can differentiate between physiological states of vehicles. We asked whether phoretic nematodes choose between live or dead vehicles present in a chemically crowded environment and we investigated the basis for any discrimination. We conducted two-choice and single-choice behavioral assays using single nematodes and found that plant- and animal-parasitic nematodes preferred live over dead vehicles and used volatiles as a sensory cue to make this decision. However, in single-choice assays, animal-parasitic nematodes were also attracted towards naturally dead or freeze-killed wasps. The volatile profile of the wasps was dominated by terpenes and spiroketals. We examined the volatile blend emitted by the different wasp physiological states and determined a set of volatiles that the phoretic nematodes might use to discriminate between these states which is likely coupled with respired CO2. We determined that CO2 levels emitted by single wasps are sufficient to attract nematodes, demonstrating the high sensitivity of nematodes to this metabolic product.
Access options
Buy single article
Instant access to the full article PDF.
US$ 39.95
Tax calculation will be finalised during checkout.
Subscribe to journal
Immediate online access to all issues from 2019. Subscription will auto renew annually.
US$ 119
Tax calculation will be finalised during checkout.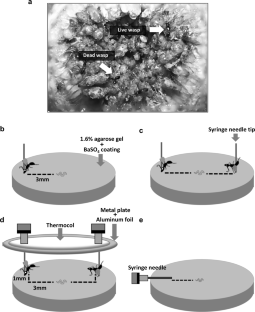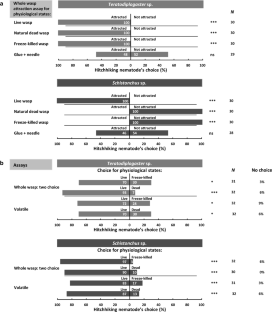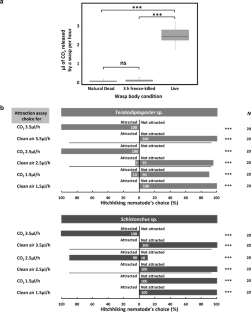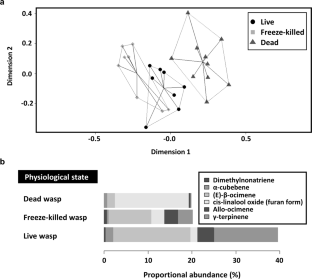 References
Ali JG, Alborn HT, Stelinski LL (2010) Subterranean herbivore-induced volatiles released by citrus roots upon feeding by Diaprepes abbreviatus recruit entomopathogenic nematodes. J Chem Ecol 36:361–368. https://doi.org/10.1007/s10886-010-9773-7

Athias-Binche F, Morand S (1993) From phoresy to parasitism: the example of mites and nematodes. Res Rev Parasitol 53:73–79

Bai PH, Bai CQ, Liu QZ, Du SS, Liu ZL (2013) Nematicidal activity of the essential oil of Rhododendron anthopogooides aerial parts and its constituent compounds against Meloidogyne incognita. Z Naturforsch C 68:307–312. https://doi.org/10.1515/znc-2013-7-808

Bartlow AW, Agosta SJ (2020) Phoresy in animals: review and synthesis of a common but understudied mode of dispersal. Biol Rev. https://doi.org/10.1111/brv.12654

Beran F, Rahfeld P, Luck K, Nagel R, Vogel H, Wielsch N, Irmisch S, Ramasamy S, Gershenzon J, Heckel DG, Köllner TG (2016) Novel family of terpene synthases evolved from trans-isoprenyl diphosphate synthases in a flea beetle. PNAS 113:2922–2927. https://doi.org/10.1073/pnas.1523468113

Beran F, Köllner TG, Gershenzon J, Tholl D (2019) Chemical convergence between plants and insects: biosynthetic origins and functions of common secondary metabolites. New Phytol 223:52–67. https://doi.org/10.1111/nph.15718

Binns ES (1982) Phoresy as migration-some functional aspects of phoresy in mites. Biol Rev 57:571–620. https://doi.org/10.1111/j.1469-185X.1982.tb00374.x

Borges RM, Bessière JM, Ranganathan Y (2013) Diel variation in fig volatiles across syconium development: making sense of scents. J Chem Ecol 39:630–642. https://doi.org/10.1007/s10886-013-0280-5

Bray JR, Curtis JT (1957) An ordination of the upland forest communities of southern Wisconsin. Ecol Monogr 27:325–349. https://doi.org/10.2307/1942268

Brenner S (1974) The genetics of Caenorhabditis elegans. Genetics 77:71–94

Camerik AM (2010) Phoresy revisited. In: Sabelis M, Bruin J (eds) Trends in acarology. Springer, Dordrecht, pp 333–336. https://doi.org/10.1007/978-90-481-9837-5_53

Campbell EO, Luong LT (2016) Mite choice generates sex-and size-biased infection in Drosophila hydei. Parasitol 143:787–793. https://doi.org/10.1017/S0031182016000305

Carrillo MA, Hallem EA (2015) Gas sensing in nematodes. Mol Neurobiol 51:919–931. https://doi.org/10.1007/s12035-014-8748-z

Colwell RK (1986) Community biology and sexual selection: lessons from hummingbird flower mites. In: Case TJ, Diamond J (eds) Community ecology. Harper & Row, New York, pp 406–424

Cruaud A, Rønsted N, Chantarasuwan B, Chou LS, Clement WL, Couloux A, Cousins B, Genson G, Harrison RD, Hanson PE, Hossaert-Mckey M (2012) An extreme case of plant–insect codiversification: figs and fig-pollinating wasps. Syst Biol 61:1029–1047. https://doi.org/10.1093/sysbio/sys068

Darragh K, Orteu A, Byers KJ, Szczerbowski D, Warren IA, Rastas P, Pinharanda AL, Davey JW, Garza SF, Almeida DA, Merrill RM (2019) A novel terpene synthase produces an anti-aphrodisiac pheromone in the butterfly Heliconius melpomene bioRxiv: p779678. https://doi.org/10.1101/779678

Davies KA, Ye W, Kanzaki N, Bartholomaeus F, Zeng Y, Giblin-Davis RM (2015) A review of the taxonomy, phylogeny, distribution and co-evolution of Schistonchus Cobb, 1927 with proposal of Ficophagus n. gen. and Martininema n. gen. (Nematoda: Aphelenchoididae). Nematology 17:761–829. https://doi.org/10.1163/15685411-00002907

Degenhardt J, Hiltpold I, Köllner TG, Frey M, Gierl A, Gershenzon J, Hibbard BE, Ellersieck MR, Turlings TC (2009) Restoring a maize root signal that attracts insect-killing nematodes to control a major pest. Proc Natl Acad Sci U S A 106:13213–13218. https://doi.org/10.1073/pnas.0906365106

DeShong P, Rybczynski PJ (1991) A novel method for the synthesis of spiroketal systems. Synthesis of the pheromones of the common wasp and the olive fruit fly. J Organomet Chem 56:3207–3210. https://doi.org/10.1021/jo00010a005

Dillman AR, Guillermin ML, Lee JH, Kim B, Sternberg PW, Hallem EA (2012) Olfaction shapes host–parasite interactions in parasitic nematodes. Proc Natl Acad Sci U S A 109:E2324–E2333. https://doi.org/10.1073/pnas.1211436109

Dunn DW, Yu DW, Ridley J, Cook JM (2008) Longevity, early emergence and body size in a pollinating fig wasp–implications for stability in a fig–pollinator mutualism. J Anim Ecol 77:927–935. https://doi.org/10.1111/j.1365-2656.2008.01416.x

Farish DJ, Axtell RC (1971) Phoresy redefined and examined in Macrocheles muscaedomesticae (Acarina: Macrochelidae). Acarologia 13:16–29

Farnier K, Bengtsson M, Becher PG, Witzell J, Witzgall P, Manduríc S (2012) Novel bioassay demonstrates attraction of the white potato cyst nematode Globodera pallida (stone) to non-volatile and volatile host plant cues. J Chem Ecol 38:795–801. https://doi.org/10.1007/s10886-012-0105-y

Forbes SL, Perrault KA (2014) Decomposition odour profiling in the air and soil surrounding vertebrate carrion. PLoS One 9:1–12. https://doi.org/10.1371/journal.pone.0095107

Francke W, Kitching W (2001) Spiroacetals in insects. Curr Org Chem 5:233–251. https://doi.org/10.2174/1385272013375652

Fronhofer EA, Sperr EB, Kreis A, Ayasse M, Poethke HJ, Tschapka M (2013) Picky hitchhikers: vector choice leads to directed dispersal and fat-tailed kernels in a passively dispersing mite. Oikos 122:1254–1264. https://doi.org/10.1111/j.1600-0706.2013.00503.x

Fudali SL, Wang C, Williamson VM (2013) Ethylene signaling pathway modulates attractiveness of host roots to the root-knot nematode Meloidogyne hapla. Mol Plant-Microbe Interact 26:75–86. https://doi.org/10.1094/MPMI-05-12-0107-R

Galil J, Eisikowitch D (1968) On the pollination ecology of Ficus sycomorus in East Africa. Ecology 49:259–269. https://doi.org/10.2307/1934454

Giblin-Davis RM, Ye W, Kanzaki N, Williams D, Morris K (2006) Stomatal ultrastructure, molecular phylogeny, and description of Parasitodiplogaster laevigata n. sp. (Nematoda: Diplogastridae), a parasite of fig wasps. J Nematol 38:137–149

Gibson G, Torr SJ (1999) Visual and olfactory responses of haematophagous Diptera to host stimuli. Med Vet Entomol 13:2–23. https://doi.org/10.1046/j.1365-2915.1999.00163.x

Gilg AB, Tittiger C, Blomquist GJ (2009) Unique animal prenyltransferase with monoterpene synthase activity. Naturwissenschaften 96:731–735. https://doi.org/10.1007/s00114-009-0521-1

Grossman JD, Smith RJ (2008) Phoretic mite discrimination among male burying beetle (Nicrophorus investigator) hosts. Ann Entomol Soc Am 101:266–271. https://doi.org/10.1603/0013-8746(2008)101[266:PMDAMB]2.0.CO;2

Grunseich JM, Thompson MN, Hay AA, Gorman Z, Kolomiets MV, Eubanks MD, Helms AM (2020) Risky roots and careful herbivores: sustained herbivory by a root-feeding herbivore attenuates indirect plant defences. Funct Ecol 34:1779–1789. https://doi.org/10.1111/1365-2435.13627

Gupta S, Borges RM (2019) Density-dependent fitness effects stabilize parasitic hitchhiking within a mutualism. Funct Ecol 33:2304–2315. https://doi.org/10.1111/1365-2435.13451

Gupta S, Borges RM (2020) Hopping on: conspecific traveller density within a vehicle regulates parasitic hitchhiking between ephemeral microcosms. J Anim Ecol. Accepted, in press

Hallem EA, Dillman AR, Hong AV, Zhang Y, Yano JM, DeMarco SF, Sternberg PW (2011) A sensory code for host seeking in parasitic nematodes. Curr Biol 21:377–383. https://doi.org/10.1016/j.cub.2011.01.048

Helms AM, De Moraes CM, Tröger A, Alborn HT, Francke W, Tooker JF, Mescher MC (2017) Identification of an insect-produced olfactory cue that primes plant defenses. Nat Commun 8:1–9. https://doi.org/10.1038/s41467-017-00335-8

Herre EA, Jandér KC, Machado CA (2008) Evolutionary ecology of figs and their associates: recent progress and outstanding puzzles. Annu Rev Ecol Evol Syst 39:439–458. https://doi.org/10.1146/annurev.ecolsys.37.091305.110232

Hong RL, Sommer RJ (2006) Chemoattraction in Pristionchus nematodes and implications for insect recognition. Curr Biol 16:2359–2365. https://doi.org/10.1016/j.cub.2006.10.031

Hong RL, Svatoš A, Herrmann M, Sommer RJ (2008) Species-specific recognition of beetle cues by the nematode Pristionchus maupasi. Evol Dev 10:273–279. https://doi.org/10.1111/j.1525-142X.2008.00236.x

Huigens ME, Fatouros NE (2013) A hitch-hiker's guide to parasitism: the chemical ecology of phoretic insect parasitoids. In: E. Wajnberg and S. Colazza (eds), Chemical ecology of insect parasitoids, Wiley, pp. 86–111. https://doi.org/10.1002/9781118409589.ch5

Jauharlina J, Lindquist EE, Quinnell RJ, Robertson HG, Compton SG (2012) Fig wasps as vectors of mites and nematodes. Afr Entomol 20:101–110. https://doi.org/10.4001/003.020.0113

Kanzaki N, Giblin-Davis RM, Ye W, Herre EA, Center BJ (2013) Description of Parasitodiplogaster pharmaconema n. sp. and redescription of P. maxinema from Ficus maxima Mill (Moraceae). Nematology 15:957–974. https://doi.org/10.1163/15685411-00002735

Kaplan F, Alborn HT, von Reuss SH, Ajredini R, Ali JG, Akyazi F, Stelinski LL, Edison AS, Schroeder FC, Teal PE (2012) Interspecific nematode signals regulate dispersal behavior. PLoS One 7:1–8. https://doi.org/10.1371/journal.pone.0038735

Kiffner C, Stanko M, Morand S, Khokhlova IS, Shenbrot GI, Laudisoit A, Leirs H, Hawlena H, Krasnov BR (2013) Sex-biased parasitism is not universal: evidence from rodent–flea associations from three biomes. Oecologia 173:009–1022. https://doi.org/10.1007/s00442-013-2664-1

Kong JO, Park IK, Choi KS, Shin SC, Ahn YJ (2007) Nematicidal and propagation activities of thyme red and white oil compounds toward Bursaphelenchus xylophilus (Nematoda: Parasitaphelenchidae). J Nematol 39:237–242

Krasnov BR, Bordes F, Khokhlova IS, Morand S (2012) Gender-biased parasitism in small mammals: patterns, mechanisms, consequences. Mammalia 76:1–13. https://doi.org/10.1515/mammalia-2011-0108

Krishnan A, Muralidharan S, Sharma L, Borges RM (2010) A hitchhiker's guide to a crowded syconium: how do fig nematodes find the right ride? Funct Ecol 24:741–749. https://doi.org/10.1111/j.1365-2435.2010.01696.x

Kruitbos LM, Heritage S, Wilson MJ (2009) Phoretic dispersal of entomopathogenic nematodes by Hylobius abietis. Nematology 11:419–427. https://doi.org/10.1163/156854109X446999

Li C, Wang Y, Hu Y, Hua C, Wang C (2015) Three dimensional study of wounded plant roots recruiting entomopathogenic nematodes with Pluronic gel as a medium. Biol Control 89:68–74. https://doi.org/10.1016/j.biocontrol.2015.05.007

Lighton JR (2018) Measuring metabolic rates: a manual for scientists. Oxford University Press

Machado CA, Jousselin E, Kjellberg F, Compton SG, Herre EA (2001) Phylogenetic relationships, historical biogeography and character evolution of fig-pollinating wasps. Proc R Soc B Biol Sci 268:685–694. https://doi.org/10.1098/rspb.2000.1418

Martin D, Bohlmann J, Gershenzon J, Francke W, Seybold SJ (2003) A novel sex-specific and inducible monoterpene synthase activity associated with a pine bark beetle, the pine engraver, Ips pini. Naturwissenschaften 90:173–179. https://doi.org/10.1007/s00114-003-0410-y

Mitchell RF, Curkovic T, Mongold-Diers JA, Neuteboom L, Galbrecht HM, Tröger A, Bergmann J, Francke W, Hanks LM (2017) Evidence that cerambycid beetles mimic vespid wasps in odor as well as appearance. J Chem Ecol 43:75–83. https://doi.org/10.1007/s10886-016-0800-1

Morgan ED (2004) Biosynthesis in insects. Royal Society of Chemistry, Cambridge

Niogret J, Lumaret JP, Bertrand M (2006) Semiochemicals mediating host-finding behaviour in the phoretic association between Macrocheles saceri (Acari: Mesostigmata) and Scarabaeus species (Coleoptera: Scarabaeidae). Chemoecology 16:129–134. https://doi.org/10.1007/s00049-006-0338-8

Njihia TN, Torto B, Murungi LK, Irungu J, Mwenda DM, Babin R (2017) Identification of kairomones of second instar nymphs of the variegated coffee bug Antestiopsis thunbergii (Heteroptera: Pentatomidae). Chemoecology 27:239–248. https://doi.org/10.1007/s00049-017-0248-y

O'Halloran DM, Burnell AM (2003) An investigation of chemotaxis in the insect parasitic nematode Heterorhabditis bacteriophora. Parasitology 127:375–385. https://doi.org/10.1017/S0031182003003688

Opitz SE, Müller C (2009) Plant chemistry and insect sequestration. Chemoecology 19:117–154. https://doi.org/10.1007/s00049-009-0018-6

Owen JP, Mullens BA (2004) Influence of heat and vibration on the movement of the northern fowl mite (Acari: Macronyssidae). J Med Entomol 41:865–872. https://doi.org/10.1603/0022-2585-41.5.865

Peñalver E, Engel MS, Grimaldi DA (2006) Fig wasps in Dominican amber (Hymenoptera: Agaonidae). Am Mus Novit 3541:1–16. https://doi.org/10.1206/0003-0082(2006)3541[1:FWIDAH]2.0.CO;2

Poinar G Jr (2003) Trends in the evolution of insect parasitism by nematodes as inferred from fossil evidence. J Nematol 35:129–132

Poulin R (1996) Sexual inequalities in helminth infections: a cost of being a male? Am Nat 147:287–295. https://doi.org/10.1086/285851

Ramírez-Benavides W, Salazar-Figueroa L (2015) Parasitodiplogaster citrinema is an internal necrophagous species of the pollinating fig wasp Pegoscapus tonduzi. Nematology 17:733–738. https://doi.org/10.1163/15685411-00002906

Ranganathan Y, Borges RM (2010) Reducing the babel in plant volatile communication: using the forest to see the trees. Plant Biol 12:735–742. https://doi.org/10.1111/j.1438-8677.2009.00278.x

Ranganathan Y, Borges RM (2011) To transform or not to transform: that is the dilemma in the statistical analysis of plant volatiles. Plant Signal Behav 6:113–116. https://doi.org/10.4161/psb.6.1.14191

Ranganathan Y, Ghara M, Borges RM (2010) Temporal associations in fig–wasp–ant interactions: diel and phenological patterns. Entomol Exp Appl 137:50–61. https://doi.org/10.1111/j.1570-7458.2010.01038.x

Rasmann S, Turlings TC (2007) Simultaneous feeding by aboveground and belowground herbivores attenuates plant-mediated attraction of their respective natural enemies. Ecol Lett 10:926–936. https://doi.org/10.1111/j.1461-0248.2007.01084.x

Rasmann S, Turlings TC (2008) First insights into specificity of belowground tritrophic interactions. Oikos 117:362–369. https://doi.org/10.1111/j.2007.0030-1299.16204.x

Rasmann S, Köllner TG, Degenhardt J, Hiltpold I, Toepfer S, Kuhlmann U, Gershenzon J, Turlings TC (2005) Recruitment of entomopathogenic nematodes by insect-damaged maize roots. Nature 434:732–737. https://doi.org/10.1038/nature03451

Rasmann S, Ali JG, Helder J, van der Putten WH (2012) Ecology and evolution of soil nematode chemotaxis. J Chem Ecol 38:615–628. https://doi.org/10.1007/s10886-012-0118-6

Rea JG, Irwin SWB (1994) The ecology of host-finding behaviour and parasite transmission: past and future perspectives. Parasitology 109:S31–S39. https://doi.org/10.1017/S0031182000085061

Rengarajan S, Hallem EA (2016) Olfactory circuits and behaviors of nematodes. Curr Opin Neurobiol 41:136–148. https://doi.org/10.1016/j.conb.2016.09.002

Reynolds AM, Dutta TK, Curtis RH, Powers SJ, Gaur HS, Kerry BR (2011) Chemotaxis can take plant-parasitic nematodes to the source of a chemo-attractant via the shortest possible routes. J R Soc Interface 8:568–577. https://doi.org/10.1098/rsif.2010.0417

Runyon JB, Gray CA, Jenkins MJ (2020) Volatiles of high-elevation five-needle pines: chemical signatures through ratios and insight into insect and pathogen resistance. J Chem Ecol 46:264–274. https://doi.org/10.1007/s10886-020-01150-0

Saul-Gershenz LS, Millar JG (2006) Phoretic nest parasites use sexual deception to obtain transport to their host's nest. Proc Natl Acad Sci U S A 103:14039–14044. https://doi.org/10.1073/pnas.0603901103

Schulz S, Estrada C, Yildizhan S, Boppré M, Gilbert LE (2008) An antiaphrodisiac in Heliconius melpomene butterflies. J Chem Ecol 34:82–93. https://doi.org/10.1007/s10886-007-9393-z

Shi RR, Miao BG, Segar ST, Zeng Y, Wang B, Peng YQ (2019) Are nematodes costly to fig tree–fig wasp mutualists? Entomol Exp Appl 167:1000–1011. https://doi.org/10.1111/eea.12860

Sun P, Zhao Q, Yu F, Zhang H, Wu Z, Wang Y, Wang Y, Qinglin Z, Liu W (2013) Spiroketal formation and modification in avermectin biosynthesis involves a dual activity of AveC. J Am Chem Soc 135:1540–1548. https://doi.org/10.1021/ja311339u

Susoy V, Herrmann M, Kanzaki N, Kruger M, Nguyen CN, Rödelsperger C, Röseler W, Weiler C, Giblin-Davis RM, Ragsdale EJ, Sommer RJ (2016) Large-scale diversification without genetic isolation in nematode symbionts of figs. Sci Adv 2:1–11. https://doi.org/10.1126/sciadv.1501031

Turlings TC, Hiltpold I, Rasmann S (2012) The importance of root-produced volatiles as foraging cues for entomopathogenic nematodes. Plant Soil 358:51–60. https://doi.org/10.1007/s11104-012-1295-3

Van Goor J, Piatscheck F, Houston DD, Nason JD (2018) Figs, pollinators, and parasites: a longitudinal study of the effects of nematode infection on fig wasp fitness. Acta Oecol 90:140–150. https://doi.org/10.1016/j.actao.2018.03.007

Venkateswaran V, Shrivastava A, Kumble ALK, Borges RM (2017) Life-history strategy, resource dispersion and phylogenetic associations shape dispersal of a fig wasp community. Mov Ecol 5:1–11. https://doi.org/10.1186/s40462-017-0117-x

Vet LE, Dicke M (1992) Ecology of infochemical use by natural enemies in a tritrophic context. Annu Rev Entomol 37:141–172. https://doi.org/10.1146/annurev.en.37.010192.001041

Wang C, Bruening G, Williamson VM (2009) Determination of preferred pH for root-knot nematode aggregation using pluronic F-127 gel. J Chem Ecol 35:1242–1251. https://doi.org/10.1007/s10886-009-9703-8

Willett DS, Martini X, Stelinski LL (2018) Chemoecology and behavior of parasitic nematode–host interactions: implications for management. In: Chemical ecology of insects. CRC Press, Boca Raton, pp 91–113

Worthy SE, Rojas GL, Taylor CJ, Glater EE (2018) Identification of odor blend used by Caenorhabditis elegans for pathogen recognition. Chem Senses 43:169–180. https://doi.org/10.1093/chemse/bjy001

Yoshida K, Hirotsu T, Tagawa T, Oda S, Wakabayashi T, Iino Y, Ishihara T (2012) Odour concentration-dependent olfactory preference change in C. elegans. Nat Commun 3:1–11. https://doi.org/10.1038/ncomms1750

Zhang QH, Tolasch T, Schlyter F, Francke W (2002) Enantiospecific antennal response of bark beetles to spiroacetal (E)-conophthorin. J Chem Ecol 28:1839–1852. https://doi.org/10.1023/A:1020569303433

Zhao L, Zhang S, Wei W, Hao H, Zhang B, Butcher RA, Sun J (2013) Chemical signals synchronize the life cycles of a plant-parasitic nematode and its vector beetle. Curr Biol 23:2038–2043. https://doi.org/10.1016/j.cub.2013.08.041

Zhao R, Lu L, Shi Q, Chen J, He Y (2018) Volatile terpenes and terpenoids from workers and queens of Monomorium chinense (Hymenoptera: Formicidae). Molecules 23:2838. https://doi.org/10.3390/molecules23112838

Zuk M, McKean KA (1996) Sex differences in parasite infections: patterns and processes. Int J Parasitol 26:1009–1024. https://doi.org/10.1016/S0020-7519(96)80001-4
Acknowledgements
We thank G. Yathiraj for field assistance, and Sunitha Murray for logistic support.
Funding
The Indian Institute of Science (IISc); Department of Science & Technology (DST), DST-FIST, Government of India (GOI); Department of Biotechnology–IISc Partnership Programme, GOI; and Ministry of Environment, Forests and Climate Change, GOI, provided financial support.
Ethics declarations
Conflict of Interests/Competing Interests
The authors declare that there is no conflict of interests.
Code Availability
Not applicable.
Supplementary Information
About this article
Cite this article
Gupta, S., Kumble, A.L.K., Dey, K. et al. The Scent of Life: Phoretic Nematodes Use Wasp Volatiles and Carbon Dioxide to Choose Functional Vehicles for Dispersal. J Chem Ecol 47, 139–152 (2021). https://doi.org/10.1007/s10886-021-01242-5
Received:

Revised:

Accepted:

Published:

Issue Date:
Keywords
Carbon dioxide

Conophthorin

Fig wasps

Nematodes

Phoresy

Wasp VOCs