Abstract
The koala is a specialist feeder with a diet consisting almost exclusively of potentially toxic eucalypt leaves. Monoterpenes, an abundant class of plant secondary metabolites in eucalypts, are highly lipophilic. Chronic absorption and systemic exposure can be anticipated for the koala, causing health effects in various ways when consumed in high amounts, but particularly causing alterations in immune function in this species. Therefore, careful leaf selection, efficient detoxification pathways, and other specialist adaptations are required to protect animals from acute intoxication. This is the first paper providing insight into the systemic exposure of koalas to these compounds. Profiles of six selected major monoterpenes were investigated in the ingesta of deceased koalas from four different regions of NSW and South-East Queensland. Concentrations of the same compounds were measured in lymphoid tissues of deceased koalas and in the blood of live koalas from other regions of NSW. Analytical methods included liquid extraction and solid-phase micro-extraction, followed by gas-chromatography/ mass-spectrometry. Concentrations in the ingesta of individual animals vary remarkably, though the average proportions of individual monoterpenes in the ingesta of animals from the four different regions are highly comparable. Blood concentrations of the selected monoterpenes also varied considerably. The highest blood concentrations were found for 1,8-cineole, up to 971 ng/ml. There was similarity between circulating monoterpene profiles and ingesta profiles. Based on the observed lack of similarity between blood and lymph tissue concentrations, individual monoterpenes either exhibit different affinities for lymphatic tissue compared to blood or their accumulation in blood and lymph tissue differs temporally. In general, blood monoterpene concentrations found in koalas were low compared to those reported in other marsupial eucalypt feeders, but significant concentrations of monoterpenes were detected in all samples analysed. This data on blood and lymphatic tissue monoterpene concentrations builds the fundamental groundwork for future research into the effects of dietary monoterpenes on various biological processes of specialist herbivores and into the significance of these animals' metabolic and behavioural strategies for coping with these compounds. We have shown that the systemic exposure of koalas to potentially anti-inflammatory eucalypt monoterpenes is continuous, and we provide data on physiological concentrations which will allow realistic future studies of the effects of monoterpenes on immune cell function.
Access options
Buy single article
Instant access to the full article PDF.
USD 39.95
Price excludes VAT (USA)
Tax calculation will be finalised during checkout.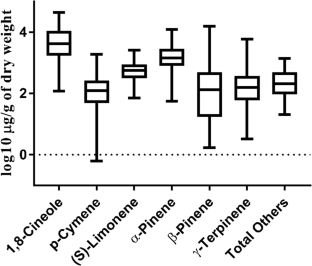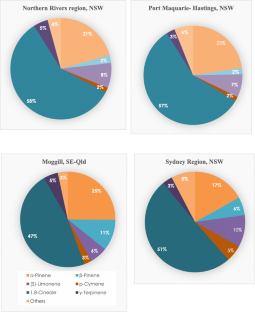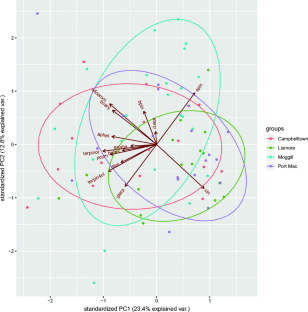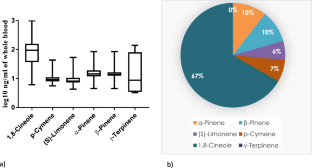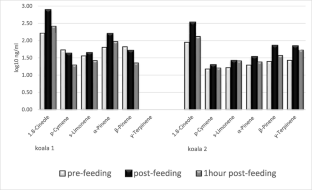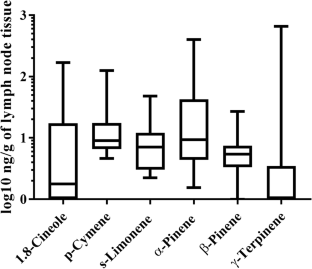 References
Agar NS, Reinke NB, Godwin IR, Kuchel PW (2000) Comparative biochemistry of marsupial erythrocytes: a review. Comp Haematol Int 10:148–167

Araujo IB, Souza CAM, De-Carvalho RR, Kuriyama SN, Rodrigues RP, Vollmer RS, Alves EN, Paumgartten FJR (1996) Study of the embryofoetotoxicity of α-terpinene in the rat. Food Chem Toxicol 34:477–482

Boland DJ, Brophy JJ (1993) Essential Oils of the Eucalypts and Related Genera. In: Essential oils of the eucalypts and related genera. American Chemical Society, Bioactive Volatile Compounds from Plants

Boyle R, Mclean S, Davies N (2000a) Biotransformation of 1, 8-cineole in the brushtail possum (Trichosurus vulpecula). Xenobiotica 30:915–932

Boyle R, Mclean S, Foley W, Davies NW, Peacock EJ, Moore B (2001) Metabolites of dietary 1,8-cineole in the male koala (Phascolarctos cinereus). Comparative Biochemistry and Physiology Part C: Toxicology & Pharmacology 129:385–395

Boyle R, Mclean S, Foley WJ, Moore BD, Davies NW, Brandon S (2000b) Fate of the dietary terpene, p-cymene, in the male koala. J Chem Ecol 26:1095–1111

Boyle RR, Mclean S (2004) Constraint of feeding by chronic ingestion of 1,8-cineole in the brushtail possum (Trichosurus vulpecula). J Chem Ecol 30:757–775

Boyle RR, Mclean S, Brandon S, Pass GJ, Davies NW (2002) Application of solid-phase microextraction to the quantitative analysis of 1, 8-cineole in blood and expired air in a Eucalyptus herbivore, the brushtail possum (Trichosurus vulpecula). J Chromatogr B 780:397–406

Boyle RR, Mclean S, Brandon S, Wiggins N (2005) Rapid absorption of dietary 1, 8-cineole results in critical blood concentration of cineole and immediate cessation of eating in the common brushtail possum (Trichosurus vulpecula). J Chem Ecol 31:2775–2790

Chen L, Zhao L, Zhang C, Lan Z (2014) Protective effect of p-cymene on lipopolysaccharide-induced acute lung injury in mice. Inflammation 37:358–364

Close DC, Mcarthur C, Hagerman AE, Fitzgerald H (2005) Differential distribution of leaf chemistry in eucalypt seedlings due to variation in whole-plant nutrient availability. Phytochemistry 66:215–221

Cork SJ, Hume I, Dawson T (1983) Digestion and metabolism of a natural foliar diet (Eucalyptus punctata) by an arboreal marsupial, the koala (Phascolarctos cinereus). J Comp Physiol 153:181–190

Cork SJ, Warner A (1983) The passage of digesta markers through the gut of a folivorous marsupial, the koala (Phascolarctos cinereus). J Comp Physiol 152:43–51

Dörsam B, Wu C-F, Efferth T, Kaina B, Fahrer J (2015) The Eucalyptus oil ingredient 1,8-cineol induces oxidative DNA damage. Arch Toxicol 89:797–805

Drugbank 2017. Eucalyptol

Eberhard I, Mcnamara J, Pearse R, Southwell I (1975) Ingestion and excretion of Eucalyptus punctata and its essential oil by the koala, Phascolarctos cinereus (Goldfuss). Australian Journal of Zoology 23:169–179

Epa (2018) gamma-Terpinene. U.S. Environmental Protection Agency, Chemistry Dashboard

Fleay, D. 1973 Observations on the koala in captivity: sussessful breeding in Melbourne zoo. Royal Zoological Society of New South Wales

Foley W, Lassak E, Brophy J (1987) Digestion and absorption of Eucalyptus essential oils in greater glider (Petauroide svolans) and brushtail possum (Trichosurus vulpecula). J Chem Ecol 13:2115–2130

Foley WJ, Mclean S, Cork SJ (1995) Consequences of biotransformation of plant secondary metabolites on acid-base metabolism in mammals—a final common pathway? J Chem Ecol 21:721–743

Freeland WJ, Janzen DH (1974) Strategies in herbivory by mammals: the role of plant secondary compounds. Am Nat 108:269–289

George GG (1977) Food preference of koalas at Healesville. Bulletin of Zoo /management 8:30–33

Griffin SG, Wyllie SG, Markham JL, Leach DN (1999) The role of structure and molecular properties of terpenoids in determining their antimicrobial activity. Flavour Fragr J 14:322–332

Higgins AL, Bercovitch FB, Tobey JR, Andrus CH (2011) Dietary specialization and Eucalyptus species preferences in Queensland koalas (Phascolarctos cinereus). Zoo biology 30:52–58

Hindell M, Lee A (1987) Habitat use and tree preferences of koalas in a mixed eucalypt forest. Wildl Res 14:349–360

Iason GR, Villalba JJ (2006) Behavioral strategies of mammal herbivores against plant secondary metabolites: the avoidance– tolerance continuum. J Chem Ecol 32:1115–1132

Johnson RN, O'meally D, Chen Z, Etherington GJ, Ho SYW, Nash WJ, Grueber CE, Cheng Y, Whittington CM, Dennison S, Peel E, Haerty W, O'neill RJ, Colgan D, Russell TL, Alquezar-Planas DE, Attenbrow V, Bragg JG, Brandies PA, Chong AY-Y, Deakin JE, Di Palma F, Duda Z, Eldridge MDB, Ewart KM, Hogg CJ, Frankham GJ, Georges A, Gillett AK, Govendir M, Greenwood AD, Hayakawa T, Helgen KM, Hobbs M, Holleley CE, Heider TN, Jones EA, King A, Madden D, Graves JAM, Morris KM, Neaves LE, Patel HR, Polkinghorne A, Renfree MB, Robin C, Salinas R, Tsangaras K, Waters PD, Waters SA, Wright B, Wilkins MR, Timms P, Belov K (2018) Adaptation and conservation insights from the koala genome. Nat Genet 50:1102–1111

Juergens U, Stöber M, Schmidt-Schilling L, Kleuver T, Vetter H (1998a) Anti-inflammatory effects of euclyptol (1.8-cineole) in bronchial asthma: inhibition of arachidonic acid metabolism in human blood monocytes ex vivo. Eur J Med Res 3:407–412

Juergens, U. R. 1999. Use of terpene compounds for reduced release of arachidonic acid and of inflammation mediators. Google Patents

Juergens UR, Engelen T, Racke K, Stober M, Gillissen A, Vetter H (2004) Inhibitory activity of 1,8-cineol (eucalyptol) on cytokine production in cultured human lymphocytes and monocytes. Pulm Pharmacol Ther 17:281–287

Juergens UR, Stöber M, Vetter H (1998b) Inhibition of cytokine production and arachidonic acid metabolism by eucalyptol (1.8-cineole) in human blood monocytes in vitro. Eur J Med Res 3:508–510

Keszei A, Brubaker CL, Foley WJ (2008) A molecular perspective on terpene variation in Australian myrtaceae. Aust J Bot 56:197–213

Kohl KD, Dearing MD (2017) Intestinal lymphatic transport: an overlooked pathway for understanding absorption of plant secondary compounds in vertebrate herbivores. J Chem Ecol 43:290–294

Lawler I, Foley W, Eschler B, Pass D, Handasyde K (1998) Intraspecific variation in Eucalyptus secondary metabolites determines food intake by folivorous marsupials. Oecologia 116:160–169

Lawler IR, Foley WJ, Eschler BM (2000) Foliar concentration of a single toxin creates habitat patchiness for a marsupial folivore. Ecology 81:1327–1338

Lehman-Mckeeman LD, Rodriguez PA, Takigiku R, Caudill D, Fey ML (1989) D-limonene-induced male rat-specific nephrotoxicity: evaluation of the association between d-limonene and α2u-globulin. Toxicol Appl Pharmacol 99:250–259

Li H, Madden JL (1995) Analysis of leaf oils from a Eucalyptus species trial. Biochem Syst Ecol 23:167–177

Malecky M, Broudiscou LP, Schmidely P (2009) Effects of two levels of monoterpene blend on rumen fermentation, terpene and nutrient flows in the duodenum and milk production in dairy goats. Anim Feed Sci Technol 154:24–35

Marsh KJ, Wallis IR, Andrew RL, Foley WJ (2006) The detoxification limitation hypothesis: where did it come from and where is it going? J Chem Ecol 32:1247–1266

Marsh KJ, Wallis IR, Foley WJ (2005) Detoxification rates constrain feeding in common brushtail possums (Trichosurus vulpecula). Ecology 86:2946–2954

Marsh KJ, Wallis IR, Foley WJ (2007) Behavioural contributions to the regulated intake of plant secondary metabolites in koalas. Oecologia 154:283–290

Martin R (1985) Overbrowsing, and decline of a population of the koala, Phascolarctos cinereus, in Victoria. III. Population dynamics. Wildl Res 12:377–385

Mclean S, Boyle R, Brandon S, Davies N, Sorensen J (2007) Pharmacokinetics of 1, 8-cineole, a dietary toxin, in the brushtail possum (Trichosurus vulpecula): significance for feeding. Xenobiotica 37:903–922

Mclean S, Brandon S, Boyle RR, Wiggins NL (2008) Development of tolerance to the dietary plant secondary metabolite 1,8-cineole by the brushtail possum (Trichosurus vulpecula). J Chem Ecol 34:672–680

Mclean S, Foley WJ (1997) Metabolism of Eucalyptus terpenes by herbivorous marsupials. Drug Metab Rev 29:213–218

Moore BD, Wallis IR, Palá-Paúl J, Brophy JJ, Willis RH, Foley WJ (2004a) Antiherbivore chemistry of Eucalyptus- cues and deterrents for marsupial folivores. J Chem Ecol 30:1743–1769

Moore BD, Foley WJ (2005) Tree use by koalas in a chemically complex landscape. Nature 435:488–490

Moore BD, Foley WJ, Wallis IR, Cowling A, Handasyde KA (2005) Eucalyptus foliar chemistry explains selective feeding by koalas. Biol Lett 1:64–67

Moore BD, Wallis IR, Wood JT, Foley WJ (2004b) Foliar nutrition, site quality, and temperature influence foliar chemistry of Tallowwood (Eucalyptus microcorys). Ecol Monogr 74:553–568

Mühlbauer RC, Lozano A, Palacio S, Reinli A, Felix R (2003) Common herbs, essential oils, and monoterpenes potently modulate bone metabolism. Bone 32:372–380

Pass GJ, Mclean S, Stupans I, Davies N (2001) Microsomal metabolism of the terpene 1,8-cineole in the common brushtail possum (Trichosurus vulpecula), koala (Phascolarctos cinereus), rat and human. Xenobiotica 31:205–221

Pass GJ, Mclean S, Stupans I, Davies NW (2002) Microsomal metabolism and enyzme kinetics of the terpene p-cymene in the common brushtail possum (Trichosurus vulpecula), koala (Phascolarctos cinereus) and rat. Xenobiotica 32:383–397

Philpott CM (1966) The ecology of the koala, Phascolarctos cinereus (Goldfuss), on Flinders chase, Kangaroo Island. University of Adelaide, Department of Zoology

Radoukova T, Zheljazkov VD, Semerdjieva I, Dincheva I, Stoyanova A, Kačániová M, Marković T, Radanović D, Astatkie T, Salamon I (2018) Differences in essential oil yield, composition, and bioactivity of three juniper species from Eastern Europe. Ind Crop Prod 124:643–652

Sangster J (1989) Octanol-water partitiion-coefficients of simple organic compounds. J Phy Chem Ref Data 18:1111–1229

Shipley LA, Davis EM, Felicetti LA, Mclean S, Forbey JS (2012) Mechanisms for eliminating monoterpenes of sagebrush by specialist and generalist rabbits. J Chem Ecol 38:1178–1189

Silva PHMD, Brito JO, Silva Junior FGD (2006) Potential of eleven Eucalyptus species for the production of essential oils. Sci Agric 63:85–89

Sorensen JS, Dearing MD (2003) Elimination of plant toxins by herbivorous woodrats: revisiting an explanation for dietary specialization in mammalian herbivores. Oecologia 134:88–94

Sorensen JS, Dearing MD (2006) Efflux transporters as a novel herbivore countermechanism to plant chemical defenses. J Chem Ecol 32:1181–1196

Sorensen JS, Turnbull CA, Dearing MD (2004) A specialist herbivore (Neotoma stephensi) absorbs fewer plant toxins than does a generalist (Neotoma albigula). Physiological and Biochemical Zoology: Ecological and Evolutionary Approaches 77:139–148

Souza M, Siani A, Ramos M, Menezes-De-Lima O Jr, Henriques M (2003) Evaluation of anti-inflammatory activity of essential oils from two Asteraceae species. Die Pharmazie-An International Journal of Pharmaceutical Sciences 58:582–586

Sullivan BJ, Baxter GS, Lisle AT (2003) Low-density koala (Phascolarcto cinereus) populations in the mulgalands of south-West Queensland. III. Broad-scale patterns of habitat use. Wildl Res 30:583–591

Toloza AC, Lucía A, Zerba E, Masuh H, Picollo MI (2009) Eucalyptus essential oil toxicity against permethrin-resistant Pediculus humanus capitis (Phthiraptera: Pediculidae). Parasitol Res 106:409

Wallis IR, Keszei A, Henery ML, Moran GF, Forrester R, Maintz J, Marsh KJ, Andrew RL, Foley WJ (2011) A chemical perspective on the evolution of variation in Eucalyptus globulus. Perspectives in Plant Ecology, Evolution and Systematics 13:305–318

Webb DR, Ridder GM, Alden CL (1989) Acute and subchronic nephrotoxicity of d-limonene in fischer 344 rats. Food Chem Toxicol 27:639–649

White SM, Welch BL, Flinders JT (1982) Monoterpenoid content of pygmy rabbit stomach ingesta. J Range Manag 35:107–109

Wildy DT, Pate JS, Bartle JR (2000) Variations in composition and yield of leaf oils from alley-farmed oil mallees ( Eucalyptus spp.) at a range of contrasting sites in the Western Australian wheatbelt. For Ecol Manag 134:205–217

Wu H, Mcalpine CA, Seabrook LM (2012) The dietary preferences of koalas, Phascolarctos cinereus, in Southwest Queensland. Australian Zoologist 36:93–102
Acknowledgements
I would like to acknowledge Rebecca Larkin, Allan McKinnon, and Peter Theilemann at the Moggill Koala Hospital for their support in sample collection. Thank you to all 'Friends of the Koalas', particularly Allen Pearson, and to the team at the Port Macquarie Koala Hospital, particularly Cheyne Flanagan. Thanks to David Phalen for collecting and providing koala cadavers to the faculty for our research and teaching purposes. Thank you to Mike Cannon, Will Meikle, and the team at Wild Life Sydney Zoo, NSW, Australia for their ongoing support in this study. It is much appreciated.
About this article
Cite this article
Marschner, C., Krockenberger, M.B., Higgins, D.P. et al. Ingestion and Absorption of Eucalypt Monoterpenes in the Specialist Feeder, the Koala (Phascolarctos cinereus). J Chem Ecol 45, 798–807 (2019). https://doi.org/10.1007/s10886-019-01097-x
Received:

Revised:

Accepted:

Published:

Issue Date:

DOI: https://doi.org/10.1007/s10886-019-01097-x
Keywords