Abstract
Plants emit a specific blend of volatiles in response to herbivory and these volatiles, which often attract predators and parasitoids function as an indirect plant defense. The impact of plant volatiles in shaping herbivore defenses is unclear. Here, we report that specific plant volatiles induce immune responses in the polyphagous herbivore, Spodoptera litura. We characterized the hemocyte profile and established their functional significance with respect to ontogeny and exposure to specific plant volatiles. Fifth instar larvae showed the highest number and hemocytes diversity. We characterized seven different types of hemocytes, of which granulocytes performed phagocytosis, oenocytoids showed melanization activity, and plasmatocytes along with granulocytes and oenocytoids were found to be involved in encapsulation. Among the six volatiles tested, exposure to (E)-β-ocimene caused the highest increase in total hemocytes number (THC) followed by linalool and (Z)-3-hexenyl acetate exposure. Although THC did not differ between these three volatile treatments, circulating hemocytes diversity varied significantly. (E)-β-ocimene exposure showed higher number of plasmatocytes and phenol oxidase activity. The interaction of the parasitic wasp Bracon brevicornis with (E)-β-ocimene exposed larvae was poor in terms of delayed paralysis and lower egg deposition. In choice assays, the wasp showed clear preference towards control larvae indicating (E)-β-ocimene treatment renders the host unattractive. Hemocyte profiles post-parasitoid exposure and (E)-β-ocimene treatment were similar indicating cue-based priming. When challenged with Bacillus thuringiensis, linalool exposure resulted in the highest survival as compared to other volatiles. Our results show that specific HIPVs can modulate cellular immunity of S. litura, revealing a new role for HIPVs in tri-trophic interactions.
This is a preview of subscription content, log in to check access.
Access options
Buy single article
Instant access to the full article PDF.
US$ 39.95
Price includes VAT for USA
Subscribe to journal
Immediate online access to all issues from 2019. Subscription will auto renew annually.
US$ 199
This is the net price. Taxes to be calculated in checkout.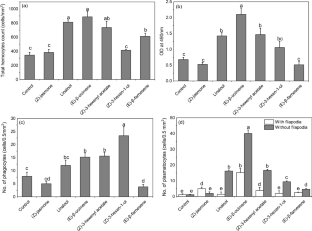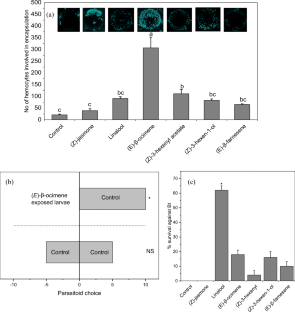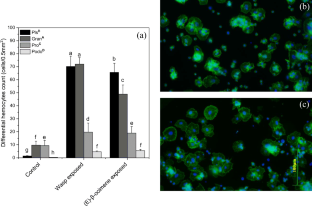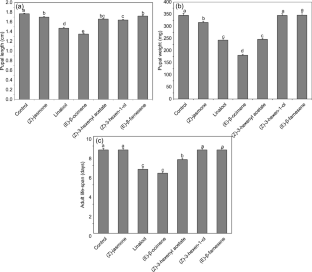 Data Availability
The datasets supporting the conclusions of this article are included within the article and its supplementary files.
Acknowledgments
The authors acknowledge Dr. Tina Mukherjee lab (inStem, Bengaluru) and Dr. Deepa Agashe (NCBS, Bengaluru) for their help. We thank Prof. Paul Ode for his valuable comments and help in editing the manuscript. The authors thank National Bureau of Agriculturally Important Insect Resources, Bengaluru for providing insects. NCBS central imaging and flow cytometry facility is gratefully acknowledged.
Funding
This work was supported by Department of Science and Technology (Early Career Award, Ramanujan Fellowship), Max Planck Society (DST-Max Planck Partner group program) and Department of Biotechnology.
Ethics declarations
Conflict of Interest
The authors declare no competing interests.
Electronic supplementary material
Fig. S1. Diet based changes in THC of fifth instar S. litura larvae. Data represent mean ± SE and show differences between artificial diet and castor bean plant (R. communis) diet. To compare the changes in THC, unpaired t-test was done (P˂0.0001, n = 5). Fig. S2. Hemocyte profile of S. litura (a) prohemocyte, (b) granulocyte, (c) oenocytoids, (d) plasmatocytes, (e, f, g, h) forms of podocytes, (I) vermiform cell, (j, k, l) plasmatocytes with filapodia, (m, n, o) granular plasmatocytes. (p) Functional significance of hemocytes in S. litura, Encapsulation: Encapsulated sephadex beads (50 μm) showing three morphologically different hemocytes (q: granulocytes, r: granular plasmatocytes, s: oenocytoids), bars: 10 μm. Fig. S3. Functional significance of hemocytes in S. litura, granulocytes performing phagocytosis of (a, b) E. coli mCherry (c) Bacillus thuringiensis and (d) latex beads, (e) melanization by oenocytoids; granulocytes, plasmatocytes and oenocytoids involved in encapsulation (f) stacked image of encapsulated nylon thread (0.5 mm) showing E. coli mCherry tagged granulocytes are part of encapsulation, (g) dark brown melanin formation on top of encapsulated nylon thread, (h) encapsulated sephadex beads (50um) showing beta-integrin positive cells, (i) plasmatocytes show highest beta-integrin staining, bars: 50um; substrate independent encapsulation (j) encapsulation of sephadex beads (k) encapsulation of nylon thread in control larvae. Bars: 50 μm. Fig. S4. Effect of (E)-β-ocimene exposure and incubation period on larval immunity, (a) THC (P˂0.0001, n = 10), (b) PO activity in fourth instar larvae of S. litura (P˂0.05, n = 10). Data represent mean ± SE. Statistical differences are based on Tukey's post-hoc test after one-way ANOVA. Different letters indicate significant difference between treatments (small letters: exposure time x feeding time and comparison between exposure time (bold letters); capital letters: comparison between feeding time). Numbers on x-axis indicate exposure and feeding time period, respectively. NE- no exposure, E- exposure, NF-no feeding, F-feeding. Fig. S5. Specific HIPV mediated immune boost improves tolerance against ecto-parasitoid (a) time taken by B. brevicornis to paralyze the larvae upon exposure to different HIPV (P˂0.05, n = 10), (b) number of parasitoid eggs laid per host larvae (P˂0.05, n = 10). Data represent mean ± SE. Statistical differences are based on Tukey's post-hoc test after one-way ANOVA. Different letters indicate significant difference between treatments. Fig. S6. Effect of (E)-β-ocimene on B. brevicornis behaviour (a) number of eggs laid per host larvae, (b) time taken to paralyze in hours. Data represent mean ± SE (P = 0.06, n = 10). Statistical analysis is based on one-way ANOVA, NS-not significant. (PDF 587 kb)
About this article
Cite this article
Ghosh, E., Venkatesan, R. Plant Volatiles Modulate Immune Responses of Spodoptera litura. J Chem Ecol 45, 715–724 (2019). https://doi.org/10.1007/s10886-019-01091-3
Received:

Revised:

Accepted:

Published:

Issue Date:
Keywords
Plant volatiles

Herbivory

Ocimene

Linalool

Insect immunity

Tritrophic interaction