Abstract
The brown spiny bug, Clavigralla tomentosicollis Stål (Hemiptera: Coreidae) is a key pest of leguminous crops in many countries in Africa, causing significant yield losses especially in cowpea, pigeon pea and common beans. Although C. tomentosicollis uses olfaction to aggregate, little is known about the identity of the aggregation pheromone. This study aimed to identify the aggregation pheromone of C. tomentosicollis and to test its potential role in the behavior of its egg parasitoid, Gryon sp. In Y-tube olfactometer bioassays, only male volatiles strongly attracted both sexes of C. tomentosicollis. Coupled gas chromatography/electroantennographic detection (GC/EAD) and GC/mass spectrometry were used to identify antennally-active compounds from male volatiles. Antennae of both sexes detected identical components including a male-specific component, identified as isopentyl butanoate, which was also detected by antenna of the egg parasitoid. In olfactometer bioassays, both sexes of C. tomentosicollis and the egg parasitoid responded to isopentyl butanoate. These results suggest that isopentyl butanoate serves as an aggregation pheromone for both sexes of C. tomentosicollis and a useful kairomone to attract the parasitoid in the management of C. tomentosicollis.
Access options
Buy single article
Instant access to the full article PDF.
US$ 39.95
Tax calculation will be finalised during checkout.
Subscribe to journal
Immediate online access to all issues from 2019. Subscription will auto renew annually.
US$ 119
Tax calculation will be finalised during checkout.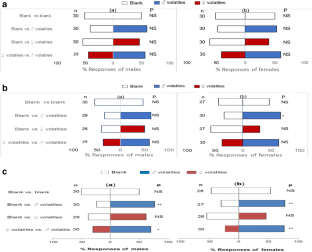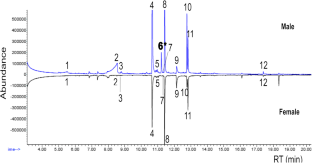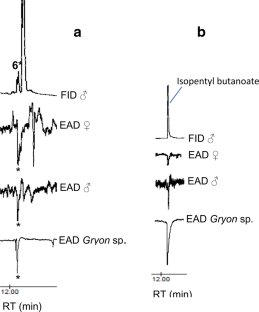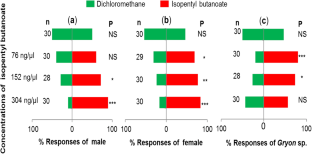 References
Addesso KM, Mcauslane HJ, Cherry R (2012) Aggregation behavior of the southern chinch bug (Hemiptera: Blissidae). Environ Entomol 41:887–895

Aldrich JR (1975) Natural products of abdominal and metathoracic scent glands of coreid bugs. Ann Entomol Soc Am 68:955–960

Aldrich JR, Zhang A (2002) Kairomone strains of Euclytia flava (Townsend), a parasitoid of stink bugs. J Chem Ecol 28:1565–1582

Aliyu M, Ladan T, Ahmed BI, Abdullahi J (2007) Studies on the efficacy of black soap and kerosene mixture on the control of pod sucking bugs (Clavigralla tomentosicollis Stål) on cowpea (Vigna unguiculata (L.) Walp). Emir J Food Agric 19:8–14

Asante SK, Jackai LEN, Tamò M (2000) Efficiency of Gryon fulviventris (Hymenoptera : Scelionidae) as an egg parasitoid of Clavigralla tomentosicollis ( Hemiptera : Coreidae ) in northern Nigeria. Environ Entomol 29:815–821

Audino PG, Alzogaray RA, Vassena C, Masuh H, Fontan A, Gatti P, Martinez A, Camps F, Cork A, Zerba E (2007) Volatile compounds secreted by brindley's glands of adult Triatoma infestans: identification and biological activity of previously unidentified compounds. J Vector Ecol 32:75–82

Conti E, Salerno G, Bin F, Williams HJ, Vinson SB (2003) Chemical cues from Murgantia histrionica eliciting host location and recognition in the egg parasitoid Trissolcus brochymenae. J Chem Ecol 29:115–130

Dabire CLB, Kini FB, Ba MN, Dabire RA, Fouabi K (2005) Effet du stade de développement des gousses de niébé sur la biologie de la punaise suceuse Clavigralla tomentosicollis (Hemiptera: Coreidae). Int J Trop Insect Sci 25:25–31

Dialoke SA, Agu CM, Ojiako FO, Onweremadu E, Onyishi GO, Ozor N, Echezona BC, Ofor MO, Ibeawuchi II, Chigbundu IN, Ngwuta AA, Ugwoke FO (2010) Survey of insect pests on pigeon pea in Nigeria. J SAT Agric Res 8:1–8

Dreyer H, Baumgärtner J (1996) Temperature influence on cohort parameters and demographic characteristics of the two cowpea coreids Clavigralla tomentosicollis and C. shadabi. Entomol Exp Appl 78:201–213

Dreyer H, Baumgärtner J, Tamo M (1994) Seed-damaging field pests of cowpea (Vigna unguiculata L. Walp.) in Benin: occurrence and pest status. Int J Pest Manag 40:252–260

Dzemo WD, Asiwe ASNJ (2010) A comparative study of the bionomics of Clavigralla tomentosicollis Stål (Hemiptera: Coreidae) on three varieties of cowpea (Vigna unguiculata (L.) Walp). Afr J Agric Res 5:567–572

Egwuatu RI, Taylor TA (1976) Aspects of the spatial distribution of Acanthomia tomentosicollis Stål (Heteroptera, Coreidae) in Cajanus cajan (pigeon pea). J Econ Entomol 69:591–594

Egwuatu RI, Taylor TA (1977) Studies on the biology of Acanthomia tomentosicollis (Stål) (Hemiptera: Coreidae) in the field and insectary. Bull Entomol Res 67:249–257

Fatouros NE, Dicke M, Mumm R, Meiners T, Hilker M (2008) Foraging behavior of egg parasitoids exploiting chemical information. Behav Ecol 19:677–689

Fávaro CF, Millar JG, Zarbin PH (2015) Identification and synthesis of the male-produced sex pheromone of the stink bug, Pellaea stictica. J Chem Ecol 41:859–868

Guerenstein PG, Guerin PM (2004) A comparison of volatiles emitted by adults of three Triatomine species. Entomol Exp Appl 111:151–155

James DG, Moore CJ, Aldrich JR (1994) Identification, synthesis, and bioactivity of a male-aggrgation pheromone in assassin bug, Prithesancus plagipennis (Hemiptera: Reduviidae). J Chem Ecol 20:3281–3295

Jang SA, Cho JH, Park GM, Choo HY, Park CG (2011) Attraction of Gymnosoma rotundatum (Diptera: Tachinidae) to different amounts of Plautia stali (Hemiptera: Pentatomidae) aggregation pheromone and the effect of different pheromone dispensers. J Asia Pac Entomol 14:119–121

Kugel M (1997) The time course of the electroretinogram of compound eyes in insects and its dependence on special recording conditions. J Exp Biol 71:1–6

Laumann RA, Borges M, Aldrich JR, Khrimian A, Blassioli-Moraes MC (2012) Attractant pheromone of the neotropical species Neomegalotomus parvus (Westwood) (Heteroptera: Alydidae). Psyche: J Entomol 2012:1–8

Maruthadurai R, Gautam RD, Mahesh P (2011) Kairomonal effect of host body washing on the egg parasitoid Trichogramma brasiliensis (Ashmead) (Hymenoptera: Trichogrammatidae). J Biol Control 25:298–304

Njihia TN, Torto B, Murungi LK, Irungu J, Mwenda DM, Babin R (2017) Identification of kairomones of second instar nymphs of the variegated coffee bug Antestiopsis thunbergii (Heteroptera: Pentatomidae). Chemoecol 27:239–248

R Development Core Team (2012) A language and environment for statistical computing. R Foundation for Statistical Computing, Vienna

Sanou A, Traoré F, Ba MN, Dabiré-Binso CL, Pittendrigh BR, Sanon A (2019) Effects of volatiles from Clavigralla tomentosicollis Stål (Hemiptera: Coreidae) adults on the host location behavior of the egg parasitoid Gryon fulviventre (Crawford) (Hymenoptera: Scelionidae). Int J Insect Sci 11:1179543318825250

Taylor TA (1975) Gryon gnidus, a scelionid egg-parasite of Acanthomia tomentosicollis (Hemiptera: Coreidae) in Nigeria. Entomophaga 20:129–134

Wolde-Hawariat Y (2008) Identification of volatile compounds from ripe banana and attraction of sorghum chafer Pachnoda interrupta using y-tube olfactometer. In: Wolde-Hawariat Y (ed) Electrophysiological and behavioral responses of Sorghum chafer, Pachnoda interrupta (Coleoptera: Scarabaeiae) to host plant volatile compounds (pp 71–80). Dissertation, Addis Ababa University, Ethiopia

Yasuda K (1998) Function of the male pheromone of the leaf footed plant bug, Leptoglossus australis (Fabricius) (Heteroptera: Coreidae) and its kairomonal effect. Japan Agric Res 32:161–165

Yusufoglu HS, Tabanca N, Bernier UR, Li AY, Salkini MA, Alqasoumi SI, Demirci B (2018) Mosquito and tick repellency of two anthemis essential oils from Saudi Arabia. Saudi Pharma J:1–5

Zarbin PH, Fávaro CF, Vidal DM, Rodrigues MA (2012) Male-produced sex pheromone of the stink bug Edessa meditabunda. J Chem Ecol 38:825–835
Acknowledgements
We thank Mrs. Wanyama, Onesmus Kaye, Kirwa, Hillary Kipchirchir for the technical assistance and Mr. Xavier Cheseto for his contribution. We also acknowledge Dr. Elie A. Dannon from IITA-Bénin for the assistance and guidance during this work. We are grateful to the staff at the International Centre of Insect Physiology and Ecology (icipe), Duduville, Nairobi, for their support without which our research would not have been possible. Financial support for this research was provided by UK's Department for International Development (DFID), Swedish International Development Cooperation Agency (Sida), the Swiss Agency for Development and Cooperation (SDC), Federal Democratic Republic of Ethiopia; and the Kenyan Government. Hilaire Kpongbe was supported by a German Academic Exchange Service (DAAD) In-Region Postgraduate Scholarship.
Ethics declarations
Conflict of Interest
Authors declare no conflict of interest.
Ethical Approval
This article does not contain any studies with human participants or animals performed by any of the authors.
Electronic supplementary material
About this article
Cite this article
Kpongbe, H., Van Den Berg, J., Khamis, F. et al. Isopentyl Butanoate: Aggregation Pheromone of the Brown Spiny Bug, Clavigralla tomentosicollis (Hemiptera: Coreidae), and Kairomone for the Egg Parasitoid Gryon sp. (Hymenoptera: Scelionidae). J Chem Ecol 45, 570–578 (2019). https://doi.org/10.1007/s10886-019-01081-5
Received:

Revised:

Accepted:

Published:

Issue Date:
Keywords
Aggregation pheromone

Biological control

Clavigralla tomentosicollis
Gryon sp.

Kairomone