Abstract
Plants play an important role in the interactions between insect herbivores and their pathogens. Since the seminal review by Cory and Hoover (2006) on plant-mediated effects on insect–pathogen interactions, considerable progress has been made in understanding the complexity of these tritrophic interactions. Increasing interest in the areas of nutritional and ecological immunology over the last decade have revealed that plant primary and secondary metabolites can influence the outcomes of insect–pathogen interactions by altering insect immune functioning and physical barriers to pathogen entry. Some insects use plant secondary chemicals and nutrients to prevent infections (prophylactic medication) and medicate to limit the severity of infections (therapeutic medication). Recent findings suggest that there may be selectable plant traits that enhance entomopathogen efficacy, suggesting that entomopathogens could potentially impose selection pressure on plant traits that improve both pathogen and plant fitness. Moreover, plants in nature are inhabited by diverse communities of microbes, in addition to entomopathogens, some of which can trigger immune responses in insect herbivores. Plants are also shared by numerous other herbivorous arthropods with different modes of feeding that can trigger different defensive responses in plants. Some insect symbionts and gut microbes can degrade ingested defensive phytochemicals and be orally secreted onto wounded plant tissue during herbivory to alter plant defenses. Since non-entomopathogenic microbes and other arthropods are likely to influence the outcomes of plant–insect–entomopathogen interactions, I discuss a need to consider these multitrophic interactions within the greater web of species interactions.
Access options
Buy single article
Instant access to the full article PDF.
US$ 39.95
Tax calculation will be finalised during checkout.
Subscribe to journal
Immediate online access to all issues from 2019. Subscription will auto renew annually.
US$ 119
Tax calculation will be finalised during checkout.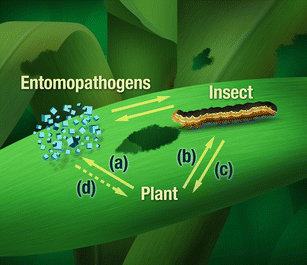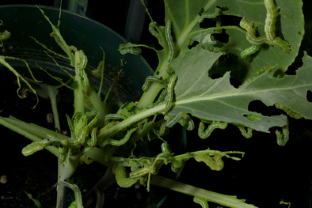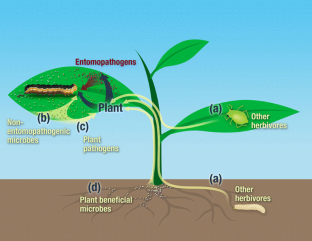 References
Abbott J (2014) Self-medication in insects: current evidence and future perspectives. Ecol Entomol 39:273–280. doi:10.1111/een.12110

Acevedo FE, Peiffer M, Tan C-W et al (2017) Fall armyworm-associated gut bacteria modulate plant defense responses. Mol Plant-Microbe Interact. doi:10.1094/MPMI-11-16-0240-R

Afshar K, Dufresne PJ, Pan L et al (2010) Diet-specific salivary gene expression and glucose oxidase activity in Spodoptera exigua (Lepidoptera: Noctuidae) larvae. J Insect Physiol 56:1798–1806. doi:10.1016/j.jinsphys.2010.07.012

Afshar K, Dube FF, Najafabadi HS et al (2013) Insights into the insect salivary gland proteome: diet-associated changes in caterpillar labial salivary proteins. J Insect Physiol 59:351–366. doi:10.1016/j.jinsphys.2013.01.002

Agrawal AA, Hastings AP, Johnson MTJ et al (2012) Insect herbivores drive real-time ecological and evolutionary change in plant populations. Science 338:113–116. doi:10.1126/science.1225977

Akutse KS, Maniania NK, Fiaboe KKM et al (2013) Endophytic colonization of Vicia faba and Phaseolus vulgaris (Fabaceae) by fungal pathogens and their effects on the life-history parameters of Liriomyza huidobrensis (Diptera: Agromyzidae). Fungal Ecol 6:293–301. doi:10.1016/j.funeco.2013.01.003

Andersen SB, Gerritsma S, Yusah KM et al (2009) The life of a dead ant: the expression of an adaptive extended phenotype. Am Nat 174:424–433. doi:10.1086/603640

Baracchi D, Brown MJF, Chittka L (2015) Weak and contradictory effects of self-medication with nectar nicotine by parasitized bumblebees. F1000Research 4:73. doi:10.12688/f1000research.6262.1

Barr KL, Hearne LB, Briesacher S et al (2010) Microbial symbionts in insects influence down-regulation of defense genes in maize. PLoS One 5:e11339. doi:10.1371/journal.pone.0011339

Biere A, Bennett AE (2013) Three-way interactions between plants, microbes and insects. Funct Ecol 27:567–573. doi:10.1111/1365-2435.12100

Biere A, Tack AJM (2013) Evolutionary adaptation in three-way interactions between plants, microbes and arthropods. Funct Ecol 27:646–660. doi:10.1111/1365-2435.12096

Boots M, Roberts KE (2012) Maternal effects in disease resistance: poor maternal environment increases offspring resistance to an insect virus. Proc R Soc B Biol Sci 279:4009–4014. doi:10.1098/rspb.2012.1073

Brioschi D, Nadalini LD, Bengtson MH et al (2007) General up regulation of Spodoptera frugiperda trypsins and chymotrypsins allows its adaptation to soybean proteinase inhibitor. Insect Biochem Mol Biol 37:1283–1290. doi:10.1016/j.ibmb.2007.07.016

Broadway RM, Duffey SS (1986) Plant proteinase inhibitors: mechanism of action and effect on the growth and digestive physiology of larval Heliothis zea and Spodoptera exiqua. J Insect Physiol 32:827–833. doi:10.1016/0022-1910(86)90097-1

Broderick NA, Raffa KF, Goodman RM, Handelsman J (2004) Census of the bacterial community of the gypsy moth larval midgut by using culturing and culture-independent methods. Appl Environ Microbiol 70:293–300. doi:10.1128/AEM.70.1.293-300.2004

Brütsch T, Jaffuel G, Vallat A et al (2017) Wood ants produce a potent antimicrobial agent by applying formic acid on tree-collected resin. Ecol Evol 7:2249–2254. doi:10.1002/ece3.2834

Casteel CL, Hansen AK, Walling LL, Paine TD (2012) Manipulation of plant defense responses by the tomato psyllid (Bactericerca cockerelli) and its associated endosymbiont Candidatus Liberibacter Psyllaurous. PLoS One 7:e35191. doi:10.1371/journal.pone.0035191

Chapuisat M, Oppliger A, Magliano P, Christe P (2007) Wood ants use resin to protect themselves against pathogens. Proc R Soc B Biol Sci 274:2013–2017. doi:10.1098/rspb.2007.0531

Choudhary DK, Varma A (eds) (2016) Microbial-mediated induced systemic resistance in plants. doi: 10.1007/978-981-10-0388-2

Chung SH, Rosa C, Scully ED et al (2013) Herbivore exploits orally secreted bacteria to suppress plant defenses. Proc Natl Acad Sci 110:15728–15733. doi:10.1073/pnas.1308867110

Chung SH, Scully ED, Peiffer M et al (2017) Host plant species determines symbiotic bacterial community mediating suppression of plant defenses. Sci Rep 7:39690. doi:10.1038/srep39690

Cory JS, Hoover K (2006) Plant-mediated effects in insect-pathogen interactions. Trends Ecol Evol 21:278–286. doi:10.1016/j.tree.2006.02.005

Cory JS, Myers JH (2004) Adaptation in an insect host-plant pathogen interaction. Ecol Lett 7:632–639. doi:10.1111/j.1461-0248.2004.00617.x

Couture JJ, Mason CJ, Habeck CW, Lindroth RL (2016) Behavioral and morphological responses of an insect herbivore to low nutrient quality are inhibited by plant chemical defenses. Arthropod Plant Interact 10:341–349. doi:10.1007/s11829-016-9439-7

De Roode JC, Pedersen AB, Hunter MD, Altizer S (2008) Host plant species affects virulence in monarch butterfly parasites. J Anim Ecol 77:120–126. doi:10.1111/j.1365-2656.2007.01305.x

De Roode JC, De Castillejo LF, Faits T, Alizon S (2011a) Virulence evolution in response to anti-infection resistance: toxic food plants can select for virulent parasites of monarch butterflies. J Evol Biol 24:712–722. doi:10.1111/j.1420-9101.2010.02213.x

De Roode JC, Rarick RM, Mongue AJ et al (2011b) Aphids indirectly increase virulence and transmission potential of a monarch butterfly parasite by reducing defensive chemistry of a shared food plant. Ecol Lett 14:453–461. doi:10.1111/j.1461-0248.2011.01604.x

De Roode JC, Lefevre T, Hunter MD (2013) Self-medication in animals. Science 340:150–151. doi:10.1126/science.1235824

Del Campo ML, Halitschke R, Short SM et al (2013) Dietary plant phenolic improves survival of bacterial infection in Manduca sexta caterpillars. Entomol Exp Appl 146:321–331. doi:10.1111/eea.12032

Dunphy GB, Niven DF, Chadwick JS (2002) Iron contributes to the antibacterial functions of the haemolymph of Galleria mellonella. J Insect Physiol 48:903–914. doi:10.1016/S0022-1910(02)00159-2

Elderd BD, Rehill BJ, Haynes KJ, Dwyer G (2013) Induced plant defenses, host-pathogen interactions, and forest insect outbreaks. Proc Natl Acad Sci 110:14978–14983. doi:10.1073/pnas.1300759110

Engel P, Moran NA (2013) The gut microbiota of insects - diversity in structure and function. FEMS Microbiol Rev 37:699–735. doi:10.1111/1574-6976.12025

Felton GW (1996) Nutritive quality of plant protein: sources of variation and insect herbivore responses. Arch Insect Biochem Physiol 32:107–130. doi:10.1002/(SICI)1520-6327(1996)32:1<107::AID-ARCH7>3.0.CO;2-X

Freitak D, Wheat CW, Heckel DG, Vogel H (2007) Immune system responses and fitness costs associated with consumption of bacteria in larvae of Trichoplusia ni. BMC Biol 5:56. doi:10.1186/1741-7007-5-56

Freitak D, Schmidtberg H, Dickel F et al (2014) The maternal transfer of bacteria can mediate trans-generational immune priming in insects. Virulence 5:547–554. doi:10.4161/viru.28367

Gallardo F, Boethel DJ, Fuxa JR, Richter A (1990) Susceptibility of Heliothis zea (Boddie) larvae to Nomuraea rileyi (Farlow) Samson: effects of alpha-tomatine at the third trophic level. J Chem Ecol 16:1751–1759. doi:10.1007/BF01020492

Genc Y, Humphries JM, Lyons GH, Graham RD (2005) Exploiting genotypic variation in plant nutrient accumulation to alleviate micronutrient deficiency in populations. J Trace Elem Med Biol 18:319–324. doi:10.1016/j.jtemb.2005.02.005

Golkar L, LeBrun RA, Ohayon H et al (1993) Variation of larval susceptibility to Lagenidium giganteum in three mosquito species. J Invertebr Pathol 62:1–8. doi:10.1006/jipa.1993.1066

Gowler CD, Leon KE, Hunter MD, de Roode JC (2015) Secondary defense chemicals in milkweed reduce parasite infection in monarch butterflies, Danaus plexippus. J Chem Ecol 41:520–523. doi:10.1007/s10886-015-0586-6

Graham RI, Deacutis JM, Pulpitel T et al (2014) Locusts increase carbohydrate consumption to protect against a fungal biopesticide. J Insect Physiol 69:27–34. doi:10.1016/j.jinsphys.2014.05.015

Granados RR, Fu Y, Corsaro B, Hughes PR (2001) Enhancement of Bacillus thuringiensis toxicity to Lepidopterous species with the enhancin from Trichoplusia ni granulovirus. Biol Control 20:153–159. doi:10.1006/bcon.2000.0891

Gruner DS, Taylor AD (2006) Richness and species composition of arboreal arthropods affected by nutrients and predators: a press experiment. Oecologia 147:714–724. doi:10.1007/s00442-005-0337-4

Grusak MA, DellaPenna D (1999) Improving the nutrient composition of plants to enhance human nutrition and health. Annu Rev Plant Physiol Plant Mol Biol 50:133–161. doi:10.1146/annurev.arplant.50.1.133

Hails RS, Hernandez-Crespo P, Sait SM et al (2002) Transmission patterns of natural and recombinant baculoviruses. Ecology 83:906–916. doi:10.1890/0012-9658(2002)083[0906:TPONAR]2.0.CO;2

Hall SR, Knight CJ, Becker CR et al (2009) Quality matters: resource quality for hosts and the timing of epidemics. Ecol Lett 12:118–128. doi:10.1111/j.1461-0248.2008.01264.x

Hawlena D, Hughes KM, Schmitz OJ (2011) Trophic trait plasticity in response to changes in resource availability and predation risk. Funct Ecol 25:1223–1231. doi:10.1111/j.1365-2435.2011.01891.x

Hesketh H, Hails RS (2015) Bacillus thuringiensis impacts on primary and secondary baculovirus transmission dynamics in Lepidoptera. J Invertebr Pathol 132:171–181. doi:10.1016/j.jip.2015.09.008

Hodgson DJ, Vanbergen AJ, Hartley SE et al (2002) Differential selection of baculovirus genotypes mediated by different species of host food plant. Ecol Lett 5:512–518. doi:10.1046/j.1461-0248.2002.00338.x

Hodgson DJ, Hitchman RB, Vanbergen AJ et al (2004) Host ecology determines the relative fitness of virus genotypes in mixed-genotype nucleopolyhedrovirus infections. J Evol Biol 17:1018–1025. doi:10.1111/j.1420-9101.2004.00750.x

Hoover K, Stout MJ, Alaniz SA et al (1998) Influence of induced plant defenses in cotton and tomato on the efficacy of baculoviruses on noctuid larvae. J Chem Ecol 24:253–271

Hoover K, Grove M, Gardner M et al (2011) A gene for an extended phenotype. Science 333:1401. doi:10.1126/science.1209199

Jakubowska AK, Vogel H, Herrero S (2013) Increase in gut microbiota after immune suppression in baculovirus-infected larvae. PLoS Pathog 9:e1003379. doi:10.1371/journal.ppat.1003379

Jarosz J (1979) Gut flora of Galleria mellonella suppressing ingested bacteria. J Invertebr Pathol 34:192–198. doi:10.1016/0022-2011(79)90101-0

Johnston PR, Crickmore N (2009) Gut bacteria are not required for the insecticidal activity of Bacillus thuringiensis toward the tobacco hornworm, Manduca sexta. Appl Environ Microbiol 75:5094–5099. doi:10.1128/AEM.00966-09

Karban R, English-Loeb G (1997) Tachinid parasitoids affect host plant choice by caterpillars to increase caterpillar survival. Ecology 78:603–611

Lacey LA, Grzywacz D, Shapiro-Ilan DI et al (2015) Insect pathogens as biological control agents: back to the future. J Invertebr Pathol 132:1–41. doi:10.1016/j.jip.2015.07.009

Lampert E (2012) Influences of plant traits on immune responses of specialist and generalist herbivores. Insects 3:573–592. doi:10.3390/insects3020573

Lee KP, Cory JS, Wilson K et al (2006) Flexible diet choice offsets protein costs of pathogen resistance in a caterpillar. Proc R Soc B Biol Sci 273:823–829. doi:10.1098/rspb.2005.3385

Lee KP, Simpson SJ, Wilson K (2008) Dietary protein-quality influences melanization and immune function in an insect. Funct Ecol 22:1052–1061. doi:10.1111/j.1365-2435.2008.01459.x

Lefèvre T, Oliver L, Hunter MD, De Roode JC (2010) Evidence for trans-generational medication in nature. Ecol Lett 13:1485–1493. doi:10.1111/j.1461-0248.2010.01537.x

Lefèvre T, Chiang A, Kelavkar M et al (2012) Behavioural resistance against a protozoan parasite in the monarch butterfly. J Anim Ecol 81:70–79. doi:10.1111/j.1365-2656.2011.01901.x

Ludlum CT, Felton GW, Duffey SS (1991) Plant defenses: chlorogenic acid and polyphenol oxidase enhance toxicity of Bacillus thuringiensis subsp. kurstaki to Heliothis zea. J Chem Ecol 17:217–237. doi:10.1007/BF00994435

Mason CJ, Raffa KF (2014) Acquisition and structuring of midgut bacterial communities in gypsy moth (Lepidoptera: Erebidae) larvae. Environ Entomol 43:595–604

Mason CJ, Couture JJ, Raffa KF (2014) Plant-associated bacteria degrade defense chemicals and reduce their adverse effects on an insect defoliator. Oecologia 175:901–910. doi:10.1007/s00442-014-2950-6

Mason CJ, Rubert-Nason KF, Lindroth RL, Raffa KF (2015) Aspen defense chemicals influence midgut bacterial community composition of gypsy moth. J Chem Ecol 41:75–84. doi:10.1007/s10886-014-0530-1

Mattson WJ (1980) Herbivory in relation to plant nitrogen content. Annu Rev Ecol Syst 11:119–161

Mehlhorn H (ed) (2015) Host manipulations by parasites and viruses. doi: 10.1007/978-3-319-22936-2

Moret Y, Moreau J (2012) The immune role of the arthropod exoskeleton. Invertebr Surviv J 9:200–206

Musser RO, Kwon HS, Williams SA et al (2005) Evidence that caterpillar labial saliva suppresses infectivity of potential bacterial pathogens. Arch Insect Biochem Physiol 58:138–144. doi:10.1002/arch.20031

Nakazawa H, Tsuneishi E, Ponnuvel KM et al (2004) Antiviral activity of a serine protease from the digestive juice of Bombyx mori larvae against nucleopolyhedrovirus. Virology 321:154–162. doi:10.1016/j.virol.2003.12.011

Nishida R (2002) Sequestration of defensive substances from plants by Lepidoptera. Annu Rev Entomol 47:57–92. doi:10.1146/annurev.ento.47.091201.145121

Olson GL (2014) Transgenerational effects of food quantity and quality on disease resistance in the western tent caterpillar, Malacosoma californicum pluviale. Simon Fraser University

Olson GL, Myers JH, Hemerik L, Cory JS (2017) Phylloplane bacteria increase the negative impact of food limitation on insect fitness. Ecol Entomol:1–11. doi:10.1111/een.12399

Ownley BH, Gwinn KD, Vega FE (2010) Endophytic fungal entomopathogens with activity against plant pathogens: ecology and evolution. BioControl 55:113–128. doi:10.1007/s10526-009-9241-x

Palmer-Young EC, Sadd BM, Irwin RE, Adler LS (2017) Synergistic effects of floral phytochemicals against a bumble bee parasite. Ecol Evol 7:1836–1849. doi:10.1002/ece3.2794

Peiffer M, Felton GW (2005) The host plant as a factor in the synthesis and secretion of salivary glucose oxidase in larval Helicoverpa zea. Arch Insect Biochem Physiol 58:106–113. doi:10.1002/arch.20034

Pham LN, Dionne MS, Shirasu-Hiza M, Schneider DS (2007) A specific primed immune response in Drosophila is dependent on phagocytes. PLoS Pathog 3:e26. doi:10.1371/journal.ppat.0030026

Pieterse CMJ, Zamioudis C, Berendsen RL et al (2014) Induced systemic resistance by beneficial microbes. Annu Rev Phytopathol 52:347–375. doi:10.1146/annurev-phyto-082712-102340

Pilon FM, Visôtto LE, Guedes RNC, Oliveira MGA (2013) Proteolytic activity of gut bacteria isolated from the velvet bean caterpillar Anticarsia gemmatalis. J Comp Physiol B 183:735–747. doi:10.1007/s00360-013-0744-5

Plymale R, Grove MJ, Cox-Foster D et al (2008) Plant-mediated alteration of the peritrophic matrix and baculovirus infection in lepidopteran larvae. J Insect Physiol 54:737–749. doi:10.1016/j.jinsphys.2008.02.005

Ponnuvel KM, Nakazawa H, Asaoka A et al (2003) A lipase isolated from the silkworm Bombyx mori shows antiviral activity against nucleopolyhedrovirus. J Virol 77:10725–10729. doi:10.1128/JVI.77.19.10725

Ponnuvel KM, Nithya K, Sirigineedi S et al (2012) In vitro antiviral activity of an alkaline trypsin from the digestive juice of Bombyx mori larvae against nucleopolyhedrovirus. Arch Insect Biochem Physiol 81:90–104. doi:10.1002/arch.21046

Ponton F, Wilson K, Cotter SC et al (2011) Nutritional immunology: a multi-dimensional approach. PLoS Pathog 7:e1002223. doi:10.1371/journal.ppat.1002223

Popham HJR, Shelby KS (2009) Ascorbic acid influences the development and immunocompetence of larval Heliothis virescens. Entomol Exp Appl 133:57–64. doi:10.1111/j.1570-7458.2009.00898.x

Popham HJR, Shelby KS, Popham TW (2005) Effect of dietary selenium supplementation on resistance to baculovirus infection. Biol Control 32:419–426. doi:10.1016/j.biocontrol.2004.12.011

Popham HJR, Sun R, Shelby KS, Robertson JD (2012) Changes in trace metals in hemolymph of baculovirus-infected noctuid larvae. Biol Trace Elem Res 146:325–334. doi:10.1007/s12011-011-9257-9

Poprawski TJ, Greenberg SM, Ciomperlik MA (2000) Effect of host plant on Beauveria bassiana- and Paecilomyces fumosoroseus-induced mortality of Trialeurodes vaporariorum (Homoptera: Aleyrodidae). Environ Entomol 29:1048–1053. doi:10.1603/0046-225X-29.5.1048

Povey S, Cotter SC, Simpson SJ et al (2009) Can the protein costs of bacterial resistance be offset by altered feeding behaviour? J Anim Ecol 78:437–446. doi:10.1111/j.1365-2656.2008.01499.x

Povey S, Cotter SC, Simpson SJ, Wilson K (2013) Dynamics of macronutrient self-medication and illness-induced anorexia in virally infected insects. J Anim Ecol 83:245–255. doi:10.1111/1365-2656.12127

Pristavko VP, Dovzhenok NV (1974) Ascorbic acid influence on larval blood cell number and susceptibility to bacterial and fungal infection in the codling moth, Laspeyresia pomonella (Lepidoptera: Tortricidae). J Invertebr Pathol 168:165–168

Pritchett DW, Young SY, Yearian WC (1984) Some factors involved in the dissolution of Autographa californica nuclear polyhedrosis virus polyhedra by digestive fluids of Trichoplusia ni larvae. J Invertebr Pathol 43:160–168

Priya NG, Ojha A, Kajla MK et al (2012) Host plant induced variation in gut bacteria of Helicoverpa armigera. PLoS One 7:e30768. doi:10.1371/journal.pone.0030768

Quesada-Moraga E, López-Díaz C, Landa BB (2014) The hidden habit of the entomopathogenic fungus Beauveria bassiana: first demonstration of vertical plant transmission. PLoS One 9:e89278. doi:10.1371/journal.pone.0089278

Raubenheimer D, Bassil K (2007) Separate effects of macronutrient concentration and balance on plastic gut responses in locusts. J Comp Physiol B Biochem Syst Environ Physiol 177:849–855. doi:10.1007/s00360-007-0180-5

Raymond B, Hails RS (2007) Variation in plant resource quality and the transmission and fitness of the winter moth, Operophtera brumata nucleopolyhedrovirus. Biol Control 41:237–245. doi:10.1016/j.biocontrol.2007.02.005

Raymond B, Hartley SE, Cory JS, Hails RS (2005) The role of food plant and pathogen-induced behaviour in the persistence of a nucleopolyhedrovirus. J Invertebr Pathol 88:49–57. doi:10.1016/j.jip.2004.09.005

Rostás M, Hilker M (2003) Indirect interactions between a phytopathogenic and an entomopathogenic fungus. Naturwissenschaften 90:63–67. doi:10.1007/s00114-002-0395-y

Sadd BM, Schmid-Hempel P (2006) Insect immunity shows specificity in protection upon secondary pathogen exposure. Curr Biol 16:1206–1210. doi:10.1016/j.cub.2006.04.047

Salmela H, Amdam GV, Freitak D (2015) Transfer of immunity from mother to offspring is mediated via egg-yolk protein vitellogenin. PLoS Pathog 11:e1005015. doi:10.1371/journal.ppat.1005015

Sandre S-L, Tammaru T, Hokkanen HMT (2011) Pathogen resistance in the moth Orgyia antiqua: direct influence of host plant dominates over the effects of individual condition. Bull Entomol Res 101:107–114. doi:10.1017/S0007485310000258

Shikano I, Cory JS (2014) Dietary mechanism behind the costs associated with resistance to Bacillus thuringiensis in the cabbage looper, Trichoplusia ni. PLoS One 9:e105864. doi:10.1371/journal.pone.0105864

Shikano I, Cory JS (2015) Impact of environmental variation on host performance differs with pathogen identity: implications for host-pathogen interactions in a changing climate. Sci Rep 5:15351. doi:10.1038/srep15351

Shikano I, Cory JS (2016) Altered nutrient intake by baculovirus-challenged insects: self-medication or compensatory feeding? J Invertebr Pathol 139:25–33. doi:10.1016/j.jip.2016.07.005

Shikano I, Ericsson JD, Cory JS, Myers JH (2010) Indirect plant-mediated effects on insect immunity and disease resistance in a tritrophic system. Basic Appl Ecol 11:15–22. doi:10.1016/j.baae.2009.06.008

Shikano I, Oak MC, Halpert-Scanderbeg O, Cory JS (2015a) Trade-offs between transgenerational transfer of nutritional stress tolerance and immune priming. Funct Ecol 29:1156–1164. doi:10.1111/1365-2435.12422

Shikano I, Olson GL, Cory JS (2015b) Impact of non-pathogenic bacteria on insect disease resistance: importance of ecological context. Ecol Entomol 40:620–628. doi:10.1111/een.12235

Shikano I, Hua KN, Cory JS (2016) Baculovirus-challenge and poor nutrition inflict within-generation fitness costs without triggering transgenerational immune priming. J Invertebr Pathol 136:35–42. doi:10.1016/j.jip.2016.03.001

Shikano I, McCarthy EM, Elderd BD, Hoover K (2017a) Plant genotype and induced defenses affect the productivity of an insect-killing obligate viral pathogen. J Invertebr Pathol. doi:10.1016/j.jip.2017.05.001

Shikano I, Rosa C, Tan C-W, Felton GW (2017b) Tritrophic interactions: microbe-mediated plant effects on insect herbivores. Annu Rev Phytopathol. doi:10.1146/annurev-phyto-080516-035319

Shikano I, Shumaker K, Peiffer M et al (2017c) Plant-mediated effects on an insect-pathogen interaction vary with intraspecific genetic variation in plant defences. Oecologia. doi:10.1007/s00442-017-3826-3

Simone-Finstrom MD, Spivak M (2012) Increased resin collection after parasite challenge: a case of self-medication in honey bees? PLoS One 7:17–21. doi:10.1371/journal.pone.0034601

Simpson S, Raubenheimer D (2001) The geometric analysis of nutrient-allelochemical interactions: a case study using locusts. Ecology 82:422–439

Singer MS, Mace KC, Bernays EA (2009) Self-medication as adaptive plasticity: increased ingestion of plant toxins by parasitized caterpillars. PLoS One 4:e4796. doi:10.1371/journal.pone.0004796

Sternberg ED, Lefevre T, Li J et al (2012) Food plant-derived disease tolerance and resistance in a natural butterfly-plant-parasite interactions. Evolution 66:3367–3377. doi:10.5061/dryad.82j66

Stevenson PC, D'Cunha RF, Grzywacz D (2010) Inactivation of baculovirus by isoflavonoids on chickpea (Cicer arietinum) leaf surfaces reduces the efficacy of nucleopolyhedrovirus against Helicoverpa armigera. J Chem Ecol 36:227–235. doi:10.1007/s10886-010-9748-8

Stout MJ, Thaler JS, Thomma BPHJ (2006) Plant-mediated interactions between pathogenic microorganisms and herbivorous arthropods. Annu Rev Entomol 51:663–689. doi:10.1146/annurev.ento.51.110104.151117

Tang X, Freitak D, Vogel H et al (2012) Complexity and variability of gut commensal microbiota in polyphagous lepidopteran larvae. PLoS One 7:e36978. doi:10.1371/journal.pone.0036978

Tao L, Gowler CD, Ahmad A et al (2015) Disease ecology across soil boundaries: effects of below-ground fungi on above-ground host–parasite interactions. Proc R Soc B Biol Sci 282:20151993. doi:10.1098/rspb.2015.1993

Tidbury HJ, Pedersen AB, Boots M (2011) Within and transgenerational immune priming in an insect to a DNA virus. Proc R Soc B Biol Sci 278:871–876. doi:10.1098/rspb.2010.1517

van Houte S, Ros VID, Mastenbroek TG et al (2012) Protein tyrosine phosphatase-induced hyperactivity is a conserved strategy of a subset of baculoviruses to manipulate lepidopteran host behavior. PLoS One 7:e46933. doi:10.1371/journal.pone.0046933

Vijendravarma RK, Narasimha S, Chakrabarti S et al (2015) Gut physiology mediates a trade-off between adaptation to malnutrition and susceptibility to food-borne pathogens. Ecol Lett 18:1078–1086. doi:10.1111/ele.12490

Vorholt JA (2012) Microbial life in the phyllosphere. Nat Rev Microbiol 10:828–840. doi:10.1038/nrmicro2910

Wan N-F, Jiang J-X, Li B (2016) Effect of host plants on the infectivity of nucleopolyhedrovirus to Spodoptera exigua larvae. J Appl Entomol 140:636–644. doi:10.1111/jen.12298

Welte CU, de Graaf RM, van den Bosch TJM et al (2016) Plasmids from the gut microbiome of cabbage root fly larvae encode SaxA that catalyses the conversion of the plant toxin 2-phenylethyl isothiocyanate. Environ Microbiol 18:1379–1390. doi:10.1111/1462-2920.12997

Whipps JM, Hand P, Pink D, Bending GD (2008) Phyllosphere microbiology with special reference to diversity and plant genotype. J Appl Microbiol 105:1744–1755. doi:10.1111/j.1365-2672.2008.03906.x

Willott E, Tran HQ (2002) Zinc and Manduca sexta hemocyte functions. J Insect Sci 2:6. doi:10.1672/1536-2442(2002)002[0001:ZAMSHF]2.0.CO;2

Yang Y, Joern A (1994) Gut size changes in relation to variable food quality and body-size in grasshoppers. Funct Ecol 8:36–45

Zust T, Heichinger C, Grossniklaus U et al (2012) Natural enemies drive geographic variation in plant defenses. Science 338:116–119. doi:10.1126/science.1226397
Acknowledgements
I thank Dr. Jenny Cory, Dr. Kelli Hoover, Dr. Gary Felton and two anonymous referees for constructive comments on the manuscript. Financial support was provided by a Natural Sciences and Engineering Research Council of Canada Postdoctoral Fellowship (NSERC PDF-488105-2016).
About this article
Cite this article
Shikano, I. Evolutionary Ecology of Multitrophic Interactions between Plants, Insect Herbivores and Entomopathogens. J Chem Ecol 43, 586–598 (2017). https://doi.org/10.1007/s10886-017-0850-z
Received:

Revised:

Accepted:

Published:

Issue Date:
Keywords
Biological control

Host–parasite interactions

Immune response

Microbiota

Nutrition

Tritrophic interactions