Abstract
Plant volatile organic compounds play a role in selection of host plants by herbivorous insects. Once the insect reaches the plant, contact cues determine host acceptance. Although the willow sawfly Nematus oligospilus (Hymenoptera: Tenthredinidae) can differentiate among willow genotypes, no knowledge is available on the cues used by this insect to seek and accept the host plant. In this study, we recorded behavioral orientation in a Y-tube olfactometer of willow sawfly females to volatiles of the highly preferred genotype Salix nigra and the non-preferred genotype S. viminalis. The volatiles released by undamaged willows of each genotype were analyzed by coupled gas chromatography-mass spectrometry. Contact cues were evaluated first by oviposition preference bioassays after selective leaf wax removal, and then by studying the micromorphology of abaxial and adaxial leaf surfaces and their chemical composition. Willow sawfly females oriented preferentially to S. nigra volatiles, which contained more than 3 times the amount of volatiles than that collected from S. viminalis. Analysis of volatiles showed significant differences in amounts of (Z) and (E)-β-ocimene, undecane, decanal, and β-caryophyllene. The adaxial leaf surface of S. nigra was less preferred after wax removal, suggesting a role of cuticular waxes for oviposition acceptance. No differences were found among the micromorphology of leaf surfaces between preferred and non-preferred genotypes. The chemical analysis of cuticular waxes showed that the abaxial leaf surface of S. viminalis, which is completely avoided for oviposition, possessed 97 % of alkanes. The accepted leaf surfaces contained a more diverse wax profile including alcohols, acids, and esters. Thus, non-alkane wax compounds might be related to oviposition. In sum, our study suggests that several cues act in concert to provide oviposition cues for the sawfly N. oligospilus: females are attracted to volatiles from a distance, and once alighting on the plant, they seek specific chemical contact cues in order to lay eggs.
This is a preview of subscription content, log in to check access.
Access options
Buy single article
Instant access to the full article PDF.
US$ 39.95
Price includes VAT for USA
Subscribe to journal
Immediate online access to all issues from 2019. Subscription will auto renew annually.
US$ 199
This is the net price. Taxes to be calculated in checkout.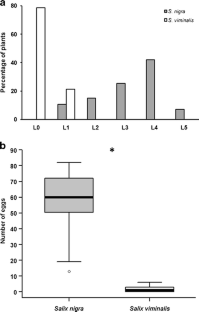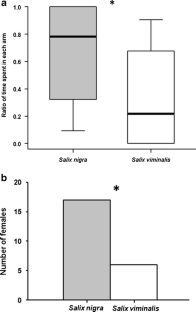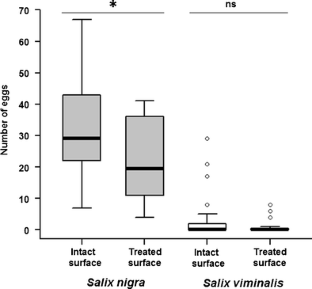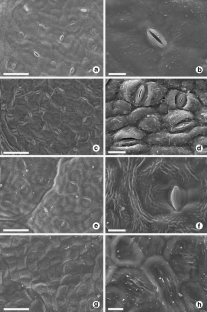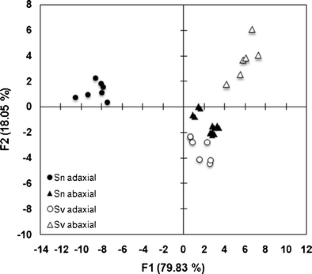 References
Adati T, Matsuda K (1993) Feeding stimulants from various leaf beetles (Coleoptera: Chrysomelidae) in the leaf surface wax of their host plants. Appl Entomol Zool 28:319–324

Barker AM, Molotsane M, Müller C, Schaffner U, Städler E (2006) Chemosensory and behavioural responses of the turnip sawfly, Athaliarosae, to glucosinolates and isothiocyanates. Chemoecology 16:209–218

Blight MM (1995) Antennal perception of oilseed rape, Brassica napus (Brassicaceae), volatiles by the cabbage seed weevil Ceutorhynchus assimilis (Coleoptera, Curculionidae). J Chem Ecol 21:1649–1664

Blumstein DT, Daniel JC (2007) Quantifying behavior the JWatcher way. Sinauer Associates, Inc., Sunderland

Braccini CL, Vega AS, Chludil HD, Leicach SR, Fernandez PC (2013) Host selection, oviposition behaviour and leaf traits in a specialist willow sawfly on species of Salix (Salicaceae). Ecol Entomol 38:617–626

Brooks JS, Williams EH, Feeny P (1996) Quantification of contact ovipositional stimulants for swallowtail butterfly, Papilio polyxenes, on the leaf surfaces of wild carrot, Daucus carota. J Chem Ecol 22:2341–2357

Bruce TJA, Wadhams LJ, Woodcock CM (2005) Insect host location: a volatile situation. Trends Plant Sci 10:269–274

Calatayud PA, Ahuya PO, Wanjoya A, Le-Rue B, Silvain JF, Frerot B (2008) Importance of plant physical cues in host acceptance for oviposition by Busseola fusca. Entomol Exp Appl 126:233–243

Cameron KD, Teece MA, Bevilacqua E, Smart LB (2002) Diversity of cuticular wax among Salix species and Populus species hybrids. Phytochemistry 60:715–725

Charles JG, Allan DG (2000) Development of the willow sawfly, Nematus oligospilus, at different temperatures, and estimation of voltinism throughout New Zealand. N Z J Zool 27:197–200

Charles JG, Allan DG, Fung L (1998) Susceptibility of willows to oviposition by the willow sawfly, Nematus oligospilus. Proceedings of the 51st New Zealand Plant Protection Conference, pp. 230–234. New Zealand Plant Protection Society

Coyle DR, McMillin JD, Hall RB, Hart ER (2003) Effects of cottonwood leaf beetle (Coleoptera: Chrysomelidae) larval defoliation, clone, and season on Populus foliar phagostimulants. Environ Entomol 32:452–462

Craig TP, Price PW, Clancy KM, Waring GM, Sacchi CF (1988) Forces preventing coevolution in the three-trophic-level system: willow, a gall-forming herbivore, and parasitoid. In: Spencer K (ed) Chemical mediation of coevolution. Academic Press, New York, pp. 57–80

Dapoto G, Giganti H (1994) Bioecología de Nematus desantisi Smith (Hymenoptera: Tenthredinidae: Nematinae) en las provincias de Río Negro y Neuquén (Argentina). Bosque 15:27–32

Degen T, Städler D (1997) Foliar form, colour and surface characteristics influence oviposition behaviour of the carrot fly. Entomol Exp Appl 83:99–112

Dhytam (2011) Choosing and using statistics. A biologist's guide. Wiley-Blackwell, UK

Fernandez PC, Braccini CL, Vega AS, Leicach SR (2012) Búsqueda de claves asociadas a la oviposición en la "avispa sierra del sauce" Nematus oligospilus. Proceedings of the VIII Congreso Argentino de Entosmología, pp. 209

Hietala T, Laakso S, Rosenqvist H (1995) Epicuticular waxes of Salix species in relation to their overwintering survival and biomass productivity. Phytochemistry 40:23–27

Hokkanen HMT (1991) Trap cropping in pest management. Annu Rev Entomol 36:119–138

Jetter R, Schäffer S (2001) Chemical composition of the Prunus laurocerasus leaf surface. Dynamic changes of the epicuticular wax film during leaf development. Plant Physiol 126:1725–1737

Jetter R, Schäffer S, Riederer M (2000) Leaf cuticular waxes are arranged in chemically and mechanically distinct layers: evidence from Prunus laurocerasus L. Plant Cell Environ 23:619–628

Kanno H, Harris MO (2000) Leaf physical and chemical features influence selection of plant genotypes by Hessian fly. J Chem Ecol 26:2335–2354

Kehl A, Dötterl S, Aas G, Rambold G (2010) Is flower scent influencing host plant selection of leaf-galling sawflies (Hymenoptera, Tenthredinidae) on willows? Chemoecology 20:215–221

Kolehmainen J, Roininen H, Julkunen-Tiitto R, Tahvanainen (1994) Importance of phenolic glucosides in host selection of shoot galling sawfly Euura amerinae, on Salix petandra. J Chem Ecol 20:2455–2466

Lehrman A, Torp M, Stenberg JA, Julkunen-Tiitto R, Björkman C (2012) Estimating direct resistance in willows against a major insect pest, Phratora vulgatissima, by comparing life history traits. Entomol Exp Appl 144:93–100

Li G, Ishikawa Y (2006) Leaf epicuticular wax chemicals of the Japanese knotweed Fallopia japonica as oviposition stimulants for Ostrinia latipennis. J Chem Ecol 32:595–604

Lin S, Binder BF, Hart ER (1998) Insect feeding stimulants from the leaf surface of Populus. J Chem Ecol 24:1781–1790

Martini A, Botti F, Galletti G, Bocchini P, Bazzocchi G, Baronio P, Burgio G (2010) The influence of pine volatile compounds on the olfactory response by Neodiprion sertifer (Geoffroy) females. J Chem Ecol 36:1114–1121

McLafferty FW, Stauffer DB (1994) Wiley registry of mass spectral data, sixth ed., Mass Spectrometry Library Search System, Bench-Top PBM Version 3.10 Palisades Newfield

Morrill WL, Weaver DK, Johnson GD (2001) Trap strip and field border modification for management of the wheat stem sawfly (Hymenoptera: Cephidae). J Entomol Sci 36:34–45

Morris BD, Foster SP, Harris MO (2000) Identification of 1-octacosanal and 6-methoxy-2-benzoxazolinone from wheat as ovipositional stimulants for Hessian fly, Mayetiola destructor. J Chem Ecol 26:859–873

Müller C, Hilker M (2001) Host finding and oviposition behavior in a chrysomelid specialist - the importance of host plant surface waxes. J Chem Ecol 27:985–994

Müller C, Riederer M (2005) Plant surface properties in chemical ecology. J Chem Ecol 31:2621–2651

National Institute of Standards and Technology (1999) PC Version 1.7 of the NIST/EPA/NIH Mass Spectral Library. PerkineElmer Corporation, Norwalk, CT, USA

Piesik D, Weaver DK, Runyon JB, Buteler M, Peck GE, Morrill WL (2008) Behavioural responses of wheat stem sawflies to wheat volatiles. Agric For Entomol 10:245–253

Price PW, Denno RF, Eubanks MD, Finke DL, Kaplan I (2011) Insect ecology: behavior, populations and communities. Cambridge University Press, New York

R Core Team (2012) R: a language and environment for statistical computing. R Foundation for Statistical Computing, Vienna

Renwick JAA (1989) Chemical ecology of oviposition in phytophagous insects. Experientia 45:223–228

Renwick JAA, Chew FS (1994) Oviposition behavior in Lepidoptera. Annu Rev Entomol 39:377–400

Riederer M, Müller C (2006) Biology of the plant cuticle. Annu Plant Reviews, Volume 23. Blackwell Publishing, Oxford

Roessingh P, Städler E, Fenwick GR, Lewis JA, Nielsen JK, Hurter J, Ramp T (1992) Oviposition and tarsal chemoreceptors of the cabbage root fly are stimulated by glucosinolates and host plant-extracts. Entomol Exp Appl 65:267–282

Roininen H, Price PW, Julkunen-Tiitto R, Tahvanainen R, Ikonen A (1999) Oviposition stimulant for a gall-inducing sawfly, Euura lasiolepis, on willow is a phenolic glucoside. J Chem Ecol 25:943–953

Ruuhola T, Julkunen-Tiitto R, Vainiotalo P (2003) In vitro degradation of willow salicylates. J Chem Ecol 29:1083–1097

Sarkar N, Barik A (2015) Free fatty acids from Momordica charantia L. flower surface waxes influencing attraction of Epilachna dodecastigma (Wied.) (Coleoptera: Coccinellidae). Int J Pest Manage 61:47–53

Schoonhoven LM, van Loon JJA, Dicke M (2005) Insect plant biology. Oxford University Press, New York

Scott Brown AS, Simmonds MSJ (2006) Leaf morphology of host and nonhost of the thrips Heliothrips haemorrhoidalis (Bouché). Bot J Linn Soc 152:109–130

Smith DR (2003) A synopsis of the sawflies (Hymenoptera: Symphyta) of America south of the United States: Tenthredinidae (Nematinae, Heterarthrinae, Tenthredininae). Trans Am Entomol Soc 129:1–45

Spencer JL, Pillai S, Bernays EA (1999) Synergism in the oviposition behavior of Plutella xylostella: sinigrin and wax compounds. J Insect Behav 12:483–500

Szafranek B, Tomaszewski D, Pokrzywińska K, Gołębiowski M (2008) Microstructure and chemical composition of leaf cuticular waxes in two Salix species and their hybrid. Acta Biol Cracov Ser Bot 50:49–54

Tamura YA, Hattori MA, Konno KA, Honda HB, Kono YB (2004) Relationship between the host plant preference of the leaf beetle Ophraella communa LeSage (Coleoptera: Chrysomelidae) and distribution of feeding stimulants in asteraceous plants. Jpn J Appl Entomol Z 48:191–199

Urban AJ, Eardley CD (1995) A recently introduced sawfly, Nematus oligospilus förster (Hymenoptera: Tenthredinidae), that defoliates willows in southern Africa. Afr Entomol 3:23–27

Weaver DK, Sing SE, Runyon JB, Morrill WL (2004) Potencial impact of cultural practices on wheat stem sawfly (Hymenoptera: Cephidae) and associated parasitoids. J Agric Urban Entomol 21:271–287

Weaver DK, Buteler M, Hofland ML, Runyon JB, Nansen C, Talbert LE, Lamb P, Carlson GR (2009) Cultivar preferences of ovipositing wheat stem sawflies as influenced by the amount of volatile attractant. J Econ Entomol 102:1009--1017
Acknowledgments
This work is dedicated to the memory of Peter E. A. Teal, an extraordinary mentor with a contagious enthusiasm. We thank Dr. Diego Segura for his help with the Y olfactometer. We appreciate the valuable technical help of Ing. Agr. Lucas Landi during the entire study. This work was funded by means of Préstamo BID-PICT 247 from Agencia Nacional de Promoción Científica y Tecnológica (ANPCyT), PNFOR 1104072 from Instituto Nacional de Tecnología Agropecuaria and SaFo S108 from Unidad para el Cambio Rural, Ministerio de Agricultura, Ganadería y Pesca de la República Argentina. We are also grateful to two anonymous reviewers who improved a previous version of this manuscript.
Additional information
Peter E. Teal is deceased.
Electronic supplementary material
About this article
Cite this article
Braccini, C.L., Vega, A.S., Coll Aráoz, M.V. et al. Both Volatiles and Cuticular Plant Compounds Determine Oviposition of the Willow Sawfly Nematus oligospilus on Leaves of Salix spp. (Salicaceae). J Chem Ecol 41, 985–996 (2015). https://doi.org/10.1007/s10886-015-0637-z
Received:

Revised:

Accepted:

Published:

Issue Date:
Keywords
Oviposition cues

Tenthredinidae

Insect-plant interaction

Host plant location

Volatiles

Cuticular wax

Olfactometer