Abstract
Information about multi-elemental concentrations in different plant parts of tropical Ni hyperaccumulator species has the potential to provide insight into their unusual metabolism relative to a range of essential and non-essential elements, but this information is scant in the literature. As Ni hyperaccumulation, and possibly co-accumulation of other toxic elements, has been hypothesized to provide herbivore (insect) protection, there is a need to quantify a range of these elements in plant tissues and transport fluids to at least verify the possibility of this explanation. In this study, multiple elements were analyzed in a range of different plant parts and transport fluids from Ni hyperaccumulator species collected from Sabah (Malaysia). The results show preferential accumulation of Ni in leaves over woody parts, but the highest concentrations were found in the phloem tissue (up to 7.9 % in Rinorea bengalensis) and phloem sap (up to 16.9 % in Phyllanthus balgooyi), visible by a bright green coloration in the field fresh material. The amount of Ni contained in one mature R. bengalensis tree was calculated at 4.77 kg. The high Ni concentration in the flowers of Phyllanthus securinegoides could affect insect floral visitors and pollination. High concentrations of Ni in the seeds of this species also could supply the seedling with Ni and aid in herbivory protection during the first stages of development. Foliar Ca and Ni in P. cf. securinegoides and R. bengalensis are positively correlated. Low accumulation of Ca is desirable for phytomining but concentrations of Ca are high in most Ni hyperaccumulators examined, and this could have consequences for the economic viability of Ni extraction from bio ore if these species were to be used as 'metal crops'.
This is a preview of subscription content, log in to check access.
Access options
Buy single article
Instant access to the full article PDF.
US$ 39.95
Price includes VAT for USA
Subscribe to journal
Immediate online access to all issues from 2019. Subscription will auto renew annually.
US$ 199
This is the net price. Taxes to be calculated in checkout.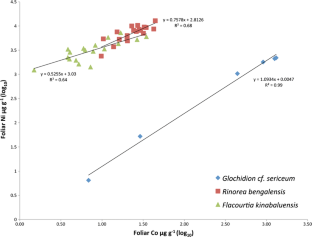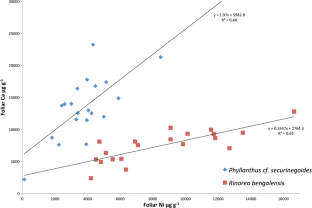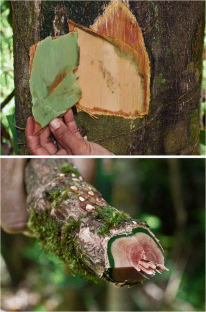 References
Alves S, Nabais C, de Lurdes Simões Gonçalves M, dos Santos MMC (2011) Nickel speciation in the xylem sap of the hyperaccumulator Alyssum serpyllifolium ssp. lusitanicum growing on serpentine soils of northeast Portugal. J Plant Physiol 168:1715–1722

Angle JS, Chaney RL, Baker AJM, Li Y, Reeves RD, Volk V, Roseberg R, Brewer E, Burke S, Nelkin J (2001) Developing commercial phytoextraction technologies: practical considerations. S Afr J Sci 97:619–623

Baker AJM, Brooks RR, Kersten W (1985) Accumulation of nickel by Psychotria species from the Pacific Basin. Taxon 34:89–95

Baker AJM, Proctor J, van Balgooy MMJ, Reeves RD (1992) Hyperaccumulation of nickel by the flora of the ultramafics of Palawan, Republic of the Philippines. In: Baker AJM, Proctor J, Reeves RD (eds) The vegetation of ultramafic (serpentine) soils. Intercept, Andover, pp 291–304

Barbaroux R, Mercier G, Blais JF, Morel J-L, Simonnot MO (2011) A new method for obtaining nickel metal from the hyperaccumulator plant Alyssum murale. Sep Purif Technol 83(C):57–65

Batianoff GN, Reeves RD, Specht RL (1990) Stackhousia tryonii Bailey: a nickel-accumulating serpentine-endemic species of Central Queensland. Aust J Bot 38:121–130

Boyd RS (2004) Ecology of metal hyperaccumulation. New Phytol 162:563–567

Boyd RS (2010) Heavy metal pollutants and chemical ecology: exploring new frontiers. J Chem Ecol 36:46–58

Boyd RS (2012) Plant defense using toxic inorganic ions: conceptual models of the defensive enhancement and joint effects hypotheses. Plant Sci 195:88–95

Boyd RS, Jaffré T (2001) Phytoenrichment of soil Ni content by Sebertia acuminata in New Caledonia and the concept of elemental allelopathy. S Afr J Sci 97:1–5

Boyd RS, Martens SN (1998) The significance of metal hyperaccumulation for biotic interactions. Chemoecology 8:1–7

Boyd RS, Martens SN (1999) Aphids are unaffected by the elemental defence of the nickel hyperaccumulator Streptanthus polygaloides (Brassicaceae). Chemoecology 9:1–7

Breulmann G, Ogino K, Ninomiya I, Ashton PS, La Frankie IV, Leffler US, Weckert V, Lieth H, Konschak R, Markert B (1998) Chemical characterisation of Dipterocarpaceae by use of chemical fingerprinting - a multielement approach at Sarawak, Malaysia. Sci Total Environ 215:85–100

Breulmann G, Ogino K, Markert B, Leffler US, Herpin U, Weckert V, Konschak R, Kikugawa Y, Ohkubo T (1999) Comparison of chemical elements in Dipterocarpaceae and Euphorbiaceae from a tropical rain forest in Sarawak, Malaysia. Sci Total Environ 225:231–240

Brooks RR (1987) Serpentine and its vegetation: a multidisciplinary approach. Dioscorides Press, 462 pp

Brooks RR, Wither E (1977) Nickel accumulation by Rinorea bengalensis (Wall.) O.K. J Geochem Explor 7:295–300

Brooks RR, McCleave JA, Schofield EK (1977) Cobalt and nickel uptake by the Nyssaceae. Taxon 26:197–201

Callahan DL, Roessner U, Dumontet V, Perrier N, Wedd AG, O'Hair RAJ, Baker AJM, Kolev SD (2008) LC-MS and GC-MS metabolite profiling of nickel (II) complexes in the latex of the nickel-hyperaccumulating tree Sebertia acuminata and identification of methylated aldaric acid as a new nickel (II) ligand. Phytochemistry 69:240–251

Centofanti T, Sayers Z, Cabello-Conejo MI, Kidd P, Nishizawa NK, Kakei Y, Davis AP, Sicher RC, Chaney RL (2013) Xylem exudate composition and root-to-shoot nickel translocation in Alyssum species. Plant Soil 373:59–75

Chaney RL (1983) Plant uptake of inorganic waste constituents. In: Parr JF, Marsh PD, Kla JM (eds) Land treatment of hazardous wastes. Noyes Data Corporation, Park Ridge, pp 50–76

Chaney RL, Angle JS, Baker AJM, Li JM (1998) Method for phytomining of nickel, cobalt and other metals from soil. U.S. Patent # 5,711,784

Chaney RL, Angle JS, Broadhurst CL, Peters CA, Tappero RV, Sparks DL (2007) Improved understanding of hyperaccumulation yields commercial phytoextraction and phytomining technologies. J Environ Qual 36:1429–1443

Cheruiyot DJ, Boyd RS, Moar WJ (2013) Exploring lower limits of plant elemental defense by cobalt, copper, nickel, and zinc. J Chem Ecol 39:666–674

Coleman CM, Boyd RS, Eubanks MD (2005) Extending the elemental defense hypothesis: dietary metal concentrations below hyperaccumulator levels could harm herbivores. J Chem Ecol 31:1669–1681

Harris WF, Goldstein, RA, Henderson GS (1973) Analysis of forest biomass pools, annual primary production and turnover of biomass for a mixed deciduous forest watershed. In: Young, H.E. (Ed.). IUFRO Biomass Studies: Nancy, France, and Vancouver, BC. University of Maine, Colleges of Life Sciences and Agriculture pp 41–64

Harris AT, Naidoo K, Nokes J, Walker T, Orton F (2009) Indicative assessment of the feasibility of Ni and Au phytomining in Australia. J Clean Prod 17:194–200

Hoffmann P, Baker AJM, Proctor J, Madulid D (2008) Phyllanthus balgooyi (Euphorbiaceae s.l.), a new nickel-hyperaccumulating species from Palawan and Sabah. Blumea 48:193–199

Jaffré T, Schmid M (1974) Acumulation de nickel par une Rubiacée de Nouvelle-Calédonie, Psychotria douarrei (G. Beauvisage) Däniker. C R Acad Sci (Paris) Sér D 278:1727–1730

Jaffré T, Brooks RR, Lee J, Reeves RD (1976) Sebertia acuminata: a hyperaccumulator of nickel from New Caledonia. Science 193:579–580

Kawakita A (2010) Evolution of obligate pollination mutualism in the tribe Phyllantheae (Phyllanthaceae). Plant Species Biol 25:3–19

Kawakita AA, Kato MM (2004) Evolution of obligate pollination mutualism in New Caledonian Phyllanthus (Euphorbiaceae). Am J Bot 91:410–415

Kubota J, Lazar VA, Beeson KC (1960) The study of cobalt status of soils in Arkansas and Louisiana using the black gum as the indicator plant. Soil Sci Soc Am J 24:527–528

Malik M, Chaney RL, Brewer EP, Li Y-M, Angle JS (2000) Phytoextraction of soil cobalt using hyperaccumulator plants. Int J Phytoremediat 2:319–329

Martens SN, Boyd RS (2002) The defensive role of Ni hyperaccumulation by plants: a field experiment. Am J Bot 89:998–1003

Meindl GA, Ashman TL (2014) Nickel accumulation by Streptanthus polygaloides (Brassicaceae) reduces floral visitation rate. J Chem Ecol 40:128–135

Minguzzi C, Vergnano O (1948) Cotenuto di nichel nelle ceneri di Alyssum bertolonii. Atti Soc Toscana Scienze Naturale Memorie Serie A55:49–77

Pollard AJ, Reeves RD, Baker AJM (2014) Facultative hyperaccumulation of heavy metals and metalloids. Plant Sci 217:8–17

Reeves RD (2003) Tropical hyperaccumulators of metals and their potential for phytoextraction. Plant Soil 249:57–65

Reeves RD (2006) Hyperaccumulation of trace elements by plants. In: Morel J-L, Echevarria G, Goncharova N (ed) Phytoremediation of metal-contaminated soils, Proceedings of the NATO Advanced Study Institute, Třešt' Castle, Czech Republic, 18–30 August 2002, NATO Science Series: IV: Earth and Environmental Sciences 68, Springer, Berlin pp 25–52

Reeves RD, Brooks RR, Macfarlane RM (1981) Nickel uptake by Californian Streptanthus and Caulanthus with particular reference to the hyperaccumulator S. polygaloides Gray (Brassicaceae). Am J Bot 68:708–712

Reeves RD, Baker AJM, Borhidi A, Berazain R (1996) Nickel‐accumulating plants from the ancient serpentine soils of Cuba. New Phytol 133:217–224

Robinson BH, Brooks RR, Howes A, Kirkman J, Gregg P (1997a) The potential of the high-biomass nickel hyperaccumulator Berkheya coddii for phytoremediation and phytomining. J Geochem Explor 60:115–126

Robinson BH, Chiarucci A, Brooks RR, Petit D, Kirkman JH, Gregg PEH, De Dominicis V (1997b) The nickel hyperaccumulator plant Alyssum bertolonii as a potential agent for phytoremediation and phytomining of nickel. J Geochem Explor 59:75–86

Robinson BH, Brooks RR, Hedley MJ (1999) Cobalt and nickel accumulation in Nyssa (tupelo) species and its significance for New Zealand agriculture. N Z J Agric Res 42:235–240

Sagner S, Kneer R, Wanner G, Cosson J, Deus-Neumann B, Zenk M (1998) Hyperaccumulation, complexation and distribution of nickel in Sebertia acuminata. Phytochemistry 47:339–347

Schaumlöffel D, Ouerdane L, Bouyssiere B, Łobiński R (2003) Speciation analysis of nickel in the latex of a hyperaccumulating tree Sebertia acuminata by HPLC and CZE with ICP MS and electrospray MS-MS detection. J Anal Atom Spectrom 18:120–127

Severne BC (1972) Botanical methods for mineral exploration in Western Australia. PhD thesis. Massey University, New Zealand

Van der Ent A, Baker AJM, Reeves RD, Pollard AJ, Schat H (2013a) Hyperaccumulators of metal and metalloid trace elements: facts and fiction. Plant Soil 362:319–334

Van der Ent A, Baker AJM, Van Balgooy MMJ, Tjoa A (2013b) Ultramafic nickel laterites in Indonesia (Sulawesi, Halmahera): mining, nickel hyperaccumulators and opportunities for phytomining. J Geochem Explor 128:72–79

Van der Ent A, Erskine P, Sumail S (2015) Ecology of nickel hyperaccumulator plants from ultramafic soils in Sabah (Malaysia). Chemoecology in press. doi:10.1007/s00049-015-0192-7

Wong KM (1992) Sabah's plant life: a new look at a priceless wonder. In: Anon. (ed) The environment — the future is in our hands. Intan Junior Chamber, Kota Kinabalu

Yamakura T, Hagihara A, Sukardjo S, Ogawa H (1986) Aboveground biomass of tropical rain forest stands in Indonesian Borneo. Vegetatio 68:71–82
Acknowledgments
We thank Peter Erskine (University of Queensland, Australia), Mark Tibbett (Cranfield University, UK), and Alan Baker (University of Queensland and University of Melbourne) for advice and encouragement. We also thank Rimi Repin, Rositti Karim, Sukaibin Sumail (Sabah Parks), and John Sugau and Postar Miun (Sabah Forestry Department) for support. We express our gratitude to Sabah Parks and the Sabah Forestry Department for granting permission to conduct research in Kinabalu Park, Hampuan FR, Bidu-Bidu Hills FR and Trus Madi FR. The University of Queensland is acknowledged for financial support that made this project possible. Finally, we thank anonymous reviewers for constructive comments for improvement of an earlier version of this manuscript.
About this article
Cite this article
van der Ent, A., Mulligan, D. Multi-element Concentrations in Plant Parts and Fluids of Malaysian Nickel Hyperaccumulator Plants and some Economic and Ecological Considerations. J Chem Ecol 41, 396–408 (2015). https://doi.org/10.1007/s10886-015-0573-y
Received:

Revised:

Accepted:

Published:

Issue Date:
Keywords
Chemical fingerprinting

Ni-sink

Phloem sap

Phytomining