Abstract
Bactrocera invadens, an invasive fruit fly species in the Afro-tropical region belonging to the Bactrocera dorsalis complex, causes considerable damage to fruit production and productivity. We sought to find attractants from hosts of B. invadens that could serve as baits in traps for monitoring and management of this pest. The attractiveness of volatiles from four different fruit species (mango, guava, banana and orange) at two stages of ripeness (ripe or unripe) was tested in an olfactometer assay. All fruits were attractive against a clean air control. Using hexane extracts of volatile collections of fruits, we demonstrated that male flies preferred the volatiles of ripe guava and orange over unripe fruit extracts. There was a slight difference in preference between females and males; females preferred orange to guava and mango, whereas males preferred mango and guava to orange. Gas chromatography/electroantennographic detection (GC/EAD) and GC/mass spectrometry (GC/MS) were used to identify compounds to which B. invadens antennae were sensitive. GC/EAD recordings from distal and medio-central parts of the fly antenna showed responses to a number of compounds from each fruit species, with esters dominating the responses. Synthetic blends were made for each fruit species using the shared antennally active compounds in ratios found in the extracts. In the olfactometer, B. invadens was most attracted to the banana and orange blends, followed by the mango and guava blends. The synthetic banana blend was as attractive as the volatile collection of banana, although both were less attractive than the fruit. The results demonstrate that composing attractive blends from GC/EAD-active constituents shared by host fruits can be effective for formulating attractive synthetic host mimics for generalist fruit fly species, such as B. invadens.
Access options
Buy single article
Instant access to the full article PDF.
USD 39.95
Price includes VAT (USA)
Tax calculation will be finalised during checkout.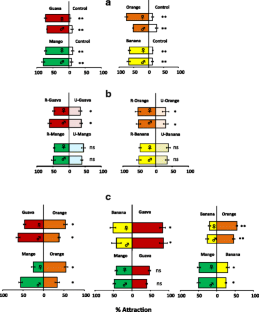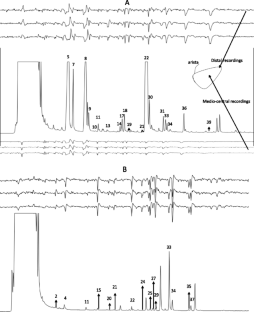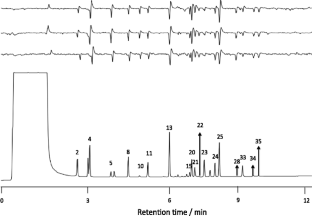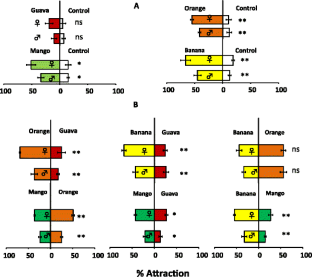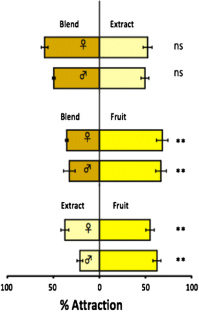 References
Alagarmalai J, Nestel D, Dragushich D, Nemny-Lavy E, Anshelevich L, Zada A, Soroker V (2009) Identification of host attractants for the Ethiopian fruit fly, Dacus ciliatus loew. J Chem Ecol 35:542–51

Aluja M, Mangan R (2008) Fruit fly (Diptera: Tephritidae) host status determination: critical conceptual, methodological, and regulatory considerations. Annu Rev Entomol 53:473–502

Anderson P, Sadek M, Larsson M, Hansson BS, Thoming G (2013) Larval host plant experience modulates both mate finding and oviposition choice in a moth. Anim Behav 85:1169–1175

Bruce TJ, Pickett J (2011) Perception of plant volatile blends by herbivorous insects-finding the right mix. Phytochemistry 72:1605–11

Cha DH, Nojima S, Hesler SP, Zhang A, Linn CE Jr, Roelofs WL, Loeb GM (2008) Identification and field evaluation of grape shoot volatiles attractive to female grape berry moth (Paralobesia viteana). J Chem Ecol 34:1180–1189. doi:10.1007/s10886-008-9517-0

Cha DH, Powell THQ, Feder JL, Linn CE Jr (2012) Geographic variation in fruit volatiles emitted by the hawthorn Crataegus mollis and its consequences for host race formation in the apple maggot fly, Rhagoletis pomonella. Entomol Exp Appl 143:254–268. doi:10.1111/j.1570-7458.201265.x

Cruz-López L, Malo EA, Toledo J, Virgen A, Del Mazo A, Rojas JC (2006) A new potential attractant for Anastrepha obliqua from Spondias mombin fruits. J Chem Ecol 32:351–65

Cugala D, Ekesi S, Ambasse D, Adamu RS, Mohamed S (2013) Assessment of ripening stages of Cavendish dwarf bananas as host or non-host to Bactrocera invadens. J Appl Entomol. doi:10.1111/jen.12045

Dekker T, Ibba I, Siju KP, Stensmyr MC, Hansson BS (2006) Olfactory shifts parallel superspecialism for toxic fruit in Drosophila melanogaster sibling, D. sechellia. Curr Biol 16:101–9. doi:10.1016/j.cub.2005.11.075

Del Socorro AP, Gregg PC, Howes AJ (2010) Development of a synthetic plant volatile-based attracticide for female noctuid moths. III. Insecticides for adult Helicoverpa armigera (Hübner) (Lepidoptera: Noctuidae). Aust J Entomol 49:31–39

Diaz-Fleischer F, Aluja M (2003) Influence of Conspecific Presence, Experience, and Host Quality on Oviposition Behavior and Clutch Size Determination in Anastrepha ludens (Diptera: Tephritidae). J Insect Behav 16:537–554

Drew RAI, Tsuruta K, White IM (2005) A new species of pest fruit fly (Diptera : Tephritidae : Dacinae) from Sri Lanka and Africa. African Entomol 13:149–154

Dukas R (2008) Evolutionary biology of insect learning. Annu Rev Entomol 53:145–60. doi:10.1146/annurev.ento.53.103106.093343

Ekesi S, Billah MK (2007) A field guide to the management of economically important tephritid fruit flies in Africa. icipe Science Press, Nairobi

Ekesi S, Nderitu PW, Rwomushana I (2006) Field infestation, life history and demographic parameters of the fruit fly Bactrocera invadens (Diptera : Tephritidae) in Africa. Bull Entomol Res 96:379–386

Ekesi S, Lux SA, Billah MK (2007) Field comparisons of food-based synthetic attractants and traps for African fruit flies. IAEA Technical Bulletin 1574:205–222

Goergen G, Vayssières J, Gnanvossou D, Vayssie OIS (2011) Bactrocera invadens (Diptera: Tephritidae), a new invasive fruit fly pest for the afrotropical region: host plant range and distribution in west and central Africa. Environ Entomol 40:844–854

Hu F, Zhang GN, Jia FX, Dou W, Wang JJ (2010) Morphological characterization and distribution of antennal sensilla of six fruit flies (Diptera: Tephritidae). Ann Entomol Soc Am 103:661–670

Jang EB (2003) Physiology of mating behaviour in Mediterranean fruit fly (Diptera: Tephritidae): Chemoreception and male accessory gland fluids in female post-mating behaviour. Fla Entomol 85:89–93

Jang EB, Light DM (1996) Olfactory semiochemicals of tephritids. In: Mcpheron BA, Steck GJ (eds) Fruit Fly Pests: A world assessment of their biology and management. St. Lucie press, Delray Beach, Florida, pp 73–90

Jayanthi KPD, Woodcock CM, Caulfield J, Birkett MA, Bruce TJA (2012) Isolation and identification of host cues from mango, Mangifera indica, that attract gravid female oriental fruit fly, Bactrocera dorsalis. J Chem Ecol 38:361–9

Lance DR (1983) Host seeking behaviour of the Gypsy moth: the influence of polyphagy and highly apparent host plants. In: Ahmad S (ed) Herbivorous insects, Host seeking behaviour and mechanisms. Acadamic press, New York, pp 201–224

Lux SA, Copeland RS, White IM, Manrakhan A, Billah MK (2003) A new invasive fruit fly species from the Bactrocera dorsalis (Hendel) group detected in East Africa. Insect Sci Appl 23:355–360

Malo EA, Cruz-Lopez LJ, Toledo AD, Mazo AV, Julio CR (2005) Behavioral and electrophysiological responses of the mexican fruit fly (Diptera: Tephritidae) to guava volatiles. Fla Entomol 88:364–371

Mwatawala MW, White IM, Maerere AP, Senkondo FJ, de Meyer M (2004) A new invasive Bactrocera species (Diptera: Tephritidae) in Tanzania. African Entomol 12:154–156

Mwatawala MW, De Meyer M, Makundi RH, Maerere AP (2006) Seasonality and host utilization of the invasive fruit fly, Bactrocera invadens (Diptera: Tephritidae) in central Tanzania. J Appl Entomol 130:530–537

Mwatawala MW, De Meyer M, Makundi RH, Maerere AP (2009) Host range and distribution of fruit-infesting pestiferous fruit flies (Diptera, Tephritidae) in selected areas of Central Tanzania. Bull Entomol Res 99:629–41

Nojima S, Charles-Linn JR, Roelofs W (2003a) Identification of host fruit volatiles from flowering dogwood (Cornus florida) attractive to dogwood-origin Rhagoletis pomonella flies. J Chem Ecol 29:2347–2357

Nojima S, Charles-Linn C, Morris B, Zhang A, Roelofs W (2003b) Identification of host fruit volatiles from hawthorn (Crataegus spp.) attractive to hawthorn-origin Rhagoletis pomonella flies. J Chem Ecol 29:321–336

Olsson SB, Linn CE, Michel A, Dambroski HR, Berlocher SH, Feder JL, Roelofs WL (2006a) Receptor expression and sympatric speciation: unique olfactory receptor neuron responses in F1 hybrid Rhagoletis populations. J Exp Biol 209:3729–41. doi:10.1242/jeb.02444

Olsson SB, Linn ECE, Roelofs WL (2006b) The chemosensory basis for behavioral divergence involved in sympatric host shifts II : olfactory receptor neuron sensitivity and temporal firing pattern to individual key host volatiles. J Comp Physiol 192:289–300. doi:10.1007/s00359-005-0066-5

Prokopy RJ, Roitberg BD (1984) Foraging behavior of true fruit flies concepts of foraging can be used to determine how tephritids search for food, mates, and egg-laying sites and to help control these pests. Am Sci 72:41–49

Rattanapun W, Amornsak W, Clarke AR (2009) Bactrocera dorsalis preference for and performance on two mango varieties at three stages of ripeness. Entomol Exp Appl 131:243–253. doi:10.1111/j.1570-7458.2009.00850.x

Robacker DC, Aluja M, Bartelt RJ, Patt J (2009) Identification of chemicals emitted by calling males of the Sapote fruit fly, Anastrepha serpentina. J Chem Ecol 35:601–9

Rwomushana I, Ekesi S, Gordon I, Callistus KPO, Gordon IAN (2008) Host plants and host plant preference studies for Bactrocera invadens (Diptera : Tephritidae) in Kenya, a new invasive fruit fly species in Africa. Ecol Popul Biol 2:331–340. doi:10.1603/0013-8746(2008) 101

Sarin S, Dukas R (2009) Social learning about egg-laying substrates in fruitflies. Proc Biol Sci 276:4323–8. doi:10.1098/rspb.2009.1294

Seo ST, Farias GJ, Harris EJ (1982) Oriental fruit fly: ripening of fruit and its effect on index of infestation of Hawaiian papayas. J Econ Entomol 75:173–178

Siderhurst MS, Jang EB (2006) Female-biased attraction of oriental fruit fly, Bactrocera dorsalis (Hendel), to a blend of host fruit volatiles from Terminalia catappa L. J Chem Ecol 32:2513–2524

Tasin M, Bäckman AC, Coracini M, Casado D, Ioriatti C, Witzgall P (2007) Synergism and redundancy in a plant volatile blend attracting grapevine moth females. Phytochemistry 68:203–9. doi:10.1016/j.phytochem.2006.10.015

Tasin M, Bäckman AC, Anfora G, Carlin S, Ioriatti C, Witzgall P (2010) Attraction of female grapevine moth to common and specific olfactory cues from 2 host plants. Chem Senses 35:57–64

Thamara ABSL, Fernando SZ (2008) Selection of artificial hosts for oviposition by wild Anastrpha oblique (Macquart) (Diptera, Tephritidae): influence of adult food and effect of experience. Rev Bras Entomol 52:467–471

Vargas RI, Stark JD, Kido MH, Ketter HM, Whitehand LC (2000) Methyl eugenol and cue-lure traps for suppression of male oriental fruit flies and melon flies (Diptera: Tephritidae) in Hawaii: effects of lure mixtures and weathering. J Econ Entomol 93:81–87

Vargas RI, Piñero JC, Mau RFL, Jang EB, Klungness LM, Mclnnis DO, Harris EB, McQuate GT, Bautista RC, Wong L (2010) Area-wide suppression of the Mediterranean fruit fly, Ceratitis capitata, and the Oriental fruit fly, Bactrocera dorsalis, in Kamuela, Hawaii. J Insect Sci 10:1–17

Vayssières AJ, Carel Y, Coubes M, Duyck PF (2008) Development of immature stages and comparative demography of two cucurbit-attacking fruit flies in Reunion Island : Bactrocera cucurbitae and Dacus ciliatus (Diptera Tephritidae). Environ Entomol 37:307–314
Acknowledgements
We thank the Swedish Ministry of Foreign Affairs (UD-40), Insect Chemical Ecology, Ethology, and Evolution (ICE3) and Swedish International Development cooperation Agency (SIDA) for funding the experiment. We also thank Sunday Ekesi of African Insect Science for Food and Health (icipe) for providing us with pupae and artificial media.
Additional information
Emiru Seyoum passed away on the 1st of January 2014
About this article
Cite this article
Biasazin, T.D., Karlsson, M.F., Hillbur, Y. et al. Identification of Host Blends that Attract the African Invasive Fruit Fly, Bactrocera invadens . J Chem Ecol 40, 966–976 (2014). https://doi.org/10.1007/s10886-014-0501-6
Received:

Revised:

Accepted:

Published:

Issue Date:
Keywords
Bactrocera

Electrophysiology

Fruit Fly

Host Plant Volatiles

Olfaction

Preference

Diptera, Tephritidae