Abstract
Foraging success of parasitoids depends on the utilization of reliable information on the presence of their often, inconspicuous hosts. These parasitic wasps use herbivore-induced plant volatiles (HIPVs) that provide reliable cues on host presence. However, host searching of hyperparasitoids, a group of parasitoids that parasitize the larvae and pupae of other parasitoids, is more constrained. Their hosts do not feed on plants, and often are even concealed inside the body of the herbivore host. Hyperparasitoids recently have been found to use HIPVs of plants damaged by herbivore hosts in which the parasitoid larvae develop. However, hyperparasitoids that search for these parasitoid larvae may be confronted with healthy and parasitized caterpillars on the same plant, further complicating their host location. In this study, we addressed whether the primary hyperparasitoid Baryscapus galactopus uses caterpillar body odors to discriminate between unparasitized herbivores and herbivores carrying larvae of parasitoid hosts. We show that the hyperparasitoids made faster first contact and spent a longer mounting time with parasitized caterpillars. Moreover, although the three parasitoid hosts conferred different fitness values for the development of B. galactopus, the hyperparasitoids showed similar behavioral responses to caterpillar hosts carrying different primary parasitoid hosts. In addition, a two-chamber olfactometer assay revealed that volatiles emitted by parasitized caterpillars were more attractive to the hyperparasitoids than those emitted by unparasitized caterpillars. Analysis of volatiles revealed that body odors of parasitized caterpillars differ from unparasitized caterpillars, allowing the hyperparasitoids to detect their parasitoid host.
Access options
Buy single article
Instant access to the full article PDF.
USD 39.95
Price excludes VAT (USA)
Tax calculation will be finalised during checkout.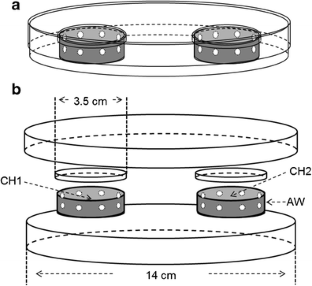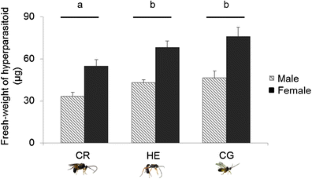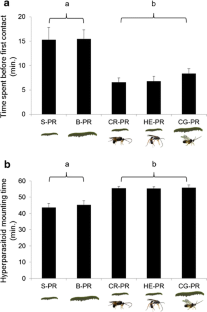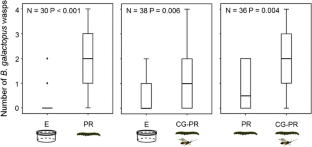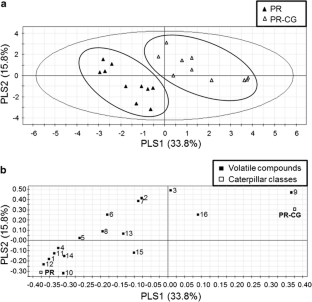 References
Agelopoulos NG, Dicke M, Posthumus MA (1995) Role of volatile infochemicals emitted by feces of larvae in host-searching behavior of parasitoid Cotesia rubecula (Hymenoptera: Braconidae): a behavioral and chemical study. J Chem Ecol 21:1789–1811

Beckage NE, Gelman DB (2004) Wasp parasitoid disruption of host development: implications for new biologically based strategies for insect control. Annu Rev Entomol 49:299–330

Buitenhuis R, Boivin G, Vet LEM, Brodeur J (2004) Preference and performance of the hyperparasitoid Syrphophagus aphidivorus (Hymenoptera : Encyrtidae): fitness consequences of selecting hosts in live aphids or aphid mummies. Ecol Entomol 29:648–656

Buitenhuis R, Vet LEM, Boivin G, Brodeur J (2005) Foraging behaviour at the fourth trophic level: a comparative study of host location in aphid hyperparasitoids. Entomol Exp Appl 114:107–117

Dicke M (2009) Behavioural and community ecology of plants that cry for help. Plant Cell Environ 32:654–665

Godfray HCJ (1994) Parasitoids: behavioral and evolutionary ecology. Princeton University Press, Princeton, NJ

Gols R, Bullock JM, Dicke M, Bukovinszky T, Harvey JA (2011) Smelling the wood from the trees: non-linear parasitoid responses to volatile attractants produced by wild and cultivated cabbage. J Chem Ecol 37:795–807

Harvey JA (2000) Dynamic effects of parasitism by an endoparasitoid wasp on the development of two host species: implications for host quality and parasitoid fitness. Ecol Entomol 25:267–278

Harvey JA, Jervis MA, Gols R, Jiang NQ, Vet LEM (1999) Development of the parasitoid, Cotesia rubecula (Hymenoptera : Braconidae) in Pieris rapae and Pieris brassicae (Lepidoptera : Pieridae): evidence for host regulation. J Insect Physiol 45:173–182

Harvey JA et al (2008) Do parasitized caterpillars protect their parasitoids from hyperparasitoids? a test of the 'usurpation hypothesis'. Anim Behav 76:701–708

Harvey JA, Poelman EH, Gols R (2010) Development and host utilization in Hyposoter ebeninus (Hymenoptera: Ichneumonidae), a solitary endoparasitoid of Pieris rapae and P. brassicae caterpillars (Lepidoptera: Pieridae). Biol Control 53:312–318

Harvey JA, Gols R, Vet LEM, Kruidhof HM (2012) Development of a hyperparasitoid wasp in different stages of its primary parasitoid and secondary herbivore hosts. J Insect Physiol 58:1463–1468

Harvey JA, Poelman EH, Tanaka T (2013) Intrinsic inter- and intraspecific competition in parasitoid wasps. Annu Rev Entomol 58:333–351

Iranshahi M (2012) A review of volatile sulfur-containing compounds from terrestrial plants: biosynthesis, distribution and analytical methods. J Essent Oil Res 24:393–434

Kaplan I (2012) Trophic complexity and the adaptive value of damage-induced plant volatiles. PLoS Biol 10:e1001437

Karban R, Agrawal AA (2002) Herbivore offense. Annu Rev Ecol Syst 33:641–664

Lemaitre B, Hoffmann J (2007) The host defense of Drosophila melanogaster. Annu Rev Immunol 25:697–743

Libersat F, Delago A, Gal R (2009) Manipulation of host behavior by parasitic insects and insect parasites. Annu Rev Entomol 54:189–207

McCormick AC, Unsicker SB, Gershenzon J (2012) The specificity of herbivore-induced plant volatiles in attracting herbivore enemies. Trends Plant Sci 17:303–310

Ode PJ (2006) Plant chemistry and natural enemy fitness: effects on herbivore and natural enemy interactions. Annu Rev Entomol 51:163–185

Poelman EH, Zheng SJ, Zhang Z, Heemskerk NM, Cortesero AM, Dicke M (2011a) Parasitoid-specific induction of plant responses to parasitized herbivores affects colonization by subsequent herbivores. Proc Natl Acad Sci U S A 108:19647–19652

Poelman EH, Gols R, Snoeren TAL, Muru D, Smid HM, Dicke M (2011b) Indirect plant-mediated interactions among parasitoid larvae. Ecol Lett 14:670–676

Poelman EH, Bruinsma M, Zhu F, Weldegergis BT, Boursault AE, Jongema Y, van Loon JJA, Vet LEM, Harvey JA, Dicke M (2012) Hyperparasitoids use herbivore-induced plant volatiles to locate their parasitoid host. PLoS Biol 10:e1001435

Poelman EH, Harvey JA, van Loon JJA, Vet LEM, Dicke M (2013) Variation in herbivore-induced plant volatiles corresponds with spatial heterogeneity in the level of parasitoid competition and parasitoid exposure to hyperparasitism. Funct Ecol 27:1107–1116

Rochat S, Laumer JY, Chaintreau A (2007) Analysis of sulfur compounds from the in-oven roast beef aroma by comprehensive two-dimensional gas chromatography. J Chromatogr A 1147:85–94

Rosenheim JA (1998) Higher-order predators and the regulation of insect herbivore populations. Annu Rev Entomol 43:421–447

Schoonhoven LM, van Loon JJA, Dicke M (2005) Insect-plant biology, 2nd edn. Oxford University Press, Oxford

Soler R, Badenes-Perez FR, Broekgaarden C, Zheng SJ, David A, Boland W, Dicke M (2012) Plant-mediated facilitation between a leaf-feeding and a phloem-feeding insect in a brassicaceous plant: from insect performance to gene transcription. Funct Ecol 26:156–166

Sullivan DJ (1987) Insect hyperparasitism. Annu Rev Entomol 32:49–70

Sullivan DJ, Volkl W (1999) Hyperparasitism: multitrophic ecology and behaviour. Annu Rev Entomol 44:291–315

Tanaka S, Nishida T, Ohsaki N (2007) Sequential rapid adaptation of indigenous parasitoid wasps to the invasive butterfly Pieris brassicae. Evolution 61:1791–1802

Thomas F, Rigaud T, Brodeur J (2012) Evolutionary routes leading to host manipulation by parasites. In: Hughes DP, Brodeur J, Thomas F (eds) Host manipulation by parasites. Oxford University Press, Oxford, UK, pp 16–35

Utsumi S (2011) Eco-evolutionary dynamics in herbivorous insect communities mediated by induced plant responses. Popul Ecol 53:23–34

Vet LEM, Dicke M (1992) Ecology of infochemical use by natural enemies in a tritrophic context. Annu Rev Entomol 37:141–172

Volkl W, Sullivan DJ (2000) Foraging behaviour, host plant and host location in the aphid hyperparasitoid Euneura augarus. Entomol Exp Appl 97:47–56

Weinhold A, Baldwin IT (2011) Trichome-derived O-acyl sugars are a first meal for caterpillars that tags them for predation. Proc Natl Acad Sci U S A 108:7855–7859

Whiteman NK (2012) Co-infections and the third trophic level. Funct Ecol 26:1–2
Acknowledgments
We thank Léon Westerd, Frans van Aggelen, and André Gidding for rearing the insects. This study was supported by the Earth and Life Sciences Council of the Netherlands Organisation for Scientific Research (NWO-ALW) by a Veni Grant 863.10.012 (to EHP) and Ecogenomics Grant 844.10.005 (to MD).
About this article
Cite this article
Zhu, F., Weldegergis, B.T., Lhie, B. et al. Body Odors of Parasitized Caterpillars Give Away the Presence of Parasitoid Larvae to Their Primary Hyperparasitoid Enemies. J Chem Ecol 40, 986–995 (2014). https://doi.org/10.1007/s10886-014-0500-7
Received:

Revised:

Accepted:

Published:

Issue Date:

DOI: https://doi.org/10.1007/s10886-014-0500-7
Keywords