Abstract
Volatile organic compounds derived from non-host plants, Ocimum basilicum, Rosmarinus officinalis, Corymbia citriodora, and Ruta graveolens, can be used to mask host plant odors, and are repellent to the tea geometrid, Ectropis obliqua. Volatile compounds were collected by headspace absorption, and the components were identified and quantified by using gas chromatography/mass spectrometry. The responses of antennae of female E. obliqua to the compounds were evaluated with gas chromatography/electroantennography detection. Qualitative and quantitative differences were found among the four odor profiles. Consistent electroantennographic activity was obtained for eight of the volatiles from the four plants: β-myrcene, α-terpinene, γ-terpinene, linalool, cis-verbenol, camphor, α-terpineol, and verbenone. In a Y-tube bioassay, six chemicals, β-myrcene, γ-terpinene, (R)-(−)-linalool, (S)-(−)-cis-verbenol, (R)-(+)-camphor, and (S)-(−)-verbenone, were the main compounds responsible for repelling E. obliqua. An eight-component mixture including all of the bioactive compounds (in a ratio of 13:2:13:8:1:24:6:17) from R. officinalis was significantly more effective at repelling the moths than any single compound or a mixture of equal amounts of the eight compounds. Field results demonstrated that intercropping tea plants with R. officinalis effectively suppressed E. obliqua infestations in a tea plantation. Our findings suggests that odor blends of R. officinalis play a role in disturbing host orientation behavior, and in repelling E. obliqua adults, and that R. officinalis should be considered when developing "push-pull" strategies aimed at optimizing the control of E. obliqua with semiochemicals.
Access options
Buy single article
Instant access to the full article PDF.
USD 39.95
Price excludes VAT (USA)
Tax calculation will be finalised during checkout.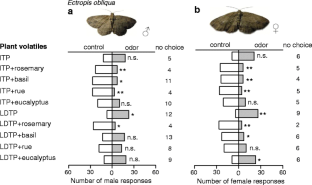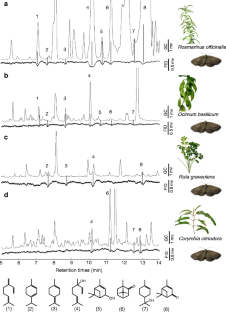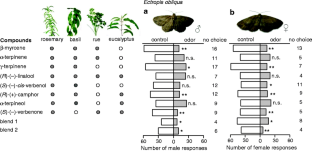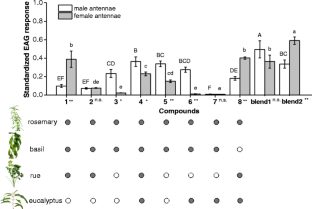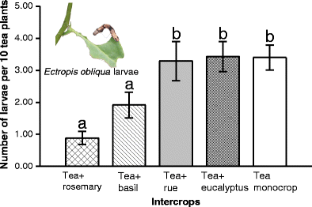 References
Adams RP (2001) Identification of essential oil components by gas chromatography / quadrupole mass spectroscopy. Allured, Carol Stream

Aharoni A, Giri AP, Deuerlein S, Griepink F, deKogel WJ, Verstappen FW, Verhoeven HA, Jongsma MA, Schwab W, Bouwmeester HJ (2003) Terpenoid metabolism in wild-type and transgenic arabidopsis plants. Plant Cell 15:2866–2884

Al-Abassi S, Birkett MA, Pettersson J, Pickett JA, Wadhams LJ, Woodcock CM (2000) Response of the seven-spot ladybird to an aphid alarm pheromone and an alarm pheromone inhibitor is mediated by paired olfactory cells. J Chem Ecol 26:1765–1771

Arimura G, Kost C, Boland W (2005) Herbivore-induced, indirect plant defences. Biochim Biophys Acta 1734:91–111

Benelli G, Flamini G, Canale A, Cioni PL, Conti B (2012) Toxicity of some essential oil formulations against the Mediterranean fruit fly Ceratitis capitata (Wiedemann) (Diptera Tephritidae). Crop Prot 42:223–229

Bennison J, Maulden K, Dewhirst S, Pow EM, Slatter P, Wadhams LJ (2001) Towards the development of a push-pull strategy for improving biological control of western flower thrips on chrysanthemum. In: Marullo R, Mound LA (eds) Thrips and tospoviruses: Proceedings of the 7th International Symposium on Thysanoptera. ANIC, Canberra, pp 199–206

Billings RF, Berisford CW, Salom SM, Payne TL (1995) Applications of semiochemicals in the management of southern pine beetle infestations: current status of research. In: Salom SM, Hobson KR (eds) Application of semiochemicals for management of bark beetle infestations-Proceedings of an Informal Conference. USDA Forest Service, Ogden, pp 30–38

Bruce TJA, Pickett JA (2011) Perception of plant volatile blends by herbivorous insects–finding the right mix. Phytochemistry 72:1605–1611

Bruce TJA, Wadhams LJ, Woodcock CM (2005) Insect host location: a volatile situation. Trends Plant Sci 10:269–274

Cai XM, Sun XL, Dong WX, Wang GC, Chen ZM (2012) Variability and stability of tea weevil-induced volatile emissions from tea plants with different weevil densities, photoperiod and infestation duration. Insect Sci 19:507–517

Calín-Sánchez Á, Lech K, Szumny A, Figiel A, Carbonell-Barrachina ÁA (2012) Volatile composition of sweet basil essential oil (Ocimum basilicum L.) as affected by drying method. Food Res Int 48:217–225

Carović-Stanko K, Orlić S, Politeo O, Strikić F, Kolak I, Milos M, Satovic Z (2010) Composition and antibacterial activities of essential oils of seven Ocimum taxa. Food Chem 119:196–201

Cha DH, Linn CE Jr, Teal PEA, Zhang AJ, Roelofs WL, Loeb GM (2011) Eavesdropping on plant volatiles by a specialist moth: significance of ratio and concentration. PLoS One 6:e17033

Chalcat JC, Ӧzcan MM (2008) Comparative essential oil composition of flowers, leaves and stems of basil (Ocimum basilicum L.) used as herb. Food Chem 110:501–503

Conti B, Canale A, Bertoli A, Gozzini F, Pistelli L (2010) Essential oil composition and larvicidal activity of six Mediterranean aromatic plants against the mosquito Aedes albopictus (Diptera: Culicidae). Parasitol Res 107:1455–1461

Conti B, Leonardi M, Pistelli L, Profeti R, Ouerghemmi I, Benelli G (2013) Larvicidal and repellent activity of essential oils from wild and cultivated Ruta chalepensis L. (Rutaceae) against Aedes albopictus Skuse (Diptera: Culicidae), an arbovirus vector. Parasitol Res 112:991–999

Cook SM, Khan ZR, Pickett JA (2007) The use of push-pull strategies in integrated pest management. Annu Rev Entomol 52:375–400

De Feo V, de Simone F, Senatore F (2002) Potential allelochemicals from the essential oil of Ruta graveolens. Phytochemistry 61:573–578

Dormont L, Roques A, Malosse C (1997) Efficiency of spraying mountain pine cones with oleoresin of Swiss stone pine cones to prevent insect attack. J Chem Ecol 23:2261–2274

Egigu MC, Ibrahim MA, Yahya A, Holopainen JK (2011) Cordeauxia edulis and Rhododendron tomentosum extracts disturb orientation and feeding behavior of Hylobius abietis and Phyllodecta laticollis. Entomol Exp Appl 138:162–174

Elaissi A, Rouis Z, Salem NA, Mabrouk S, Ben Salem Y, Salah KB, Aouni M, Farhat F, Chemli R, Harzallah-Skhiri F, Khouja ML (2012) Chemical composition of 8 eucalyptus species' essential oils and the evaluation of their antibacterial, antifungal and antiviral activities. BMC Complement Alternat Med 12:81

Erler F, Ulug I, Yalcinkaya B (2006) Repellent activity of five essential oils against Culex pipiens. Fitoterapia 77:491–494

Giatropoulos A, Papachristos DP, Kimbaris A, Koliopoulos G, Polissiou MG, Emmanoouel N, Michaelakis A (2012) Evaluation of bioefficacy of three Citrus essential oils against the dengue vector Aedes albopictus (Diptera: Culicidae) in correlation to their components enantiomeric distribution. Parasitol Res 111:2253–2263

Gu SH, Wang SY, Zhang XY, Ji P, Liu JT, Wang GR, Wu KM, Guo YY, Zhou JJ, Zhang YJ (2012) Functional characterizations of chemosensory proteins of the alfalfa plant bug Adelphocoris lineolatus indicate their involvement in host recognition. PLoS One 7:e42871

Han BY, Chen ZM (2002) Behavioral and electrophysiological responses of natural enemies to synomones from tea shoots and kairomones from tea aphids, Toxoptera aurantii. J Chem Ecol 28:2203–2219

Han J, Kim SI, Choi BR, Lee SG, Ahn YJ (2011) Fumigant toxicity of lemon eucalyptus oil constituents to acaricide-susceptible and acaricide-resistant Tetranychus urticae. Pest Manag Sci 67:1583–1588

Han BY, Zhang QH, Byers JA (2012) Attraction of the tea aphid, Toxoptera aurantii, to combinations of volatiles and colors related to tea plants. Entomol Exp Appl 144:258–269

Hare JD (2011) Ecological role of volatiles produced by plants in response to damage by herbivorous insects. Annu Rev Entomol 56:161–180

Hong J, Ye GY, Hu C (1993) Scanning electron microscopy of adult antennal sensilla of the geometrid, Ectropis obliqua hypulina Wehrli. J Zhejiang Agric Univ 19:53–56

Hu JH, Wang MC, Kong Y, Yao YC, Wei W, Song BZ, Li ZR (2010) The dynamic response of arthropod community diversity to the treatments of intercropping aromatic plants in pear orchard. Sci Agric Sin 43:1007–1016

Isman MB (2006) Botanical insecticides, deterrents, and repellents in modern agriculture and an increasingly regulated world. Annu Rev Entomol 51:45–66

Isman MB (2008) Botanical insecticides: for richer, for poorer. Pest Manag Sci 64:8–11

Jirovetz L, Buchbauer G, Shafi MP, Kaniampady MM (2003) Chemotaxonomical analysis of the essential oil aroma compounds of four different Ocimum species from southern India. Eur Food Res Technol 217:120–124

Katerinopoulos HE, Pagona G, Afratis A, Stratigakis N, Roditakis N (2005) Composition and insect attracting activity of the essential oil of Rosmarinus officinalis. J Chem Ecol 31:111–122

Kfir R, Overholt WA, Khan ZR, Polaszek A (2002) Biology and management of economically important lepidopteran cereal stem borers in Africa. Annu Rev Entomol 47:701–731

Khan ZR, Pickett JA (2004) The 'push-pull' strategy for stemborer management: a case study in exploiting biodiversity and chemical ecology. In: Gurr GM, Wratten SD, Altieri MA (eds) Ecological engineering for pest management: advances in habitat manipulation for arthropods. CABI, Wallington, pp 155–164

Khan ZR, Pickett JA, van den Berg J, Wadhams LJ, Woodcock CM (2000) Exploiting chemical ecology and species diversity: stem borer and striga control for maize and sorghum in Africa. Pest Manag Sci 56:957–962

Khan ZR, James DG, Midega CAO, Pickett JA (2008) Chemical ecology and conservation biological control. Biol Control 45:210–224

Kordali S, Kesdek M, Cakir A (2007) Toxicity of monoterpenes against larvae and adults of Colorado potato beetle, Leptinotarsa decemlineata Say (Coleoptera: Chrysomelidae). Ind Crop Prod 26:278–297

Koschier E, Sedy K (2013) Labiate essential oils affecting host selection and acceptance of Thrips tabaci lindeman. Crop Prot 22:929–934

Landolt PJ, Hofstetter RW, Biddick LL (1999) Plant essential oils as arrestants and repellents for neonate larvae of the codling moth (Lepidoptera: Tortricidae). Environ Entomol 28:954–960

Lee SJ, Umano K, Shibamoto T, Lee KG (2005) Identification of volatile components in basil (Ocimum basilicum L.) and thyme leaves (Thymus vulgaris L.) and their antioxidant properties. Food Chem 91:131–137

Lindgren BS, Borden JG (1993) Displacement and aggregation of mountain pine beetles, Dendroctonus ponderosae (Coleoptera: Scolytidae), in response to their antiaggregation and aggregation pheromones. Can J For Res 23:286–290

Lu YH, Wu KM, Wyckhuys KAG, Guo YY (2009) Potential of mungbean, Vigna radiatus as a trap crop for managing Apolygus lucorum (Hemiptera: Miridae) on Bt cotton. Crop Prot 28:77–81

Lu PF, Huang LQ, Wang CZ (2012) Identification and field evaluation of pear fruit volatiles attractive to the oriental fruit moth, Cydia molesta. J Chem Ecol 38:1003–1016

Mauchline AL, Birkett MA, Woodcock CM, Pickett JA, Osborne JL (2008) Electrophysiological and behavioural responses of the pollen beetle, Meligethes aeneus, to volatiles from a non-host plant, lavender, Lavandula angustifolia (Lamiaceae). Arthropod–Plant Inter 2:109–115

Miller JR, Cowles RS (1990) Stimulo-deterrent diversion: a concept and its possible application to onion maggot control. J Chem Ecol 16:3197–3212

Mu D, Cui L, Ge J, Wang MX, Liu LF, Yu XP, Zhang QH, Han BY (2012) Behavioral responses for evaluating the attractiveness of specific tea shoot volatiles to the tea green leafhopper, Empoasca vitis. Insect Sci 19:229–238

Nerio LS, Olivero-Verbel J, Stashenko E (2010) Repellent activity of essential oils: a review. Bioresour Technol 101:372–378

Okoh OO, Sadimenko AP, Afolayan AJ (2010) Comparative evaluation of the antibacterial activities of the essential oils of Rosmarinus officinalis L. obtained by hydrodistillation and solvent free microwave extraction methods. Food Chem 120:308–312

Olivero-Verbel J, Nerio LS, Stashenko EE (2010) Bioactivity against Tribolium castaneum Herbst (Coleoptera: Tenebrionidae) of Cymbopogon citratus and Eucalyptus citriodora essential oils grown in Colombia. Pest Manag Sci 66:664–668

Papachristos DP, Stamopoulos DC (2002) Repellent, toxic and reproduction inhibitory effects of essential oil vapours on Acanthoscelides obtectus (Say) (Coleoptera: Bruchidae). J Stored Prod Res 38:117–128

Paré PW, Tumlinson JH (1999) Plant volatiles as a defence against insect herbivores. Plant Physiol 121:325–331

Pascual M, Ballesta M (2003) Chemical variation in an Ocimum basilicum germplasm collection and activity of the essential oils on Callosobruchus maculatus. Biochem Syst Ecol 31:673–679

Pelosi P, Zhou JJ, Ban LP, Calvello M (2006) Soluble proteins in insect chemical communication. Cell Mol Life Sci 63:1658–1676

Poelman EH, Bruinsma M, Zhu F, Weldegergis BT, Boursault AE, Jongema Y, van Loon JJA, Vet LEM, Harvey JA, Dicke M (2012) Hyperparasitoids use herbivore-induced plant volatiles to locate their parasitoid host. PLoS Biol 10:e1001435

Potting RPJ, Perry JN, Powell W (2005) Insect behavioural ecology and other factors affecting the control efficacy of agro-ecosystem diversification strategies. Ecol Model 182:199–216

Prajapati V, Tripathi AK, Aggarwal KK, Khanuja SPS (2005) Insecticidal, repellent and oviposition-deterrent activity of selected essential oils against Anopheles stephensi, Aedes aegypti and Culex quinquefasciatus. Bioresour Technol 96:1749–1757

Pyke B, Rice M, Sabine B, Zalucki MP (1987) The push-pull strategy-behavioural control of Heliothis. Aust Cotton Grow 9:7–9

Qiao HL, Lu PF, Chen J, Ma WS, Qin RM, Li XM (2012) Antennal and behavioural responses of Heortia vitessoides females to host plant volatiles of Aquilaria sinensis. Entomol Exp Appl 143:269–279

Reddy GVP, Guerrero A (2004) Interactions of insect pheromones and plant semiochemicals. Trends Plant Sci 9:253–261

Shepherd WP, Sullivan BT (2013) Southern pine beetle, Dendroctonus frontalis, antennal and behavioral responses to nonhost leaf and bark volatiles. J Chem Ecol 39:481–493

Singh HP, Kaur S, Negi K, Kumari S, Saini V, Batish DR, Kohli RK (2012) Assessment of in vitro antioxidant activity of essential oil of Eucalyptus citriodora (lemon-scented Eucalypt; Myrtaceae) and its major constituents. LWT Food Sci Technol 48:237–241

Song BZ, Wang MC, Kong Y, Yao YC, Wu HY, Li ZR (2010) Interaction of the dominant pests and natural enemies in the experimental plots of the intercropping aromatic plants in pear orchard. Sci Agric Sin 43:3590–3601

Sui X, Liu T, Ma C, Yang L, Zu Y, Zhang L, Wang H (2012) Microwave irradiation to pretreat rosemary (Rosmarinus officinalis L.) for maintaining antioxidant content during storage and to extract essential oil simultaneously. Food Chem 131:1399–1405

Sun XL, Wang GC, Cai XM, Jin S, Gao Y, Chen ZM (2010) The tea weevil, Myllocerinus aurolineatus, is attracted to volatiles induced by conspecifies. J Chem Ecol 36:388–395

Szumny A, Figiel A, Gutiérrez-Ortíz A, Carbonell-Barrachina ÁA (2010) Composition of rosemary essential oil (Rosmarinus officinalis) as affected by drying method. J Food Eng 97:253–260

Tang R, Su MW, Zhang ZN (2012a) Electroantennogram responses of an invasive species fall webworm (Hyphantria cunea) to host volatile compounds. Chin Sci Bull 57:4560–4568

Tang R, Zhang JP, Zhang ZN (2012b) Electrophysiological and behavioral responses of male fall webworm moths (Hyphantria cunea) to herbivory-induced mulberry (Morus alba) leaf volatiles. PLoS One 7:e49256

Telci I, Bayram E, Yilmaz G, Avci B (2006) Variability in essential oil composition of Turkish basils (Ocimum basilicum L.). Biochem Syst Ecol 34:489–497

Ukeh DA, Birkett MA, Pickett JA, Bowman AS, Luntz JM (2009) Repellent activity of alligator pepper, Aframomum melegueta, and ginger, Zingiber officinale, against the maize weevil, Sitophilus zeamais. Phytochemistry 70:751–758

Yan SC, Yang H, Gao LL, Wang ZB, Mao HB (2008) Influences of larch volatiles and seven kinds of environmental safe insecticides on olfactive and ovipositive responses of Coleophora obducta. Sci Silvae Sin 44:83–87

Zhang QH, Schlyter F (2004) Olfactory recognition and behavioural avoidance of angiosperm nonhost volatiles by conifer-inhabiting bark beetles. Agric For Entomol 6:1–19

Zhang HH, Tan JC (2004) Non-pollution control of tea pests in China. Anhui Science and Technology Press, Hefei

Zhang ZQ, Sun XL, Luo ZX, Gao Y, Bian L, Chen ZM (2012) Effect of odors from different aromatic plants and extracts on the behaviour of the tea geometrid, Ectropis obliqua (Prout). Acta Phytophy Sin 39:541–548
Acknowledgments
We are grateful to Ziwei Yang, Xiwang Li, Deqiang Wang, Qingsheng Chen, Weihua Zhang, and Chao Xie for assistance in the greenhouse and with rearing insects. We thank other field entomologists and technicians in Shengzhou County in Zhejiang Province in China for technical and other assistance. This research was supported by Modern Agricultural Industry Technology System (CARS-23).
About this article
Cite this article
Zhang, Zq., Sun, Xl., Xin, Zj. et al. Identification and Field Evaluation of Non-Host Volatiles Disturbing Host Location by the Tea Geometrid, Ectropis obliqua . J Chem Ecol 39, 1284–1296 (2013). https://doi.org/10.1007/s10886-013-0344-6
Received:

Revised:

Accepted:

Published:

Issue Date:

DOI: https://doi.org/10.1007/s10886-013-0344-6
Keywords
Ectropis obliqua

Non-host volatiles

Rosmarinus officinalis

Bioassay

Field experiment

Repellent