Abstract
Intercropping and rotating banana (Musa spp.) with Chinese chive (Allium tuberosum Rottler) has been used as an effective method to control Panama disease (Fusarium wilt) of banana in South China. However, the underlying mechanism is unknown. In this study, we used aqueous leachates and volatiles from Chinese chive to evaluate their antimicrobial activity on Fusarium oxysporum f. sp. cubense race 4 (FOC), the causal agent of Panama disease in banana, and identified the antifungal compounds. Both leaf and root leachates of Chinese chive displayed strong inhibition against FOC, but the concentrated leachates showed lower inhibition than the original leachates. In a sealed system volatiles emitted from the leaves and roots of Chinese chive inhibited mycelial growth of FOC. Volatile compounds emitted from the intact growing roots mimicking natural environment inhibited spore germination of FOC. We identified five volatiles including 2-methyl-2-pentenal and four organosulfur compounds (dimethyl trisulfide, dimethyl disulfide, dipropyl disulfide, and dipropyl trisulfide) from the leaves and roots of Chinese chive. All these compounds exhibited inhibitory effects on FOC, but 2-methyl-2-pentenal and dimethyl trisulfide showed stronger inhibition than the other three compounds. 2-Methyl-2-pentenal at 50–100 μl/l completely inhibited the mycelial growth of FOC. Our results demonstrate that antifungal volatiles released from Chinese chive help control Panama disease in banana. We conclude that intercropping and rotating banana with Chinese chive can control Panama disease and increase cropland biodiversity.
Access options
Buy single article
Instant access to the full article PDF.
USD 39.95
Price includes VAT (USA)
Tax calculation will be finalised during checkout.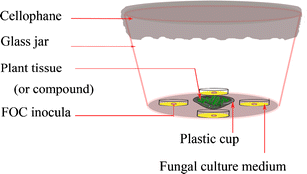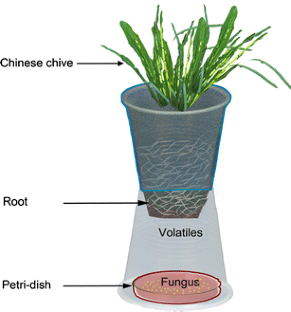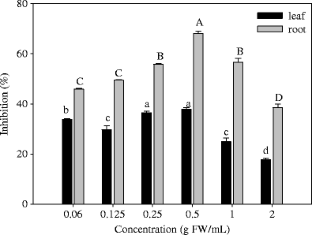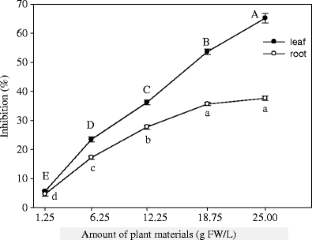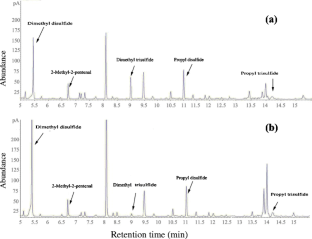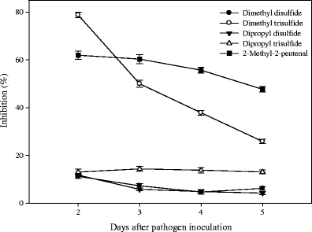 References
Akila, R., Rajendran, L., Harish, S., Saveetha, K., Raguchander, T., and Samiyappan, R. 2011. Combined application of botanical formulations and biocontrol agents for the management of Fusarium oxysporum f. sp. cubense (Foc) causing Fusarium wilt in banana. Biol. Control. 57:175–183.

Aochi, Y. O. and Farmer, W. J. 2005. Impact of soil microstructure on the molecular transport dynamics of 1, 2-dichlorethane. Geoderma 127:137–153.

Auger, J., Arnault, I., Diwo-Allain, S., Ravier, M., Molia, F., and Pettiti, M. 2004. Insecticidal and fungicidal potential of Allium substances as biofumigants. Agroindustria 3:5–8.

Baumann, D. T., Bastiaans, L., Goudriaan, J., van Laar, H. H., and Kropff, M. J. 2002. Analysing crop yield and plant quality in an intercropping system using an eco-physiological model for interplant competition. Agric. Syst. 73:173–203.

Block, E. 1992. The organosulfur chemistry of the genus Allium—implications for the organic chemistry of sulfur. Angew. Chem. Int. Ed. Engl. 31:1135–1178.

Cai, X. J., Uden, P. C., Block, E., Zhang, X., Quimby, B. D., and Sullivan, J. J. 1994. Allium chemistry: identification of natural abundance organoselenium volatiles from garlic, elephant garlic, onion, and Chinese chive using headspace gas chromatography with atomic emission detection. J. Agric. Food Chem. 42:2081–2084.

Cai, H., You, M., and Lin, C. 2010. Effects of intercropping systems on community composition and diversity of predatory arthropods in vegetable fields. Acta Ecol. Sin. 30:190–195.

Griffiths, G., Trueman, L., Crowther, T., Thomas, B., and Smith, B. 2002. Onions—a global benefit to health. Phytother. Res. 16:603–615.

Grimm, D. 2008. Plant genomics. A bunch of trouble. Science 322:1046–1047.

Herbert, J. A. and Marx, D. 1990. Short-term control of Panama disease in South Africa. Phytophylactica. 22:339–340.

Huang, Y. H., Wei, Y. R., Li, C. Y., Zuo, C. W., and Yi, G. J. 2011. Suppressive effect of Chinese leek on Fusarium oxysporum f. sp. cubense Race 4 and Fusarium wilt disease. J. Fruit Sci. 28:857–862.

Huang, Y. H., Wang, R. C., Li, C. H., Zuo, C. W., Wei, Y. R., Zhang, L., and Yi, G. J. 2012. Control of Fusarium wilt in banana with Chinese leek. Eur. J. Plant Pathol. 134:87–95.

Hwang, S. C. and Ko, W. H. 2004. Cavendish banana cultivars resistant to Fusarium wilt acquired through somaclonal variation in Taiwan. Plant Dis. 88:580–588.

Iwalokun, B. A., Ogunledun, A., Ogbolu, D. O., Bamiro, S. B., and Jimi-Omojola, J. 2004. In vitro antimicrobial properties of aqueous garlic extract against multidrug-resistant bacteria and Candida species from Nigeria. J. Med. Food 7(3):327–333.

Kim, J. W., Kim, Y. S., and Kyung, K. H. 2004. Inhibitory activity of essential oils of garlic and onion against bacteria and yeasts. J. Food Prot. 67:499–504.

Li, M. H., Yang, B., Leng, Y., Chao, C. P., Liu, J. M., He, Z. F., Jiang, Z. D., and Zhong, S. 2011. Molecular characterization of Fusarium oxysporum f. sp. cubense race 1 and 4 isolates from Taiwan and Southern China. Can. J. Plant Pathol. 33(2):168–178.

Lian, J., Wang, Z. F., Cao, L. X., Tan, H. M., Inderbitzin, P., Jiang, Z. D., and Zhou, S. N. 2009. Artificial inoculation of banana tissue culture plantlets with indigenous endophytes originally derived from native banana plants. Biol. Control. 51:427–434.

Mau, J. L., Chen, C. P., and Hsieh, P. C. 2001. Antimicrobial effect of extracts from Chinese chive, cinnamon, and corni fructus. J. Agric. Food Chem. 49:183–188.

Mazelis, M. 1993. Catabolism of sulfur containing amino acids, pp. 95–108, in L. J. De Kok, I. Stulen, H. Rennenberg, C. Brunold, and W. Rauser (eds.), Sulfur nutrition and assimilation in higher plants. SPB Academic Press, The Hague.

Mithofer, A., Wanner, G., and Boland, W. 2005. Effects of feeding Spodoptera littoralis on lima bean leaves. II. Continuous mechanical wounding resembling insect feeding is sufficient to elicit herbivory-related volatile emission. Plant Physiol. 137:1160–1168.

Müller-Schärer, H. 1996. Interplanting ryegrass in winter leek: Effect on weed control, crop yield and allocation of N-fertiliser. Crop. Prot. 15:641–648.

Legutowska, H., Kucharczyk, H., and Surowiec, J. 2000. Control of thrips infestation on leek by intercropping with clover, carrot or bean. Acta Hortic. 571–574.

Thangavelu, R., and Mustaffa, M. M. 2012. Current advances in the Fusarium wilt disease management in banana with emphasis on biological control. in C. J. Cumagun (ed.), Plant Pathology. InTech, pp 273–298. ISBN: 978-953-51-0489-6. Available from: http://www.intechopen.com/books/plant-pathology/current-advancesinthe-fusarium-wilt-disease-management-in-banana-with-emphasis-on-biological-contr.

Nel, B., Steinberg, C., Labuschagne, N., and Viljoen, A. 2007. Evaluation of fungicides and sterilants for potential application in the management of Fusarium wilt of banana. Crop. Prot. 26:697–705.

Paul, J. Y., Becker, D. K., Dickman, M. B., Harding, R. M., Khanna, H. K., and Dale, J. L. 2011. Apoptosis-related genes confer resistance to Fusarium wilt in transgenic 'Lady Finger' bananas. Plant Biotechnol. J. 9:1141–1148.

Pino, J. A., Fuentes, V., and Correa, M. T. 2001. Volatile constituents of Chinese chive (Allium tuberosum Rottl. ex Sprengel) and rakkyo (Allium chinense G. Don). J. Agric. Food Chem. 49:1328–1330.

Ploetz, R. C. 2006. Fusarium wilt of banana is caused by several pathogens referred to as Fusarium oxysporum f. sp. cubense. Phytopathology 96:653–656.

Ploetz, R. C. and Pegg, K. G. 2000. Fungal diseases of the root, corm and pseudostem. Fusarium wilt, pp. 143–159, pp. 143–159, in D. R. Jones (ed.), Diseases of Banana, Abacá and Enset. CABI Publishing, Wallingford.

Potts, M. J. and Gunadi, N. 1991. The influence of intercropping with Allium on some insect populations in potato (Solatium tuberosum). Ann. Appl. Biol. 119:207–213.

Rattanachaikunsopon, P. and Phumkhachorn, P. 2009. Potential of Chinese chive oil as a natural antimicrobial for controlling Flavobacterium columnare infection in Nile tilapia Oreochromis niloticus. Fish. Sci. 75:1431–1437.

Rivlin, R. S. 2001. Historical perspective on the use of garlic. J. Nutr. 131:951–954.

Rose, P., Whiteman, M., Moore, P. K., and Zhu, Y. Z. 2005. Bioactive S-alk (en) yl cysteine sulfoxide metabolites in the genus Allium: The chemistry of potential therapeutic agents. Nat. Prod. Rep. 22:351–368.

Saravanan, T., Muthusamy, M., and Marimuthu, T. 2003. Development of integrated approach to manage the fusarial wilt of banana. Crop. Prot. 22:1117–1123.

Schliemann, W., Kolbe, B., Schmidt, J., Nimtz, M., and Wray, V. 2008. Accumulation of apocarotenoids in mycorrhizal roots of leek (Allium porrum). Phytochemistry 69:1680–1688.

Seo, K. I., Moon, Y. H., Choi, S. U., and Park, K. H. 2001. Antibacterial activity of S-methyl methane thiosulfinate and S-methyl 2-propene-1- thiosulfinate from Chinese chive [Allium tuberosum] toward Escherichia coli O157: H7. Biosci. Biotechnol. Biochem. 65:966–968.

Smith, M. K., Hamill, S. D., Langdon, P. W., Giles, J. E., Doogan, V. J., and Pegg, K. G. 2006. Towards the development of a Cavendish banana resistant to race 4 of fusarium wilt: Gamma irradiation of micropropagated Dwarf Parfitt (Musa spp., AAA group, Cavendish subgroup). Aust. J. Exp. Agric. 46:107–113.

Tapiero, H., Townsend, D. M., and Tew, K. D. 2004. Organosulfur compounds from alliaceae in the prevention of human pathologies. Biomed. Pharmacother. 58:183–193.

Viljoen, A. 2002. The status of Fusarium wilt (Panama disease) of banana in South Africa. S. Afr. J. Sci. 98:341–344.

Wenke, K., Kai, M., and Piechulla, B. 2010. Belowground volatiles facilitate interactions between plant roots and soil organisms. Planta 231:499–506.

Yabuki, Y., Mukaida, Y., Saito, Y., Oshima, K., Takahashi, T., Muroi, E., Hashimoto, K., and Uda, Y. 2010. Characterisation of volatile sulphur-containing compounds generated in crushed leaves of Chinese chive (Allium tuberosum Rottler). Food Chem. 120:343–348.

Yildirim, E. and Guvenc, I. 2005. Intercropping based on cauliflower: more productive, profitable and highly sustainable. Eur. J. Agron. 22:11–18.

Yin, M. and Tsao, S. 1999. Inhibitory effect of seven Allium plants upon three Aspergillus species. Int. J. Food Microbiol. 49:49–56.

Yip, M. K., Lee, S. W., Su, K. C., Lin, Y. H., Chen, T. Y., and Feng, T. Y. 2011. An easy and efficient protocol in the production of pflp transgenic banana against Fusarium wilt. Plant Biotechnol. Rep. 5:245–254.

Yu, J. Q. 1999. Allelopathic suppression of Pseudomonas solanacearum infection of tomato (Lycopersicon esculentum) in a tomato-Chinese chive (Allium tuberosum) intercropping system. J. Chem. Ecol. 25:2409–2417.

Zeng, R. S. 2008. Allelopathy in Chinese ancient and modern agriculture, pp. 39–59, pp. 39–59, in R. S. Zeng, A. U. Mallik, and S. M. Luo (eds.), Allelopathy in Sustainable Agriculture and Forestry. Springer, New York.
Acknowledgments
This research was supported by the National 973 project of China (2011CB100400), National Natural Science Foundation of China (31070388, 31028018, 31100286), Guangdong Province Universities and Colleges Pearl River Scholar Funded Scheme (2010), Guangdong Natural Science Foundation of China (S2011040004336), and Ph.D. Programs Foundation (20104404110004) and Postdoctoral Science Foundation (201104341, 20100480762) of the Ministry of Education of China to R.S.Z. A six-month sabbatical leave awarded to AUM from Lakehead University, enabled him to conduct this research at the host laboratory of South China Agricultural University.
About this article
Cite this article
Zhang, H., Mallik, A. & Zeng, R.S. Control of Panama Disease of Banana by Rotating and Intercropping with Chinese Chive (Allium Tuberosum Rottler): Role of Plant Volatiles. J Chem Ecol 39, 243–252 (2013). https://doi.org/10.1007/s10886-013-0243-x
Received:

Revised:

Accepted:

Published:

Issue Date:
Keywords
Panama disease

Fusarium oxysporum f. sp. cubense

Chinese chive

Allium tuberosum

Volatiles

2-methyl-2-pentenal

Dimethyl trisulfide

Organosulfur compounds