Abstract
Locoweeds are Astragalus and Oxytropis species that contain the toxic alkaloid swainsonine. Swainsonine accumulates in all parts of the plant with the highest concentrations found in the above ground parts. A fungal endophyte, Undifilum oxytropis, found in locoweed plant species, is responsible for the synthesis of swainsonine. By using quantitative PCR, the endophyte can be quantified in locoweed species. Endophyte amounts differ between plant parts and in some instances do not mirror the concentrations of swainsonine in the corresponding parts. Two groups of Oxytropis sericea were identified: one that accumulated high concentrations of swainsonine and another where swainsonine was not detected, or concentrations were near the detection threshold. The plants with high swainsonine concentrations had quantitatively higher amounts of endophyte. Alternatively, plants with low or no swainsonine detected had quantitatively lower endophyte amounts. In addition, swainsonine and endophyte concentrations were not distributed uniformly within the same plant when separated into stalks (leaves, scape(s), and flowers/pods). These findings provide evidence as to why plants in the same population accumulate different concentrations of swainsonine, and they have important implications for sampling of locoweed plants.
This is a preview of subscription content, log in to check access.
Access options
Buy single article
Instant access to the full article PDF.
US$ 39.95
Price includes VAT for USA
Subscribe to journal
Immediate online access to all issues from 2019. Subscription will auto renew annually.
US$ 199
This is the net price. Taxes to be calculated in checkout.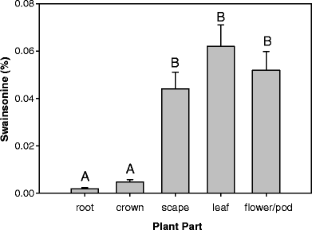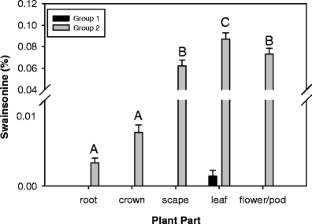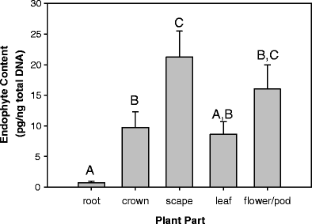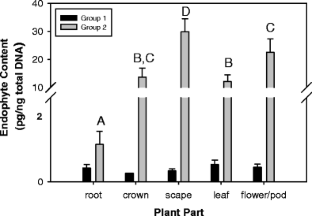 References
Adcock, R.A., Hill, N. S., Bouton, J. H., Boerma, H. R., and Ware, G. O. 1997. Symbiont regulation and reducing ergot alkaloid concentration by breeding endophyte-infected tall fescue. J. Chem. Ecol. 23:691–704.

Afkhami, M. E. and Rudgers, J. A. 2008. Symbiosis lost: imperfect vertical transmission of fungal endophytes in grasses. Am. Nat. 172:405:416.

Braun, K., Romero, J., Liddell, C., and Creamer, R. 2003. Production of swainsonine by fungal endophytes of locoweed. Mycol. Res. 107:980–988.

Cao, G. R., Li, S. J., Duan, D. X., Molyneux, R. J., James, L. F., Wang, K., and Tong, C. 1992. The toxic principle of Chinese locoweeds (Oxytropis and Astragalus): Toxicity in goats, pp. 117–121, in L. F. James, R. F. Keeler, P. R. Cheeke, E. M. Bailey Jr., and M. P. Hegarty (eds.). Poisonous Plants. Iowa State University Press: Ames.

Cheplick, G. P. and Faeth, S. H. 2009. Ecology and evolution of the grass-endophyte symbiosis. Oxford University Press, New York, pp 3–17.

Colegate, S. M., Dorling, P. R., and Huxtable, C. R. 1979. A spectroscopic investigation of swainsonine: an alpha-mannosidase inhibitor isolated from Swainsona canescens. Aust. J. Chem. 32:2257–2264.

Colodel, E. M., Gardner, D. R., Zlotowski, P., and Driemeier, D. 2002. Identification of swainsonine as a glycoside inhibitor responsible for Sida carpinifolia poisoning. Vet. Hum. Toxicol. 44:177–178.

Cook, D., Ralphs, M. H., Welch, K. D., and Stegelmeier, B. L. 2009a. Locoweed poisoning in livestock. Rangelands. 31:16–21.

Cook, D., Gardner, D. R., Welch, K. D., Roper, J. M., Ralphs, M. H., and Green, B. T. 2009b. Quantitative PCR method to measure the fungal endophyte in locoweeds. J. Agric. Food Chem. 57:6050–6054

Dantas, A. F. M., Riet-Correa, F., Gardner, D. R., Medeiros, R. M. T., Barros, S. S., Anjos, B. L., and Lucena, R. B. 2007. Swainsonine-induced lysosomal storage disease in goats caused by the ingestion of Turbina cordata in Northeastern Brazil. Toxicon 49:111–116.

Dombrowski, J. E., Baldwin, J. C., Azevedo, M. D., and Banowetz, G. M. 2006. A sensitive PCR-based assay to detect Neotyphodium fungi in seed and plant tissue of tall fescue and ryegrass species. Crop Sci. 46:1064–1070.

Dorling, P. R., Colegate, S. M., and Huxtable, C. R. 1989. Toxic species of the plant genus Swainsona, pp 14–22, in L. F. James, A. D. Elbein, R. J. Molyneux, and C. D. Warren (eds.). Swainsonine and Related Glycosidase Inhibitors. Iowa State University Press: Ames.

Gardner, D. R., Molyneux, R. J., and Ralphs, M. H. 2001. Analysis of swainsonine: extraction methods, detection, and measurement in populations of locoweeds (Oxytropis spp.). J. Agric. Food Chem. 49:4573–4580.

James, L. F.and Nielsen, D. 1988. Locoweeds: Assessment of the problem on western U. S. rangelands, pp. 171–180, in L. F. James, M. H. Ralphs, and D. B. Nielsen (eds.). The Ecology and Economic Impact of Poisonous Plants on Livestock Production. Westview, Boulder.

Kingsbury, J. M. 1964. Poisonous Plants of the United States and Canada, pp 305–313. Prentice Hall, Englewood Cliffs.

Molyneux, R. J. and Gomez-Sosa, E. 1991. Presencia del alcaloide indolizidinico swainsonine en Astragalus pehuenches (Leguminosae—Galegueae). Bol. Soc. Argent. Bot. 27:59-64.

Molyneux, R. J. and James, L. F. 1982. Loco intoxication: indolizidine alkaloids of spotted locoweed (Astragalus lentiginosus). Science 216:190–191.

Molyneux, R. J., James, L. F., Ralphs, M.H., Pfister, J. A., Panter, K. E., and Nash, R. J. 1994. Polyhydroxylated glycosidase inhibitors from poisonous plants of global distribution: analysis and identification, pp. 107–112, in S. M. Colegate and P. R. Dorling (eds.). Plant-associated Toxins, Agricultural and Phytochemical Aspects. CABI, Wallingford.

Molyneux, R. J., Mckenzie, R. A., O'Sullivan, B. M., and Elbein, A. D. 1995. Identification of the glycosidase inhibitors swainsonine and calystegine B2 in Weir vine (Ipomoea sp. Q6 [aff. calobra]) and correlation with toxicity. J. Nat. Prod. 58:878–886.

Pryor, B. M., Creamer, R., Shoemaker, R. A., Mcclain-Romero, J., and Hambleton, S. 2009. Undifilum, a new genus for endophytic Embellisia oxytropis and parasitic Helminthosporium bornmuelleri on legumes. Botany 87:178–194.

Ralphs, M. H., Welsh, S. L., and Gardner, D.R. 2002. Distribution of the locoweed toxin swainsonine in population of Oxytropis lambertii. J. Chem. Ecol. 28:701–707.

Ralphs, M. H., Creamer, R., Baucom, D., Gardner, D. R, Welsh, S. L., Graham, J. D., Hart, C., Cook, D., and Stegelmeier, B. L. 2008. Relationship between the endophyte Embellisia Spp. and the toxic alkaloid swainsonine in major locoweed species (Astragalus and Oxytropis). J. Chem. Ecol. 34:32–38.

Roylance, J. T., Hill, N. S., and Agee, C.S. 1994. Ergovaline and peramine production in endophyte-infected tall fescue: independent regulation and effects of plant and endophyte genotype. J. Chem. Ecol. 20:2171–2183.

Rudgers, J. A. and Clay, K. 2007. Endophyte symbiosis with tall fescue: how straong are the impacts on communities and ecosystems? Fungal Biol. Reviews 21:107–124.

Stegelmeier, B. L., James, L. F., Panter, K. E., Gardner, D. R., Ralphs, M. H., and Molyneux, R. J. 1999. Dose response of sheep poisoned with locoweed (Oxytropis sericea). J. Vet. Diagn. Invest. 11:446–454.

Wang, Q., Nagao, H., Li, Y., Wang, H., and Kakishima, M. 2006. Embellisia oxytropis, a new species isolated from Oxytropis kansuensis in China. Mycotaxon 95:255–260.

White, T. J., Bruns, T., Lee, S., and Taylor, J. 1990. Amplification and direct sequencing of fungal ribosomal RNA genes for phylogenetics, pp. 315–322, in M. A. Innis, D. H. Gelfand, J. Sninsky and T. J. White (eds.). PCR Protocols: A Guide to Methods and Applications. Academic, SanDiego.

Young, C. A., Bryant, M. K., Christensen, M. J., Tapper, B. A., Bryan, G. T., and Scott, B. 2005. Molecular cloning and genetic analysis of a symbiosis-expressed gene cluster for lolitrem biosynthesis from a mutaualistic endophyte of perennial ryegrass. Mol. Gen. Genomics 274: 13–29.
Acknowledgements
We wish to thank Jessie Roper, Clint Stonecipher, and Scott Larsen for technical assistance.
About this article
Cite this article
Cook, D., Gardner, D.R., Ralphs, M.H. et al. Swainsoninine Concentrations and Endophyte Amounts of Undifilum oxytropis in Different Plant Parts of Oxytropis sericea . J Chem Ecol 35, 1272 (2009). https://doi.org/10.1007/s10886-009-9710-9
Received:

Revised:

Accepted:

Published:
Keywords
Locoweed

Swainsonine

Endophyte

Oxytropis sericea

qPCR