Abstract
Human pheromones play a role in regulating relationships and apparently influence partner choice and mother–infant recognition. We analyzed the chemical content of volatiles from sweat patch samples from the para-axillary and nipple–areola regions of women during pregnancy and after childbirth. Solid phase microextraction was used to extract the volatile compounds, which were then characterized and quantified by gas chromatography–mass spectrometry. During pregnancy, women developed a distinctive pattern of five volatile compounds common to the para-axillary and nipple–areola regions (1-dodecanol, 1-1′-oxybis octane, isocurcumenol, α-hexyl-cinnamic aldehyde, and isopropyl myristate). These compounds were absent outside pregnancy and had slightly different patterns in samples from the two body areas. Differentiation of the volatile patterns among pregnant women may help newborns to distinguish their own mothers.
Access options
Buy single article
Instant access to the full article PDF.
USD 39.95
Price excludes VAT (USA)
Tax calculation will be finalised during checkout.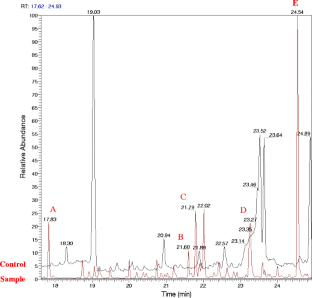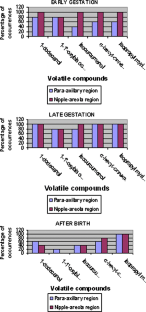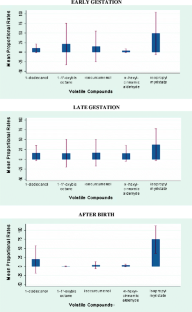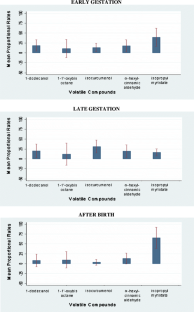 References
Bernier, U. R., Kline, D. L., Barnard, D. R., Schreck, C. E., and Yost, R. A. 2000. Analysis of human skin emanations by gas chromatography/mass spectrometry. Anal. Chem. 72:747–756.

Cavill, G. W. K., and Houghton, E. 1974. Volatile constituents of the Argentine ant, Iridomyrmex humilis. J. Insect Physiol. 20:2049–2059.

Cernoch, J. M., and Porter, R. H. 1985. Recognition of maternal axillary odors by infants. Child Devel. 56:1593–1598.

Chiarelli, B. 2001. Pheromonal communication and socialization, pp. 165–176, in D. Falk, and K. R. Gibson (eds.). Evolutionary anatomy of the primate cerebral cortexCambridge University Press, Cambridge, UK.

Chiarelli, B. 2003. Dalla Natura alla Cultura. Piccin, Padova, Italy.

Corkum, L. D., and Belanger, R. M. 2007. Use of chemical communication in the management of freshwater aquatic species that are vectors of human diseases or are invasive. Gen. Comp. Endocrinol. 153:401–417.

Curran, A. M., Rabin, S. I., Prada, P. A., and Furton, K. G. 2005. Comparison of the volatile organic compounds present in human odor using SPME-GC/MS. J. Chem. Ecol. 31:1607–1619.

Doty, R. L. 1981. Olfactory communication in humans. Chem. Senses 6:351–376.

Døving, K. B., and Trotier, D. 1998. Structure and function of the vomeronasal organ. J. Exp. Biol. 201:2913–2925.

Grammer, K., Fink, B., and Neave, N. 2005. Human pheromones and sexual attraction. Eur. J. Obstet. Gyn. R. B. 118:135–142.

Grosser, B. I., Monti-Block, L., Jennings-White, C., and Berliner, D. L. 2000. Behavioral and electrophysiological effects of androstadienone. Psychoneuroendocrinology 25:289–299.

Ha, J. -H., Lee, K. -Y., Choi, H. -C., Cho, J., Kang, B. -S., Lim, J. -C., and Lee, D. -U. 2002. Modulation of radioligand binding to the GABA(A)-benzodiazepine receptor complex by a new component from Cyperus rotundus. Biol. Pharm. Bull. 25:128–130.

Hauser, R., Wiergowski, M., Gos, T., Marczak, M., Karaszewski, B., and Wodniak-ochocinska, L. 2005. Alarm pheromones as an exponent of emotional state shortly before death. Science fiction or a new challenge. Forensic Sci. Int. 155:226–230.

Hayes, R. A., Morelli, T. L., and Wright, P. C. 2004. Anogenital gland secretions of Lemur catta and Propithecus verreauxi coquereli: A preliminary chemical examination. Am. J. Primatol. 63:49–62.

Kaitz, M., Good, A., Rokem, A. M., and Eidelman, A. I. 1987. Mothers' recognition of their newborns by olfactory cues. Dev. Psychobiol. 20:587–591.

Kanei, N., Tamura, Y., and Kunieda, H. 1999. Effect of types of perfume compounds on the hydrophile–lipophile balance temperature. J. Colloid Interf. Sci. 218:13–22.

Keverne, E. B. 1983. Pheromonal influences on the endocrine regulation of reproduction. Trends Neurosci. 6:381–384.

Labows, J., Preti, G., Hoelzle, E., Leyden, J., and Klingman, A. 1979. Analysis of human para-axillary volatiles: compounds of exogenous origin. J. Chromatogr. A 163:294–299.

Liang, M., Qi, M., Zhang, C., Zhou, S., Fu, R., and Huang, J. 2005. Gas chromatography–mass spectrometry analysis of volatile compounds from Houttuynia cordata Thunb after extraction by solid-phase microextraction, flash evaporation and steam distillation. Anal. Chim. Acta 531:97–104.

Liberles, S. D., and Buck, L. B. 2006. A second class of chemosensory receptors in the olfactory epithelium. Nature 442:645–650.

Ligabue Stricker, F. 1991. I feromoni: conoscenze attuali e brevi cenni sugli esperimenti in corso. Antropologia Contemporanea 14:305–314.

Masuda, Y., Yoshida, M., and Mori, K. 2002. Synthesis of (2S,2¢ R,3S,4R)-2-(2¢ -hydroxy-21¢ -methyidocosanoylamino)-1,3,4-pentadecanetriol, the ceramide sex pheromone of the female hair crab, Erimacrus isenbeckii. Biosci. Biotechnol. Biochem. 66:1531–1537.

Mc Clintock, M. K. 1971. Menstrual synchrony and suppression. Nature 229:244–245.

Meijerink, J., Braks, M. A. H., Brack, A. A., Adam, W., Dekker, T., Posthumus, M. A., Van Beek, T. A., and Van Loon, J. J. A. 2000. Identification of olfactory stimulants for Anopheles gambiae from human sweat samples. J. Chem. Ecol. 26:1367–1382.

Meijerink, J., Braks, M. A. H., and Van Loon, J. J. A. 2001. Olfactory receptors on the antennae of the malaria mosquito Anopheles gambiae are sensitive to ammonia and other sweat-borne components. J. Insect Physiol. 47:455–464.

Michael, R. P., and Keverne, E. B. 1968. Pheromones in the communication of sexual status in primates. Nature 218:746–749.

Michael, R. P., Keverne, E. B., and Bonsail, R. W. 1971. Isolation of male sex attractants from a female primate. Science 172:964–966.

Olsson, S. B., Barnard, J., and Turri, L. 2006. Olfaction and identification of unrelated individuals: Examination of the mysteries of human odor recognition. J. Chem. Ecol. 32:1635–1645.

Palagi, E., Telara, S., Curreli, R., De Santi, L., Garbusi, P., Vaglio, S., Boscaro, F., Dapporto, L., Moneti, G., and Borgognini Tarli, S. 2004. Ethological and chemical investigation of olfactory communication in Lemur catta: research proposal and preliminary reports. Folia Primatologica 75:403.

Pause, B. M. 2004. Are androgen steroids acting as pheromones in humans. Physiol. Behav. 83:21–29.

Pelucchi, B. 2006. Il profumo dell'amore. Le scienze Web News.

Porter, R., Cernoch, J., and Balogh, R. 1985. Odour signatures and kin recognition. Physiol. Behav. 34:445–448.

Porter, R., and Moore, J. D. 1981. Human kin recognition by olfactory cues. Physiol. Behav. 27:493–495.

Porter, R. H., and Winberg, J. 1999. Unique salience of maternal breast odors for newborn infants. Neurosci. Biobehav. R. 23:439–449.

Porter, R., Cernoch, J., and Mclaughin, F. 1983. Maternal recognition of neonates through olfactory cues. Physiol. Behav. 30:151–154.

Porter, R. H., Makin, J. W., Davis, L. D., and Christensen, K. M. 1991. An assessment of the salient olfactory environment of formula-fed infants. Physiol. Behav. 50:907–911.

Rastogi, S. C., Johansen, J. D., and Menné, T. 1996. Natural ingredients based cosmetics. Content of selected fragrance sensitizers. Contact Dermatitis 34:423–426.

Russell, M. J., Mendelsson, T., and Peeke, H. 1983. Mother's identification of their infant's odors. Ethol Sociobiol 4:29–31.

Scalfari, F. 1994. Il gusto e l'olfatto nei Primati Non Umani. Antropol Contemp 17:253–261.

Schaal, B., and Marlier, L. 1998. Maternal and paternal perception of individual odor signatures in human amniotic fluid—potential role in early bonding? Biol. Neonate 74:266–273.

Schaal, B., Montagner, H., Hertling, E., Bolzoni, D., Moyse, R., and Quichon, R. 1980. Les stimulations olfactives dans les relations entre l'enfant et la mere. Reprod. Nutr. Dev. 20:843–858.

Smith, T. E., Tomlinson, A. J., Mlotkiewicz, J. A., and Abbot, D. H. 2001. Female marmoset monkeys (Callithrix jacchus) can be identified from the chemical composition of their scent marks. Chem. Senses 26:449–458.

Stern, K., and Mcclintock, M. K. 1998. Regulation of ovulation by human pheromones. Nature 392:177–179.

Taylor, R. 1994. Brave new nose: Sniffing out human sexual chemistry. J. Natl. Inst. Health Res. 6:47–51.

Vaglio, S., Palagi, E., Telara, S., Boscaro, F., Moneti, G., and Borgognini Tarli, S. 2004. Male scent-marking in Lemur catta: an investigation by chemical and behavioural approaches. Folia Primatologica 75:400–401.

Varendi, H., Porter, R. H., and Winberg, J. 1996. Attractiveness of amniotic fluid odor: Evidence of prenatal olfactory learning. Acta Paediatr. 85:1223–1227.

Winberg, J., and Porter, R. H. 1998. Olfaction and human neonatal behavior: Clinical implications. Acta Paediatr. 87:6–10.

Yang, F. Q., Li, S. P., Chen, Y., Lao, S. C., Wang, Y. T., Dong, T. T. X., and Tsim, K. W. K. 2005. Identification and quantitation of eleven sesquiterpenes in three species of Curcuma rhizomes by pressurized liquid extraction and gas chromatography–mass spectrometry. J. Pharmaceut. Biomed. 39:552–558.

Zeng, X. N., Leden, J. J., Lawley, H. J., Sawano, K., Nohara, I., and Preti, G. 1991. Analysis of characteristic odors from human male axillae. J. Chem. Ecol. 17:1469–1492.

Zeng, C., Spielman, A. I., Vowels, B. R., Leyden, J. J., Biemann, K., and Preti, G. 1996a. A human para-axillary odorant is carried by apolipoprotein D. Proc. Natl. Acad. Sci. USA 93:6626–6630.

Zeng, X. N., Leyden, J. J., Spielman, A. I., and Preti, G. 1996b. Analysis of characteristic human female axillary odors: Qualitative comparison to males. J. Chem. Ecol. 22:237–257.

Zhou, X., Li, Z., Liang, G., Zhu, J., Wang, D., and Cai, Z. 2007. Analysis of volatile components of Curcuma sichuanensis X. X. Chen by gas chromatography–mass spectrometry. J. Pharmaceut. Biomed. 43:440–444.
Acknowledgment
We thank the women who participated in the present research. We also thank Benedetta Zavelle de Louvigny for sharing in data collection, Domenico Rocco for supervising SPME extractions and GC–MS analyses, Franca Ligabue Stricker for valuable suggestions for this research, Roscoe Stanyon for a review of the manuscript, and IN.SER. s.p.a. for financial support.
About this article
Cite this article
Vaglio, S., Minicozzi, P., Bonometti, E. et al. Volatile Signals During Pregnancy: A Possible Chemical Basis for Mother–Infant Recognition. J Chem Ecol 35, 131–139 (2009). https://doi.org/10.1007/s10886-008-9573-5
Received:

Revised:

Accepted:

Published:

Issue Date:

DOI: https://doi.org/10.1007/s10886-008-9573-5
Keywords