Abstract
Six perennial groundcovers including Alchemilla mollis, Nepeta × faassenii, Phlox subulata, Sedum acre, Solidago cutleri, and Thymus praecox were investigated for the allelopathic potential of their respective foliar tissues via evaluation of volatile constituents produced by foliage. These groundcovers were selected for further laboratory evaluation because of superior performance as weed-suppressive groundcovers in previous field experiments. Foliar volatile components of N. × faassenii exhibited the strongest inhibitory effects on seedling growth of curly cress (Lepidium sativum), but S. cutleri also showed allelopathic potential by reducing shoot growth of curly cress seedlings with extracted volatiles. Although A. mollis and P. subulata exhibited strong weed-suppressive traits in past field experiments, weed suppression is apparently associated with either competition for resources or other allelopathic mechanisms rather than an allelopathic effect caused by volatiles. Volatiles of N. × faassenii were further evaluated with gas chromatography coupled to mass spectrometry (GC-MS). A total of 21 chemical constituents were identified in the volatile cocktail; 17 components were identified from a direct crude leaf sample extraction, including sabinene, β-pinene, β-myrcene, 2-(2-ethoxyethoxy)-ethanol, 1,8-cineole, ocimene, neryl Acetate, 4aα,7α,7aα-nepetalactone, α-copaene, trans-caryophyllene, alloaromadendrene, 4aβ,7α,7aβ-nepetalactone, germacrene D, β-farnesene, χ-cadinene, germacrene B, and β-sesquiphellandrene. Five additional constituents were identified in a methanolic extract of dried of N. × faassenii foliage, but not the volatile cocktail collected from N. × faassenii foliage. These included methyl benzoate, 2,4-decadienal, neryl acetate, isodihydronepetalactone, and caryophyllene oxide. Three components, 2-(2-ethoxyethoxy)-ethanol, alloaromadendrene, and χ-cadinene, were not only detected in both the volatile mixture and the methanolic extract, but also in an aqueous foliar extract that exhibited potential allelopathic activity.
Access options
Buy single article
Instant access to the full article PDF.
US$ 39.95
Tax calculation will be finalised during checkout.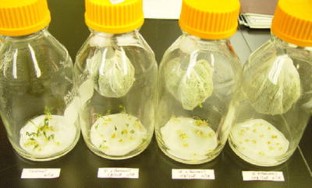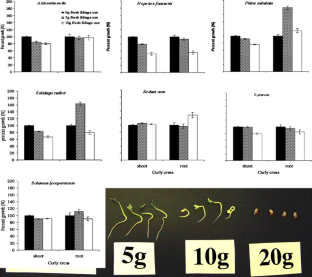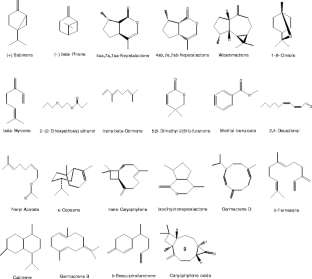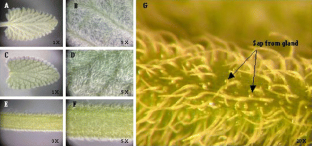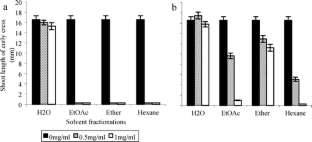 References
Armitage, A. M. 1997. Herbaceous Perennial Plants, 2nd edition. Stipes Publishing, Champaign, IL.

Baranauskiene, R., Venskutonis R. P., and Demyttenaere Jan, C. R. 2003. Sensory and instrumental evaluation of catnip (Nepeta cataria L.) aroma. J. Agric. Food Chem. 51:3840–3848.

Barney, J. 2004. Characterization of allelopathic and invasive potential of mugwort (Artemisia vulgaris L.), pp. 34–63. MS thesis, Cornell University, Ithaca.

Barney, J., Hays, A., and Weston, L. A. 2005. Isolation and characterization of allelopathic volatiles from mugwort (Artemisia vulgaris). J. Chem. Ecol. 31:247–265.

Bradow, J. M. and Connick, W. J. Jr. 1990. Volatile seed germination inhibitors from plant residues. J. Chem. Ecol. 16:645–666.

Dabiri, M. and Sefidkon, F. 2003. Chemical composition of Nepeta crassifolia Boiss. & Buhse oil from Iran. Flavour Fragr. J. 18:225–227.

Eom, S. H. 2004. Herbaceous perennials for use along N.Y. roadsides: Groundcover suppression of weeds, tolerance of environmental stress and allelochemical content, pp. 7–34. PhD dissertation, Cornell University, Ithaca.

Eom, S. H., Senesac, A. F., Tsontakis-Bradley, I., and Weston, L. A. 2005. Evaluation of herbaceous perennials as weed suppressive groundcovers for use along roadsides or in landscapes. J. Environ. Hortic. 23:198–203.

Farag, M. A. and ParÉ, P. W. 2002. C6-Green leaf volatiles trigger local and systemic VOC emissions in tomato. Phytochemistry 61:545–554.

Feng, X., Apelbaum, A., Sisler, E. C., and Goren, R. 2004. Control of ethylene activity in various plant systems by structural analogues of 1-methylcylopropene. Plant Growth Regul. 42:29–38.

Hallahan, D. L., West, J. M., Smiley, D. W. M., and Pickett, J. A. 1998. Nepetalactol oxidoreductase in trichomes of the catmint Nepeta racemosa. Phytochemistry 48:421–42719.

Javidnia, K., Miri, R., Jafari, A., and Rezai H. 2004. Analysis of the volatile constituents of Nepeta macrosiphon Boiss. grown in Iran. Flavour Fragr. J. 19:156–158.

Jose, S. and Gillespie, A. 1998. Allelopathy in black walnut (Juglans nigra L.) alley cropping. I. Spatio-temporal variation in soil juglone in a black walnut-corn (Zea mayz L.) alley cropping system in the Midwestern USA. Plant Soil 203:191–197.

Kobayashi, K. 2004. Factors affecting phytotoxic activity of allelochemicals in soil. Weed Biol. Manage. 4:1–7.

Kovats, E. 1958. Gas chromatographische Charakteriserung organischer Verbindungen. I. Retentions indices aliphatischer halogenide, alkohole, aldehyde und ketone. Helv. Chim. Acta 41:1915–1932.

Lenoble, M. E., Spollen, W. G., and Sharp, R. E. 2004. Maintenance of shoot growth by endogenous ABA: Genetic assessment of the involvement of ethylene suppression. J. Exp. Bot. 55:237–245.

Lovett, J. V. and Jessor, R. S. 1982. Effects of residues of crop plants on germination and early grown of wheat. Aust. J. Agric. Res. 33:909–91620.

McAuslane, H. J. and Alborn, H. T. 1998. Systemic induction of allelochemicals in glanded and glandless isogenic cotton by Spodoptera exigua feeding. J. Chem. Ecol. 24:399–416.

Plepys, D., Ibarra, F., Francke, W., and L Ö Fstedt, C. 2002. Odour-meditated nectar foraging in the silver Y moth, autographa gamma (Lepidoptera: Noctuidae): Behavioural and electrophysiological responses to floral volatiles. Oikos 99:75–82.

Rai, V. K., Gupta, S. C., and Singh, B. 2003. Volatile monoterpenes from Prinsepia utilis L. leaves inhibit stomatal opening in Vicia faba L. Biol. Plantarum 46:121–124.

Romero-Romero, T., Anaya, A. L., and Cruz-Ortega, R. 2002. Screening for effects of phytochemical variability on cytoplasmic protein synthesis pattern of crop plants. J. Chem. Ecol. 28:617–629.

Shiraishi, S., Watanabe, I., Kuno, K., and Fujii, Y. 2002. Allelopathic activity of leaching from dry leaves and exudates from roots of groundcover plants assayed on agar. Weed Biol. Manage. 2:133–142.

Smith, R. M., Marshall, J. A., Davey, M. R., Lowe, K. C., and Power, J. B. 1996. Comparison of volatiles and waxes in leaves of genetically engineered tomatoes. Phytochemistry 43:753–75821.

Stipanovic, R. D., Elissalde, M. H., and Norman, J. O. 1990. Cell culture bioassay to evaluate allelochemical toxicity to Heliothis virescens lepidoptera noctuidae. J. Econ. Entomol. 83:737–741.

Taiz, L. and Zeiger, E. 2002. Plant Physiology, 3rd edn. Sinauer Associates, Inc., Publishers, pp. 520–533.

UsÓn, A. and Poch, R. M. 2000. Effects of tillage and management practices on soil crust morphology under a Mediterranean environment. Soil Tillage Res. 54:191–196.

Van Den Dool, H. and Kratz, P. D. 1963. A generation of the retention index system including linear temperature programmed gas–liquid partition chromatography. J. Chromatogr. 11:463–471.

Ward, B. B., Courtney, K. J., and Langenheim, J. H. 1997. Inhibition of Nitrosomonas europaea by monoterpenes from coastal redwood (Sequoia sempervirens) in whole-cell studies. J. Chem. Ecol. 23:2583–2598.
We like thank Paul A. Weston for review of this manuscript and photos of Nepeta foliage, and Roselee Harmon for assistance in laboratory experimentation.
About this article
Cite this article
Eom, S.H., Yang, H.S. & Weston, L.A. An Evaluation of the Allelopathic Potential of Selected Perennial Groundcovers: Foliar Volatiles of Catmint (Nepeta × faassenii) Inhibit Seedling Growth. J Chem Ecol 32, 1835–1848 (2006). https://doi.org/10.1007/s10886-006-9112-1
Received:

Revised:

Accepted:

Published:

Issue Date:
Key words
Allelochemical

Essential oils

Terpenes

Nepeta × faassenii

Ornamental groundcover

Herbaceous perennials

Volatiles