Abstract
Two alkylated 1,4-benzoquinones were identified from the defensive secretion produced by the neotropical harvestman Goniosoma longipes (Gonyleptidae). They were characterized as 2,3-dimethyl-1,4-benzoquinone and 2-ethyl-3-methyl-1,4-benzoquinone. We tested the effectiveness of these benzoquinone secretions against several predator types, including invertebrates and vertebrates. Different predators were exposed to the harvestmen's gland secretion or to distilled water in laboratory bioassays. Our results indicate that secretions containing the 1,4-benzoquinones released by G. longipes can be an effective defense against predation, and that the effectiveness of the secretion is dependent on the predator type. The scent gland secretion repelled seven ant species, two species of large wandering spiders, and one frog species, but was not an effective defense against an opossum. Our study also demonstrates that the scent gland secretion of G. longipes can work as a chemical shield preventing the approach of three large predatory ants for at least 10 min. The chemical shield may protect the harvestman against successive attacks of the same ant worker and also allow the harvestman to flee before massive ant recruitment. Our data support the suggestion that chemical defenses may increase survival with some but not all potential predators. This variation in defense effectiveness may result from many interacting factors, including the attack strategy, size, learning ability, and physiology of the predators, as well as the chemical nature of the defensive compounds, type of emission, and amount of effluent released by the prey.
Access options
Buy single article
Instant access to the full article PDF.
US$ 39.95
Tax calculation will be finalised during checkout.
Subscribe to journal
Immediate online access to all issues from 2019. Subscription will auto renew annually.
US$ 119
Tax calculation will be finalised during checkout.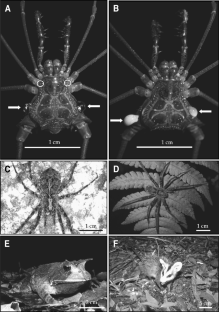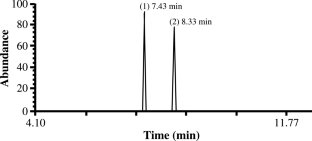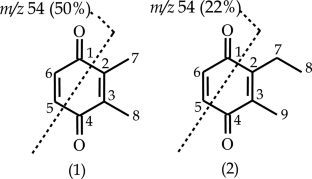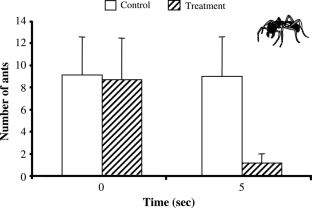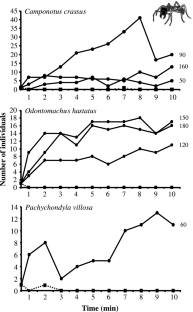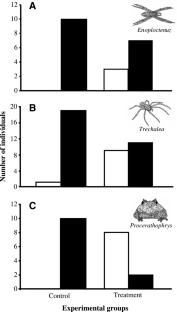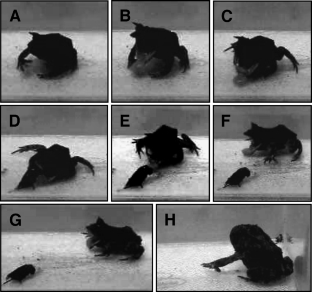 References
L. E. Acosta T. I. Poretti P. E. Mascarelli (1993) ArticleTitleThe defensive secretions of Pachyloidellus goliath (Opiliones: Laniatores: Gonyleptidae) Bonn. Zool. Beitr. 44 19–31

L. E. Acosta F. E. Pereyra R. A. Pizzi (1995) ArticleTitleField observations on Pachyloidellus goliath (Opiliones, Gonyleptidae) in Pampa de Achala, province of Córdoba, Argentina Bull. Br. Arachnol. Soc. 10 23–28

P. Y. Berry (1970) ArticleTitleThe food of the giant toad Bufo asper Zool. J. Linn. Soc. 49 61–68

M. S. Blum (1981) Chemical Defenses of Arthropods Academic Press New York

M. S. Blum A. L. Edgar (1981) ArticleTitle4-Methyl-3-heptanone—identification and role in opilionid exocrine secretions Insect Biochem. 1 181–188 Occurrence Handle10.1016/0020-1790(71)90071-0

W. S. Bristowe (1949) ArticleTitleThe distribution of harvestmen (Phalangida) in Great Britain and Ireland, with notes on their names, enemies and food J. Anim. Ecol. 18 100–114

H. Budzikiewicz C. Djerassi D. H. Williams (1967) Mass Spectrometry of Organic Compounds Holden-Day Inc. San Francisco

N. C. Cáceres (2002) ArticleTitleFood habits and seed dispersal by the white-eared opossum, Didelphis albiventris, in Southern Brazil Stud. Neotrop. Fauna Environ. 37 97–104 Occurrence Handle10.1076/snfe.37.2.97.8582

N. C. Cáceres E. L. A. Monteiro-Filho (2001) ArticleTitleFood habits, home range and activity of Didelphis aurita (Mammalia, Marsupialia) in a forest fragment of Southern Brazil Stud. Neotrop. Fauna Environ. 36 85–92 Occurrence Handle10.1076/snfe.36.2.85.2138

R. D. Clarke (1974) ArticleTitleFood habitats of toads, genus Bufo (Amphibia: Bufonidae) Am. Midl. Nat. 91 140–147

J. L. Cloudsley-Thompson (1958) Spiders, Scorpions, Centipedes and Mites Pergamon Press London

A. L. Edgar (1971) ArticleTitleStudies on the biology and ecology of Michigan Phalangida (Opiliones) Misc. Pub. Mus. Zool., Univ. Mich. 144 1–64

T. Eisner (1958) ArticleTitleThe protective role of the spray mechanism of the bombardier beetle, Brachynus ballistarius Lec J. Insect Physiol. 2 215–220 Occurrence Handle10.1016/0022-1910(58)90006-4

T. Eisner (1958) ArticleTitleSpray mechanism of the cockroach Diploptera punctata Science 128 148–149

T. Eisner (1965) ArticleTitleDefensive spray of a phasmid insect Science 148 966–968

T. Eisner J. Meinwald (1966) ArticleTitleDefensive secretions of arthropods Science 153 1341–1350

T. Eisner A. F. Kluge J. E. Carrel J. Meinwald (1971) ArticleTitleDefense of phalangid: liquid repellent administered by leg dabbing Science 173 650–652

T. Eisner T. H. Jones K. Hicks R. E. Silberglied J. Meinwald (1977) ArticleTitleQuinones and phenols in the defensive secretions of neotropical opilionids J. Chem. Ecol. 3 321–329 Occurrence Handle10.1007/BF00988447

T. Eisner D. Alsop J. Meinwald (1978) Secretions of opilionids, whip scorpions and pseudoscorpions S. Bettini (Eds) Handbook of Experimental Pharmacology (Arthropod Venoms), Vol. 48 Springer-Verlag Berlin 87–99

T. Eisner R. C. Morgan A. B. Attygalle S. R. Smedley K. B. Herath J. Meinwald (1997) ArticleTitleDefensive production of quinoline by a phasmid insect (Oreophoetes peruana) J. Exp. Biol. 200 2493–2500 Occurrence Handle9366083

T. Eisner C. Rossini A. González M. Eisner (2004) ArticleTitleChemical defense of an opilionid (Acanthopachylus aculeatus) J. Exp. Biol. 207 1313–1321 Occurrence Handle10.1242/jeb.00849 Occurrence Handle15010482

C. Estable M. I. Ardao N. P. Brasil L. F. Fieser (1955) ArticleTitleGonyleptidine J. Am. Chem. Soc. 77 4942 Occurrence Handle10.1021/ja01623a087

L. F. Fieser M. I. Ardao (1956) ArticleTitleInvestigation of the chemical nature of Gonyleptidine J. Chem. Ecol. 78 774–781

A. A. Giaretta M. S. Araújo H. F. Medeiros K. G. Facure (1998) ArticleTitleFood habits and ontogenetic shifts of the litter dwelling frog Proceratophrys boiei (Wied) Rev. Bras. Zool. 15 385–388

P. Gnasnipi (1996) ArticleTitlePopulation ecology of Goniosoma spelaeum, a cavernicolous harvestman from Southeastern Brazil (Arachnida: Opiliones: Gonyleptidae) J. Zool. 239 417–435

P. Gnaspini A. J. Cavalheiro (1998) ArticleTitleChemical and behavioral defenses of a Neotropical cavernicolous harvestman: Goniosoma spelaeum (Opiliones: Laniatores: Gonyleptidae) J. Arachnol. 26 81–90

M. R. Hara P. Gnaspini (2003) ArticleTitleComparative study of the defensive behavior and morphology of the gland opening area among harvestmen (Arachnida, Opiliones, Gonyleptidae) under a phylogenetic perspective Arthropod Struct. Develop. 32 257–275 Occurrence Handle10.1016/S1467-8039(03)00040-9

R. G. Holmberg (1986) ArticleTitleThe scent glands of Opiliones: a review of their function Proc. 5th Cong. Int. Arachnol. 1983 131–133

V. Immel (1954) ArticleTitleZur Biologie und Phisiologie von Nemastoma quadripunctatum (Opiliones: Dyspnoi) Zool. Jahrb. (Syst.) 83 129–184

T. A. Jenssen W. D. Klimstra (1966) ArticleTitleFood habits of the green frog, Rana clamitans, in southern Illinois Am. Midl. Nat. 76 169–182

C. Juberthie (1976) ArticleTitleChemical defense in soil opiliones Rev. Ecol. Biol. Sol 13 155–160

B. S. Krall R. J. Bartelt C. J. Lewis D. W. Whitman (1999) ArticleTitleChemical defense in the stink bug Cosmopepla bimaculata J. Chem. Ecol. 25 2477–2494 Occurrence Handle10.1023/A:1020822107806

G. Machado (2002) ArticleTitleSubsociality, gregariousness, and defensive behavior in neotropical Goniosoma harvestmen (Arachnida: Opiliones) Insectes Soc. 49 388–393

G. Machado P. S. Oliveira (1998) ArticleTitleReproductive biology of the Neotropical harvestman Goniosoma longipes (Arachnida: Opiliones: Gonyleptidae): mating and oviposition behaviour, brood mortality, and parental care J. Zool. 246 359–367 Occurrence Handle10.1017/S0952836998009881

G. Machado R. L. G. Raimundo P. S. Oliveira (2000) ArticleTitleDaily activity schedule, gregariousness, and defensive behaviour in the Neotropical harvestman Goniosoma longipes (Arachnida: Opiliones: Gonyleptidae) J. Nat. Hist. 34 587–596 Occurrence Handle10.1080/002229300299453

G. Machado V. Bonato P. S. Oliveira (2002) ArticleTitleAlarm communication: a new function for the scent gland secretion in harvestmen (Arachnida: Opiliones) Naturwissenschaften 89 357–360 Occurrence Handle10.1007/s00114-002-0337-8 Occurrence Handle12435036

R. R. Pagano (1994) Understanding Statistics in the Behavioral Sciences West Publishing Company Minneapolis, USA

F. P. Pelegatti-Franco P. Gnaspini (1996) ArticleTitleUse of caves by Philander opossum (Mammalia: Didelphidae) in Southeastern Brazil Pap. Avulsos Zool. 39 351–364

K. Peschke T. Eisner (1987) ArticleTitleDefensive secretion of a beetle (Blaps mucronata): physical and chemical determinants of effectiveness J. Comp. Physiol., A 161 377–388

B. Roach T. Eisner J. Meinwald (1980) ArticleTitleDefensive substances of opilionids J. Chem. Ecol. 6 511–516 Occurrence Handle10.1007/BF01402927

J. Sabino P. Gnaspini (1999) ArticleTitleHarvestman (Opiliones: Gonyleptidae) takes prey from a spider (Araneae: Ctenidae) J. Arachnol. 27 675–678

J. W. Shultz (1990) ArticleTitleEvolutionary morphology and phylogeny of Arachnida Cladistics 6 1–38

C. C. Smith A. N. Bragg (1949) ArticleTitleObservations on the ecology and natural history of Anura, VII. Food and feeding habits of the common species of toads in Oklahoma Ecology 30 333–349

J. K. Staples B. S. Krall R. J. Bartelt D. W. Whitman (2002) ArticleTitleChemical defense in the plant bug Lopidea robiniae J. Chem. Ecol. 28 601–615 Occurrence Handle10.1023/A:1014552414580 Occurrence Handle11944836

R. L. Teixeira E. S. Coutinho (2002) ArticleTitleHábito alimentar de Proceratophrys boiei (Wied) (Amphibia, Anura, Leptodactylidae) em Santa Teresa, Espírito Santo, sudeste do Brasil Bol. Mus. Biol. Mello Leitão 14 13–20

D. W. Whitman M. S. Blum D. W. Alsop (1994) Allomones: chemicals for defense D. L. Evans J. O. Schmidt (Eds) Insect Defenses: Adaptative Mechanisms and Strategies of Prey and Predators State University of New York Albany 289–351

R. H. Willemart G. E. Kaneto (2004) ArticleTitleOn the natural history of the Neotropical spider Enoploctenus cyclothorax (Araneae, Ctenidae) Bull. Br. Arachnol. Soc. 13 53–59
Acknowledgments
We are grateful to our friends A.C. Pellegrino, B.A. Buzatto, E.G. Martins, F. Osses, G.B.T. Egito, G.S. Requena, J.M. Fanton, L.M. Rossetto, S. Koehler, and T.M. Del Corso for helping during this study, to B.A. Buzatto for the photos of the harvestman, to E.G. Martins, I. Sazima, and R.J. Sawaya for the photos of the predators, to the staff of the Clube Náutico Araraquara for logistical support, to A.J. Santos (spiders), R. Cogni (ants), and E.G. Martins (marsupials) for taxonomic identifications, and to B.A. Buzatto, G.S. Requena, I. Sazima, P. Gnaspini, D.W. Whitman, and an anonymous reviewer for comments on an early draft of the manuscript. This study was supported by fellowships from the Fundação de Amparo à Pesquisa do Estado de São Paulo (FAPESP, no. 02/00381-0 and no. 03/09357-7).
About this article
Cite this article
Machado, G., Carrera, P.C., Pomini, A.M. et al. Chemical Defense in Harvestmen (Arachnida, Opiliones): Do Benzoquinone Secretions Deter Invertebrate and Vertebrate Predators?. J Chem Ecol 31, 2519–2539 (2005). https://doi.org/10.1007/s10886-005-7611-0
Received:

Revised:

Accepted:

Published:

Issue Date:
Key Words
Allomone

antipredator defense

chemical defense

chemical shield

Formicidae

Philander

predation

Proceratophrys

1,4-benzoquinones