Abstract
The clover root weevil, Sitona lepidus, frequently feeds on N2 fixing rhizobial root nodules of white clover (Trifolium repens), which may contain isoflavonoids with defensive and plant regulatory properties. This study investigated the isoflavonoids present in N2 fixing (active) root nodules, root nodules that were not fixing N2 (inactive), and roots without nodules, and tested the behavioral responses of neonatal S. lepidus larvae to aglycones of the identified compounds. Formononetin concentrations were higher in the active nodules compared with inactive nodules and roots alone. Moreover, there was a statistically significant attraction to formononetin by S. lepidus in arena experiments, whereas the other isoflavonoids were unattractive. It is suggested that S. lepidus may have become tolerant to the toxic effects of formononetin with repeated exposure, and that it may play a role in root nodule location. Such coevolutionary relationships are widely reported for aboveground insects and plants, but the present study suggests they may also occur belowground.
This is a preview of subscription content, log in to check access.
Access options
Buy single article
Instant unlimited access to the full article PDF.
US$ 39.95
Price includes VAT for USA
Subscribe to journal
Immediate online access to all issues from 2019. Subscription will auto renew annually.
US$ 199
This is the net price. Taxes to be calculated in checkout.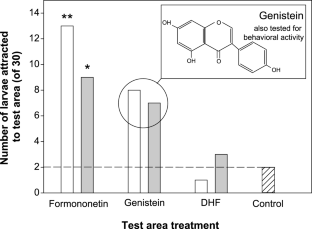 Acknowledgments
This work was funded by the Biotechnology and Biological Sciences Research Council of the U.K. (project 45/D14536). IGER is supported by the BBSRC. The authors thank Albert Neidermeier, Kim Carter, Denise Headon, and Nick Hix for technical assistance.
About this article
Cite this article
Johnson, S.N., Gregory, P.J., Greenham, J.R. et al. Attractive Properties of an Isoflavonoid Found in White Clover Root Nodules on the Clover Root Weevil. J Chem Ecol 31, 2223–2229 (2005) doi:10.1007/s10886-005-6355-1
Received:

Revised:

Accepted:

Published:

Issue Date:
Key Words
7,4′ Dihydroxyflavone (DHF)

chemotaxis

flavonoids

formononetin

genistein

semiochemical

Sitona lepidus
Trifolium repens