Abstract
Robinia pseudo-acacia L. (black locust) is a nonindigenous species currently invading the central part of Japanese grasslands. Several allelochemicals were identified and characterized from the leaf tissue. The growth of both radicle and hypocotyl in the tested species (barnyard grass, white clover, lettuce, and Chinese cabbage) was reduced when grown in soil mixed with the leaves of R. pseudo-acacia at various concentrations. Aqueous leaf extracts, when bioassayed, exhibited a significant suppression of radicle growth. Chromatographic separation of an ethanolic extract of R. pseudo-acacia leaves resulted in isolation of three compounds, identified as robinetin (1), myricetin (2), and quercetin (3) by nuclear magnetic resonance and mass spectroscopy. All inhibited root and shoot growth of lettuce. Robinetin, found in a large amount, caused 50% suppression of the root and shoot growth of lettuce at 100 ppm. The presence of these bioactive substances in leaf tissue suggests a potential role for flavonoids in R. pseudo-acacia invasion in introduced habitats.
Access options
Buy single article
Instant access to the full article PDF.
USD 39.95
Price excludes VAT (USA)
Tax calculation will be finalised during checkout.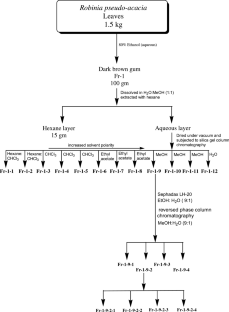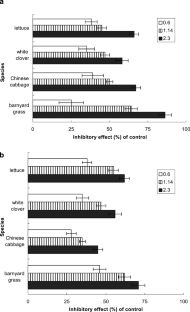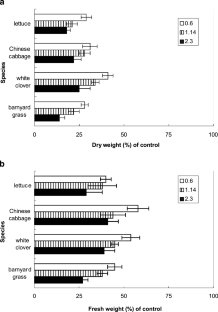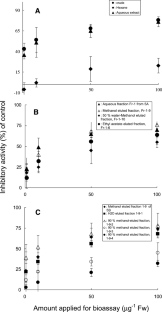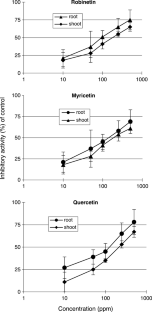 References
H. P. Bais T. S. Walker H. P. Schweizer J. A. Vivanco (2002) ArticleTitleRoot specific elicitation and antimicrobial activity of rosmarinic acid in hairy root cultures of Ocimum basilicum Plant Physiol. Biochem. 40 983–995 Occurrence Handle10.1016/S0981-9428(02)01460-2

P. C. Bhowmik J. D. Doll (1982) ArticleTitleCorn and soybean response to allelopathic effects of weed and crop residues Agron. J. 74 601–606

R. M. Callaway E. T. Aschehoug (2000) ArticleTitleInvasive plants versus their new and old neighbors: A mechanism for exotic invasion Science 290 521–523 Occurrence Handle10.1126/science.290.5491.521 Occurrence Handle11039934

N. Chaves T. Sosa J. C. Alias J. C. Escudero (2001) ArticleTitleIdentification and effects of interaction phytotoxic compounds from exudate of Cistus ladanifer leaves J. Chem. Ecol. 27 611–621 Occurrence Handle10.1023/A:1010336921853 Occurrence Handle11441449

C. H. Chou L. L. Leu (1992) ArticleTitleAllelopathic mechanism of Arctostaphylos glandulosa var. zacaemsos Am. Midl. Nat. 88 324–347

C. H. Chou C. Y. Fu S. Y. Li Y. F. Wang (1998) ArticleTitleAllelopathic potential of Acacia confusa and related species in Taiwan J. Chem. Ecol. 24 2131–2150 Occurrence Handle10.1023/A:1020745928453

J. Coetzee J. P. Steynberg P. J. Steynberg E. V. Brandt D. Ferrira (1995) ArticleTitleOligomeric flavanoids. Part 18a. Dimeric prorobinetinidins from Robinia pseudo-acacia Tetrahedron 51 2339–2352 Occurrence Handle10.1016/0040-4020(94)01091-D

F. E. Dayan J. G. Romagni S. O. Duke (2000) ArticleTitleInvestigating the mode of action of natural phytotoxins J. Chem. Ecol. 26 2079–2094 Occurrence Handle10.1023/A:1005512331061

F. A. Einhellig (1996) ArticleTitleInteractions involving allelopathy in cropping systems Agron. J. 88 886–893

M. Fielder (1975) Plant Medicine and Folklore Winchester Press New York 106

S. Foster J. A. Duke (1990) Roger Tory Peterson Field Guides: Medicinal Plants Houghton Mifflin Press Boston, MA 274

S. C. Goslee D. P. C. Peters K. G. Beck (2001) ArticleTitleModeling invasive weeds in grasslands: The role of allelopathy in Acroptilon repens invasion Ecol. Model 139 31–45 Occurrence Handle10.1016/S0304-3800(01)00231-9

Hanover, J. W., Miller, K., and Plesko, S. 1992. Black locust: An historical and future perspective, pp. 7-18, in J. W. Hanover, K. Miller, and S. Plesko (eds.). Black Locust: Biology, Culture and Utilization. Proceedings International Conference Black Locust, East Lansing, MI, USA.

F. R. Lehle A. R. Putnam (1983) ArticleTitleAllelopatic potential of sorghum (Sorghum bicolor): Isolation seed germination inhibitors J. Chem. Ecol. 9 1223–1235 Occurrence Handle10.1007/BF00982224

T. J. Mabry K. R. Markham M. B. Thomas (1970) The Systematic Identification of Flavonoids Springer-Verlag Berlin

M. Maekawa (1998) The range expansion of Black Locust in the riparian landscape dynamics A. Farina (Eds) Perspectives in Ecology: A Glance from the VII International Congress of Ecology. Proceedings of VII International Congress of Ecology, Florence, Italy Backhuys The Netherlands 267

Maekawa, M. and Nakagoshi, N. 1997. Riparian landscape changes over a period of 46 years on the Azusa River in Central Japan. Landsc. Urban Plann. 37–43.

H.-S. Moon S.-Y. Jung S.-C. Hong (2001) ArticleTitleRate of soil respiration at black locust (Robinia pseudo-acacia) stands in Jinju area Korean J. Ecol. 24 371–376

A. R. Putnam C.-S. Tang (1986) The Science of Allelopathy John Wiley & Sons New York

E. L. Rice (1984) Allelopathy Academic Press Orlando, FL

W. M. Ridenour R. M. Callaway (2001) ArticleTitleThe relative importance of allelopathy in interference: the effects of an invasive weed on a native bunchgrass Oecologia 126 444–450 Occurrence Handle10.1007/s004420000533

D. S. Seigler (1996) ArticleTitleChemistry and mechanisms of allelopathic interactions Agron. J. 88 876–885

InstitutionalAuthorNameStatistical Analysis System (1990) SAS Procedures Guide. Version 6 EditionNumber3 Statistical Analysis System Institute Cary, NC

R. Touchette G. D. Leroux J. M. Deschenes (1988) ArticleTitleAllelopathic activity of quackgrass (Agropyron repens) extracts and residues on alfalfa (Medicago sativa) Can. J. Plant Sci. 68 785–792

S. Uraguchi I. Watanabe K. Kuno Y. Hoshino Y. Fujii (2003) ArticleTitleAllelopathy of floodplain vegetation species in the middle course of Tama river J. Weed Sci. Tech. 48 117–129

L. A. Weston S. O. Duke (2003) ArticleTitleWeed and crop allelopathy Crit. Rev. Plant Sci. 22 367–389

R. H. White A. D. Worsham U. Blum (1989) ArticleTitleAllelopathic potential of legume debris and aqueous extracts Weed Sci. 37 674–679
About this article
Cite this article
Nasir, H., Iqbal, Z., Hiradate, S. et al. Allelopathic Potential of Robinia pseudo-acacia L.. J Chem Ecol 31, 2179–2192 (2005). https://doi.org/10.1007/s10886-005-6084-5
Received:

Revised:

Accepted:

Published:

Issue Date:

DOI: https://doi.org/10.1007/s10886-005-6084-5
Key Words