Abstract
Male-specific compounds, previously identified from Phyllotreta cruciferae and synthesized or isolated from natural sources, attracted both sexes of the beetle in field trials and therefore function as components of a male-produced aggregation pheromone. Six field experiments of 7 to 10 d duration each were conducted over 2 yr using modified boll weevil traps and two doses of pheromone. Treatments containing two doses of allyl isothiocyanate (AITC), a breakdown product of glucosinolates in Brassica napus L., a host plant of the beetles, were included in the study. A dose response was observed for both the pheromone components and AITC, and combinations of the pheromone and AITC generally attracted greater numbers of flea beetles than did either component itself. This increased attraction to a combination of beetle-produced compounds and host odors has not been previously demonstrated in halticine beetles and could help explain patterns of movement by P. cruciferae into field crops.
This is a preview of subscription content, log in to check access.
Access options
Buy single article
Instant access to the full article PDF.
US$ 39.95
Price includes VAT for USA
Subscribe to journal
Immediate online access to all issues from 2019. Subscription will auto renew annually.
US$ 199
This is the net price. Taxes to be calculated in checkout.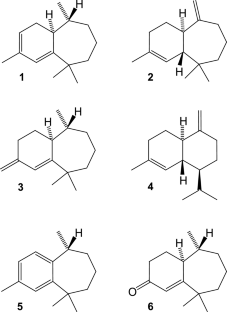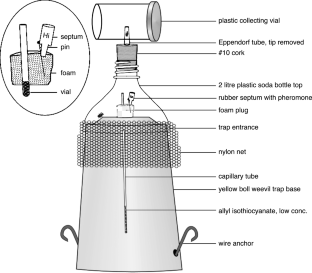 References
Analytical Software. 2003. Statistix® Version 8.0 User's Manual. Analytical Software, Tallahassee, FL.

R. J. Bartelt (1999) Sap beetles R. J. Hardie A. K. Minks (Eds) Pheromones of Non-Lepidopteran Insects Associated with Agricultural Plants CAB International Wallingford, UK 69–89

R. J. Bartelt A. A. CossÉ B. W. Zilkowski D. Weisleder F. A. Momany (2001) ArticleTitleMale-specific sesquiterpenes from Phyllotreta and Aphthona flea beetles J. Chem. Ecol. 27 2397–2423

R. J. Bartelt D. Weisleder F. A. Momany (2003) ArticleTitleTotal synthesis of himachalene sesquiterpenes of Aphthona and Phyllotreta flea beetles Synthesis 2003 117–123

J. H. Borden (1985) Aggregation pheromones G. A. Kerkut L. I. Gilbert (Eds) Comprehensive Insect Physiology and Pharmacology, Vol. 9 Pergamon Press Oxford, UK 257–283

L. Burgess (1977) ArticleTitleFlea beetles (Coleoptera: Chrysomelidae) attacking rape crops in the Canadian prairie provinces Can. Entomol. 109 21–32

F. S. Chew (1988) Biological effects of glucosinolates H. G. Cutler (Eds) Biologically Active Natural Products: Potential Uses in Agriculture American Chemical Society Washington, DC 155–181

A. A. Cossé R. J. Bartelt B. W. Zilkowski (2002) ArticleTitleIdentification and electrophysiological activity of a novel hydroxy ketone emitted by male cereal leaf beetles J. Nat. Prod. 65 1156–1160

J. C. Dickens J. E. Oliver B. Hollister J. C. Davis J. A. Klun (2002) ArticleTitleBreaking a paradigm: male-produced aggregation pheromone for the Colorado potato beetle J. Exp. Biol. 205 1925–1933

P. Feeny K. L. Paauwe N. J. Demong (1970) ArticleTitleFlea beetles and mustard oils: Host plant specificity of Phyllotreta cruciferae and P. striolata adults (Coleoptera: Chrysomelidae) Ann. Entomol. Soc. Am. 63 832–841

Knodel, J. J. and Olson, D. L. 2002. Crucifer flea beetle biology and integrated pest management in canola. North Dakota State University Extension Service Bulletin E-1234. 8 p.

J. L. Krysan I. C. McDonald J. H. Tumlinson (1989) ArticleTitlePhenogram based on allozymes and its relationship to classical biosystematics and pheromone structure among eleven Diabroticites (Coleoptera: Chrysomelidae) Ann. Entomol. Soc. Am. 82 574–581

R. J. Lamb (1989) ArticleTitleEntomology of oilseed Brassica crops Annu. Rev. Entomol. 34 211–229

R. J. Lamb W. J. Turnock (1982) ArticleTitleEconomics of insecticidal control of flea beetles (Coleoptera: Chrysomelidae) attacking rape in Canada Can. Entomol. 114 827–840

P. J. Landolt T. W. Phillips (1997) ArticleTitleHost plant influences on sex pheromone behavior of phytophagous insects Annu. Rev. Entomol. 42 371–391

S. Louda S. Mole (1991) Glucosinolates: chemistry and ecology G. A. Rosenthal M. R. Berenbaum (Eds) Herbivores: Their Interactions with Secondary Plant Metabolites Academic Press New York 123–164

McDonough, L. M. 1991. Controlled release of insect sex pheromones from a natural rubber substrate, pp. 106–124, in P. Hedin (ed.). Naturally Occurring Pest Bioregulators. American Chemical Society Symposium Series 449. Washington, DC.

Mori, K. 1998. Semiochemicals: synthesis, stereochemistry, and bioactivity. Eur. J. Org. Chem. 1998:1479–1489.

S. Muto M. Bando K. Mori (2004) ArticleTitleSynthesis and stereochemistry of the four himachalene-type sesquiterpenes isolated from the flea beetle (Aphthona flava) as pheromone candidates Eur. J. Org. Chem. 2004 1946–1952

C. Peng M. J. Weiss (1992) ArticleTitleEvidence of an aggregation pheromone in the flea beetle Phyllotreta cruciferae (Goeze) (Coleoptera: Chrysomelidae) J. Chem. Ecol. 18 875–884

C. Peng R. J. Bartelt M. J. Weiss (1999) ArticleTitleMale crucifer flea beetles produce an aggregation pheromone Physiol. Entomol. 24 98–99

K. A. Pivnick B. J. Jarvis (1991) ArticleTitleRate of release of allyl isothiocyanate by intact and damaged oriental mustard plants, and implications for host plant location by insects G.C.I.R.C. Eighth International Rapeseed Congress 2 512–517

K. A. Pivnick R. J. Lamb D. Reed (1992) ArticleTitleResponse of flea beetles, Phyllotreta spp., to mustard oils and nitriles in field trapping experiments J. Chem. Ecol. 18 863–873

S. Rao A. A. CossÉ B. W. Zilkowski R. J. Bartelt (2003) ArticleTitleAggregation pheromone of the cereal leaf beetle: Field evaluation and emission from males in the laboratory J. Chem. Ecol. 29 2165–2175

SAS Institute. 2001. SAS for Windows Users Manual, Version 8.2. SAS Institute, Cary, NC.

R. G. D. Steel J. H. Torrie (1980) Principles and Procedures of Statistics: A Biometrical Approach EditionNumber2 McGraw Hill Book Co. New York

O. P. Vig O. P. Chugh K. L. Matta (1970) ArticleTitleTerpenoids LIII. Synthesis of (±)-γ-cadinene Indian J. Chem. 8 29–32

C. Vincent R. K. Stewart (1984) ArticleTitleEffect of allyl isothiocyanate on field behavior of crucifer-feeding flea beetles (Coleoptera: Chrysomelidae) J. Chem Ecol. 10 33–39

D. T. Waite N. P. Gurprasad J. F. Sproull D. V. Quiring M. W. Kotylak (2001) ArticleTitleAtmospheric movements of lindane (γ-hexachlorocyclohexane) from canola fields planted with treated seed J. Environ. Qual. 30 768–775

H. G. Wylie (1981) ArticleTitleEffects of collection method on estimates of parasitism and sex ratio of fleabeetles (Coleoptera: Chrysomelidae) that infest rape crops in Manitoba Can. Entomol. 113 665–671
Acknowledgments
We thank the Saskatchewan Association of Rehabilitation Centres SARCAN Recycling for donation of the trap tops and the University of Saskatchewan Crop Development Centre for use of test sites. The technical help of Larry Grenkow and Jennifer Holowachuk is greatly appreciated.
About this article
Cite this article
Soroka, J.J., Bartelt, R.J., Zilkowski, B.W. et al. Responses of Flea Beetle Phyllotreta cruciferae to Synthetic Aggregation Pheromone Components and Host Plant Volatiles in Field Trials. J Chem Ecol 31, 1829–1843 (2005). https://doi.org/10.1007/s10886-005-5929-2
Received:

Revised:

Accepted:

Published:

Issue Date:
Key Words
Phyllotreta cruciferae

crucifer-feeding flea beetle

aggregation pheromone

Chrysomelidae: Alticinae

field trials

kairomone