Abstract
Male Colletes cunicularius bees pollinate the orchid, Ophrys exaltata, after being sexually deceived by the orchid's odor-mimicry of the female bee's sex pheromone. We detected biologically active volatiles of C. cunicularius by using gas chromatographic–electroantennographic detection (GC-EAD) with simultaneous flame ionization detection. After identification of the target compounds by coupled gas chromatography–mass spectrometry (GC-MS), we performed behavioral tests using synthetic blends of the active components. We detected 22 EAD active compounds in cuticular extracts of C. cunicularius females. Blends of straight chain, odd-numbered alkanes and (Z)-7-alkenes with 21–29 carbon atoms constituted the major biologically active compounds. Alkenes were the key compounds releasing mating behavior, especially those with (Z)-7 unsaturation. Comparison of patterns of bee volatiles with those of O. exaltata subsp. archipelagi revealed that all EAD-active compounds were also found in extracts of orchid labella. Previous studies of the mating behavior in C. cunicularius showed linalool to be an important attractant for patrolling males. We confirmed this with synthetic linalool but found that it rarely elicited copulatory behavior, in accordance with previous studies. A blend of active cuticular compounds with linalool elicited both attraction and copulation behavior in patrolling males. Thus, linalool appears to function as a long-range attractant, whereas cuticular hydrocarbons are necessary for inducing short-range mating behavior.
Access options
Buy single article
Instant access to the full article PDF.
US$ 39.95
Tax calculation will be finalised during checkout.
Subscribe to journal
Immediate online access to all issues from 2019. Subscription will auto renew annually.
US$ 119
Tax calculation will be finalised during checkout.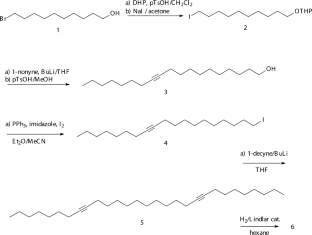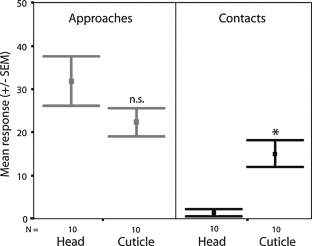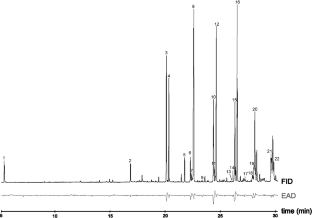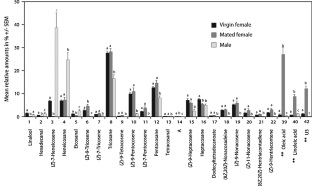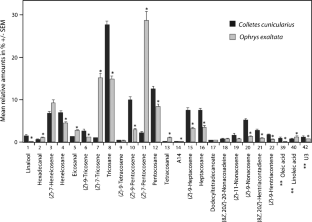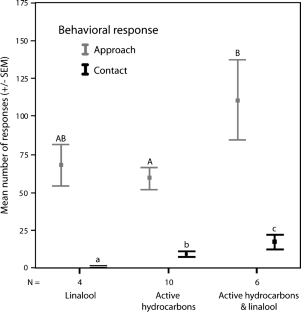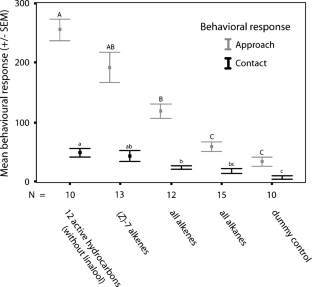 References
F. Amiet R. Neumeyer A. Müller (1999) Apidae 2 Schweizerische Entomologische Gesellschaft Neuchâtel, Switzerland

M. Ayasse G. Dutzler (1998) The function of pheromones in the mating biology of Osmia bees (Hymenoptera: Megachilidae). Social Insects at the Turn of the Millenium, Proc. Int. Congr. IUSSI, 13th Flinders University Press Adelaide, Australia 42

M. Ayasse W. Engels A. Hefetz J. Tengö G. Lübke W. Francke (1993) ArticleTitleOntogenetic patterns of volatiles identified in Dufour's gland extracts from queens and workers of the primitively eusocial halictine bee, Lasioglossum malachurum Hymenoptera: Halictidae Insect Soc. 40 1–18

M. Ayasse W. Engels G. Lübke T. Taghizadeh W. Francke (1999) ArticleTitleMating expenditures reduced via female sex pheromone modulation in the primitively eusocial halictine bee, Lasioglossum malachurum (Hymenoptera: Halictidae) Behav. Ecol. Sociobiol. 45 95–106

M. Ayasse R. J. Paxton J. Tengö (2001) ArticleTitleMating behavior and chemical communication in the order Hymenoptera Annu. Rev. Entomol. 46 31–78

M. Ayasse F. P. Schiestl H. F. Paulus F. Ibarra W. Francke (2003) ArticleTitlePollinator attraction in a sexually deceptive orchid by means of unconventional chemicals Proc. R. Soc. Lond. Ser. B. 270 517–522

S. W. T. Batra (1980) ArticleTitleEcology, behavior, pheromones, parasites, and management of the sympatric vernal bees Colletes inaequalis, C. thoracicus, and C. validus J. Kans. Entomol. Soc. 53 509–538

G. Bergström J. Tengö (1978) ArticleTitleLinalool in mandibular secretion of Colletes bees Hymenoptera: Apoidea J. Chem. Ecol. 4 447–449

A.-K. Borg-Karlson J. Tengö I. Valterová C. R. Unelius T. Taghizadeh T. Tolasch W. Francke (2003) ArticleTitle(S)-+-Linalool, a mate attractant pheromone component in the bee Colletes cunicularius J. Chem. Ecol. 29 1–14

F. Brosius (2002) SPSS Version 11 Mitp-Verlag Bonn, Germany

M. Buck J. M. Chong (2001) ArticleTitleAlkylation of 1-alkynes in THF Tetrahedron Lett. 42 5825–5827

H.-R. Buser H. Arn P. Guerin S. Rauscher (1983) ArticleTitleDetermination of double bond position in mono-unsaturated acetates by mass spectrometry of dimethyl disulfide adducts Anal. Chem. 55 818–822

J. H. Cane (1981) ArticleTitleDufour's gland secretion in the cell linings of bees Hymenoptera: Apoidea J. Chem. Ecol. 7 403–410

J. H. Cane J. Tengö (1981) ArticleTitlePheromonal cues direct mate-seeking behavior of male Colletes cunicularius Hymenoptera: Colletidae J. Chem. Ecol. 7 427–436

P. Delforge (1994) Guide des Orchidées d'Europe d'Afrique du Nord et du Proche-Orient Delachaux et Nestlé Lausanne, Switzerland

E. Dunkelblum S. H. Tan P. J. Silk (1985) ArticleTitleDouble-bond location in mono-unsaturated fatty acids by dimethyl disulfide. Derivatization and mass spectrometry: Application to analysis of fatty acids in pheromone glands of four Lepidoptera J. Chem. Ecol. 11 265–277

W. Engels (1987) ArticleTitlePheromones and reproduction in Brazilian stingless bees Mem. Inst. Oswaldo Cruz Rio de Janeiro 823 35–45

W. Engels E. Engels G. Lübke W. Schröder W. Francke (1990) ArticleTitleVolatile cephalic secretion of drones, queens, and workers in relation to reproduction in the stingless bee Scaptotrigona postica Entomol. Gen. 15 91–101

W. Francke G. Lübke W. Schröder A. Reckziegel V. Imperatriz-Fonseca A. Kleinert E. Engels K. Hartfelder R. Radke W. Engels (2000) ArticleTitleIdentification of oxygen containing volatiles in cephalic secretions of workers of Brazilian stingless bees J. Braz. Chem. Soc. 11 562–571

D. Gerling H. H. W. Velthuis A. Hefetz (1989) ArticleTitleBionomics of the large carpenter bees of the genus Xylocopa Annu. Rev. Entomol. 34 163–190

N. F. Hadley (1981) ArticleTitleCuticular lipids of terrestrial plants and arthropods: A comparison of their structure, composition, and waterproofing function Biol. Rev. 56 23–47

A. Hefetz S. W. T. Batra M. S. Blum (1979) ArticleTitleLinalool, neral and geranial in the mandibular glands of Colletes bees—an aggregation pheromone Experientia 35 320–321

R. W. Howard (1993) Cuticular hydrocarbons and chemical communication D. W. Stanley-Samuelson D. R. Nelson (Eds) Insect Lipids: Chemistry, Biochemistry and Biology University of Nebraska Press Lincoln, NE 179–226

B. Kullenberg (1961) ArticleTitleStudies in Ophrys pollination Zool. Bidr. Uppsala 34 1–340

E. G. Lindsley T. J. Zavortink (1997) ArticleTitleAttraction of female Colletes louisae bees to netted, conspecific females (Hymenoptera Apoidea) Wasmann J. Biol. 35 144–148

Mancuso, A. J. and Swern, D. 1981. Activated dimethyl sulfoxide: useful reagents for synthesis. Synthesis (3):165–185

Mant, J., Peakall, R., and Schiestl, F. P. 2005. Does selection on floral odor promote differentiation among populations and species of the sexually deceptive orchid Ophrys? Evolution (in press).

F. W. McLafferty D. B. Stauffer (1989) The Wiley NBS Registry of Mass Spectral Data Interscience New York

A. Müller (1991) ArticleTitleWildbienen im Schafhauser Randen Neujahresbl. Naturforsch. Ges. Schaffhausen 43 1–78

H. F. Paulus C. Gack (1990a) ArticleTitlePollinators as prepollinating isolation factors: evolution and speciation in Ophrys Orchidaceae Isr. J. Bot. 39 43–79

H. F. Paulus C. Gack (1990b) ArticleTitleZur Pseudokopulation und Bestäuberspezifität der Gattung Ophrys in Sizilien und Süditalien (Orchidaceae und Insecta Apoidea) Jahresber. Naturwiss. Ver. Wupp. 43 119–141

F. P. Schiestl (2004) ArticleTitleFloral evolution and pollinator mate choice in a sexually deceptive orchid J. Evol. Biol. 17 67–75

F. P. Schiestl M. Ayasse (2000) ArticleTitlePost-mating odor in females of the solitary bee, Andrena nigroaenea (Apoidea, Andrenidae), inhibits male mating behavior Behav. Ecol. Sociobiol. 48 303–307

F. P. Schiestl M. Ayasse (2001) ArticleTitlePost-pollination production of a repellent compound in a sexually deceptive orchid: a new mechanism for maximising reproductive success? Oecologia 126 531–534

F. P. Schiestl M. Ayasse (2002) ArticleTitleDo changes in floral odor cause speciation in sexually deceptive orchids? Plant Syst. Evol. 234 111–119

F. P. Schiestl M. Ayasse H. F. Paulus D. Erdmann W. Francke (1997) ArticleTitleVariation of floral scent emission and post pollination changes in individual flowers of Ophrys sphegodes subsp. sphegodes Orchidaceae J. Chem. Ecol. 23 2881–2895

F. P. Schiestl M. Ayasse H. F. Paulus C. Löfstedt B. S. Hansson F. Ibarra W. Francke (1999) ArticleTitleOrchid pollination by sexual swindle Nature 399 421–422

F. P. Schiestl M. Ayasse H. F. Paulus C. Löfstedt B. S. Hansson F. Ibarra W. Francke (2000) ArticleTitleSex pheromone mimicry in the early spider orchid Ophrys sphegodes: patterns of hydrocarbons as the key mechanism for pollination by sexual deception J. Comp. Physiol. A 186 567–574

T. L. Singer (1998) ArticleTitleRoles of hydrocarbons in the recognition systems of insects Am. Zool. 38 394–405

B. H. Smith R. G. Carlson J. Frazier (1985) ArticleTitleIdentification and bioassay of macrocyclic lactone sex pheromones of halictine bee Lasioglossum zephyrum J. Chem. Ecol. 11 1447–1456

C. G. J. Honk Particlevan H. H. W. Velthuis P.-F. Röseler (1978) ArticleTitleA sex pheromone from the mandibular glands in bumble-bee queens Experientia 34 838–839

W. T. Wcislo (1987) ArticleTitleThe role of learning in the mating biology of a sweat bee Lasioglossum zephyrum Hymenoptera: Halictidae Behav. Ecol. Sociobiol. 20 179–185

W. T. Wcislo (1992) ArticleTitleAttraction and learning in mate-finding by solitary bees, Lasioglossum (Dialictus) figueresi Wcislo and Nomia triangulifera Vachal (Hymenoptera: Halictidae) Behav. Ecol. Sociobiol. 31 139–148
Acknowledgments
We thank Salvatore Cozzolino (University of Naples Federico II) for assistance, Andreas Müller (Zürich) for advice on local C. cunicularius populations, and the Museum of Natural History "Inatura," Dornbirn, for issuing collecting licenses. This study was funded by the Swiss National Fund Project 3100-068173, ETH-Zürich, and an Order of Leopold (ASBL), Belgium for N.J.V.
About this article
Cite this article
Mant, J., Brändli, C., Vereecken, N.J. et al. Cuticular Hydrocarbons as Sex Pheromone of the Bee Colletes cunicularius and the Key to its Mimicry by the Sexually Deceptive Orchid, Ophrys exaltata. J Chem Ecol 31, 1765–1787 (2005). https://doi.org/10.1007/s10886-005-5926-5
Received:

Revised:

Accepted:

Published:

Issue Date:
Key Words
Ophrys

solitary bee

sex pheromone

pollination by sexual deception

alkane

alkene

floral mimicry