Abstract
This study was aimed at investigating the effectiveness of assisted therapy (ACT) on manual dexterity in older adults with Down syndrome (DS). Nine older participants with DS, aged 31–52 years old, completed a 30-min stationary cycling session, three times per week for eight weeks of ACT intervention, pedaling at 35% higher than voluntary speed. Another eight older participants with DS, aged 30–51 years old, participated in the voluntary cycling (VC) intervention, pedaling at voluntary speed, as the comparison group. Manual dexterity measured by the Purdue Pegboard Test, and outcome expectations measured by the Exercise Perception Scale, were tested before and after the interventions. After both exercise interventions, the results showed that the non-dominant hand and bimanual subtests of the Purdue Pegboard were significantly improved. The outcome expectations were elevated at marginally statistical level as well. It is speculated that continuous cycling exercise, VC and ACT, may stimulate peripheral sensory input to the motor areas that led to the improvements in manual dexterity and exercise perception. Even though the exact mechanisms are still unknown, the implication of our results showed that VC and ACT can improve manual dexterity in aging DS population.
Access options
Buy single article
Instant access to the full article PDF.
USD 39.95
Price includes VAT (USA)
Tax calculation will be finalised during checkout.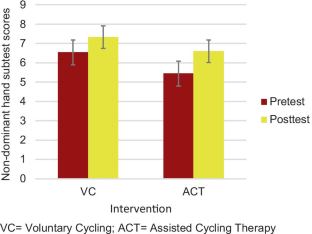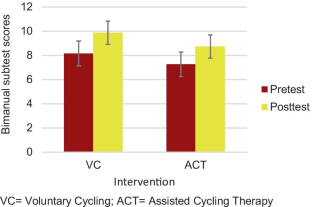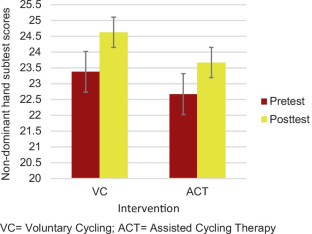 Data Availability
Research data are not shared.
References
Bartlett, J. D., Close, G. L., Mac Laren, D. P., Gregson, W., Drust, B., & Morton, J. P. (2011). High-intensity interval running is perceived to be more enjoyable than moderate-intensity continuous exercise: implications for exercise adherence. Journal of Sports Sciences, 29(6), 547–553.

Benussi, A., Koch, G., Cotelli, M., Padovani, A., & Borroni, B. (2015). Cerebellar transcranial direct current stimulation in patients with ataxia: a double-blind, randomized, sham-controlled study. Movement Disorders, 30(12), 1701–1705.

Carment, L., Abdellatif, A., Lafuente-Lafuente, C., Pariel, S., Maier, M. A., Belmin, J., & Lindberg, P. G. (2018). Manual dexterity and aging: a pilot study disentangling sensorimotor from cognitive decline. Frontiers in Neurology, 9, 910.

Chen, C. C., Kelsey, A., Mulvey, G., & Ringenbach, S. D. (2016). Examining the Davidson's Model via an exercise variable in individuals with intellectual disabilities. International Journal of Developmental Disabilities, 62(1), 70–75.

Chen, C. C. J., & Ringenbach, S. D. (2015). A pilot study for test-retest reliability of the Purdue pegboard test in adolescents and young adults with Down syndrome. Journal of Motor Learning and Development, 3(2), 151–157.

Chen, C. C., Ringenbach, S. D. R., & Albert, A. R. (2014a). Assisted cycling exercise improves fine manual dexterity in persons with Down's syndrome. Journal of Applied Research in Intellectual Disabilities, 27(3), 264–272.

Chen, C. C., Ringenbach, S. D., Albert, A., & Semken, K. (2014b). Fine motor control is related to cognitive control in adolescents with Down syndrome. International Journal of Disability, Development and Education, 61(1), 6–15.

Connolly, B. H., & Michael, B. T. (1986). Performance of retarded children, with and without Down syndrome, on the Bruininks Oseretsky Test of Motor Proficiency. Physical Therapy, 66(3), 344–348.

Dolva, A. N., Coster, W., & Lilja, M. (2004). Functional performance in children with Down syndrome. The American Journal of Occupation Therapy, 58, 621–629.

Dunn, L. M., & Dune, D. M. (2007). PPVT-4 Manual. Bloomington: NCS Pearson.

Esbensen, A. J. (2010). Health conditions associated with aging and end of life of adults with Down syndrome. International Review of Research in Mental Retardation, 39, 107–126.

Haga, M. (2008). The relationship between physical fitness and motor competence in children. Child: Care, Health and Development, 34(3) 329–334.

Heller, T., Hsieh, K., & Rimmer, J. H. (2004). Attitudinal and psychological outcomes of a fitness and health education program on adults with Down syndrome. American Journal on Mental Retardation, 109, 175–185.

Heller, T., & Prohaska, T. (2001). Exercise Perceptions Scale. In T. Heller, B. A. Marks, & S. H. Ailey (Eds.), Exercise and Nutrition Education Curriculum for Adults With Developmental Disabilities. Chicago: University of Illinois at Chicago, Rehabilitation Research and Training Center on Aging and Developmental Disabilities. Department of Disability and Human Development.

Hung, W. W., & Pang, M. Y. (2010). Effects of group-based versus individual-based exercise training on motor performance in children with developmental coordination disorder: A randomized controlled pilot study. Journal of Rehabilitation Medicine, 42(2), 122–128.

Kauranen, K. J., & Vanharanta, H. V. (2001). Relationship between extremities in motor performance. Perceptual and Motor Skills, 92(1), 11–18.

Kilpatrick, M. W., Greeley, S. J., & Collins, L. H. (2015). The impact of continuous and interval cycle exercise on affect and enjoyment. Research Quarterly for Exercise and Sport, 86(3), 244–251.

Ludyga, S., Gronwald, T., & Hottenrott, K. (2016). Effects of high vs. low cadence training on cyclists' brain cortical activity during exercise. Journal of Science and Medicine in Sport, 19(4), 342–347.

Lorås, H., Haga, M., & Sigmundsson, H. (2020). Effect of different exercise modes at high intensity on immediate learning and arousal. International Journal of Sport and Exercise Psychology, 18(1), 33–45.

Neeman, M. (1986). The Purdue Pegboard: its predictive validity for work potential of persons with mental retardation. American Journal of Occupational Therapy, 40, 433–434.

Pennathur, A., Contreras, L. R., Arcaute, K., & Dowling, W. (2003). Manual dexterity of older Mexican American adults: a cross-sectional pilot experimental investigation. International Journal of Industrial Ergonomics, 32(6), 419–431.

Peters, D. M., Fridriksson, J., Stewart, J. C., Richardson, J. D., Rorden, C., Bonilha, L., & Fritz, S. L. (2018). Cortical disconnection of the ipsilesional primary motor cortex is associated with gait speed and upper extremity motor impairment in chronic left hemispheric stroke. Human Brain Mapping, 39(1), 120–132.

Ploughman, M., Attwood, Z., White, N., Doré, J. J., & Corbett, D. (2007). Endurance exercise facilitates relearning of forelimb motor skill after focal ischemia. European Journal of Neuroscience, 25, 3453–3460.

Ploughman, M., McCarthy, J., Bossé, M., Sullivan, H. J., & Corbett, D. (2008). Does treadmill exercise improve performance of cognitive or upper-extremity tasks in people with chronic stroke? A randomized cross-over trial. Archives of Physical Medicine and Rehabilitation, 89(11), 2041–2047.

Ridgel, A. L., Fickes-Ryan, E. J., & Wilson, K. A. (2013). Effects of active-assisted cycling on motor function and balance in Parkinson's disease. Journal of the Neurological Sciences, 333, e91.

Ridgel, A. L., Phillips, R. S., Walter, B. L., Discenzo, F. M., & Loparo, K. A. (2015). Dynamic high-cadence cycling improves motor symptoms in Parkinson's disease. Frontiers in Neurology, 6, 194.

Ridgel, A. L., Vitek, J. L., & Alberts, J. L. (2009). Forced, not voluntary, exercise improves motor function in Parkinson's disease patients. Neurorehabilitation and Neural Repair, 23, 600–608.

Rosenblum, S., & Josman, N. (2003). The relationship between postural control and fine manual dexterity. Physical & Occupational Therapy in Pediatrics, 23(4), 47–60.

Shyama, M., Al-Mutawa, S. A., Honkala, S., & Honkala, E. (2003). Supervised toothbrushing and oral health education program in Kuwait for children and young adults with Down syndrome. Special Care in Dentistry, 23(3), 94–99.

Soyupek, F., BölükbafiI, N., Yorganciolu, Z. R., & Gökolu, F. (2006). The effect of aerobic exercise on hand strength and dexterity of patients with coronary artery disease. Turkiye Fiziksel Tip Ve Rehabilitasyon Dergisi, 52, 72–75.

Tiffin, J., & Asher, E. J. (1948). The Purdue Pegboard: norms and studies of reliability and validity. Journal of Applied Psychology, 32(3), 234–247.

Tsao, R., Fartoukh, M., & Barbier, M. L. (2011). Handwriting in adults with Down syndrome. Journal of Intellectual and Developmental Disability, 36(1), 20–26.

Uhm, J. P., Lee, H. W., & Han, J. W. (2020). Creating sense of presence in a virtual reality experience: Impact on neurophysiological arousal and attitude towards a winter sport. Sport Management Review, 23(4), 588–600.

Woo, M., Kim, S., Kim, J., Petruzzello, S. J., & Hatfield, B. D. (2009). Examining the exercise-affect dose–response relationship: Does duration influence frontal EEG asymmetry? International Journal of Psychophysiology, 72(2), 166–172.

Zigman, W. B. (2013). Atypical aging in Down syndrome. Developmental Disabilities Research Reviews, 18(1), 51–67.
Funding
There is no funding resource.
Ethics declarations
Conflict of Interest
The authors have no conflicts of interest to declare in reference to this work.
Ethical Approval
All procedures performed in studies involving human participants were in accordance with the ethical standards of the institutional and/or national research committee and with the 1964 Helsinki declaration and its later amendments or comparable ethical standards.
Informed Consent
Informed consent was obtained from all individual participants and their guardians or parents included in the study.
Additional information
Publisher's Note
Springer Nature remains neutral with regard to jurisdictional claims in published maps and institutional affiliations.
About this article
Cite this article
Chen, CC., Ringenbach, S.D.R., Arnold, N. et al. Stationary Cycling Exercise Improved Manual Dexterity in Older Adults with Down Syndrome. J Dev Phys Disabil (2021). https://doi.org/10.1007/s10882-021-09822-9
Keywords
Rehabilitation

Fine motor control

Intellectual disability

Exercise perception