Abstract
Amid rising trends in opioid use, hospitalizations for health conditions secondary to intravenous drug use are becoming more common. Such patients often require prolonged hospitalizations and frequently present with substance use histories, co-occurring mental health diagnoses, and unique behavioral health needs. These issues can adversely impact completion of medical treatment and place added burden on hospital staff. There is a growing need for medical institutions to develop policies and procedures which address the specific emotional, behavioral, and substance use needs of this patient population. Because guidelines for doing so are sparse in the literature, this study outlines the University of Vermont Medical Center's process of developing an in-hospital care agreement intended to (1) increase patient access to in-hospital need assessments, psychotherapy, and medication for opioid use disorders, (2) increase referrals for opioid use treatment beyond hospitalization, (3) standardize staff response to common challenging behaviors, and (4) provide staff with education and support for interacting with patients in effective ways. The multidisciplinary process of developing this care agreement, its specific details, lessons learned, and anticipated future directions are also discussed.
This is a preview of subscription content, log in to check access.
Access options
Buy single article
Instant access to the full article PDF.
US$ 39.95
Price includes VAT for USA
Subscribe to journal
Immediate online access to all issues from 2019. Subscription will auto renew annually.
US$ 99
This is the net price. Taxes to be calculated in checkout.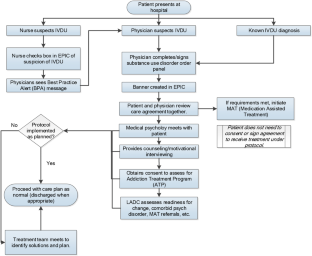 References
Baddour, L. M., Wilson, W. R., Bayer, A. S., Fowler, V. G., Bolger, A. F., Levison, M. E., … Taubert, K. A. (2005). Infective endocarditis. Circulation, 111(23), e394–e434.

Baler, R. D., & Volkow, N. D. (2006). Drug addiction: The neurobiology of disrupted self-control. Trends in Molecular Medicine, 12(12), 559–566.

Bellfield, H. (2012). Dual diagnosis policy (mental health and substance misuse). Retrieved from http://www.sompar.nhs.uk/media/1159/dual-diagnosis-policy-v1nov-2012.pdf.

Brooner, R. K., King, V. L., Kidorf, M., Schmidt, C. W., & Bigelow, G. E. (1997). Psychiatric and substance use comorbidity among treatment-seeking opioid abusers. Archives of General Psychiatry, 54(1), 71–80.

Carroll, K. M., Ball, S. A., Nich, C., Martino, S., Frankforter, T. L., Farentinos, C., … Woody, G. E. (2006). Motivational interviewing to improve treatment engagement and outcome in individuals seeking treatment for substance abuse: A multisite effectiveness study. Drug and Alcohol Dependence, 81(3), 301–312.

Chan, A. C., Palepu, A., Guh, D. P., Sun, H., Schechter, M. T., O'Shaughnessy, M. V., & Anis, A. H. (2004). HIV-positive injection drug users who leave the hospital against medical advice: The mitigating role of methadone and social support. Journal of Acquired Immune Deficiency Syndromes, 35(1), 56–59.

Chitwood, D. D., McBride, D. C., French, M. T., & Comerford, M. (1999). Health care need and utilization: A preliminary comparison of injection drug users, other illicit drug users, and nonusers. Substance Use & Misuse, 34(4–5), 727–746.

Cuomo, C., Sarchiapone, M., Giannantonio, M. D., Mancini, M., & Roy, A. (2008). Aggression, impulsivity, personality traits, and childhood trauma of prisoners with substance abuse and addiction. The American Journal of Drug and Alcohol Abuse, 34(3), 339–345.

Di Chiara, G., & North, R. A. (1992). Neurobiology of opiate abuse. Trends in Pharmacological Sciences, 13, 185–193.

Drainoni, M.-L., Farrell, C., Sorensen-Alawad, A., Palmisano, J. N., Chaisson, C., & Walley, A. Y. (2014). Patient perspectives of an integrated program of medical care and substance use treatment. AIDS Patient Care and STDs, 28(2), 71–81.

Gladden, R. M., Martinez, P. & Seth, P. (2016). Fentanyl law enforcement submissions and increases in synthetic opioid-involved overdose deaths—27 states, 2013–2014. MMWR. Morbidity and Mortality Weekly Report. https://doi.org/10.15585/mmwr.mm6533a2.

Hasegawa, K., Espinola, J. A., Brown, D. F. M., & Camargo, C. A. (2014). Trends in U.S. emergency department visits for opioid overdose, 1993–2010. Pain Medicine (Malden, Mass.), 15(10), 1765–1770.

Jones, C. M., Campopiano, M., Baldwin, G., & McCance-Katz, E. (2015). National and state treatment need and capacity for opioid agonist medication-assisted treatment. American Journal of Public Health, 105(8), e55–e63.

Liebschutz, J. M., Crooks, D., Herman, D., Anderson, B., Tsui, J., Meshesha, L. Z., … Stein, M. (2014). Buprenorphine treatment for hospitalized, opioid-dependent patients: A randomized clinical trial. JAMA Internal Medicine, 174(8), 1369–1376.

McLellan, A. T., Lewis, D. C., O'Brien, C. P., & Kleber, H. D. (2000). Drug dependence, a chronic medical illness: Implications for treatment, insurance, and outcomes evaluation. JAMA, 284(13), 1689–1695.

Murdoch, D. R., Corey, G. R., Hoen, B., Miró, J. M., Fowler, V. G., Bayer, A. S., … Cabell, C. H. (2009). Clinical presentation, etiology and outcome of infective endocarditis in the 21st century: The international collaboration on endocarditis-prospective cohort study. Archives of Internal Medicine, 169(5), 463–473.

National Institute on Drug Abuse. (2012). Principles of effective treatment. Retrieved from https://www.drugabuse.gov/publications/principles-drug-addiction-treatment-research-based-guide-third-edition/principles-effective-treatment.

O'Toole, T. P., Pollini, R. A., Ford, D. E., & Bigelow, G. (2007). The effect of integrated medical-substance abuse treatment during an acute illness on subsequent health services utilization. Medical Care, 45(11), 1110–1115.

Owens, P. L., Barrett, M. L., Weiss, A. J., Washington, R. E., & Kronick, R. (2014). Hospital inpatient utilization related to opioid overuse among adults, 1993–2012. Rockville, MD: Agency for Healthcare Research and Quality.

Rollnick, S., Heather, N., & Bell, A. (1992). Negotiating behaviour change in medical settings: The development of brief motivational interviewing. Journal of Mental Health, 1(1), 25–37.

Rudd, R. A., Aleshire, N., Zibbell, J. E., & Gladden, R.M. (2016). Increases in drug and opioid overdose deaths—United States, 2000–2014. American Journal of Transplantation, 16(4), 1323–1327.

Shanahan, C. W., Beers, D., Alford, D. P., Brigandi, E., & Samet, J. H. (2010). A transitional opioid program to engage hospitalized drug users. Journal of General Internal Medicine, 25(8), 803–808.

Sinha, R., Garcia, M., Paliwal, P., Kreek, M. J., & Rounsaville, B. J. (2006). Stress-induced cocaine craving and hypothalamic-pituitary-adrenal responses are predictive of cocaine relapse outcomes. Archives of General Psychiatry, 63(3), 324–331.

Squeglia, L. M., Jacobus, J., & Tapert, S. F. (2009). The influence of substance use on adolescent brain development. Clinical EEG and Neuroscience, 40(1), 31–38.

Stewart, A. L., Nápoles-Springer, A., Pérez-Stable, E. J., Posner, S. F., Bindman, A. B., Pinderhughes, H. L., & Washington, A. E. (1999). Interpersonal processes of care in diverse populations. The Milbank Quarterly, 77(3), 305–339.

Vermont Department of Health. (2017). Opioid misuse, abuse, & dependence in Vermont: data brief, April 2017. Retrieved from http://www.healthvermont.gov/sites/default/files/documents/2016/12/ADAP_Data_Brief_Opioid_Misuse_Abuse_Dependence.pdf.

Weisner, C., Mertens, J., Parthasarathy, S., Moore, C., & Lu, Y. (2001). Integrating primary medical care with addiction treatment: A randomized controlled trial. JAMA, 286(14), 1715–1723.
Ethics declarations
Conflict of interest
Andrew Gill, Tara McCuin, and Marlene Maron declare that they have no conflicts of interest.
Human and Animal Rights and Informed Consent
All procedures performed in studies involving human participants were in accordance with the ethical standards of the institutional and/or national research committee and with the 1964 Helsinki Declaration and its later amendments or comparable ethical standards.
Additional information
Publisher's Note
Springer Nature remains neutral with regard to jurisdictional claims in published maps and institutional affiliations.
Electronic supplementary material
Below is the link to the electronic supplementary material.
About this article
Cite this article
Gill, A.D., McCuin, T. & Maron, M. Program Development of Integrated Psychological Services for Hospitalized Patients with Intravenous Drug Use Histories. J Clin Psychol Med Settings 27, 22–30 (2020). https://doi.org/10.1007/s10880-019-09616-4
Keywords
Hospital

Integrated

Substance use

Policy

Program development