Abstract
Most children with hypothalamic hamartoma (HH) manifest symptoms of epilepsy and associated cognitive deficits and behavioral difficulties as well as central precocious puberty (CPP). However, there is little to no research examining behavioral difficulties in children with HH without epilepsy, nor is there research examining treatments to address the behavioral difficulties of patients with HH without epilepsy. In the current case report, the authors implemented a validated parent management training program [the Brief Behavioral Intervention (BBI)], to treat symptoms of ADHD and disruptive behavior in a 6-year-old female patient with HH and CPP. The family participated in six BBI sessions over a period of 8 weeks. Parent behavioral ratings suggested significant reductions of symptoms of ADHD and disruptive behaviors to the normal range. The current case report demonstrates the effectiveness of the BBI program in the treatment of behavioral difficulties in a patient with HH and CPP. Further, the present study explores behavioral manifestations rarely explored in patients with HH without epilepsy.
This is a preview of subscription content, log in to check access.
Access options
Buy single article
Instant access to the full article PDF.
US$ 39.95
Price includes VAT for USA
Subscribe to journal
Immediate online access to all issues from 2019. Subscription will auto renew annually.
US$ 99
This is the net price. Taxes to be calculated in checkout.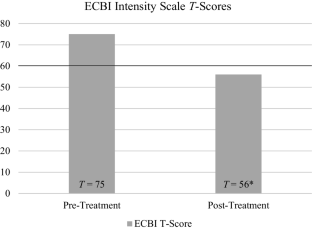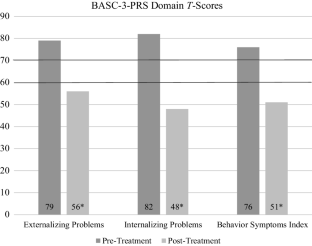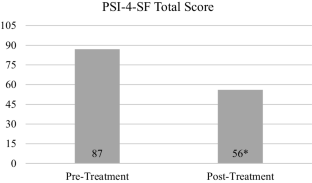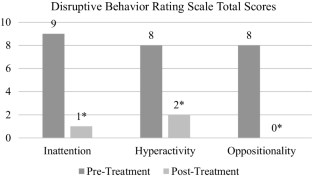 References
Abidin, R. R. (1990). Parenting stress index-short form. Charlottesville: Pediatric Psychology Press.

Axelrad, M., & Chapman, S. (2016). The brief behavioral intervention for preschoolers with disruptive behaviors: A clinical program guide for clinicians. MedEdPORTAL. https://doi.org/10.15766/mep_2374-8265.10376.

Axelrad, M. E., Butler, A., Dempsey, J., & Chapman, S. G. (2013). Treatment effectiveness of a brief behavioral intervention for preschool disruptive behavior. Journal of Clinical Psychology in Medical Settings, 20, 323–332.

Axelrad, M. E., Garland, B. H., & Love, K. B. (2009). Brief behavioral intervention for young children with disruptive behaviors. Journal of Clinical Psychology in Medical Settings, 16, 263–269.

Barkley, R. A., & Murphy, K. R. (1998). Attention-deficit hyperactivity disorder: A clinical workbook. New York: Guilford.

Beery, K. E., Buktenica, N. A., & Beery, N. A. (2010). Beery-Buktenica developmental test of visual-motor integration, sixth edition, The (BEERY™ VMI). Bloomington: Pearson.

Chan, Y. M., Fenoglio, K. A., Paraschos, S., Muhammad, L., Troester, M. M., Ng, Y. T., … Seminara, S. B. (2010). Precocious puberty associated with hypothalamaus hamartomas correlates with anatomic features but not with expression of GnRH, TGFα, or KISS1. Hormone Research in Paediatrics, 73(5), 312–319.

Cohen, M. L., Heaton, S. C., Ginn, N., & Eyberg, S. M. (2012). Parent-child interaction therapy as a family-oriented approach to behavioral management following pediatric traumatic brain injury: A case report. Journal of Pediatric Psychology, 37, 251–261.

Conners, C. K. (2015). Conners Kiddie continuous performance test second edition. North Tonawanda: Multi-Health Systems, Inc.

De La Mota, C. C., Del Valle, F. M., Villena, A. P., Gero, M. C., Del Poso, R. L., & Rojas, M. R. (2012). Hypothalamic hamartoma in paediatric patients: Clinical characteristics, outcomes, and review of literature. Neurologia, 27(5), 268–276.

Eyberg, S. (1999). Eyberg Child Behavior Inventory. Lutz: PAR, Inc.

Eyberg, S. M., & Pincus, D. (1999). ECBI, SESBI-R professional manual. Lutz: PAR, Inc.

Eyberg, S., Nelson, M. M., & Boggs, S. R. (2008). Evidenced-based psychosocial treatments for children and adolescents with disruptive behavior. Journal of Child and Adolescent Psychology, 37, 215–237.

Fernandez, M. A., & Eyberg, S. M. (2005). Keeping families in once they've come through the door: Attrition and parent-child interaction therapy. Journal of Early and Intensive Behavior Intervention, 2, 207–212.

Garcia, D., Barroso, N. E., Kuluz, J., & Bagner, D. M. (2016). Parent–Child Interaction Therapy and moderate pediatric traumatic brain injury: A case study. Evidence-Based Practice in Child and Adolescent Mental Health, 1(1), 40–50. https://doi.org/10.1080/23794925.2016.1191977.

Gioia, G. A., Isquith, P. K., Guy, S. C., & Kenworthy, L. (2000). Behavior rating inventory of executive function. Odessa: Psychological Assessment Resources, Inc.

Jacobson, N. S., & Truax, P. (1991). Clinical significance: A statistical approach to defining meaningful change in psychotherapy research. Journal of Consulting and Clinical Psychology, 59, 12–19.

Jensen, E., Palacios, E., & Drury, S. (2011). Klinefelter's syndrome in a 5-year-old boy with behavioral disturbances and seizures. Psychosomatics: Journal of Consultation and Liaison Psychiatry, 52(6), 575–578. https://doi.org/10.1016/j.psym.2011.05.007.

Katayama, K., Yamashita, Y., Yatsuga, S., Koga, Y., & Matsuishi, T. (2016). Case report: ADHD-like behavior in a patient with hypothalamic hamartoma. Brain & Development, 38, 145–148.

Kaufman, A. S., & Kaufman, N. L. (2014). Kaufman test of educational achievement (3rd ed.). Bloomington: NCS Pearson.

Killeen, Z., Bunch, R., & Kerrigan, J. F. (2017). Psychiatric comorbidity with hypothalamic hamartoma: Systematic review for predictive clinical features. Epilepsy & Behavior, 73, 126–130.

Mullatti, N., Selway, R., Nashef, L., Elwes, R., Honavar, M., Chandler, C., … Polkey, C. (2003). The clinical spectrum of epilepsy in children and adults with hypothalamic hamartoma. Epilepsia, 44(10), 1310–1319.

Nagaki, S., Otsuka, E., Miwa, K., Funatsuka, M., Kubo, O., Hori, T., … Osawa, M. (2010). Two cases of precocious puberty associated with hypothalamic hamartoma. Clinical Pediatric Endocrinology, 19(2), 31–37.

Nguyen, D., Singh, S., Zaatreh, M., Novotny, E., Levy, S., & Testa, F. (2003). Hypothalamic hamartomas: Seven cases and review of the literature. Epilepsy Behavior, 4, 246–258.

Prigatano, G. P. (2007). Cognitive and behavioral dysfunction in children with hypothalamic hamartoma and epilepsy. Seminars in Pediatric Neurology, 14, 65–72.

Reynolds, C. R., Kamphaus, R. W., & Vannest, K. J. (2015). BASC3: Behavior assessment system for children. Bloomington: PsychCorp.

Reynolds, C. R., & Richmond, B. O. (2008). Revised Children's Manifest Anxiety Scale (2rd ed.). Los Angeles: Western Psychological Services.

Sheslow, D., & Adams, W. (2003). Wide range assessment of memory and learning second edition administration and technical manual. Lutz, FL: Psychological Assessment Resources.

Tiffin, J., & Asher, E. J. (1948). The Purdue Pegboard: Norms and studies of reliability and validity. Journal of Applied Psychology, 32, 234–247.

Treble-Barna, A., Chapman, S. G., Schwartz, D. D., & Axelrad, M. A. (2013). Brief behavioral intervention for disruptive behavior in a child following frontal and temporal resection for medically intractable epilepsy: A case report. Clinical Practice in Pediatric Psychology, 1(4), 355–360.

Wechsler, D. (2014). Wechsler intelligence scale for children-fifth edition. San Antonio: NCS Pearson.

Weissenberger, A. A., Dell, M. L., Liow, K., Theodore, W., Frattali, C. M., Hernandez, D., & Zametkin, A. J. (2001). Aggression and psychiatric comorbidity in children with hypothalamic hamartomas and their unaffected siblings. Journal of American Academy of Children and Adolescence Psychiatry, 40(6), 696–703.

Xhrouet-Heinrichs, D., Lagrou, K., Heinrichs, C., Craen, M., Dooms, L., Malvaux, P., … Bourguignon, J.-P. (1997). Longitudinal study of behavioral and affective patterns in girls with central precocious puberty during long-acting triptorelin therapy. Acta Paediatrica, 86, 808–815.

Zlomke, K. R., Jeter, K., & Murphy, J. (2017). Open-trial pilot of Parent-Child Interaction Therapy for children with autism spectrum disorder. Child & Family Behavior Therapy, 39(1), 1–18.
Ethics declarations
Conflict of interest
The authors Rachel H. Fein, Gabrielle G. Banks, Marsha N. Gragert, and Marni E. Axelrad declare that they have no conflict of interest.
Ethical Approval
All procedures performed in studies involving human participants were in accordance with the ethical standards of the institutional and/or national research committee and with the 1964 Helsinki declaration and its later amendments or comparable ethical standards.
Informed Consent
Informed consent was obtained from all individual participants included in the study.
About this article
Cite this article
Fein, R.H., Banks, G.G., Gragert, M.N. et al. Brief Behavioral Intervention for Disruptive Behavior in a Child with a Hypothalamic Hamartoma: A Case Report. J Clin Psychol Med Settings 26, 507–515 (2019). https://doi.org/10.1007/s10880-018-9592-5
Keywords
Hypothalamic hamartoma

Central precocious puberty

Parent management training

Attention-deficit/hyperactivity disorder

Brief behavioral intervention