Abstract
Smart logistics will encourage replacing manual systems with the Internet of Things (IoT) or automated handling equipment taking care of repetitive tasks in the enterprise management system. Opportunities to address the issues arise from the development of smart logistics. When used with other quantitative analytic tools and techniques, today's IoT may generate vast amounts of data and reveal intricate correlations between the many transactions represented by that data. Smart logistics can benefit from the inclusion of these features. The complication and variety of consumer orders necessitate a change in warehouse operations. There is a need for real-time data and contextual data on highly tailored orders' large diversity and small batch sizes. To achieve on-time order fulfilment, the synchronization of purchase orders to support production is critical to the frequent changes in customer needs. Order fulfilment suffers as a result of inefficient and erroneous order selection. Computational intelligence techniques are used in the research to provide an advanced data analysis methodology for Industry 4.0's smart logistics through global manufacturing. Advanced data analysis methods for Industry 4.0's smart logistics are developed using computational intelligence approaches. However, IoT-SL can increase logistics productivity, picking accuracy, and efficiency based on data obtained from a case firm and is resilient to order unpredictability. Smart contracts, logistics planners, and asset condition monitoring are included in the paper's smart logistics system. A prototype solution is implemented to demonstrate responsibility, traceability, and obligation for asset management across the supply chain by multiple stakeholders participating in a logistics scenario. It is important to look at how IoT technologies are being used in the smart logistics industry from transportation, storage, loading/unloading, carrying, distributed processing and information transfer, thereby achieving real-time monitoring, increased logistics productivity, logistics management, increased delivery of goods and efficiency of 98.3%.
Access options
Buy single article
Instant access to the full article PDF.
USD 39.95
Price excludes VAT (USA)
Tax calculation will be finalised during checkout.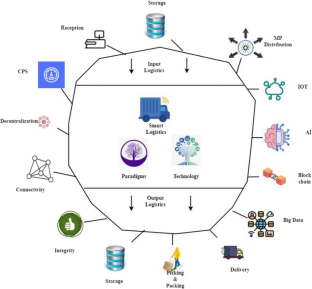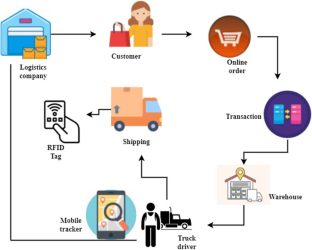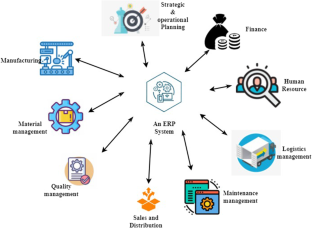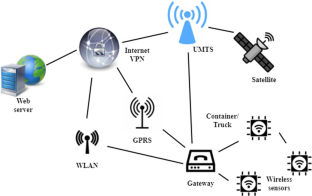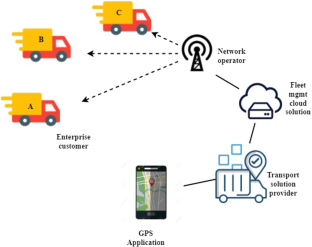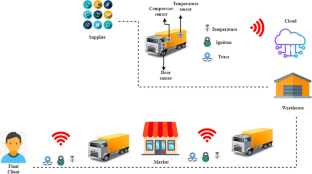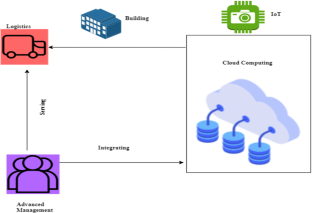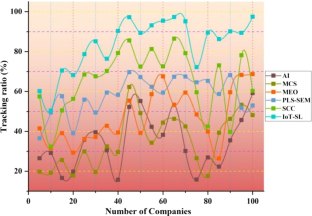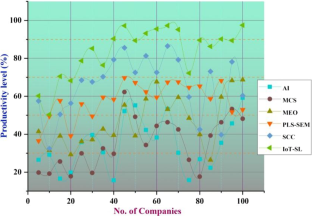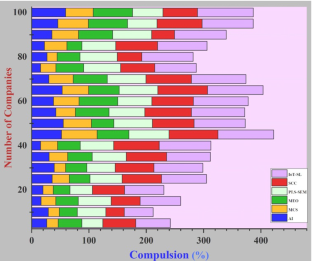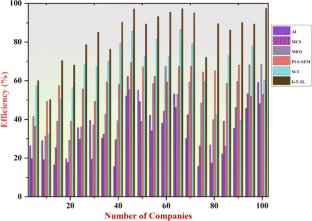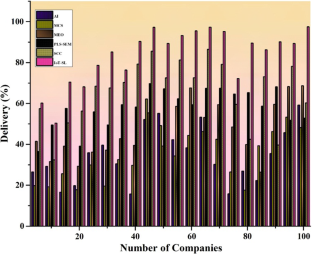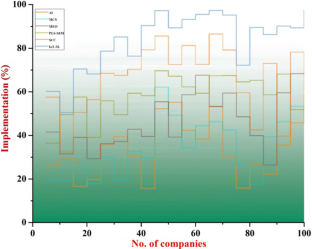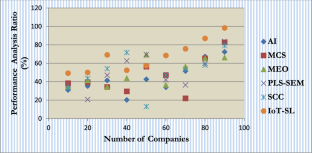 Data availability
All data generated or analysed during this study are included in the manuscript.
Abbreviations
IoT:

Internet of Things

RFID:

Radio frequency identification

BI:

Business intelligence

EMS:

Enterprise management system

SCM:

Supply chain management

CRM:

Customer relationship management

ERP:

Enterprise resource planning

AI:

Artificial intelligence

MCS:

Multi-case study technique

MEO:

Multi-echelon optimization

SEM:

Structural equation modelling

PLS-SEM:

Partial least squares-based structural equation modelling

SCC:

Self-adaptive collaborative control

HR:

Human resources

CDN:

Content delivery network

UMTS:

Universal mobile telecommunications service

WLAN:

Wireless local area network

ETSI:

European telecommunication standards institute
References
Abbas AW, Marwat SNK (2020) Scalable emulated framework for IoT devices in smart logistics based cyber-physical systems: bonded coverage and connectivity analysis. IEEE Access 8:138350–138372

Abdirad M, Krishnan K (2021) Industry 4.0 in logistics and supply chain management: a systematic literature review. Eng Manag J 33(3):187–201

Bag S, Yadav G, Wood LC, Dhamija P, Joshi S (2020) Industry 4.0 and the circular economy: resource melioration in logistics. Resour Policy 68:101776

Chen Y (2020) Novel smart logistics pipeline based on cloud scheduling and intelligent interactive data center. In: 2020 international conference on inventive computation technologies (ICICT). IEEE, pp 467–470

Cimini C, Lagorio A, Romero D, Cavalieri S, Stahre J (2020) Smart logistics and the logistics operator 4.0. IFAC-PapersOnLine 53(2):10615–10620

Dallasega P, Woschank M, Zsifkovits H, Tippayawong K, Brown CA (2020) Requirement analysis for the design of smart logistics in SMEs. In: Industry 4.0 for SMEs. Palgrave Macmillan, Cham, pp 147–162

Ding Y, Jin M, Li S, Feng D (2021) Smart logistics based on the Internet of things technology: an overview. Int J Log Res Appl 24(4):323–345

Esmaeilian B, Sarkis J, Lewis K, Behdad S (2020) Blockchain for the future of sustainable supply chain management in Industry 4.0. Resour Conserv Recycl 163:105064

Faugère L, Montreuil B (2020) Smart locker bank design optimization for urban omnichannel logistics: assessing monolithic vs. modular configurations. Comput Ind Eng 139:105544

Frontoni E, Rosetti R, Paolanti M, Alves AC (2020) HATS project for lean and smart global logistics: a shipping company case study. Manuf Lett 23:71–74

Guo Z, Zhang Y, Zhao X, Song X (2020) CPS-based self-adaptive collaborative control for smart production-logistics systems. IEEE Trans Cybern 51(1):188–198

Humayun M, Jhanjhi NZ, Hamid B, Ahmed G (2020) Emerging smart logistics and transportation using IoT and blockchain. IEEE Internet Things Mag 3(2):58–62

Khatib EJ, Barco R (2021) Optimization of 5G networks for smart logistics. Energies 14(6):1758

Leyerer M, Sonneberg MO, Heumann M, Breitner MH (2020) Shortening the last mile in urban areas: optimizing a smart logistics concept for E-grocery operations. Smart Cities 3(3):585–603

Liu W, Liang Y, Bao X, Qin J, Lim MK (2020) China's logistics development trends in the post COVID-19 era. Int J Logist Res Appl 25:1–12

Liu W, Shanthikumar JG, Lee PTW, Li X, Zhou L (2021a) Special issue editorial: smart supply chains and intelligent logistics services. Transp Res Part E Logist Transp Rev 147:102256

Liu W, Zhang J, Wei S, Wang D (2021b) Factors influencing organizational efficiency in a smart-logistics ecological chain under e-commerce platform leadership. Int J Log Res Appl 24(4):364–391

Lv Y, Xiang S, Zhu T, Zhang S (2020) Data-driven design and optimization for smart logistics parks: towards the sustainable development of the steel industry. Sustainability 12(17):7034

Monios J, Bergqvist R (2020) Logistics and the networked society: a conceptual framework for smart network business models using electric autonomous vehicles (EAVs). Technol Forecast Soc Change 151:119824

Pan X, Li M, Wang M, Zong T, Song M (2020) The effects of a Smart Logistics policy on carbon emissions in China: a difference-in-differences analysis. Transp Res Part E Logist Transp Rev 137:101939

Pavlenko O, Shramenko N, Muzylyov D (2020) Logistics optimization of agricultural products supply to the European Union based on modeling by Petri nets. In: International conference "New Technologies, Development and Applications". Springer, Cham, pp 596–604

Perboli G, Capocasale V, Gotta D (2020) Blockchain-based transaction management in Smart Logistics: a Sawtooth framework. In: 2020 IEEE 44th annual computers, software, and applications conference (COMPSAC). IEEE, pp 1713–1718

Qiu T, Chi J, Zhou X, Ning Z, Atiquzzaman M, Wu DO (2020) Edge computing in industrial Internet of things: architecture, advances and challenges. IEEE Commun Surv Tutor 22(4):2462–2488

Raza M, Kumar PM, Hung DV, Davis W, Nguyen H, Trestian R (2020) A digital twin framework for industry 4.0 enabling next-gen manufacturing. In: 2020 9th international conference on industrial technology and management (ICITM). IEEE, pp 73–77

Schmidtke N, Behrendt F, Wagner M, Rettmann AB, Ansorge T (2020) Technology assessment for designing smart logistics zones. In: 2020 5th international conference on logistics operations management (GOL). IEEE, pp 1–9

Sheares G (2020) Smart logistics and data-driven decision-making processes in cyber-physical manufacturing systems. Econ Manag Financ Mark 15(1):33–39

Song Y, Yu FR, Zhou L, Yang X, He Z (2020) Applications of the Internet of things (IoT) in smart logistics: a comprehensive survey. IEEE Internet Things J 8:4250

Tang X (2020) Research on smart logistics model based on Internet of Things technology. IEEE Access 8:151150–151159

Verma P, Dixit V, Kushwaha J (2020) Risk and resilience analysis for industry 4.0 in achieving the goals of smart logistics: an overview. In: Proceedings of the international conference on industrial engineering and operations management

Wang X, Le X, Lu Q (2020) Analysis of China's smart city upgrade and smart logistics development under the COVID-19 epidemic. J Phys Conf Ser 1570(1):012066

Wen J, He L, Zhu F (2018) Swarm robotics control and communications: imminent challenges for next generation smart logistics. IEEE Commun Mag 56(7):102–107

Woschank M, Rauch E, Zsifkovits H (2020) Further directions for artificial intelligence, machine learning, and deep learning in smart logistics are reviewed. Sustainability 12(9):3760

Xiao H, Muthu B, Kadry SN (2020) Artificial intelligence with robotics for advanced manufacturing industry using robot-assisted mixed-integer programming model. Intell Serv Robot 1–10

Yang J, Sivaparthipan CB, Muthu B (2021) Dynamic distributed iterative computational model for payment information management in shared logistics using blockchain-assisted Internet of Things approach. Soft Comput 25(18):12439–12451

Yanxia Z, Maoran Z, Nan J (2020) Urban smart logistics platform based on FPGA and machine learning. Microprocess Microsyst. https://doi.org/10.1016/j.micpro.2020.103474

Yavas V, Ozkan-Ozen YD (2020) Logistics centers in the new industrial era: a proposed framework for logistics center 4.0. Transp Res Part E Logist Transp Rev 135:101864

Yusianto R, Marimin M, Suprihatin S, Hardjomidjojo H (2020) Smart logistics system in food horticulture industrial products: a systematic review and future research agenda. Int J Supply Chain Manag 9(2):943–956

Zhao Z, Zhang M, Xu G, Zhang D, Huang GQ (2020) Logistics sustainability practices: an IoT-enabled smart indoor parking system for industrial hazardous chemical vehicles. Int J Prod Res 58(24):7490–7506
Funding
No funds, grants were received by any of the authors.
Ethics declarations
Conflict of interest
There is no conflict of interest among the authors.
Additional information
Publisher's Note
Springer Nature remains neutral with regard to jurisdictional claims in published maps and institutional affiliations.
Rights and permissions
Springer Nature or its licensor (e.g. a society or other partner) holds exclusive rights to this article under a publishing agreement with the author(s) or other rightsholder(s); author self-archiving of the accepted manuscript version of this article is solely governed by the terms of such publishing agreement and applicable law.
About this article
Cite this article
Alsudani, M.Q., Jaber, M.M., Ali, M.H. et al. Smart logistics with IoT-based enterprise management system using global manufacturing. J Comb Optim 45, 57 (2023). https://doi.org/10.1007/s10878-022-00977-5
Accepted:

Published:

DOI: https://doi.org/10.1007/s10878-022-00977-5
Keywords
Logistics

Industry

IoT

Warehouse

Customer

Global manufacturing

Management