Abstract
To determine the effect of implementing an algorithm of fluid and blood administration based on continuous monitoring of hemoglobin (SpHb) and PVI (plethysmography variability index) on mortality and transfusion on a whole hospital scale. This single-center quality program compared transfusion at 48 h and mortality at 30 days and 90 days after surgery between two 11-month periods in 2013 and 2014 during which all the operating and recovery rooms and intensive care units were equipped with SpHb/PVI monitors. The entire team was trained to use monitors and the algorithm. Team members were free to decide whether or not to use devices. Each device was connected to an electronic wireless acquired database to anonymously acquire parameters on-line and identify patients who received the monitoring. All data were available from electronic files. Patients were divided in three groups; 2013 (G1, n = 9285), 2014 without (G2, n = 5856) and with (G3, n = 3575) goal-directed therapy. The influence of age, ASA class, severity and urgency of surgery and use of algorithm on mortality and blood use were analyzed with cox-proportional hazard models. Because in 2015, SpHb/PVI monitors were no longer available, we assessed post-study mortality observed in 2015 to measure the impact of team training to adjust vascular filling on a patient to patient basis. During non-cardiac surgery, blood was more often transfused during surgery in G3 patients as compared to G2 (66.6% vs. 50.7%, p < 0.001) but with fewer blood units per patient. After adjustment, survival analysis showed a lower risk of transfusion at 48 h in G3 [OR 0.79 (0.68–0.93), p = 0.004] but not in G2 [OR 0.90 (0.78–1.04) p = 0.17] as compared to G1. When adjusting to the severity of surgery as covariable, there was 0.5 and 0.7% differences of mortality at day 30 and 90 whether patients had goal directed therapy (GDT). After high risk surgery, the mortality at day 30 is reduced by 4% when using GDT, and 1% after intermediate risk surgery. There was no difference for low risk surgery. G3 Patients had a lower risk of death at 30 days post-surgery [OR 0.67 (0.49–0.92) p = 0.01] but not G2 patients [OR 1.01, (0.78–1.29), p = 0.96]. In 2015, mortality at 30 days and 90 days increased again to similar levels as those of 2013, respectively 2.18 and 3.09%. Monitoring SpHb and PVI integrated in a vascular filling algorithm is associated with earlier transfusion and reduced 30 and 90-day mortality on a whole hospital scale.
This is a preview of subscription content, log in to check access.
Access options
Buy single article
Instant access to the full article PDF.
US$ 39.95
Tax calculation will be finalised during checkout.
Subscribe to journal
Immediate online access to all issues from 2019. Subscription will auto renew annually.
US$ 79
Tax calculation will be finalised during checkout.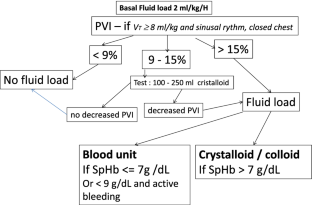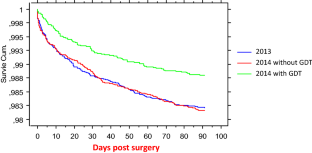 References
1.

Yazer MH, Triulzi DJ. AABB red blood cell transfusion guidelines: something for almost everyone. JAMA. 2016;316:1984.

2.

Borgert M, Binnekade J, Paulus F, Vroom M, Vlaar A, Goossens A, et al. Implementation of a transfusion bundle reduces inappropriate red blood cell transfusions in intensive care—a before and after study: implementation of a transfusion bundle. Transfus Med. 2016;26:432–9.

3.

Seitz KP, Sevransky JE, Martin GS, Roback JD, Murphy DJ. Evaluation of RBC transfusion practice in adult ICUs and the effect of restrictive transfusion protocols on routine care. Crit Care Med. 2017;45:271–81.

4.

Hamilton MA, Cecconi M, Rhodes A. A systematic review and meta-analysis on the use of preemptive hemodynamic intervention to improve postoperative outcomes in moderate and high-risk surgical patients. Anesth Analg. 2011;112:1392–402.

5.

Carson JL, Guyatt G, Heddle NM, Grossman BJ, Cohn CS, Fung MK, et al. Clinical practice guidelines from the AABB: red blood cell transfusion thresholds and storage. JAMA. 2016;316:2025.

6.

Landoni G, Pisano A, Lomivorotov V, Alvaro G, Hajjar L, Paternoster G, et al. Randomized evidence for reduction of perioperative mortality: an updated consensus process. J Cardiothorac Vasc Anesth. 2017;31:719–30.

7.

Bendjelid K. The pulse oximetry plethysmographic curve revisited. Curr Opin Crit Care. 2008;14:348–53.

8.

Tusman G, Bohm SH, Suarez-Sipmann F. Advanced uses of pulse oximetry for monitoring mechanically ventilated patients. Anesth Analg. 2017;124:62–71.

9.

Cannesson M, Le Manach Y, Hofer CK, Goarin JP, Lehot J-J, Vallet B, et al. Assessing the diagnostic accuracy of pulse pressure variations for the prediction of fluid responsiveness: a "Gray Zone" approach. Anesthesiology. 2011;115:231–41.

10.

Donati A, Ruzzi M, Adrario E, Pelaia P, Coluzzi F, Gabbanelli V, et al. A new and feasible model for predicting operative risk. Br J Anaesth. 2004;93:393–9.

11.

von Elm E, Altman DG, Egger M, Pocock SJ, Gøtzsche PC, Vandenbroucke JP, et al. The strengthening the reporting of observational studies in epidemiology (STROBE) statement: guidelines for reporting observational studies. Ann Intern Med. 2007;147:573–7.

12.

Ehrenfeld JM, Henneman JP. Continuous non-invasive hemoglobin monitoring during orthopedic surgery: a randomized trial. J Blood Disord Transfus. 2014;5:2.

13.

Thakkar RN, Lee KHK, Ness PM, Wintermeyer TL, Johnson DJ, Liu E, et al. Relative impact of a patient blood management program on utilization of all three major blood components: impact of patient blood management. Transfusion. 2016;56:2212–20.

14.

Pearse BL, Smith I, Faulke D, Wall D, Fraser JF, Ryan EG, et al. Protocol guided bleeding management improves cardiac surgery patient outcomes. Vox Sang. 2015;109:267–79.

15.

Giraud B, Frasca D, Debaene B, Mimoz O. Comparison of haemoglobin measurement methods in the operating theatre. Br J Anaesth. 2013;111:946–54.

16.

Pearse RM, Moreno RP, Bauer P, Pelosi P, Metnitz P, Spies C, et al. Mortality after surgery in Europe: a 7 day cohort study. Lancet. 2012;380:1059–65.

17.

Monk TG, Weldon BC. Anesthetic depth is a predictor of mortality: it's time to take the next step. Anesthesiology. 2010;112:1070–2.

18.

Noordzij PG, Poldermans D, Schouten O, Bax JJ, Schreiner FAG, Boersma E. Postoperative mortality in The Netherlands: a population-based analysis of surgery-specific risk in adults. Anesthesiology. 2010;112:1105–15.

19.

Rollins KE, Lobo DN. Intraoperative Goal-directed fluid therapy in elective major abdominal surgery: a meta-analysis of randomized controlled trials. Ann Surg. 2016;263:465–76.

20.

Doherty M, Buggy DJ. Intraoperative fluids: how much is too much? Br J Anaesth. 2012;109:69–79.

21.

Cecconi M, Corredor C, Arulkumaran N, Abuella G, Ball J, Grounds RM, et al. Clinical review: goal-directed therapy-what is the evidence in surgical patients? The effect on different risk groups. Crit Care. 2012;17:209.

22.

Pearse R, Dawson D, Fawcett J, Rhodes A, Grounds RM, Bennett ED. Early goal-directed therapy after major surgery reduces complications and duration of hospital stay. A randomised, controlled trial [ISRCTN38797445]. Crit Care. 2005;9:R687–93.

23.

Srinivasa S, Taylor MHG, Sammour T, Kahokehr AA, Hill AG. Oesophageal Doppler-guided fluid administration in colorectal surgery: critical appraisal of published clinical trials. Acta Anaesthesiol Scand. 2011;55:4–13.

24.

Pizov R, Eden A, Bystritski D, Kalina E, Tamir A, Gelman S. Arterial and plethysmographic waveform analysis in anesthetized patients with hypovolemia. Anesthesiology. 2010;113:83–91.

25.

Chu H, Wang Y, Sun Y, Wang G. Accuracy of pleth variability index to predict fluid responsiveness in mechanically ventilated patients: a systematic review and meta-analysis. J Clin Monit Comput. 2016;30:265–74.

26.

Michard F, Cannesson M, Vallet B. Perioperative hemodynamic therapy: quality improvement programs should help to resolve our uncertainty. Crit Care. 2011;15:445.

27.

Cannesson M, Pestel G, Ricks C, Hoeft A, Perel A. Hemodynamic monitoring and management in patients undergoing high risk surgery: a survey among North American and European anesthesiologists. Crit Care. 2011;15:R197.

28.

Vincent J-L, Pelosi P, Pearse R, Payen D, Perel A, Hoeft A, et al. Perioperative cardiovascular monitoring of high-risk patients: a consensus of 12. Crit Care. 2015;19:224.
Acknowledgements
Dr Sébastien Ponsonnard. Jeanne Moreau for translation assistance.
Funding
Masimo society provided all monitors to the hospital for 1 year. Six hundred disposable (Rainbow® ReSposable™ SpHb) sensors were purchased by the hospital. The remaining sensors were donated by the manufacturer.
In exchange the CHU of Limoges agreed to give access to anonymous data collected by the wireless acquired data base of Rainbow monitoring ("Safety net™").
Ethics declarations
Conflict of interest
The authors declare no individual competing interests.
Additional information
Publisher's Note
Springer Nature remains neutral with regard to jurisdictional claims in published maps and institutional affiliations.
Electronic supplementary material
Below is the link to the electronic supplementary material.
Appendix
Appendix
Surgery severity criteria
Minor procedures
Inguinal hernia

Diagnostic videoscopy of any part of the body (knee, thorax) except mediastinoscopy

Simple cholecystectomy

Appendectomy

Soft tissue abscess

Thyroidectomy

Varicose vein surgery

Finger amputation

Bone fracture reduction/osteosynthesis

Cesarean section

Lumpectomy

Trans-urethral bladder resection

Transurethral prostatic resection by laser
Moderately to significant invasive procedure
Transurethral prostatic or bladder resection (except laser)

Hip or knee replacement (first procedure) + shoulder replacement

Open long bone (femur, humerus) or pelvic osteosynthesis

Hysterectomy, myomectomy regardless of the route (open or laparoscopy)

Radical mastectomy

Nephrectomy

Laparoscopic radical prostatectomy

Cystectomy and ileal reconstruction

Appendectomy with complications

Open cholecystectomy with principal biliary duct exploration

Reconstructive surgery of digestive tract

Gynecologic exploration for postpartum hemorrhage

Cesarean section for multiple gestation or scarred uterus or abnormal placental insertion (except placenta accreta)

Mediastinoscopy

Peripheral arterial vascular surgery

Amputation of foot or leg

Peritonitis
Highly invasive surgeries
Partial or total pneumonectomy

Major orthopedic surgery (scoliosis or redux hip or knee prosthesis)

Open radical prostatectomy

Complex pelvectomy

Complex digestive tract surgery, pancreatectomy, gastrectomy, esophagectomy

CHIP surgery

Aortic vascular surgery

Renal graft

Cardiac surgery

Complete amputation of leg or arm

Cesarean section with placenta accreta
About this article
Cite this article
Cros, J., Dalmay, F., Yonnet, S. et al. Continuous hemoglobin and plethysmography variability index monitoring can modify blood transfusion practice and is associated with lower mortality. J Clin Monit Comput 34, 683–691 (2020). https://doi.org/10.1007/s10877-019-00367-z
Received:

Accepted:

Published:

Issue Date:
Keywords
Hemoglobin

Volemia

Mortality

Transfusion

Plethysmography variability index