Abstract
Clinical anesthesiologists, particularly residents, work in stressful environments. However, evidence-based physiological and psychological tests to evaluate stress are still lacking. In this single-center study of 33 residents, we investigated the relationship between heart rate variability (HRV), which had the potential to screen residents' stress levels using Holter electrocardiography (ECG) and psychological mood as assessed by the Profile of Mood States (POMS) questionnaire. HRV analysis revealed 2 findings. Firstly, standard deviation of the average of 5-min normal-to-normal R–R intervals (SDANN) was significant lower than that of same-aged healthy volunteers (69.3 ± 27.9 vs. 137.0 ± 43.0 ms, P < 0.05), which indicated suppression of autonomic nervous system activity throughout their work. Secondly, at induction of anesthesia, significant higher low frequency/high frequency ratio (LF/HF ratio: 1.326 vs. 0.846; P < 0.05) and lower HF (3326 vs. 5967 ms2; P < 0.05) and lower standard deviation of normal-to-normal R–R intervals (SDNN: 50.5 vs. 79.4 ms; nervous system was suppressed at the induction of anesthesia: expected to be the most stressful period of their work. On the other hand, deviation scores of POMS questionnaire elucidated that all the residents were within normal range of psychological mood, and without any significant diurnal changes with respect to total mood disturbance deviation (TMD) scores (48 vs. 47; P = 0.368). HRV elucidated physiological stress among anesthesiology residents quantitatively by evaluating autonomic nervous activities, especially at induction of anesthesia. These changes in HRV could be observed regardless of psychological mood.
This is a preview of subscription content, log in to check access.
Access options
Buy single article
Instant access to the full article PDF.
US$ 39.95
Price includes VAT for USA
Subscribe to journal
Immediate online access to all issues from 2019. Subscription will auto renew annually.
US$ 99
This is the net price. Taxes to be calculated in checkout.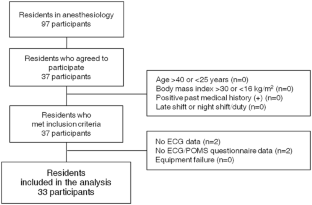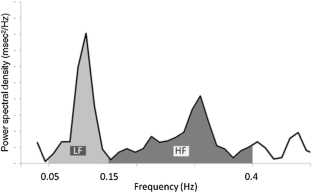 Abbreviations
AH:

Anger-hostility

ANS:

Autonomic nervous system

CB:

Confusion-bewilderment

DD:

Depression-dejection

ECG:

Electrocardiography

F:

Friendship

FFT:

Fast Fourier transform

FI:

Fatigue-inertia

HF:

High frequency

HRV:

Heart rate variability

LF:

Low frequency

LF/HF:

Low frequency/high frequency

PNS:

Parasympathetic nervous system

POMS:

Profile of mood states

SDANN:

Standard deviation of the average of 5-min normal-to-normal R-R intervals

SDNN:

Standard deviation of the normal-to-normal R-R intervals

SNS:

Sympathetic nervous system

TA:

Tension-anxiety

TMD:

Total mood disturbance

TP:

Total power

VA:

Vigor-activity
References
1.

Yasuda N, Shingu C, Miyagawa H, Mori M, Kitano T, Noguchi T. Assessment of anesthesiologist's stress of working overnight using profile of mood states. Jpn J Anesthesiol. 2008;57(6):764–7.

2.

Adnet F, Racine SX, Borron SW, Clemessy JL, Fournier JL, Lapostolle F, et al. A survey of tracheal intubation difficulty in the operating room: a prospective observational study. Acta Anaesthesiol Scand. 2001;45:327–32.

3.

Asai T, Koga K, Vaughan RS. Respiratory complications associated with tracheal intubation and extubation. Br J Anaesth. 1998;80:767–75.

4.

O'Brien IA, O'Hare P, Corrall RJ. Heart rate variability in healthy subjects: effect of age and the derivation of normal ranges for tests of autonomic function. Br Heart J. 1986;55(4):348–54.

5.

Heart rate variability: standards of measurement, physiological interpretation and clinical use. Task force of the European Society of cardiology and the north american society of pacing and electrophysiology. Circulation 93(5):1043–1065; 1996.

6.

Yadav RL, Yadav PK, Yadav LK, Agrawal K, Sah SK, Islam MN. Association between obesity and heart rate variability indices: an intuition toward cardiac autonomic alteration: a risk of CVD. Diabetes Metab Syndr Obes. 2017;10:57–64.

7.

Castaldo R, Melillo P, Bracale U, Caserta M, Triassi M, Pecchia L. Acute mental stress assessment via short term HRV analysis in healthy adults: a systematic review with meta-analysis. Biomed Signal Process Control. 2015;18:370–7.

8.

Umetani K, Singer DH, McCraty R, Atkinson M. Twenty-four hour time domain heart rate variability and heart rate: relations to age and gender over nine decades. J Am Coll Cardiol. 1998;31(3):593–601.

9.

Morfeld M, Petersen C, Krüger-Bödeker A, von Mackensen S, Bullinger M. The assessment of mood at workplace: psychometric analyses of the revised profile of mood states (POMS) questionnaire. Psychosoc Med. 2007;4:6.

10.

McNair DM, Lorr M, Droppleman LF. Manual for the profile of mood states. San Diego, CA: Educational and Industrial Testing Service; 1971.

11.

Heuchert JP, McNair MM (2012) Profile of mood states Second Edition.

12.

Kanda Y. Investigation of the freely available easy-to-use software 'EZR' for medical statistics. Bone Marrow Transplant. 2013;48(3):452–8. https://doi.org/10.1038/bmt.2012.244.

13.

Hjortskov N, Rissén D, Blangsted AK, Fallentin N, Lundberg U, Søgaard K. The effect of mental stress on heart rate variability and blood pressure during computer work. Eur J Appl Physiol. 2004;92(1–2):84–9.

14.

The Standards for Educational and Psychological Testing. AERA (American Educational Research Association), APA (American Psychological Association), NCME (the National Council on Measurement in Education). http://www.pearsonclinical.com/psychology/qualifications.html; 2014.

15.

Terakado A, Matsushima E. Work stress among nurses engaged in palliative care on general wards. Psychooncology. 2015;24(1):63–9. https://doi.org/10.1002/pon.3584.

16.

Hellhammer DH, Wüst S, Kudielka BM. Salivary cortisol as a biomarker in stress research. Psychoneuroendocrinology. 2009;34(2):163–71.

17.

Petrakova L, Doering BK, Vits S, Engler H, Rief W, Schedlowski M, Grigoleit JS. Psychosocial stress increases salivary alpha-amylase activity independently from plasma noradrenaline levels. PLoS ONE. 2015;10(8):e0134561.
Acknowledgements
We are grateful to everyone who helped us successfully complete this research study, especially Kanji Uchida of the Department of Anesthesia and Pain Relief Center at The University of Tokyo Hospital, for providing logical and objective guidance for our study and statistical advice, and serving as the chairman of the resident educational working group in our department.
Funding
This study was funded by Grants-in-Aid for Scientific Research (KAKENHI) No. 26670244.
Ethics declarations
Conflict of interest
The authors declare that they have no conflict of interest.
Institutional review board
This study was reviewed and approved by the ethics committee of The University of Tokyo, Faculty of Medicine (Tokyo, Japan, #10699). This study was also registered to University hospital Medical Information Network Clinical Trial Registry (Tokyo, Japan #UMIN000019247).
Additional information
Publisher's Note
Springer Nature remains neutral with regard to jurisdictional claims in published maps and institutional affiliations.
About this article
Cite this article
Hattori, K., Asamoto, M., Otsuji, M. et al. Quantitative evaluation of stress in Japanese anesthesiology residents based on heart rate variability and psychological testing. J Clin Monit Comput 34, 371–377 (2020). https://doi.org/10.1007/s10877-019-00305-z
Received:

Accepted:

Published:

Issue Date:
Keywords
Heart rate variability

Autonomic nervous system

Psychological mood

Perioperative stress monitoring

Working environment of anesthesiology residents