Abstract
Directing intraoperative neurophysiologic monitoring (IONM) is a patient care activity for which no formal training programs exist, even though the need for well-trained practitioners is readily evident while caring for patients with diseases of the brain, spinal cord, spinal column, or nervous system. Here, we present the theoretical basis and institutional experience for a successful model of learning a new and complex set of skills: the medical direction of IONM. In a major academic institution, a clinical community of practice absorbed new members with professional backgrounds ranging from a recent neuroanesthesia fellowship to several decades of neuroanesthesia practice and trained them in a collaborative cognitive apprenticeship model to medically direct IONM. Our community of practice comprises experienced technicians, a diplomate of the American Board of Neurophysiologic Monitoring (DABNM), and six neuroanesthesiologists. This group forms the base of the scaffolding or structure where the apprenticeship and learning take place. The clinical community of practice has trained eight new members in the medical direction of IONM. The group has also trained four outside anesthesiologists—one of whom went on to become certified as a DABNM—who went on to develop the IONM program at a major children's hospital. This collaborative cognitive apprenticeship in anesthesiology to learn the medical direction of IONM is quite innovative as it integrates new members and expands the range of existing ones. In our model, the entire community is elevated by the reciprocal interactions of master clinicians, novice apprentices, and the community of practice.
This is a preview of subscription content, log in to check access.
Access options
Buy single article
Instant access to the full article PDF.
US$ 39.95
Price includes VAT for USA
Subscribe to journal
Immediate online access to all issues from 2019. Subscription will auto renew annually.
US$ 99
This is the net price. Taxes to be calculated in checkout.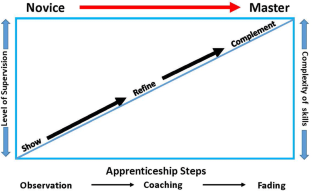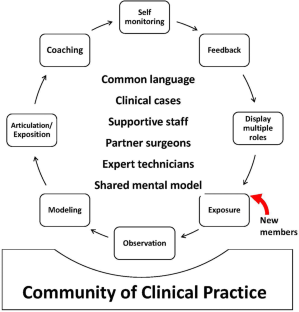 References
1.

Gawande A. Personal best. The New Yorker. October 3, 2011. http://www.newyorker.com/magazine/2011/10/03/personal-best. Accessed April 3, 2017.

2.

Dawson P. Beyond a definition: toward a framework for designing and specifying mentoring models. Educ Res. 2014;43:137–45.

3.

Skinner SA, Sala F. Communication and collaboration in spine neuromonitoring: time to expect more, a lot more, from the neurophysiologists. J Neurosurg Spine. 2017;27:1–6.

4.

Skinner S, Holdefer R, McAuliffe JJ, Sala F. Medical Error avoidance in intraoperative neurophysiological monitoring: the communication imperative. J Clin Neurophysiol. 2017;34:477–83.

5.

Miller P. Mobilizing the power of what you know. New York: Random House; 1998.

6.

Wilkinson M, Houlden D, Morris S, Holmes LM, Strantzas S. A strategic view for intraoperative neuromonitoring in Canada 2017. Can J Neurol Sci. 2018;45:259–61.

7.

Mashour GA, Avitsian R, Lauer KK, Soriano SG, Sharma D, Koht A, Crosby G. Neuroanesthesiology fellowship training: curricular guidelines from the Society for Neuroscience in Anesthesiology and Critical Care. J Neurosurg Anesthesiol. 2013;25:1–7.

8.

Sewell D, Henderson C, Tremblay MH, Pellerin H, Flexman AM. Survey of neuroanesthesia fellowships in Canada. Can J Anaesth. 2017;64:323–4.

9.

Anderson JR, Reder LM, Simon HA. Situated learning and education. Educ Res. 1996;25:5–11.

10.

Bredo E. Reconstructing educational psychology: situated cognition and Deweyian pragmatism. Educ Psychol. 1994;29:23–35.

11.

Apprenticeship Indentures 1604–1697. Cambridge St Edward Parish Church archives (KP28/14/2). Accessed December 7, 2009.

12.

Glazer EM, Hannafin MJ. The collaborative apprenticeship model: situated professional development within school settings. Teach Teacher Educ. 2006;22:179–93.

13.

Bliss M. William Osler: a life in medicine. Oxford: Oxford University Press; 1999.

14.

Wilson SB, Rogers B. Improving retention at the UMKC School of Medicine. https://www.umkc.edu/provost/student-retention/retreat/som.ppt. Accessed April 3, 2017.

15.

Collins A, et al. Cognitive apprenticeship: teaching the craft of reading, writing, and mathematics. Technical Report No. 403, Illinois University, Urbana, Center for the Study of Reading, 1987.

16.

Collins A, Brown JS, Holum A. Cognitive apprenticeship: making thinking visible. Am Educ. 1991;15:6–11.

17.

Lave J, Wenger E. Situated Learning: legitimate peripheral participation. Cambridge, UK: Cambridge University Press; 1991.

18.

Budworth MH, Latham GP, Manroop L. Looking forward to performance improvement: a field test of the feedforward interview for performance management. Hum Resour Manag. 2015;54:45–54.

19.

Kluger AN, Nir D. The feedforward interview. Hum Resour Manag Rev. 2010;20:235–46.

20.

American Society of Anesthesiologists and Society of Cardiovascular Anesthesiologists Task Force on Transesophageal Echocardiography. Practice guidelines for perioperative transesophageal echocardiography. Anesthesiology. 2010;112:1084–96.

21.

American Board of Neurophysiologic Monitoring. Policy and Procedure Manual. Requirements for Application: http://www.abnm.info/ppIII.htm. Accessed December 5, 2018.

22.

Chen XX, Trivedi V, AlSaflan AA, Todd SC, Tricco AC, McCartney CJL, Boet S. Ultrasound-guided regional anesthesia simulation training: a systematic review. Reg Anesth Pain Med. 2017;42:741–50.

23.

Coelho G, Defino HLA. The role of mixed reality simulation for surgical training in spine: phase 1 validation. Spine (Phila Pa 1976). 2018;43:1609–16.

24.

Chen J, Sun D, Yang W, Liu M, Zhang S, Peng J, Ren C. Clinical and economic outcomes of telemedicine programs in the intensive care unit: a systematic review and meta-analysis. J Intensive Care Med. 2018;33:383–93.

25.

Dayal P, Hojman NM, Kissee JL, Evans J, Natale JE, Huang Y, Litman RL, Nesbitt TS, Marcin JP. Impact of telemedicine on severity of illness and outcomes among children transferred from referring emergency departments to a children's hospital PICU. Pediatr Crit Care Med. 2016;17:516–21.

26.

Deslich S, Coustasse A. Expanding technology in the ICU: the case for the utilization of telemedicine. Telemed J E Health. 2014;20:485–92.
Acknowledgements
We thank Corey Astrom, ELS (Department of Anesthesiology, University of Florida, Gainesville, FL) for her expert editorial assistance. Support for this paper was provided solely from institutional and/or departmental sources (Department of Anesthesiology, University of Florida College of Medicine, Gainesville, FL).
Ethics declarations
Conflict of interest
No authors declare any relevant conflicts of interest within the past 36 months.
Additional information
Publisher's Note
Springer Nature remains neutral with regard to jurisdictional claims in published maps and institutional affiliations.
About this article
Cite this article
Algarra, N.N., McAuliffe, J.J. & Seubert, C.N. Neuroanesthesiologists as interoperative neurophysiologists: a collaborative cognitive apprenticeship model of training in a community of clinical practice. J Clin Monit Comput 34, 325–330 (2020). https://doi.org/10.1007/s10877-019-00304-0
Received:

Accepted:

Published:

Issue Date:
Keywords
Apprenticeship

Intraoperative neurophysiologic monitoring

Clinical community of practice

Collaborative cognitive apprenticeship model