Abstract
Purpose
Supervising anesthesiologists overseeing several operating rooms must be aware of the status of multiple patients, so they can consult with the anesthetist in single operating rooms or respond quickly to critical events. However, maintaining good situation awareness can be challenging when away from patient bedsides or a central monitoring station. In this proof-of-concept study, we evaluated the potential of a head-worn display that showed multiple patients' vital signs and alarms to improve supervising anesthesiologists' situation awareness.
Methods
Eight supervising anesthesiologists each monitored the vital signs of patients in six operating rooms for 3 h with the head-worn display, and for another 3 h without the head-worn display. In interviews with each anesthesiologist, we assessed in which situations the head-worn display was used and whether the continuous availability of the vital signs improved situation awareness. We also measured situation awareness quantitatively from six of the eight anesthesiologists, by instructing them to press a button whenever they noticed a patient alarm.
Results
The median number of patient alarms occurring was similar when the anesthesiologists monitored with the head-worn display (42.0) and without the head-worn display (40.5). However, the anesthesiologists noticed significantly more patient alarms with the head-worn display (66.7%) than without (7.1%), P = 0.028, and they reported improved situation awareness with the head-worn display. The head-worn display helped the anesthesiologists to perceive and comprehend patients' current status and to anticipate future developments. A negative effect of the head-worn display was its tendency to distract during demanding procedures.
Conclusions
Head-worn displays can improve supervising anesthesiologists' situation awareness in multiple-patient monitoring situations. The anesthesiologists who participated in the study expressed enthusiasm about monitoring patients with a head-worn display and wished to use and evaluate it further.
This is a preview of subscription content, log in to check access.
Access options
Buy single article
Instant access to the full article PDF.
US$ 39.95
Price includes VAT for USA
Subscribe to journal
Immediate online access to all issues from 2019. Subscription will auto renew annually.
US$ 99
This is the net price. Taxes to be calculated in checkout.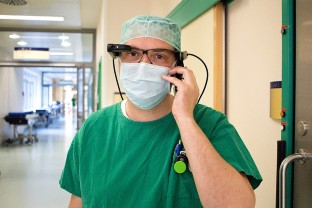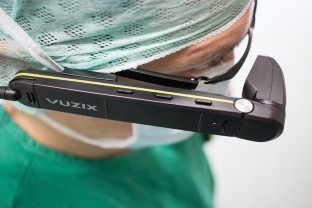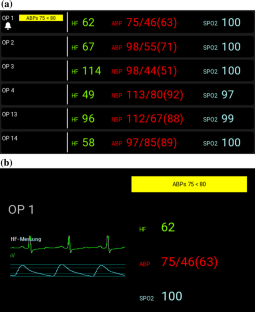 References
1.

Azuma RT. A survey of augmented reality. Presence: Teleoper Virtual Environ. 1997;6(4):355–85. https://doi.org/10.1162/pres.1997.6.4.355.

2.

Cakmakci O, Rolland J. Head-worn displays: a review. J Displ Technol. 2006;2(3):199–216. https://doi.org/10.1109/JDT.2006.879846.

3.

Liu D, Jenkins SA, Sanderson PM. Patient monitoring with head-mounted displays. Curr Opin Anesthesiol. 2009;22(6):796–803. https://doi.org/10.1097/ACO.0b013e32833269c1.

4.

Muensterer OJ, Lacher M, Zoeller C, Bronstein M, Kübler J. Google glass in pediatric surgery: an exploratory study. Int J Surg. 2014;12(4):281–9. https://doi.org/10.1016/j.ijsu.2014.02.003.

5.

Yoon JW, Chen RE, Han PK, Si P, Freeman WD, Pirris SM. Technical feasibility and safety of an intraoperative head-up display device during spine instrumentation. Int J Med Robot. 2017;13(3):e1770. https://doi.org/10.1002/rcs.1770.

6.

Kolodzey L, Grantcharov PD, Rivas H, Schijven MP, Grantcharov TP. Wearable technology in the operating room: a systematic review. BMJ Innov. 2017;3(1):55–63. https://doi.org/10.1136/bmjinnov-2016-000133.

7.

Dougherty B, Badawy MS. Using google glass in nonsurgical medical settings: systematic review. JMIR Mhealth Uhealth. 2017;5(10):e159. https://doi.org/10.2196/mhealth.8671.

8.

Endsley MR. Toward a theory of situation awareness in dynamic systems. Hum Factors. 1995;37(1):32–64. https://doi.org/10.1518/001872095779049543.

9.

Gaba DM, Howard SK, Small SD. Situation awareness in anesthesiology. Hum Factors. 1995;37(1):20–31. https://doi.org/10.1518/001872095779049435.

10.

Schulz CM, Endsley MR, Kochs EF, Gelb AW, Wagner KJ. Situation awareness in anesthesia concept and research. Anesthesiology. 2013;118(3):729–42. https://doi.org/10.1097/ALN.0b013e318280a40f.

11.

van Ettinger M, Lipton J, Nelwan S, van Dam T, van der Putten N. (2010) Multimedia paging for clinical alarms on mobile platforms. Proceedings of the Conference on Computing in Cardiology. p. 57–60.

12.

McFarlane DC, Doig AK, Agutter JA, Brewer LM, Syroid ND, Mittu R. Faster clinical response to the onset of adverse events: a wearable metacognitive attention aid for nurse triage of clinical alarms. PLoS ONE. 2018;13(5):e0197157. https://doi.org/10.1371/journal.pone.0197157.

13.

Görges M, Westenskow DR, Markewitz BA. Evaluation of an integrated intensive care unit monitoring display by critical care fellow physicians. J Clin Monit Comput. 2012;26(6):429–36. https://doi.org/10.1007/s10877-012-9370-0.

14.

Pascale MT, Sanderson P, Liu D, Mohamed I, Brecknell B, Loeb RG. The impact of head-worn displays on strategic alarm management and situation awareness. Hum Fact. 2019. https://doi.org/10.1177/0018720818814969.

15.

Yang XJ, Wickens CD, Park T, Fong L, Siah KTH. Effects of information access cost and accountability on medical residents' information retrieval strategy and performance during prehandover preparation: evidence from interview and simulation study. Hum Factors. 2015;57(8):1459–71. https://doi.org/10.1177/0018720815598889.

16.

Sendelbach S, Funk M. Alarm fatigue: a patient safety concern. AACN Adv Crit Care. 2013;24(4):378–86.

17.

Schlosser P, Grundgeiger T, Happel O. (2018) Multiple patient monitoring in the operating room using a head-mounted display. Proceedings of the CHI Conference extended abstracts on human factors in computing systems. p. 1–6. https://doi.org/10.1145/3170427.3188460.

18.

Jonides J. Voluntary versus automatic control over the mind's eye's movement. Atten Perform IX. 1981;9:187–203.

19.

Braun V, Clarke V. Using thematic analysis in psychology. Qual Res Psychol. 2006;3(2):77–101. https://doi.org/10.1191/1478088706qp063oa.

20.

Boyatzis RE. Transforming qualitative information: thematic analysis and code development. Thousand Oaks: Sage Publications, Inc; 1998.

21.

Patton MQ. Qualitative evaluation and research methods. 2nd ed. Thousand Oaks: Sage Publications, Inc; 1990.

22.

Sanderson P. The multimodal world of medical monitoring displays. Appl Ergon. 2006;37(4):501–12. https://doi.org/10.1016/j.apergo.2006.04.022.

23.

Durso FT, Hackworth CA, Truitt TR, Crutchfield J, Nikolic D, Manning CA. Situation awareness as a predictor of performance for en route air traffic controllers. Air Traffic Control Q. 1998;6(1):1–20. https://doi.org/10.2514/atcq.6.1.1.

24.

McDaniel MA, Einstein GO. Prospective memory: an overview and synthesis of an emerging field. Thousand Oaks: Sage Publications, Inc; 2007.

25.

Graham KC, Cvach M. Monitor alarm fatigue: standardizing use of physiological monitors and decreasing nuisance alarms. Am J Crit Care. 2010;19(1):28–34. https://doi.org/10.4037/ajcc2010651.
Acknowledgements
The authors thank Dr. Michael Neumann, Dr. Frank Kobelt, and the other members of the SMI team of the University Hospital of Würzburg who helped to integrate the HWD into the hospital's IT systems for their great support.
Funding
The authors declare that they have not received any funding for their research.
Ethics declarations
Conflict of interest
The authors declare that they have no conflict of interest.
Ethical approval
All procedures performed in studies involving human participants were in accordance with the ethical standards of the institutional and/or national research committee and with the 1964 Helsinki declaration and its later amendments or comparable ethical standards. The hospital's ethics committee was informed about the study and on 13 December 2017 we received a waiver that no ethics clearance was required.
Informed consent
was obtained from all individual participants included in the study.
Electronic supplementary material
Below is the link to the electronic supplementary material.
About this article
Cite this article
Schlosser, P.D., Grundgeiger, T., Sanderson, P.M. et al. An exploratory clinical evaluation of a head-worn display based multiple-patient monitoring application: impact on supervising anesthesiologists' situation awareness. J Clin Monit Comput 33, 1119–1127 (2019). https://doi.org/10.1007/s10877-019-00265-4
Received:

Accepted:

Published:

Issue Date:
Keywords
Patient monitoring

Remote monitoring

Head-worn display

Situation awareness