Abstract
Medication errors occur frequently and are a risk to patient safety. To reduce mistakes in the medication process in emergencies, a mobile app has been developed supporting the calculation of doses and administration of drugs. A simulation study was performed to validate the app as a tool to reduce medication errors. This was a randomised crossover study conducted in the Academic Hospital. The participants included were residents and attendings in anaesthesiology. 74 Participants performed four simulation scenarios in which they had to calculate and administer drugs for emergencies. Two scenarios were performed with the app ("app scenarios") and the other two scenarios were performed without the use of the app ("control scenarios"). The order of drugs, simulation patients and usage of aid were randomized. The accuracy of administered drug doses were measured. Medications were categorised as either "accurate" (\(\pm 20\)% of target dosage) or "wrong" (less than 50% or more than 200% of target dosage). The dosage calculated and the dosage administered were documented separately to differentiate between calculation and handling errors. During app scenarios, there were no "wrong" dosages, whereas 6.8 (95% CI 2.7–10.8%) of dosages in control scenarios were evaluated as "wrong". The probability of giving an "accurate" dosage was increased from 77.7 (70.9–84.5%) in control scenarios to 93.9 (90–97.8%) in app scenarios. Calculation errors were the main cause for wrong dosing. The app is an appropriate and feasible tool to reduce calculation and handling errors and may increase patient safety.
This is a preview of subscription content,
to check access.
Access this article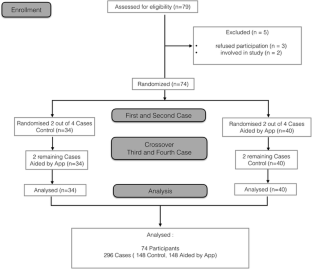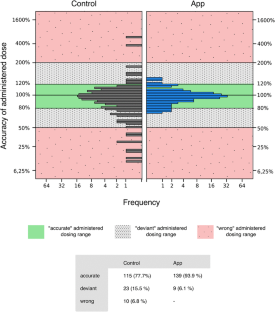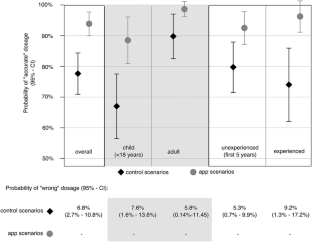 References
Walsh EK, Hansen CR, Sahm LJ, Kearney PM, Doherty E, Bradley CP. Economic impact of medication error: a systematic review. Pharmacoepidemiol Drug Saf. 2017;26(5):481–97.

Bates DW, Boyle DL, Vliet Vander MB, Schneider J, Leape L. Relationship between medication errors and adverse drug events. J Gen Intern Med. 1995;10(4):199–205.

Ghaleb MA, Barber N, Franklin BD, Yeung VWS, Khaki ZF, Wong ICK. Systematic review of medication errors in pediatric patients. Ann Pharmacother. 2006;40(10):1766–76.

Hixson R, Gandhi M, Holton F. A randomised trial to evaluate prescribing accuracy when using the Paediatric Analgesia Wheel. Arch Dis Child. 2009;94(4):268–72.

Lifshitz AE, Goldstein LH, Sharist M, Strugo R, Asulin E, Haim Bar S, Feigenberg Z, Berkovitch M, Kozer E. Medication prescribing errors in the prehospital setting and in the ED. Am J Emerg Med. 2012;30(5):726–31.

Bolt R, Yates JM, Mahon J, Bakri I. Evidence of frequent dosing errors in paediatrics and intervention to reduce such prescribing errors. J Clin Pharm Ther. 2014;39(1):78–83.

Strauss J. New pediatric drug dosage aids. Med Klin Intensivmed Notf med. 2016;111(2):118–23.

Avidan A, Levin PD, Weissman C, Gozal Y. Anesthesiologists' ability in calculating weight-based concentrations for pediatric drug infusions: an observational study. J Clin Anesth. 2014;26(4):276–80.

Kohn LT, Corrigan JM, Donaldson MS. To err is human: building a safer health system. Institute of Medicine (US) Committee on Quality of Health Care in America; 2000.

Schnurrer JU, Frölich JC. Zur Häufigkeit und Vermeidbarkeit von tödlichen unerwünschten Arzneimittelwirkungen. Der Internist. 2003;44(7):889–95.

Beaudoin FL, Merchant RC, Janicki A, McKaig DM, Babu KM. Preventing iatrogenic overdose: a review of in-emergency department opioid-related adverse drug events and medication errors. Ann Emerg Med. 2015;65(4):423–31.

Kaufmann J, Laschat M, Wappler F. Medication errors in pediatric emergencies: a systematic analysis. Dtsch Ärztebl Int. 2012;109(38):609–16.

Luten R. Error and time delay in pediatric trauma resuscitation: addressing the problem with color-coded resuscitation aids. Surg Clin N Am. 2002;82(2):303–14.

Erker CG, Santamaria M, Möllmann M. Hilfsmittel für die Dosierung von Notfallmedikamenten im Kindesalter. Der Anaesth. 2012;61(11):965–70.

Brinkrolf P, Prien T, Van Aken H. Medikationsfehler- Eine systematische Analyse der Berichte im CIRS-AINS. Anästhesiol Intensivmed. 2013;54:126–32.

Vilke GM, Tornabene SV, Stepanski B, Shipp HE, Ray LU, Metz MA, Vroman D, Anderson M, Murrin PA, Davis DP, Harley J. Paramedic self-reported medication errors. Prehosp Emerg Care. 2007;11(1):80–4.

Bernius M, Thibodeau B, Jones A, Clothier B, Witting M. Prevention of pediatric drug calculation errors by prehospital care providers. Prehosp Emerg Care. 2008;12(4):486–94.

Shah AN, Frush K, Luo X, Wears RL. Effect of an intervention standardization system on pediatric dosing and equipment size determination: a crossover trial involving simulated resuscitation events. Arch Pediatr Adolesc Med. 2003;157(3):229–36.

Larose G, Levy A, Bailey B, Cummins-McManus B, Lebel D, Gravel J. Decreasing prescribing errors during pediatric emergencies: a randomized simulation trial. Pediatrics. (2017). https://doi.org/10.1542/peds.2016-3200

Heimberg E, Heinzel O, Hoffmann F. Typische Probleme bei Kindernotfällen. Med Klin Intensivmed Notf med. 2015;110(5):354–9.

Kaji AH, Gausche-Hill M, Conrad H, Young KD, Koenig WJ, Dorsey E, Lewis RJ. Emergency medical services system changes reduce pediatric epinephrine dosing errors in the prehospital setting. Pediatrics. 2006;118(4):1493–500.

Ashcroft DM, Lewis PJ, Tully MP, Farragher TM, Taylor D, Wass V, Williams SD, Dornan T. Prevalence, nature, severity and risk factors for prescribing errors in hospital inpatients: prospective study in 20 UK hospitals. Drug Saf. (2015). https://doi.org/10.1007/s40264-015-0320-x.

Elashwah M. Medication errors in ambulatory paediatric patient setting how close, or far, are we from an error free process? Infect Disord Drug Targets. 2015;14(3):191–204.

Lammers R, Byrwa M, Fales W. Root causes of errors in a simulated prehospital pediatric emergency. Acad Emerg Med. 2012;19(1):37–47.
Acknowledgements
Assistance with the study: none. Financial support and sponsorship: none. The authors thank Jonathan S. Cronje for revising the manuscript with respect to grammar and style.
Ethics declarations
Conflicts of interest
The mobile app was developed by D. Baumann with the help of W. Reip, J.C. Kubitz and N. Dibbern. For the remaining authors none were declared.
Appendix
Appendix
See Table 2.
About this article
Cite this article
Baumann, D., Dibbern, N., Sehner, S. et al. Validation of a mobile app for reducing errors of administration of medications in an emergency. J Clin Monit Comput 33, 531–539 (2019). https://doi.org/10.1007/s10877-018-0187-3
Received:

Accepted:

Published:

Issue Date:

DOI: https://doi.org/10.1007/s10877-018-0187-3
Keywords