Abstract
Respiratory depression can occur during intravenous general anesthesia without tracheal intubation. A new acoustic method for respiratory rate monitoring, RRa® (Masimo Corp., Tokyo, Japan), has been reported to show good reliability in post-anesthesia care and emergency units. The purpose of this study was to investigate the reliability of the acoustic method for measurement of respiratory rate during intravenous general anesthesia, as compared with capnography. Patients with dental anxiety undergoing dental treatment under intravenous anesthesia without tracheal intubation were enrolled in this study. Respiratory rate was recorded every 30 s using the acoustic method and capnography, and detectability of respiratory rate was investigated for both methods. This study used a cohort study design. In 1953 recorded respiratory rate data points, the number of detected points by the acoustic method (1884, 96.5 %) was significantly higher than that by capnography (1682, 86.1 %) (P < 0.0001). In the intraoperative period, there was a significant difference in the LOA (95 % limits of agreement of correlation between difference and average of the two methods)/ULLOA (under the lower limit of agreement) in terms of use or non-use of a dental air turbine (P < 0.0001). In comparison between capnography, the acoustic method is useful for continuous monitoring of respiratory rate in spontaneously breathing subjects undergoing dental procedures under intravenous general anesthesia. However, the acoustic method might not accurately detect in cases in with dental air turbine.
Access options
Buy single article
Instant access to the full article PDF.
US$ 39.95
Tax calculation will be finalised during checkout.
Subscribe to journal
Immediate online access to all issues from 2019. Subscription will auto renew annually.
US$ 79
Tax calculation will be finalised during checkout.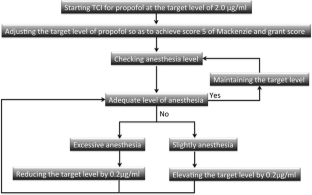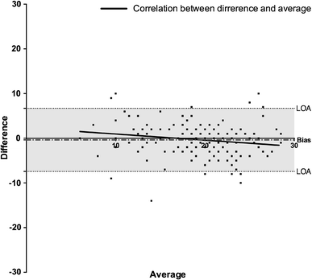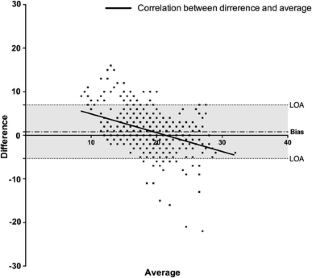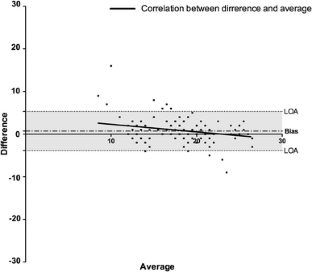 References
1.

Khader R, Oreadi D, Finkelman M, Jarmoc M, Chaudhary S, Schumann R, Rosenberg M. A prospective randomized controlled trial of two different sedation sequences for third molar removal in adults. J Oral Maxillofac Surg. 2015;73(2):224–31.

2.

Ouchi K, Sugiyama K. Required propofol dose for anesthesia and time to emerge are affected by the use of antiepileptics: prospective cohort study. BMC Anesthesiol. 2015;15:34.

3.

Sago T, Harano N, Chogyoji Y, Nunomaki M, Shiiba S, Watanabe S. A nasal high-flow system prevents hypoxia in dental patients under intravenous sedation. J Oral Maxillofac Surg. 2015;73(6):1058–64.

4.

Mimoz O, Benard T, Gaucher A, Frasca D, Debaene B. Accuracy of respiratory rate monitoring using a non-invasive acoustic method after general anaesthesia. Br J Anaesth. 2012;108(5):872–5.

5.

Ramsay MA, Usman M, Lagow E, Mendoza M, Untalan E, De Vol E. The accuracy, precision and reliability of measuring ventilatory rate and detecting ventilatory pause by rainbow acoustic method monitoring and capnometry. Anesth Analg. 2013;117(1):69–75.

6.

Autet LM, Frasca D, Pinsard M, Cancel A, Rousseau L, Debaene B, Mimoz O. Evaluation of acoustic method respiration rate monitoring after extubation in intensive care unit patients. Br J Anaesth. 2014;113(1):195–7.

7.

Guechi Y, Pichot A, Frasca D, Rayeh-Pelardy F, Lardeur JY, Mimoz O. Assessment of noninvasive acoustic method respiration rate monitoring in patients admitted to an Emergency Department for drug or alcoholic poisoning. J Clin Monit Comput. 2015;29(6):721–6.

8.

Marsh B, White M, Morton N, Kenny GN. Pharmacokinetic model driven infusion of propofol in children. Br J Anaesth. 1991;67(1):41–8.

9.

Keidan I, Gravenstein D, Berkenstadt H, Ziv A, Shavit I, Sidi A. Supplemental oxygen compromises the use of pulse oximetry for detection of apnea and hypoventilation during sedation in simulated pediatric patients. Pediatrics. 2008;122(2):293–8.

10.

Fu ES, Downs JB, Schweiger JW, Miguel RV, Smith RA. Supplemental oxygen impairs detection of hypoventilation by pulse oximetry. Chest. 2004;126(5):1552–8.

11.

Cretikos MA, Bellomo R, Hillman K, Chen J, Finfer S, Flabouris A. Respiratory rate: the neglected vital sign. Med J Aust. 2008;188(11):657–9.

12.

Soto RG, Fu ES, Vila H, Jr., Miguel RV. Capnography accurately detects apnea during monitored anesthesia care. Anesth Analg. 2004;99(2):379–382, table of contents.

13.

Coates BM, Chaize R, Goodman DM, Rozenfeld RA. Performance of capnometry in non-intubated infants in the pediatric intensive care unit. BMC Pediatr. 2014;14:163.

14.

Gaucher A, Frasca D, Mimoz O, Debaene B. Accuracy of respiratory rate monitoring by capnometry using the Capnomask(R) in extubated patients receiving supplemental oxygen after surgery. Br J Anaesth. 2012;108(2):316–20.

15.

Langhan ML. Acute alcohol intoxication in adolescents: frequency of respiratory depression. J Emerg Med. 2013;44(6):1063–9.

16.

Patino M, Redford DT, Quigley TW, Mahmoud M, Kurth CD, Szmuk P. Accuracy of acoustic method respiration rate monitoring in pediatric patients. Paediatr Anaesth. 2013;23(12):1166–73.

17.

Frasca D, Geraud L, Charriere JM, Debaene B, Mimoz O. Comparison of acoustic method and impedance methods with mask capnometry to assess respiration rate in obese patients recovering from general anaesthesia. Anaesthesia. 2015;70(1):26–31.

18.

Atkins JH, Mandel JE. Performance of Masimo rainbow acoustic method monitoring for tracking changing respiratory rates under laryngeal mask airway general anesthesia for surgical procedures in the operating room: a prospective observational study. Anesth Analg. 2014;119(6):1307–14.
Acknowledgments
The study was supported by departmental funds only. We would like to thank Dr. Takeshi Yokoyama for his help in reviewing the manuscript. This work was supported by the departmental research fund of Kagoshima University.
Author contributions
KO participated in the study design, data collection, data analysis, scientific input, and manuscript writing and reviewing. KS participated in the design of the study and reviewing of the manuscript. SF reviewed the manuscript. All the authors read and approved the final manuscript.
Ethics declarations
Conflict of interest
The authors have no conflicts of interest relevant to this article to disclose.
Additional information
Clinical Trial Registration: UMIN No. UMIN000016417.
About this article
Cite this article
Ouchi, K., Fujiwara, S. & Sugiyama, K. Acoustic method respiratory rate monitoring is useful in patients under intravenous anesthesia. J Clin Monit Comput 31, 59–65 (2017). https://doi.org/10.1007/s10877-015-9822-4
Received:

Accepted:

Published:

Issue Date:
Keywords
Physiological monitoring

Respiratory complications

Intravenous general anesthesia

Dental operation