Abstract
Video-laryngoscopy may provide an enhanced view of laryngeal structures compared to direct visualization. Commercial video-laryngoscopes are often expensive, limiting its adoption for routine use. We describe our initial experience using an inexpensive custom made device. Patients >15 years age, were randomly chosen, after informed consent, for video-laryngoscopy. A custom device easily assembled using an USB endoscopic camera, a conventional Macintosh laryngoscope blade size 3 or 4, and a personal computer was used. Patients with Mallampati class 1–3 were chosen. Video-laryngoscopy was recorded and reviewed. Twenty-four patients aged 16–68 years, of mean weight 58.46 ± 12.54 (40–86) kg were studied. The glottis could be visualized and intubation could be performed in all patients with 22/24 patients on first attempt. Mean duration of laryngoscopy was 22.17 ± 12.78 (7–59) s. Time taken for intubation, was mean of 28.58 ± 21.01 (9–89) s. Three patients with anticipated difficult airways could be intubated on the first attempt. Minor blood staining of the airway was seen in the video in two patients. Cormack–Lehane laryngoscopy grade visualized was 1 in 9/24, 2 in 15/24 patients. Percentage of glottic opening score was 62.29 ± 28.40 (20–100) %. Real-time video could be captured in all cases. The custom-made, inexpensive, video-laryngoscopy device is safe and reliable for clinical use. Real-time visualization and endotracheal intubation were successful in all patients, including those with anticipated difficult airway. Further, this device helps in archiving the video of intubation.
Access options
Buy single article
Instant access to the full article PDF.
USD 39.95
Price excludes VAT (USA)
Tax calculation will be finalised during checkout.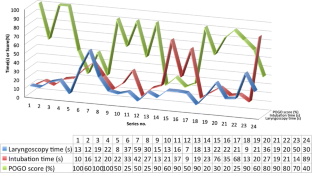 References
Mosier JM, Stolz U, Chiu S, Sakles JC. Difficult airway management in the emergency department: GlideScope videolaryngoscopy compared to direct laryngoscopy. J Emerg Med. 2012;42:629–34.

Niforopoulou P, Pantazopoulos I, Demestiha T, Koudouna E, Xanthos T. Video-laryngoscopes in the adult airway management: a topical review of the literature. Acta Anaesthesiol Scand. 2010;54:1050–61.

Karippacheril JG, Umesh G, Nanda S. Assessment and confirmation of tracheal intubation when capnography fails: a novel use for an USB camera. J Clin Monit Comput. 2013;28 March 2013 [Epub ahead of print].

Ochroch EA, Hollander JE, Kush S, Shofer FS, Levitan RM. Assessment of laryngeal view: percentage of glottic opening score vs Cormack and Lehane grading. Can J Anaesth. 1999;46:987–90.

Ochroch EA, Levitan RM. A videographic analysis of laryngeal exposure comparing the articulating laryngoscope and external laryngeal manipulation. Anesth Analg. 2001;92:267–70.

van Zundert A, Maassen R, Lee R, Willems R, Timmerman M, Siemonsma M, Buise M, Wiepking M. A Macintosh laryngoscope blade for videolaryngoscopy reduces stylet use in patients with normal airways. Anesth Analg. 2009;109:825–31.

Serocki G, Bein B, Scholz J, Dörges V. Management of the predicted difficult airway: a comparison of conventional blade laryngoscopy with video-assisted blade laryngoscopy and the GlideScope. Eur J Anaesthesiol. 2010;27:24–30.

Serocki G, Neumann T, Scharf E, Dörges V, Cavus E. Indirect videolaryngoscopy with C-MAC D-Blade and GlideScope: a randomized, controlled comparison in patients with suspected difficult airways. Minerva Anestesiol. 2013;79:121–9.

Cavus E, Neumann T, Doerges V, Moeller T, Scharf E, Wagner K, Bein B, Serocki G. First clinical evaluation of the C-MAC D-Blade videolaryngoscope during routine and difficult intubation. Anesth Analg. 2011;112:382–5.

Griesdale DEG, Liu D, McKinney J, Choi PT. Glidescope® video-laryngoscopy versus direct laryngoscopy for endotracheal intubation: a systematic review and meta-analysis. Can J Anaesth. 2012;59:41–52.

Levitan RM, Kinkle WC, Levin WJ, Everett WW. Laryngeal view during laryngoscopy: a randomized trial comparing cricoid pressure, backward-upward-rightward pressure, and bimanual laryngoscopy. Ann Emerg Med. 2006;47:548–55.
Conflict of interest
The authors declare that they have no conflict of interest.
About this article
Cite this article
Karippacheril, J.G., Umesh, G. & Ramkumar, V. Inexpensive video-laryngoscopy guided intubation using a personal computer: initial experience of a novel technique. J Clin Monit Comput 28, 261–264 (2014). https://doi.org/10.1007/s10877-013-9522-x
Received:

Accepted:

Published:

Issue Date:

DOI: https://doi.org/10.1007/s10877-013-9522-x
Keywords
Inexpensive

Video-laryngoscopy

Personal computer

USB camera

POGO score