Abstract
Carbon nanotubes (CNTs) have emerged as a new group of novel multifunctional nanoparticles in biomedicine and can be classified into single-walled carbon nanotubes (SWCNTs) and multi-walled carbon nanotubes (MWCNTs). In the present work, a simple and efficient method was introduced for non-covalent functionalization of CNTs through the incorporation of phytochemicals of Curcumin (CUR), Glycyrrhizin (GLY) and Rutin (RUT). Different functionalization of CNTs were employed and the obtained nanoparticles were characterized by TEM, EDX, size and, zeta analyzer. Furthermore cell toxicity studies were done on A549 cell line with MTT assay. The obtained results showed that non-covalent functionalization with CUR, GLY or RUT led to the stable suspension of CNTs in aqueous media comparable to the surfactant Tween 80 as the effective surfactant that revealed visually and by TEM images. Upon surface functionalization, an increase in the size and net zeta potentials, indicates surface functionalization of CNTs. Cytotoxicity data showed that functionalization with these phytochemicals can increase the IC 50 value of CNTs from 301 µg/mL to a maximum of 4088 µg/mL in RUT functionalized CNTs. Overall the data showed that CNTs can be functionalized through this feasible method and could be introduced as interesting less toxic drug delivery system.
Access options
Buy single article
Instant access to the full article PDF.
US$ 39.95
Tax calculation will be finalised during checkout.
Subscribe to journal
Immediate online access to all issues from 2019. Subscription will auto renew annually.
US$ 79
Tax calculation will be finalised during checkout.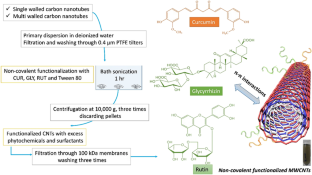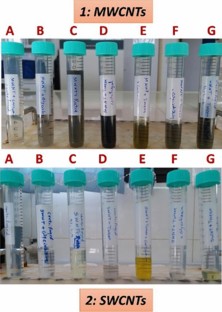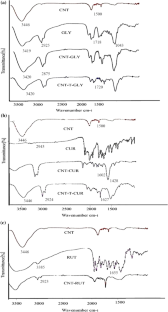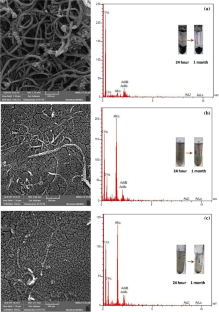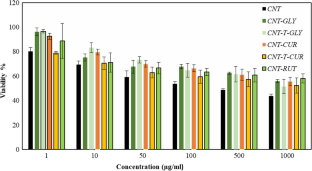 References
1.

S. Kumar, R. Rani, N. Dilbaghi, K. Tankeshwar, and K.-H. Kim (2017). Chem. Soc. Rev. 46, 158–196.

2.

B. Hosnedlova, M. Kepinska, C. Fernandez, Q. Peng, B. Ruttkay-Nedecky, H. Milnerowicz, and R. Kizek (2019). Chem. Record 19, 502–522.

3.

M. Mohajeri, B. Behnam, and A. Sahebkar (2019). J. Cell. Physiol. 234, 298–319.

4.

C. Caoduro, E. Hervouet, C. Girard-Thernier, T. Gharbi, H. Boulahdour, R. Delage-Mourroux, and M. Pudlo (2017). Acta Biomater. 49, 36–44.

5.

M. Rezaee, B. Behnam, M. Banach, and A. Sahebkar (2018). Biotechnol. Adv. 36, 2232–2247.

6.

M. Rezayi, P. Mahmoodi, H. Langari, B. Behnam, A. Sahebkar (2020). Curr. Med. Chem. 27(40), 6849–6863.

7.

Y. Zhou, Y. Fang, and R. P. Ramasamy (2019). Sensors 19, 392.

8.

L. Orcin-Chaix, G. Trippé-Allard, C. Voisin, H. Okuno, V. Derycke, J.-S. Lauret, and S. Campidelli (2018). J. Mater. Chem. C 6, 4786–4792.

9.

S. Mallakpour and S. Soltanian (2016). RSC Adv. 6, 109916–109935.

10.

G. C. Padovani, R. Petry, C. A. Holanda, F. A. Sousa, V. M. Saboia, C. A. Silva, A. R. Paschoal, A. G. SouzaFilho, and A. J. Paula (2015). J. Phys. Chem. C 119, 18741–18752.

11.

A. H. Nia, B. Behnam, S. Taghavi, F. Oroojalian, H. Eshghi, W. T. Shier, K. Abnous, and M. Ramezani (2017). MedChemComm 8, 364–375.

12.

N. M. Bardhan (2017). J. Mater. Res. 32, 107–127.

13.

Y. Liu, D. C. Wu, W. D. Zhang, X. Jiang, C. B. He, T. S. Chung, S. H. Goh, and K. W. Leong (2005). Angew. Chem. Int. Ed. 44, 4782–4785.

14.

N. Tripathi, V. Pavelyev, and S. Islam (2017). Appl. Nanosci. 7, 557–566.

15.

G. Umbuzeiro, V. Coluci, J. Honorio, R. Giro, D. Morales, A. Lage, J. Mazzei, I. Felzenszwalb, A. Souza Filho, and D. Stefani (2011). TrAC Trends Anal. Chem. 30, 437–446.

16.

C. Buzea, I. I. Pacheco, and K. Robbie (2007). Biointerphases 2, MR17–MR71.

17.

H. Hatcher, R. Planalp, J. Cho, F. Torti, and S. Torti (2008). Cell. Mol. Life Sci. 65, 1631–1652.

18.

K. R. Kahkhaie, A. Mirhosseini, A. Aliabadi, A. Mohammadi, S. M. Haftcheshmeh, T. Sathyapalan, and A. Sahebkar (2019). Inflammopharmacology 27 (5), 901.

19.

M. Saberi-Karimian, M. Keshvari, M. Ghayour-Mobarhan, L. Salehizadeh, S. Rahmani, B. Behnam, T. Jamialahmadi, S. Asgary, and A. Sahebkar (2020). Complement. Ther. Med. 49, 102322.

20.

M. Mohajeri, B. Behnam, A. F. Cicero, and A. Sahebkar (2018). J. Cell. Physiol. 233, 3552–3577.

21.

L. S. Chua (2013). J. Ethnopharmacol. 150, 805–817.

22.

A. Ganeshpurkar and A. K. Saluja (2017). Saudi Pharm. J. 25, 149–164.

23.

C. S. Graebin, H. Verli, and J. A. Guimarães (2010). J. Brazil. Chem. Soc. 21, 1595–1615.

24.

B. Behnam, W. T. Shier, A. H. Nia, K. Abnous, and M. Ramezani (2013). Int. J. Pharm. 454, 204–215.

25.

R. Rani, N. Dilbaghi, D. Dhingra, and S. Kumar (2015). Int. J. Biol. Macromol. 78, 173–179.

26.

M. Ohadi, G. Dehghannoudeh, H. Forootanfar, M. Shakibaie, and M. Rajaee (2018). Int. J. Biol. Macromol 112, 712–719.

27.

M. Ohadi, H. Forootanfar, G. Dehghannoudeh, T. Eslaminejad, A. Ameri, M. Shakibaie, and M. Adeli-Sardou (2020). Microb. Pathog. 138, 103806.

28.

R. Mohammadinejad, A. Dehshahri, H. Sassan, B. Behnam, M. Ashrafizadeh, A. S. Gholami, A. Pardakhty, and A. Mandegary (2020). Miner. Biotecnol. 32, 106–113.

29.

B. Behnam, M. Rezazadehkermani, S. Ahmadzadeh, A. Mokhtarzadeh, S. N. Nematollahi-Mahani, and A. Pardakhty (2018). Artif. Cells Nanomed. Biotechnol. 46, 118–125.

30.

H. Kaur, S. Yadav, M. Ahuja, and N. Dilbaghi (2012). Carbohydr. Polym. 90, 1543–1549.

31.

C. Mohanty and S. K. Sahoo (2010). Biomaterials 31, 6597–6611.

32.

H. Sabahi, M. Khorami, A. H. Rezayan, Y. Jafari, and M. H. Karami (2018). Colloids Surf. A 538, 834–840.

33.

M. M. Yallapu, B. K. Gupta, M. Jaggi, and S. C. Chauhan (2010). J. Colloid Interface Sci. 351, 19–29.

34.

Z. Hooresfand, S. Ghanbarzadeh, and H. Hamishehkar (2015). Pharm. Sci. 21, 145–151.

35.

H. Zeng, Y. Wang, J. Kong, C. Nie, and Y. Yuan (2010). Talanta 83, 582–590.

36.

S. Honary and F. Zahir (2013). Tropical J. Pharm. Res. 12, 265–273.

37.

T. Coccini, E. Roda, D. Sarigiannis, P. Mustarelli, E. Quartarone, A. Profumo, and L. Manzo (2010). Toxicology 269, 41–53.

38.

A. Nègre-Salvayre and R. Salvayre (1992). Free Radical Biol. Med. 12, 101–106.

39.

C. Nichita and I. Stamatin (2013). Digest J. Nanomater. Biostruct. DJNB 8 (1), 13.

40.

W. M. Weber, L. A. Hunsaker, S. F. Abcouwer, L. M. Deck, and D. L. Vander (2005). Jagt Bioorganic Med. Chem. 13, 3811–3820.

41.

S. Hatamie, O. Akhavan, S. K. Sadrnezhaad, M. M. Ahadian, M. M. Shirolkar, and H. Q. Wang (2015). Mater. Sci. Eng. C 55, 482–489.

42.

H. Li, N. Zhang, Y. Hao, Y. Wang, S. Jia, H. Zhang, Y. Zhang, and Z. Zhang (2014). Drug Deliv. 21, 379–387.

43.

X. Su, L. Wu, M. Hu, W. Dong, M. Xu, and P. Zhang (2017). Biomed. Pharmacother. 95, 670–678.

44.

P. K. Chopdey, R. K. Tekade, N. K. Mehra, N. Mody, and N. K. Jain (2015). J. Nanosci. Nanotechnol. 15, 1088–1100.

45.

H. Ahmadi, M. Ramezani, R. Yazdian-Robati, B. Behnam, K. R. Azarkhiavi, A. H. Nia, A. Mokhtarzadeh, M. M. Riahi, B. M. Razavi, and K. Abnous (2017). Chem.-Biol. Interact. 275, 196–209.

46.

B. Arechabala, C. Coiffard, P. Rivalland, L. Coiffard, and Y. D. Roeck-Holtzhauer (1999). J. Appl. Toxicol. 19, 163–165.

47.

S. Lanone, P. Andujar, A. Kermanizadeh, and J. Boczkowski (2013). Adv. Drug Deliv. Rev. 65, 2063–2069.

48.

E. Mohammadi, M. Zeinali, M. Mohammadi-Sardoo, M. Iranpour, B. Behnam, and A. Mandegary (2020). Hum Exp Toxicol. 39(9), 1147–1167.
Acknowledgements
This work was funded by the Kerman University of Medical Sciences, Kerman, Iran (grant numbers 940594 and 98000208). This work was the report of the Pharm D thesis of Peyman Rezaei. The authors also gratefully acknowledge Dr. Amirhossein Sahebkar for the kind donation of Curcumin and his scientific supports.
Additional information
Publisher's Note
Springer Nature remains neutral with regard to jurisdictional claims in published maps and institutional affiliations.
About this article
Cite this article
Ohadi, M., Rezaei, P., Mehrabani, M. et al. Synthesis, Characterization and Toxicity Assessment of the Novel Non covalent Functionalized Multi-walled Carbon Nanotubes with Glycyrrhizin, Curcumin and Rutin. J Clust Sci (2021). https://doi.org/10.1007/s10876-021-02026-3
Received:

Accepted:

Published:
Keywords
Non-covalent functionalization

Curcumin

Glycyrrhizin

Rutin

Cytotoxicity