Abstract
Gold nanoparticles exhibit unique optical, thermal, chemical and physical properties. The microorganisms have high potential for production of nanoparticles with wide applications. Application of fungi to produce nanoparticles is potentially exciting because of their ability to secrete large amounts of enzymes. In this study, we investigated biosynthesis of gold nanoparticles by the fungus Epicoccum nigrum isolated from Andalian gold mine in north-west of Iran. The gold nanoparticles were produced intra and extracellular by reaction of an aqueous solution of chloroauric acid with the biomass of fungus E. nigrum. The produced gold nanoparticles were in the size range of 5–50 nm in spherical and rod shapes. This is the first report on the biosynthesis of gold nanoparticles by the fungus E. nigrum.
Access options
Buy single article
Instant access to the full article PDF.
USD 39.95
Price includes VAT (USA)
Tax calculation will be finalised during checkout.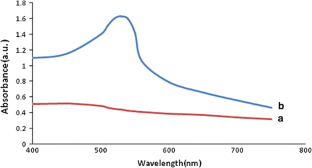 References
1.

S. He, Z. Guo, Z. Yu, and S. Zhang (2007). Mater. Lett. 61, 3984.

2.

M. Agnihotri, S. Joshi, K. A. Ravi, S. Zinjarde, and S. Kulkarni (2009). Mater. Lett. 63, 1231.

3.

H. Huang and X. Yang (2005). Colloids Surf. A 255, 11.

4.

S. Mandal, S. Phadtare, and M. Sastry (2005). Curr. Appl. Phys. 5, 127.

5.

D. Mandal, M. E. Bolander, D. G. Mukhopadhyay, and P. Sarkar Mukherjee (2006). Appl. Microbiol. Biotechnol. 69, 485.

6.

Z. Ranjbar Navazi, M. Pazouki, and F. Sadat Halek (2010). Iran. J. Biotechnol. 8, 56.

7.

I. Maliszewska, L. Aniszkiewicz, and Z. Sadowski (2009). Acta Phys. Pol. A. 116, 163.

8.

A. R. Binupriya, M. Sathishkumar, and S. I. Yun (2010). Colloids Surf. B 79, 531.

9.

S. S. Shankar, A. Ahmad, R. Pasricha, and M. Sastry (2003). J. Mater. Chem. 13, 1822.

10.

P. Mohanpuria, N. K. Rana, and S. K. Yadav (2007). J. Nanopart. Res. 10, 507.

11.

R. Bhambure, M. Bule, N. Shaligram, and M. Kamat (2009). Chem. Eng. Technol. 32, 1036.

12.

A. R. Binupriya, M. Sathishkumar, and S. I. Yun (2010). Colloids Surf. B 79, 531.

13.

R. A. Samson, E. S. Hoekstra, J. C. Frisvad, and O. Filtenborg, Introduction to Food- and Airborne Fungi, 6th ed., Chap. 1, p. 118 (Centralbureau voor Schimmelcultures, Delft, 2002).

14.

D. H. Larone Medically Important Fungi—A Guide to Identification, 3rd ed. (ASM Press, Washington, DC, 1995).

15.

D. A. Sutton, A. W. Fothergill, and M. G. Rinaldi Guide to Clinically Significant Fungi, 1st ed. (Williams & Wilkins, Baltimore, 1998).
About this article
Cite this article
Sheikhloo, Z., Salouti, M. & Katiraee, F. Biological Synthesis of Gold Nanoparticles by Fungus Epicoccum nigrum . J Clust Sci 22, 661–665 (2011). https://doi.org/10.1007/s10876-011-0412-4
Received:

Published:

Issue Date:
Keywords
Nanoparticles

Gold

Biosynthesis

Fungi

Epicoccum nigrum