Access options
Buy single article
Instant access to the full article PDF.
USD 39.95
Price includes VAT (USA)
Tax calculation will be finalised during checkout.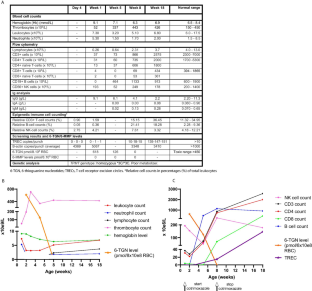 Data Availability
All data generated or analyzed during this study are included in this published article and its supplementary information.
References
1.

Thomas C, et al. A severe neonatal lymphopenia associated with administration of azathioprine to the mother in a context of Crohn's disease. J Crohn's Colitis. 2017;12(2):258–61.

2.

Kuo CY, et al. Profound T-cell lymphopenia associated with prenatal exposure to purine antagonists detected by TREC newborn screening. J Allergy Clin Immunol Pract. 2017;5(1):198–200.

3.

Barbaro M, et al. Newborn screening for severe primary immunodeficiency diseases in Sweden-a 2-year pilot TREC and KREC screening study. J Clin Immunol. 2017;37(1):51–60.

4.

Amatuni GS, et al. Newborn screening for severe combined immunodeficiency and T-cell lymphopenia in California, 2010–2017. Pediatrics. 2019;143(2):e20182300.

5.

Thomas C, et al. Clinical and economic aspects of newborn screening for severe combined immunodeficiency: DEPISTREC study results. Clin Immunol. 2019;202:33–9.

6.

Giżewska M, et al. Newborn screening for SCID and other severe primary immunodeficiency in the Polish-German transborder area: experience from the first 14 months of collaboration. Front Immunol. 2020;11:1948–1948.

7.

Gearry RB, Barclay ML. Azathioprine and 6-mercaptopurine pharmacogenetics and metabolite monitoring in inflammatory bowel disease. J Gastroenterol Hepatol. 2005;20(8):1149–57.

8.

Akbari M, et al. systematic review and meta-analysis on the effects of thiopurines on birth outcomes from female and male patients with inflammatory bowel disease. Inflamm Bowel Dis. 2012;19(1):15–22.

9.

Colombel JF, et al. Genotypic analysis of thiopurine S-methyltransferase in patients with Crohn's disease and severe myelosuppression during azathioprine therapy. Gastroenterology. 2000;118(6):1025–30.

10.

Relling MV, et al. Clinical pharmacogenetics implementation consortium guideline for thiopurine dosing based on TPMT and NUDT15 genotypes: 2018 update. Clin Pharmacol Ther. 2019;105(5):1095–105.

11.

Baron U, et al. Epigenetic immune cell counting in human blood samples for immunodiagnostics. Sci Transl Med. 2018; 10(452).

12.

van der Woude CJ, et al. The second European evidenced-based consensus on reproduction and pregnancy in inflammatory bowel disease. J Crohn's Colitis. 2015;9(2):107–24.

13.

Blom M, et al. parents' perspectives and societal acceptance of implementation of newborn screening for SCID in the Netherlands. J Clin Immunol. 2021;41(1):99–108.
Acknowledgements
The authors would like to thank all those involved in the SONNET-study for their contribution to the study. A special thanks to all parents of the cases and dr. S.M.H. Timmermans for their participation and support.
Funding
The Netherlands Organisation for Health Research and Development ZonMw financed the SONNET-study (project 543002002).
Ethics declarations
Ethics Approval
This study was performed in line with the principles of the Declaration of Helsinki. Approval for the SONNET-study was granted by the Medical Ethics Committee of the Erasmus MC, University Medical Center, Rotterdam (MEC-2017–1146).
Consent to Participate
In order to participate in newborn screening for SCID (SONNET-study), parents have to express verbal consent when the heel prick is performed (opt-out consent).
Consent for Publication
Parents of cases have provided consent for the publication of the data in this case report.
Conflict of Interest
The authors declare no competing interests.
Additional information
Publisher's Note
Springer Nature remains neutral with regard to jurisdictional claims in published maps and institutional affiliations.
Supplementary Information
Below is the link to the electronic supplementary material.
About this article
Cite this article
Blom, M., Pico-Knijnenburg, I., van Montfrans, J.M. et al. Abnormal Results of Newborn Screening for SCID After Azathioprine Exposure In Utero: Benefit of TPMT Genotyping in Both Mother and Child. J Clin Immunol (2021). https://doi.org/10.1007/s10875-021-01138-9
Received:

Accepted:

Published: