Abstract
Introduction
Adenosine deaminase (ADA) deficiency is an autosomal recessive primary immunodeficiency. It results in the intracellular accumulation of toxic metabolites which have effects particularly on lymphocytes and the brain. The aim of this study was to evaluate the outcome of 13 ADA-deficient patients. We planned to evaluate their clinical and laboratory findings before and after enzyme replacement therapy (ERT), allogeneic hematopoietic stem cell transplantation (aHSCT), and hematopoietic stem cell gene therapy (HSCGT).
Methods
Measurement of ADA enzyme activity and metabolites and sequencing of the ADA gene were performed in most of the patients with ADA deficiency. One of the patients with late-onset ADA deficiency was diagnosed by the help of primary immunodeficiency panel screening.
Results
Ten out of 13 patients were diagnosed as SCID, while 3 out of 13 were diagnosed as delayed-/late-onset ADA deficiency. Late-onset ADA deficiency patients had clinical and laboratory findings of combined immunodeficiency (CID). Eight patients with ADA-SCID were found to have higher levels of ADA metabolite (dAXP%) (62.1% (34.6–71.9)) than 3 patients with delayed-/late-onset ADA deficiency (6.9% (2.1–8.9). All but one patient with SCID had T-B-NK− phenotype, one had T-B-NK+ phenotype. Genetic defect was documented in 11 patients. Four out of 11 patients had compound heterozygous defects. Three out of 4 patients with compound heterozygous defects had delayed-onset/late-onset ADA deficiency. Seven out of 11 patients with SCID had homozygous defects. Five out of 7 had the same homozygous indel frameshift mutation (c.955-959delGAAGA) showing a founder effect. There were two novel splice site defects: one (IVS10+2T>C) was heterozygous in a patient with late-onset ADA deficiency, and the other was homozygous (IVS2delT+2) in a SCID patient. Other defects were missense defects. Nine out of 13 patients were put on pegylated ADA ERT. Four out of six patients were transplanted without using a conditioning regimen. HSCGT was performed to one of the patients.
Conclusion
The genetic diagnosis of SCID is utmost important. There is a chance to give ERT before the definitive therapy if the patient with SCID/CID has ADA deficiency. Although ERT was insufficient to restore a normal immune function in ADA-SCID patients, it was useful to improve and stabilize the clinical status before curative therapy (aHSCT/HSCGT). Enzyme replacement therapy was successful in patients with late-/delayed-onset ADA deficiency who presented with the features of combined immunodeficiency. Gastrointestinal polyposis in a patient with late-onset ADA deficiency may be an association or a coincidental finding. Intermittent neurodevelopmental evaluation especially for hearing impairment should be performed in most of the ADA-deficient patients. This may alleviate the speech delay and cognitive abnormalities which may be observed in the follow-up.
This is a preview of subscription content, log in to check access.
Access options
Buy single article
Instant access to the full article PDF.
US$ 39.95
Price includes VAT for USA
Subscribe to journal
Immediate online access to all issues from 2019. Subscription will auto renew annually.
US$ 99
This is the net price. Taxes to be calculated in checkout.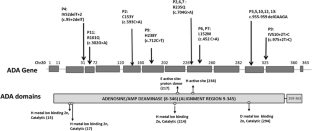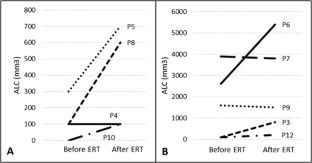 References
1.

Arredondo-Vega FX, Santisteban I, Daniels S, Toutain S, Hershfield MS. Adenosine deaminase deficiency: genotype-phenotype correlations based on expressed activity of 29 mutant alleles. Am J Hum Genet. 1998;63(4):1049–59.

2.

Hershfield M. Adenosine deaminase deficiency. 2006 Oct 3 [Updated 2014 Jun 19]. GeneReviewsÒ [Internet] Seattle (WA): University of Washington, Seattle. 2014.

3.

Bradford KL, Moretti FA, Carbonaro-Sarracino DA, Gaspar HB, Kohn DB. Adenosine deaminase (ADA)-deficient severe combined immune deficiency (SCID): molecular pathogenesis and clinical manifestations. J Clin Immunol. 2017;37(7):626–37.

4.

Rogers MH, Lwin R, Fairbanks L, Gerritsen B, Gaspar HB. Cognitive and behavioral abnormalities in adenosine deaminase deficient severe combined immunodeficiency. J Pediatr. 2001;139(1):44–50.

5.

Cavazzana-Calvo M, Fischer A. Gene therapy for severe combined immunodeficiency: are we there yet? J Clin Investig. 2007;117(6):1456–65.

6.

Pai S-Y, Logan BR, Griffith LM, Buckley RH, Parrott RE, Dvorak CC, et al. Transplantation outcomes for severe combined immunodeficiency, 2000–2009. N Engl J Med. 2014;371(5):434–46.

7.

Conley ME, Notarangelo LD, Etzioni A. Diagnostic criteria for primary immunodeficiencies. Clin Immunol. 1999;93(3):190–7.

8.

Arredondo-Vega FX, Santisteban I, Richard E, Bali P, Koleilat M, Loubser M, et al. Adenosine deaminase deficiency with mosaicism for a "second-site suppressor" of a splicing mutation: decline in revertant T lymphocytes during enzyme replacement therapy. Blood. 2002;99(3):1005–13.

9.

Willmann KL, Klaver S, Doğu F, Santos-Valente E, Garncarz W, Bilic I, et al. Biallelic loss-of-function mutation in NIK causes a primary immunodeficiency with multifaceted aberrant lymphoid immunity. Nat Commun. 2014;5:5360.

10.

Santisteban I, Arredondo-Vega FX, Kelly S, Mary A, Fischer A, Hummell DS, et al. Novel splicing, missense, and deletion mutations in seven adenosine deaminase-deficient patients with late/delayed onset of combined immunodeficiency disease. Contribution of genotype to phenotype. J Clin Invest. 1993;92(5):2291–302.

11.

Cicalese MP, Ferrua F, Castagnaro L, Rolfe K, De Boever E, Reinhardt RR, et al. Gene therapy for adenosine deaminase deficiency: a comprehensive evaluation of short- and medium-term safety. Mol Ther. 2018;26(3):917–31.

12.

Whitmore KV, Gaspar HB. Adenosine deaminase deficiency—more than just an immunodeficiency. Front Immunol. 2016;7:314.

13.

Rivkees SA, Wendler CC. Adverse and protective influences of adenosine on the newborn and embryo: implications for preterm white matter injury and embryo protection. Pediatr Res. 2011;69(4):271–8.

14.

Albuquerque W, Gaspar HB. Bilateral sensorineural deafness in adenosine deaminase-deficient severe combined immunodeficiency. J Pediatr. 2004;144(2):278–80.

15.

Grunebaum E, Cohen A, Roifman CM. Recent advances in understanding and managing adenosine deaminase and purine nucleoside phosphorylase deficiencies. Curr Opin Allergy Clin Immunol. 2013;13(6):630–8.

16.

Sauer AV, Brigida I, Carriglio N, Aiuti A. Autoimmune dysregulation and purine metabolism in adenosine deaminase deficiency. Front Immunol. 2012;3:265.

17.

Orenstein JM, Dieterich DT. The histopathology of 103 consecutive colonoscopy biopsies from 82 symptomatic patients with acquired immunodeficiency syndrome: original and look-back diagnoses. Arch Pathol Lab Med. 2001;125(8):1042–6.

18.

Shera IA, Khurshid SM, Bhat MS. Inflammatory duodenal polyposis associated with primary immunodeficiency disease: a novel case report. Case Rep Med. 2017;2017:6206085.

19.

Hablolvarid MH. Nodular lymphoid hyperplasia of the colon in a vervet monkey (Cholorocebous aethiops). J Med Primatol. 2014;43(6):498–502.

20.

Spinner MA, Sanchez LA, Hsu AP, Shaw PA, Zerbe CS, Calvo KR, et al. GATA2 deficiency: a protean disorder of hematopoiesis, lymphatics, and immunity. Blood. 2014;123(6):809–21.

21.

Kayal JD, McCall CO. Sporotrichoid cutaneous mycobacterium avium complex infection. J Am Acad Dermatol. 2002;47(5 Suppl):S249–50.

22.

Chan JF, Trendell-Smith NJ, Chan JC, Hung IF, Tang BS, Cheng VC, et al. Reactive and infective dermatoses associated with adult-onset immunodeficiency due to anti-interferon-gamma autoantibody: Sweet's syndrome and beyond. Dermatology. 2013;226(2):157–66.

23.

Ollague Sierra JE, Ollague Torres JM. New clinical and histological patterns of acute disseminated histoplasmosis in human immunodeficiency virus-positive patients with acquired immunodeficiency syndrome. Am J Dermatopathol. 2013;35(2):205–12.

24.

Park MY, Kim JM, Kim GW, Kim HS, Ko HC, Kim MB, et al. Refractory sclerosing panniculitis successfully treated with cyclosporin. J Dermatol. 2016;43(11):1374–6.

25.

Hershfield MS. Genotype is an important determinant of phenotype in adenosine deaminase deficiency. Curr Opin Immunol. 2003;15(5):571–7.

26.

Li L, Drayna D, Hu D, Hayward A, Gahagan S, Pabst H, et al. The gene for severe combined immunodeficiency disease in Athabascan-speaking native Americans is located on chromosome 10p. Am J Hum Genet. 1998;62(1):136–44.

27.

Patıroğlu T, Akar HH, Güngör HE, Ünal E, Santisteban I, Hershfield M, et al. Severe combined Immunodeficiencies resulting from impaired purine metabolism: single center experience. Asthma Allergy Immunol. 2016;14(1):19–24.

28.

Baffelli R, Notarangelo LD, Imberti L, Hershfield MS, Serana F, Santisteban I, et al. Diagnosis, treatment and long-term follow up of patients with ADA deficiency: a single-center experience. J Clin Immunol. 2015;35(7):624–37.
Ethics declarations
Conflict of Interest
The authors declare that they have no conflict of interest.
About this article
Cite this article
Cagdas, D., Gur Cetinkaya, P., Karaatmaca, B. et al. ADA Deficiency: Evaluation of the Clinical and Laboratory Features and the Outcome. J Clin Immunol 38, 484–493 (2018). https://doi.org/10.1007/s10875-018-0496-9
Received:

Accepted:

Published:

Issue Date:
Keywords
Late-onset adenosine deaminase deficiency

SCID

ADA enzyme replacement therapy