Abstract
Chronic granulomatous disease (CGD) is a primary immunodeficiency associated to multiple life-threatening bacterial and fungal infections, beginning in childhood. There are rare cases of diagnosis in adulthood. We describe here two cases of late diagnosis in adults: a 45-year-old woman and 59-year-old-man. CGD diagnosis should be considered in adult patients with unexplained infectious diseases with tissue granuloma.
This is a preview of subscription content, log in to check access.
Access options
Buy single article
Instant access to the full article PDF.
US$ 39.95
Price includes VAT for USA
Subscribe to journal
Immediate online access to all issues from 2019. Subscription will auto renew annually.
US$ 99
This is the net price. Taxes to be calculated in checkout.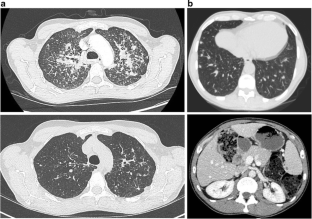 References
1.

Holland SM. Chronic granulomatous disease. Hematol Oncol Clin North Am. 2013;27:89–99. viii.

2.

Liese JG, Jendrossek V, Jansson A, Petropoulou T, Kloos S, Gahr M, et al. Chronic granulomatous disease in adults. Lancet. 1996;347:220–3.

3.

Sarwar G, de Malmanche T, Rassam L, Grainge C, Williams A, Arnold D. Chronic granulomatous disease presenting as refractory pneumonia in late adulthood. Respirol Case Rep. 2015;3:54–6.

4.

Tabarsi P, Mirsaeidi M, Karimi S, Banieghbal B, Mansouri N, Masjedi MR, et al. Lymphocytic bronchiolitis as presenting disorder in an undiagnosed adult patient with chronic granulomatous disease. Iran J Allergy Asthma Immunol. 2007;6:219–21.

5.

Asensi V, Tricas L, Meana A, Roos D, Carton JA, Maradona JA, et al. Visceral leishmaniasis and other severe infections in an adult patient with p47-phox-deficient chronic granulomatous disease. Infection. 2000;28:171–4.

6.

Salvator H, Mahlaoui N, Catherinot E, Rivaud E, Pilmis B, Borie R, et al. Pulmonary manifestations in adult patients with chronic granulomatous disease. Eur Respir J. 2015;45(6):1613–23.

7.

Marciano BE, Spalding C, Fitzgerald A, Mann D, Brown T, Osgood S, et al. Common severe infections in chronic granulomatous disease. Clin Infect Dis. 2015;60(8):1176–83.

8.

Beaute J, Obenga G, Le Mignot L, Mahlaoui N, Bougnoux ME, Mouy R, et al. Epidemiology and outcome of invasive fungal diseases in patients with chronic granulomatous disease: a multicenter study in France. Pediatr Infect Dis J. 2011;30:57–62.

9.

Trawick D, Kotch A, Matthay R, Homer RJ. Eosinophilic pneumonia as a presentation of occult chronic granulomatous disease. Eur Respir J. 1997;10:2166–70.

10.

Venincasa VD, Kuriyan AE, Flynn Jr HW, Sridhar J, Miller D. Endophthalmitis caused by Pantoea agglomerans: clinical features, antibiotic sensitivities, and outcomes. Clin Ophthalmol. 2015;9:1203–7.

11.

Fernandez-Munoz H, Lassaletta A, Gonzalez MJ, Andion M, Madero L. Pantoea agglomerans bacteremia in a child with acute lymphoblastic leukemia during induction therapy. J Pediatr Hematol Oncol. 2015;37:328.

12.

Agudelo-Flórez P, Prando-Andrade CC, López JA, Costa-Carvalho BT, Quezada A, Espinosa FJ, et al. Chronic granulomatous disease in Latin American patients: clinical spectrum and molecular genetics. Pediatr Blood Cancer. 2006;46(2):243–52.

13.

Van den Berg JM, van Koppen E, Ahlin A, Belohradsky BH, Bernatowska E, Corbeel L, et al. Chronic granulomatous disease: the European experience. PLoS One. 2009;4(4):e5234.

14.

Noel N, Mahlaoui N, Blanche S, Suarez F, Coignard-Biehler H, Durieu I, et al. Efficacy and safety of thalidomide in patients with inflammatory manifestations of chronic granulomatous disease: a retrospective case series. J Allergy Clin Immunol. 2013;132:997–1000 e1-4.

15.

Marciano BE, Rosenzweig SD, Kleiner DE, Anderson VL, Darnell DN, Anaya-O'Brien S, et al. Gastrointestinal involvement in chronic granulomatous disease. Pediatrics. 2004;114:462–8.
Acknowledgments
We would like to thank the patients, whose cooperation was essential in this study. We thank O. Georges for the histological diagnosis and B. Saada for the medical assistance.
Ethics declarations
Conflict of Interest
The authors declare that they have no conflict of interest.
Research Involving Human Participants
Informed consent for participation in this study was obtained in accordance with local regulations, with approval from the IRB. The experiments described here were performed in France, in accordance with local regulations, and with the approval of the IRB of the Necker Hospital for Sick Children, France.
Informed Consent
Written informed consent was obtained from the patients.
Financial Support
The Laboratory of Human Genetics of Infectious Diseases is supported by institutional grants from INSERM, University Paris Descartes, The Rockefeller University, and the St. Giles Foundation, and grants from the French National Research Agency (ANR) under the "Investments for the future" program (grant no. ANR-10-IAHU-01) and the IFNGPHOX grant (no. ANR13-ISV3-0001-01).
Additional information
Sylvie Colin de Verdière and Esther Noel, Hélène Salvator, Jacinta Bustamante and Thierry Martin contributed equally to this work.
About this article
Cite this article
Colin de Verdière, S., Noel, E., Lozano, C. et al. Respiratory Complications Lead to the Diagnosis of Chronic Granulomatous Disease in Two Adult Patients. J Clin Immunol 37, 113–116 (2017). https://doi.org/10.1007/s10875-017-0370-1
Received:

Accepted:

Published:

Issue Date:
Keywords
ROS

CGD

colitis

pulmonary disease

NCF1

Pantoea

inflammatory bowel disease

pulmonary aspergillosis