Abstract
Introduction
Primary immunodeficiency disorders (PIDs) are heterogeneous disorders that mainly present with severe, persistent, unusual, or recurrent infections in childhood. Reports from different parts of the world indicate a difference between Western and Eastern populations.
Aim
The aim of this study was to report on the different patterns of PIDs and identify subgroup characteristics in a highly consanguineous population in Egypt.
Methods
We performed a retrospective chart review for children below 18 years diagnosed with PID at Cairo University Pediatric Hospital from 2010 to 2014.
Results
Four hundred seventy-six children were diagnosed with PID disorders. Major categories included combined immunodeficiency disorders, which constituted a large proportion (30 %) of cases, along with predominantly antibody disorders (18 %) followed by syndromic combined disorders (16.8 %), phagocytic disorders (13.2 %), immune dysregulation disorders (10.5 %), and autoinflammatory disorders (9 %).
Conclusion
PIDs have different patterns within inbred populations with high consanguinity.
Access options
Buy single article
Instant access to the full article PDF.
USD 39.95
Price excludes VAT (USA)
Tax calculation will be finalised during checkout.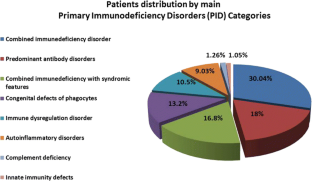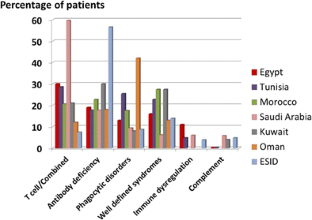 References
Barbouche MR, Galal N, Ben-Mustapha I, Jeddane L, Mellouli F, Ailal F, et al. Primary immunodeficiencies in highly consanguineous North African populations. Ann N Y Acad Sci. 2011;1238:42–52.

Al-Herz W, Aldhekri H, Barbouche MR, Rezaaei N. Consanguinity and primary immunodeficiencies. Hum Hered. 2014;77(1–4):138–43.

Shawky RM, ElAwady M, Elsayed S, Hamadan G. Consanguinous matings among Egyptian population. Egypt J Med Hum Genet. 2012;12(2):157–63.

Temtamy S, Aglan M. Consanguinity and genetic disorders in Egypt. Middle East J Med Genet. 2011;1(1):12–7.

Anwar WA, Khayatti M, Hemminki K. Consanguinity and genetic diseases in North Africa and immigrants to Europe. Eur J Public Health. 2014;24 Suppl 1:57–63.

Bashamboo A, McElreavey K. Consanguinity and disorders of sex development. Hum Hered. 2014;77(1–4):108–17.

Picard C, Al-Herz W, Bousfiha A, Casanova JL, Chatila T, Conley ME, et al. Primary immunodeficiency diseases: an update on the classification from the International Union of Immunological Societies Expert Committee for Primary Immunodeficiency 2015. J Clin Immunol. 2015;35(8):696–726.

Meshaal S., El Hawary R., Elsharkawy M., Mousa R., Farid R., Abd. Elaziz D, Alkady R, Galal N., Massaad M, Boutros J., El Marsafy A. Mutations in recombination activating gene 1 and 2 in patients with severe combined immunodeficiency disorders in Egypt. Clin Immunol. 2015; 158: 167–172

Al-Saud B, Al-Mousa H, Al Gazlan S, Al-Ghonaium A, Arnaout R, Al-Seraihy A, et al. Primary immunodeficiency diseases in Saudi Arabia: a tertiary care hospital experience over a period of three years (2010–2013). J Clin Immunol. 2015;35(7):651–60.

Azarsiz E, Gulez N, Karaca NE, Aksu G, Kutukculer N. Consanguinity rate and delay in diagnosis inTurkish patients with combined immunodeficiencies: a single center study. J Clin Immunol. 2011;31:106–11.

Mellouli F, Mustapha IB, Khaled MB, Besbes H, Ouederni M, Mekki N, et al. Report of the Tunisian Registry of Primary Immunodeficiencies: 25-Years of Experience (1988–2012). J Clin Immunol. 2015;35(8):745–53.

Bousfiha AA, Jeddane L, El Hafidi N, Benajiba N, Rada N, El Bakkouri J, et al. First report on the Moroccan registry of primary immunodeficiencies: 15 years of experience (1998–2012). J Clin Immunol. 2014;34:459–68.

Al –Herz W. Primary immunodeficiency disorders in Kuwait: first report from Kuwait National Primary Immunodeficiency Registry. J Clin Immunol. 2008;28(2):186–93.

Al Khatib S, Keles S, Garcia-Lloret M, Karakoc-Aydiner E, Reisli I, Artac H, et al. Defects along the Th17 differentiation pathway underlie genetically distinct forms of the hyper IgE syndrome. J Allergy Clin Immunol. 2009;124(2):342–8.

Kilic S, Ozel M, Hafizoglu D, Karaca NE, Asku G, Kutukculer N. The prevalence and patient characteristics of primary immunodeficiency diseases in Turkey—two centers study. J Clin Immunol. 2013;33:74–83.

Köker MY, Camcıoğlu Y, van Leeuwen K, Kılıç SŞ, Barlan I, Yılmaz M, et al. Clinical, functional, and genetic characterization of chronic granulomatous disease in 89 Turkish patients. J Allergy Clin Immunol. 2013;132(5):1156–63.

Al-Tamemi S, Elnour I, Dennison D. Primary immunodeficiency diseases in Oman: five years' experience at Sultan Qaboos University Hospital. World Allergy Organ J. 2012;5(5):52–6.

Reda SM, Afifi HM, Amine MM. Primary immunodeficiency diseases in Egyptian children: a single-center study. J Clin Immunol. 2009;29(3):343–51.

Al-Herz W, Notarangelo LD, Sadek A, Buckley R, USIDNET Consortium. Combined Immunodeficiency in the United States and Kuwait: comparison of patients'characteristics and molecular diagnosis. Clin Immunol. 2015;161(2):170–3.

Wolach B, Gavrieli R, de Boer M, Gottesman G, Ben-Ari J, Rottem M, et al. Chronic granulomatous disease in Israel: clinical, functional and molecular studies of 38 patients. Clin Immunol. 2008;129:103–14.

Rawat A, Singh S, Suri D, Gupta A, Saikia B, Minz RW, et al. Chronic granulomatous disease: Two decades of experience from a tertiary care center in North West India. J Clin Immunol. 2014;34(1):58–67.

Winkelstein JA, Marino MC, Johnston RB, et al. Chronic granulomatous disease. Report on a national registry of 368 patients. Medicine (Baltimore). 2000;79:155–69.

Gathmann B, Grimbacher B, Beaute J, Dudoit Y, Mahlaoui N, Fischer A, et al. The European internet-based patient and research database for primary immunodeficiencies: results 2006–2008. Clin Exp Immunol. 2009;157 Suppl 1:3–11.

El-Garf A, Salah S, Iskander I, Salah H, Amin SN. MEFV mutations in Egyptian patients suffering from familial Mediterranean fever analysis of 12 gene mutations. Rheumatol Int. 2010;30(10):1293–8.

Galal N, Boutros J, Marsafy A, Kong XF, Feinberg J, Casanova JL, et al. Mendelian susceptibility to mycobacterial disease in Egyptian children. Mediterr J Hematol Infect Dis. 2012;4(1), e2012033.

Elloumi-Zghal H, Barbouche MR, Chemli J, Bejaoui M, Harbi A, Snoussi N, et al. Clinical and genetic heterogeneity of inherited autosomal recessive susceptibility to disseminated Mycobacterium bovis Bacille Calmette-Guérin infection. J Infect Dis. 2002;185:1468–75.
Acknowledgments
The authors wish to acknowledge the following scientists for their valuable support and provision of expertise to aid the diagnosis of our children:
M. Baker, J. Bustamanate, J.L. Casanova, T. Freiberger, R. Geha, B. Grimbacher, J. Litzman, M. Masaad, A. Villa
Ethics declarations
Conflict of Interest
The authors declare that they have no conflict of interest.
About this article
Cite this article
Galal, N., Meshaal, S., Elhawary, R. et al. Patterns of Primary Immunodeficiency Disorders Among a Highly Consanguineous Population: Cairo University Pediatric Hospital's 5-Year Experience. J Clin Immunol 36, 649–655 (2016). https://doi.org/10.1007/s10875-016-0314-1
Received:

Accepted:

Published:

Issue Date:

DOI: https://doi.org/10.1007/s10875-016-0314-1
Keywords