Abstract
Purpose
The aim of this study was to identify characteristics of hypogammaglobulinemia secondary to glucocorticoid therapy and their value in the differential diagnosis to primary forms of antibody deficiency.
Methods
We investigated prevalence and character of hypogammaglobulinemia in a cohort of 36 patients with giant cell arteritis (GCA) and polymyalgia rheumatica (PMR) on glucocorticoid therapy in comparison to a gender- and age-matched cohort of hospital controls. We therefore determined serum immunoglobulin levels as well as B- and T cell-subsets in the peripheral blood of all participants. In addition, prior serum immunoglobulin levels and clinical data of the GCA and PMR patients were extracted from the electronic patient data-base.
Results
21/36 GCA/PMR patients on glucocorticoid treatment developed antibody deficiency. In 19 patients this included IgG and in 13 patients IgG was the only affected isotype. The reduction of IgG was persistent in nearly 50 % of these patients during the observed period. GCA/PMR patients had reduced circulating naive and transitional B cells (p = 0.0043 and p = 0.0002 respectively) while IgM, IgG and IgA memory B cells were preserved. Amongst T-cell subsets, we found a reduction of CD4 memory T cells (p < 0.0001), CD4 regulatory T cells (p = 0.0002) and few CD8 memory T-cell subtypes.
Conclusion
Persistent humoral immunodeficiency occurs in about a quarter of GCA/PMR patients under glucocorticoid therapy. Because most patients have isolated IgG deficiency, preserved IgA production and class-switched memory B cells, by these markers this form of secondary hypogammaglobulinemia can be clearly distinguished from common variable immunodeficiency (CVID).
Access options
Buy single article
Instant access to the full article PDF.
USD 39.95
Price excludes VAT (USA)
Tax calculation will be finalised during checkout.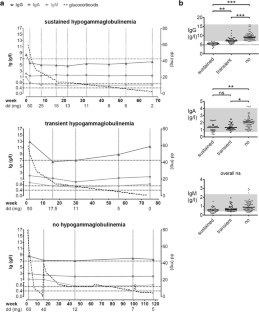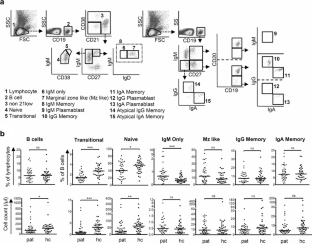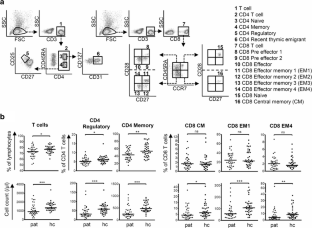 References
Manson SC, Brown RE, Cerulli A, Vidaurre CF. The cumulative burden of oral corticosteroid side effects and the economic implications of steroid use. Respir Med. 2009;103:975–94.

Hamilos DL, Young RM, Peter JB, Agopian MS, Iklé DN, Barka N. Hypogammaglobulinemia in asthmatic patients. Ann Allergy. 1992;68:472–81.

Kawano T, Matsuse H, Obase Y, et al. Hypogammaglobulinemia in steroid-dependent asthmatics correlates with the daily dose of oral prednisolone. Int Arch Allergy Immunol. 2002;128:240–3.

Fernández-Fernández FJ. Infections in patients with giant cell arteritis: could hypogammaglobulinemia induced by corticosteroids be a risk factor? Comment on the article by Durand and Thomas Arthritis Care Res. 2012;64:1100.

Samson M, Audia S, Lakomy D, Bonnotte B, Tavernier C, Ornetti P. Diagnostic strategy for patients with hypogammaglobulinemia in rheumatology. Joint Bone Spine. 2011;78(3):241–5.

Yong PFK, Thaventhiran JED, Grimbacher B. "A rose is a rose is a rose," but CVID is not CVID common variable immune deficiency (CVID), what do we know in 2011? Adv Immunol 2011; 111:47–107.

Gathmann B, Mahlaoui N, Gérard L, et al. Clinical picture and treatment of 2212 patients with common variable immunodeficiency. J Allergy Clin Immunol. 2014;134:116–26.

Wehr C, Kivioja T, Schmitt C, et al. The EUROclass trial: defining subgroups in common variable immunodeficiency. Blood. 2008;111:77–85.

Cupps TR, Gerrard TL, Falkoff RJ, Whalen G, Fauci AS. Effects of in vitro corticosteroids on B cell activation, proliferation, and differentiation. J Clin Invest. 1985;75:754.

Fauci AS, Dale DC. The effect of in vivo hydrocortisone on subpopulations of human lymphocytes. J Clin Invest. 1974;53:240.

Van der Geest KSM, Abdulahad WH, Chalan P, et al. Disturbed B cell homeostasis in patients with newly-diagnosed giant cell arteritis and polymyalgia rheumatica. Arthritis Rheum. 2014;66:1927–38.

Shoenfeld Y, Gurewich Y, Gallant LA, Pinkhas J. Prednisone-induced leukocytosis. Influence of dosage, method and duration of administration on the degree of leukocytosis. Am J Med. 1981;71:773–8.

Settipane GA, Pudupakkam RK, McGowan JH. Corticosteroid effect on immunoglobulins. J Allergy Clin Immunol. 1978;62:162–6.

Roberts DM, Jones RB, Smith RM, Alberici F, Kumaratne DS, Burns S, Jayne DRW. Rituximab-associated hypogammaglobulinemia: incidence, predictors and outcomes in patients with multi-system autoimmune disease. J Autoimmun. 2015;57:60–5.

Furst DE. Serum immunoglobulins and risk of infection: How low can you go? Semin Arthritis Rheum. 2009;39:18–29.

Sharma S, Lichtenstein A. Dexamethasone-induced apoptotic mechanisms in myeloma cells investigated by analysis of mutant glucocorticoid receptors. Blood. 2008;112(4):1338–45.

Levy AL, Waldmann TA. The effect of hydrocortisone on immunoglobulin metabolism. J Clin Invest. 1970;49:1679.

Daien CI, Gailhac S, Mura T, Combe B, Hahne M, Morel J. High levels of memory B cells are associated with response to a first tumor necrosis factor inhibitor in patients with rheumatoid arthritis in a longitudinal prospective study. Arthritis Res Ther. 2014;16(2):R95.

Lill-Elghanian D, Schwartz K, King L, Fraker P. Glucocorticoid-induced apoptosis in early B cells from human bone marrow. Exp Biol Med. 2002;227:763–70.

Glaesener S, Quách TD, Onken N, et al. Distinct effects of methotrexate and etanercept on the B cell compartment in patients with juvenile idiopathic arthritis. Arthritis Rheum. 2014;66(9):2590–600.

Conley ME, Notarangelo LD, Etzioni A. Diagnostic criteria for primary immunodeficiencies. Clin Immunol. 1999;93:190–7.
Acknowledgments
The authors thank Armin Buchwald from the Department of Laboratory Medicine and Birgit Nettlenbusch from the Immunological Laboratory for their technical support and all physicians and nurses of the Division of Rheumatology and Clinical Immunology and the Eye Center for their invaluable help in collecting the data for this study. This study was supported by the German Federal Ministry of Education and Research (BMBF 01EO1303). The authors are responsible for the contents of this publication.
Ethics declarations
All procedures performed in studies involving human participants were in accordance with the ethical standards of the institutional committee and with the 1964 Helsinki declaration and its later amendments or comparable ethical standards.
Conflict of Interest
The authors declare that they have no conflict of interest.
Electronic supplementary material
About this article
Cite this article
Wirsum, C., Glaser, C., Gutenberger, S. et al. Secondary Antibody Deficiency in Glucocorticoid Therapy Clearly Differs from Primary Antibody Deficiency. J Clin Immunol 36, 406–412 (2016). https://doi.org/10.1007/s10875-016-0264-7
Received:

Accepted:

Published:

Issue Date:

DOI: https://doi.org/10.1007/s10875-016-0264-7
Keywords