Abstract
Pyoderma gangrenosum (PG) is an uncommon noninfectious neutrophilic dermatosis characterized by recurrent, sterile, necrotic skin ulcers. It is commonly associated with underlying systemic disease like inflammatory bowel disease, rheumatoid arthritis and hematological malignancies. Pathogenesis of PG remains unclear though aberrant immune responses have been implicated. The diagnosis of PG is of exclusion and management is empirical with local or systemic immunosuppressive therapy. LAD-I is a rare form of autosomal recessive disorders caused by mutations of the gene ITGB2, clinically characterized by recurrent severe bacterial infection, impaired pus formation, poor wound healing and persistent neutrophilia. Though skin ulcerations are common, predominant clinical presentation as PG is unusual in LAD-I. Here we present four Indian patients with LAD-I from three unrelated families initially diagnosed as PG due to chronic recurrent skin ulcerations requiring steroids and antibiotics for healing, associated with atrophic scar formation. All these four patients had persistent neutrophilia without history of delayed cord separation and showed moderate expression of CD18 (19 to 68 %) on neutrophils. Sequencing of the entire coding region and intronic splice sites of the ITGB2 gene from the genomic DNA of these patients revealed a novel common mutation IVS10+4A>G. LAD-I should be kept in mind while evaluating patients with PG especially those with persistent neutrophila in the absence of other rheumatological disorders. Diagnosis of LAD-I in these cases is extremely important for management as treating these patients without adequate antibiotic cover may prove fatal and these patients often require hematopoietic stem cell transplantation for permanent cure.
Access options
Buy single article
Instant access to the full article PDF.
US$ 39.95
Tax calculation will be finalised during checkout.
Subscribe to journal
Immediate online access to all issues from 2019. Subscription will auto renew annually.
US$ 79
Tax calculation will be finalised during checkout.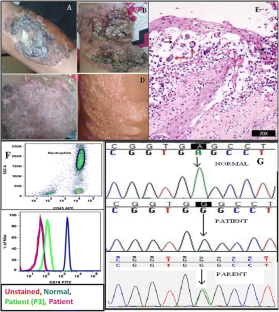 References
1.

Wollina U. Pyoderma gangrenosum–a review. Orphanet J Rare Dis. 2007;2:19.

2.

Cohen PR. Neutrophilic dermatoses: a review of current treatment options. Am J Clin Dermatol. 2009;10(5):301–12.

3.

Bennett ML, Jackson JM, Jorizzo JL, Fleischer Jr AB, White WL, Callen JP. Pyoderma gangrenosum. A comparison of typical and atypical forms with an emphasis on time to remission. Case review of 86 patients from 2 institutions. Medicine (Baltimore). 2000;79(1):37–46.

4.

Pereira N, Brites MM, Gonçalo M, Tellechea O, Figueiredo A. Pyoderma gangrenosum–a review of 24 cases observed over 10 years. Int J Dermatol. 2013;52(8):938–45.

5.

von den Driesch P. Pyoderma gangrenosum: a report of 44 cases with follow-up. Br J Dermatol. 1997;137(6):1000–5.

6.

Crowley CA, Curnutte JT, Rosin RE, André-Schwartz J, Gallin JI, Klempner M, et al. An inherited abnormality of neutrophil adhesion: its genetic transmission and its association with a missing protein. N Engl J Med. 1980;302:1163–8.

7.

Arnaout MA. Leukocyte adhesion molecules deficiency: its structural basis, pathophysiology and implications for modulating the inflammatory response. Immunol Rev. 1990;114:145–80.

8.

van de Vijver E, Maddalena A, Sanal Ö, Holland SM, Uzel G, Madkaikar M, et al. Hematologically important mutations: leukocyte adhesion deficiency (first update). Blood Cells Mol Dis. 2012;48(1):53–61.

9.

Madkaikar M, Currimbhoy Z, Gupta M, Desai M, Rao M. Clinical profile of leukocyte adhesion deficiency type 1. Indian Pediatr. 2012;49:43–5.

10.

Pertea M, Lin X, Salzberg SL. GeneSplicer: a new computational method for splice site prediction. Nucleic Acids Res. 2001;29:1185–90.

11.

Desmet FO, Hamroun D, Lalande M, Collod-Béroud G, Claustres M, Béroud C. Human Splicing Finder: an online bioinformatics tool to predict splicing signals. Nucleic Acids Res. 2009;37:e67.

12.

Yeo G, Burge CB. Maximum entropy modeling of short sequence motifs with applications to RNA splicing signals. J Comput Biol. 2004;11:377–94.

13.

Reese MG, Eeckman FH, Kulp D, Haussler D. Improved splice site detection in Genie. J Comput Biol. 1997;4:311–23.

14.

Alex Dong Li's SpliceSiteFinder. http://www.genet.sickkids.on.ca/ali/splicesitefinder.html.

15.

Brunsting LA, Goeckerman WH, O'Leary PA. Pyoderma (echthyma) gangrenosum: clinical and experimental observations in 5 cases occurring in adults. Arch Dermatol Syphilol. 1930;22:655–80.

16.

Caso F, Rigante D, Vitale A, Lucherini OM, Costa L, Atteno M, et al. Monogenic autoinflammatory syndromes: state of the art on genetic, clinical, and therapeutic issues. Int J Rheumatol. 2013;2013:513782.

17.

Weenig RH, Davis MD, Dahl PR, Su WP. Skin ulcers misdiagnosed as pyoderma gangrenosum. N Engl J Med. 2002;347(18):1412–8.

18.

Notarangelo LD, Badolato R. Leukocyte trafficking in primary immunodeficiencies. J Leukoc Biol. 2009;85(3):335–43.

19.

Thakur N, Sodani R, Chandra J, Singh V. Leukocyte adhesion defect type 1 presenting with recurrent pyoderma gangrenosum. Indian J Dermatol. 2013;58(2):158.

20.

Nord KM, Pappert AS, Grossman ME. Pyoderma gangrenosum-like lesions in leukocyte adhesion deficiency I treated with intravenous immunoglobulin. Pediatr Dermatol. 2011;28(2):156–61.

21.

Bedlow AJ, Davies EG, Moss AL, Rebuck N, Finn A, Marsden RA. Pyoderma gangrenosum in a child with congenital partial deficiency of leucocyte adherence glycoproteins. Br J Dermatol. 1998;139(6):1064–7.

22.

Hinze CH, Lucky AW, Bove KE, Marsh RA, Bleesing JH, Passo MH. Leukocyte adhesion deficiency type 1 presenting with recurrent pyoderma gangrenosum and flaccid scarring. Pediatr Dermatol. 2010;27(5):500–3.

23.

Hajishengallis G, Moutsopoulos NM. Etiology of leukocyte adhesion deficiency-associated periodontitis revisited: not a raging infection but a raging inflammatory response. Expert Rev Clin Immunol. 2014;10(8):973–5.

24.

Shaya S, Kindzelskii AL, Minor J, et al. Aberrant integrin [CR4; αxβ2; CD11c/CD18] oscillation on neutrophils in a mild form of pyoderma gangrenosum. J Invest Dermatol. 1998;111:154–8.

25.

Adachi Y, Kindzelskii AL, Cookingham G, et al. Aberrant neutrophil trafficking and metabolic oscillations in severe pyoderma gangrenosum. J Invest Dermatol. 1998;111:259–68.
About this article
Cite this article
Madkaikar, M., Italia, K., Gupta, M. et al. Leukocyte Adhesion Deficiency-I with a Novel Intronic Mutation Presenting with Pyoderma Gangrenosum- Like Lesions. J Clin Immunol 35, 431–434 (2015). https://doi.org/10.1007/s10875-015-0155-3
Received:

Accepted:

Published:

Issue Date:
Keywords
LAD-I

pyoderma gangrenosum

ITGB2 gene mutation

primary immunodeficiency disorder