Abstract
Purpose
Children with down syndrome (DS) have an increased susceptibility to infections, due to altered humoral and/or cellular immunity. The aim of this study was to determine the cytokine production in whole blood of children with DS upon stimulation with live influenza A virus.
Methods
Whole blood of 61 children with DS and 57 of their healthy siblings was stimulated with 2.5 × 104 TCID50/ml influenza A virus during 6, 24, and 48 h. TNF-α, IL-1β, IL-6, IL-8, IL-10, IL-12p70, IFN-α, IFN-γ concentrations, and viral load were measured at all time points.
Results
At most of the time points, TNF-α, IL-1β, IL-6, and IL-8 concentrations were significantly higher in children with DS following stimulation with live influenza A virus. IFN-α and IFN-γ levels were also significantly higher in the DS group. Viral clearance, however, was equal in both groups.
Conclusions
Children with DS have an altered immune response to influenza A virus. The production of higher levels of pro-inflammatory cytokines may be responsible for a more severe clinical course of viral disease in these children.
Access options
Buy single article
Instant access to the full article PDF.
US$ 39.95
Tax calculation will be finalised during checkout.
Subscribe to journal
Immediate online access to all issues from 2019. Subscription will auto renew annually.
US$ 79
Tax calculation will be finalised during checkout.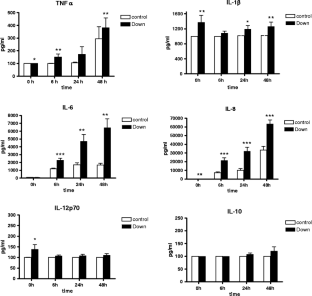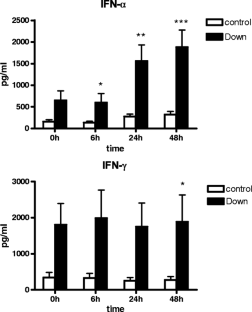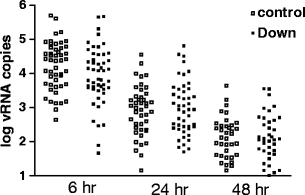 Abbreviations
DS:

Down syndrome

RTI:

Respiratory tract infection

RSV:

Respiratory syncytial virus

TCID50 :

Median tissue culture infective dose

PBS:

Phosphate-buffered saline

SEM:

Standard error of the mean

TLR:

Toll-like receptor
References
1.

Weijerman ME, van Furth AM, Vonk Noordegraaf A, van Wouwe JP, Broers CJM, Gemke RJBJ. Prevalence, neonatal characteristics, and first-year mortality of Down syndrome: a national study. J Pediatr. 2008;152:15–9.

2.

Shin M, Besser LM, Kucik JE, Lu C, Siffel C, Correa A, et al. Prevalence of Down syndrome among children and adolescents in 10 regions of the United States. Pediatrics. 2009;124:1565–71.

3.

Weijerman ME, de Winter JP. Clinical practice. The care of children with Down syndrome. Eur J Pediatr. 2010;169(12):1445–52.

4.

Roizen NJ, Patterson D. Down's syndrome. Lancet. 2003;361:1281–89.

5.

Hilton JM, Fitzgerald DA, Cooper DM. Respiratory morbidity of hospitalized children with trisomy 21. J Paediatr Child Health. 1999;35:383–6.

6.

van Trotsenburg AS, Heymans HS, Tijssen JG, de Vijlder JJ, Vulsma T. Comorbidity, hospitalization, and medication use and their influence on mental and motor development of young infants with Down syndrome. Pediatrics. 2006;118:1633–9.

7.

Bloemers BLP, van Furth AM, Weijerman ME, Gemke RJBJ, Broers CJM, van den Ende K, et al. Down syndrome: a novel risk factor for respiratory syncytial virus bronchiolitis. A prospective birth-cohort study. Pediatrics. 2007;120:e1076–81.

8.

Kristensen K, Stensballe LG, Bjerre J, Roth D, Fisker N, Kongstad T, et al. Risk factors for respiratory syncytial virus hospitalisation in children with heart disease. Arch Dis Child. 2009;94:785–9.

9.

Medrano López C, García-Guereta Silva L, Lirio Caero J, Garcia Perez J, et al. [Respiratory infections, Down's syndrome and congenital heart disease: the CIVIC 21 study]. An Pediatr (Barc). 2009;71:38–46.

10.

Megged O, Schlesinger Y. Down syndrome and respiratory syncytial virus infection. Pediatr Infect Dis J. 2010;29:672–3.

11.

Pérez-Padilla R, Fernández R, García-Sancho C, Franco-Marina F, Aburto O, Lopez-Gatell H, et al. Pandemic (H1N1) 2009 virus and Down syndrome patients. Emerg Infect Dis. 2010;16:1312–4.

12.

Frazier JB, Friedman B. Swallow function in children with Down syndrome: a retrospective study. Dev Med Child Neurol. 1996;38:695–703.

13.

Shott SR. Down Syndrome: Common Otolaryngologic Manifestations. Am J Med Genet Part C Semin Med Genet. 2006;142C:131–40.

14.

McDowell KM, Craven DI. Pulmonary complications of Down syndrome during childhood. J Pediatr. 2010. doi:10.1016/j.jpeds.2010.07.023.

15.

Bloemers BLP, Broers CJM, Bont L, Weijerman ME, Gemke RJBJ, van Furth AM. Increased risk of respiratory tract infections in children with Down syndrome: the consequence of an altered immune system. Microbes Infect. 2010;12:799–808.

16.

Nisihara RM, Utiyama SRR, Oliveira NP, Messias-Reason IJ. Mannan-binding lectin deficiency increases the risk of recurrent infections in children with Down's syndrome. Hum Immunol. 2010;71:63–6.

17.

Bloemers BLP, van Bleek GM, Kimpen JLL, Bont L. Distinct abnormalities in the innate immune system of children with Down syndrome. J Pediatr. 2010;156:804–9.

18.

De Hingh YCM, van der Vossen PW, Gemen EFA, Mulder AB, Hop WCJ, Brus F, et al. Intrinsic abnormalities of lymphocyte counts in children with Down syndrome. J Pediatr. 2005;147:744–7.

19.

Kusters MAA, Verstegen RHJ, Gemen EFA, de Vries E. Intrinsic defect of the immune system in children with Down syndrome: a review. Clin Exp Immunol. 2009;156:189–93.

20.

Cossarizza A, Monti D, Montagnani G, Ortolani C, Masi M, Zannotti M, et al. Precocious aging of the immune system in Down syndrome: alteration of B lymphocytes, T-lymphocyte subsets, and cells with natural killer markers. Am J Med Genet Suppl. 1990;7:213–8.

21.

Guazzarotti L, Trabattoni D, Castelletti E, Boldrighini B, Piacentini L, Duca P, et al. T lymphocyte maturation is impaired in healthy young individuals carrying trisomy 21 (Down syndrome). Am J Intellect Dev Disabil. 2009;114:100–9.

22.

Kusters MAA, Gemen EFA, Verstegen RHJ, Wever PC, de Vries E. Both normal memory counts and decreased naive cells favour intrinsic defect over early senescence of Down syndrome T lymphocytes. Pediatr Res. 2010;67:557–62.

23.

Verstegen RHJ, Kusters MAA, Gemen EFA, de Vries E. Down syndrome B-lymphocyte subpopulations, intrinsic defect or decreased T-lymphocyte help. Pediatr Res. 2010;67:563–9.

24.

Annerén G, Magnusson CGM, Lilja G, Nordvall SL. Abnormal serum IgG subclass pattern in children with Down's syndrome. Arch Dis Child. 1992;67:628–31.

25.

Avanzini MA, Monafo V, De Amici M, Maccario R, Burgio GR, Plebani A, et al. Humoral immunodeficiencies in Down syndrome: serum IgG subclass and antibody response to hepatitis B vaccine. Am J Med Genet Suppl. 1990;7:231–3.

26.

Loh RKS, Harth SC, Thong YH, Ferrante A. Immunoglobulin G subclass deficiency and predisposition to infection in Down's syndrome. Pediatr Infect Dis J. 1990;9:547–51.

27.

van der Sluijs KF, van Elden L, Nijhuis M, Schuurman R, Florquin S, Jansen HM, et al. Toll-like receptor 4 is not involved in host defense against respiratory tract infection with Sendai virus. Immunol Lett. 2003;89:201–6.

28.

Wang JP, Kurt-Jones EA, Finberg RW. Innate immunity to respiratory viruses. Cell Microbiol. 2007;9:1641–6.

29.

Julkunen I, Sareneva T, Pirhonen J, Ronni T, Melén K, Matikainen S. Molecular pathogenesis of influenza A virus infection and virus-induced regulation of cytokine gene expression. Cytokine Growth Factor Rev. 2001;12:171–80.

30.

Le Goffic R, Pothlichet J, Vitour D, Fujita T, Meurs E, Chignard M, et al. Cutting edge: influenza A virus activates TLR3-dependent inflammatory and RIG-I-dependent antiviral responses in human lung epithelial cells. J Immunol. 2007;178:3368–72.

31.

Hussell T, Pennycook A, Openshaw PJ. Inhibition of tumor necrosis factor reduces the severity of virus-specific lung immunopathology. Eur J Immunol. 2001;31:2566–73.

32.

Sun K, Torres L, Metzger DW. A detrimental effect of interleukin-10 protective pulmonary humoral immunity during primary influenza A virus infection. J Virol. 2010;84:5007–14.

33.

Rouse BT, Sehrawat S. Immunity and immunopathology to viruses; what decides the outcome? Nat Rev Immunol. 2010;10:514–26.

34.

Lee SMY, Gardy JL, Cheung CY, Cheung TKW, Hui KPY, Ip NY, et al. Systems-level comparison of host-responses elicited by avian H5N1 and seasonal H1N1 influenza viruses in primary human macrophages. PLoS One. 2009;4:e8072.

35.

Lee N, Wong CK, Chan PKS, Lun SWM, Lui G, Wong B, et al. Hypercytokinemia and hyperactivation of phospho-p38 mitogen-activated protein kinase in severe human influenza A virus infection. Clin Infect Dis. 2007;45:723–31.

36.

Maroun LE. Interferon action and chromosome 21 trisomy (Down syndrome): 15 years later. J Theor Biol. 1996;181:41–6.

37.

Epstein LB, Lee SHS, Epstein CJ. Enhanced sensitivity of trisomy 21 monocytes to the maturation-inhibiting effect of interferon. Cell Immunol. 1980;50:191–4.

38.

Iwamoto T, Yamada A, Yuasa K, Fukumoto E, Nakamura T, Fujiwara T, et al. Influences of interferon-gamma on cell proliferation and interleukin-6 production in Down syndrome derived fibroblasts. Arch Oral Biol. 2009;54:963–9.

39.

Torre D, Broggini M, Zeroli C, Agrifoglio L, Botta V, Casalone R, et al. Serum levels of gamma interferon in patients with Down's syndrome. Infection. 1995;23:66–7.
Acknowledgments
The authors thank Jacqueline Cloos, Petra van den Pangaart, and Eva Brandse for their excellent advice and technical support.
Conflict of Interest
The authors declare that they have no conflict of interest.
Additional information
The study has been approved by the appropriate ethics committee and have been performed in accordance with the 1964 Declaration of Helsinki and its later amendments.
About this article
Cite this article
Broers, C.J.M., Gemke, R.J.B.J., Weijerman, M.E. et al. Increased Pro-inflammatory Cytokine Production in Down syndrome Children Upon Stimulation with Live Influenza A Virus. J Clin Immunol 32, 323–329 (2012). https://doi.org/10.1007/s10875-011-9625-4
Received:

Accepted:

Published:

Issue Date:
Keywords
Down syndrome

children

cytokines

influenza A virus

viral infection