Abstract
Introduction
Vitamin D3, which exerts its effect through vitamin D receptor (VDR), is known for its potent immunomodulatory activities. Associations between low serum vitamin D3 levels and increased risk of tuberculosis have been reported.
Study Subjects and Methods
Plasma 1,25 dihydroxy vitamin D3 levels (1,25(OH)2 D3) and ex vivo levels of VDR protein from peripheral blood mononuclear cells were studied in 65 pulmonary tuberculosis (PTB) patients and 60 normal healthy subjects (NHS) using enzyme-linked immunosorbent assay-based methods. Using real-time polymerase chain reaction (PCR), induction of VDR, cathelicidin, and CYP27B1 mRNA were studied in live Mycobacterium tuberculosis-stimulated macrophage cultures treated with or without 1,25 dihydroxy vitamin D3. VDR and CYP27B1 (-1077 A/T) gene polymorphisms were studied using PCR-based methods.
Results
1,25(OH)2 D3 were significantly increased (p = 0.0004), while ex vivo levels of VDR protein were significantly decreased in PTB patients (p = 0.017) as compared to NHS. 1,25(OH)2 D3 levels were not different between variant genotypes of CYP27B1. A trend towards decreased levels of VDR protein was observed among NHS with BsmI BB and TaqI tt genotypes compared to NHS with other genotypes. Relative quantification of mRNA using real-time PCR revealed increased VDR mRNA expression in live M. tuberculosis-stimulated culture in PTB patients (p < 0.01) than normal healthy subjects. Cathelicidin mRNA expression was significantly increased in vitamin D3-treated cultures compared to unstimulated and M. tuberculosis-stimulated culture in both patients (p < 0.001) and NHS (p < 0.05).
Conclusions
The present study suggests that PTB patients may have increased 1,25(OH)2 D3 levels, and this might lead to downregulation of VDR expression. Decreased VDR levels could result in defective VDR signaling. Moreover, addition of 1,25(OH)2 D3 might lead to increased expression of cathelicidin which could enhance the immunity against tuberculosis.
Access options
Buy single article
Instant access to the full article PDF.
US$ 39.95
Tax calculation will be finalised during checkout.
Subscribe to journal
Immediate online access to all issues from 2019. Subscription will auto renew annually.
US$ 79
Tax calculation will be finalised during checkout.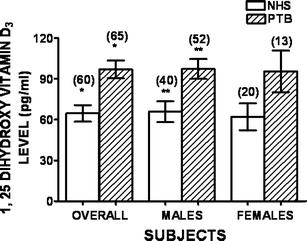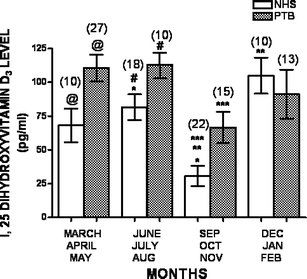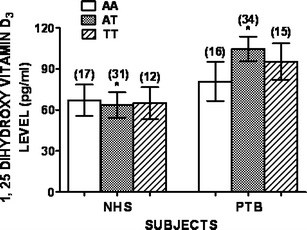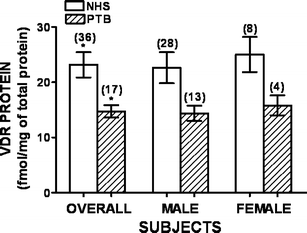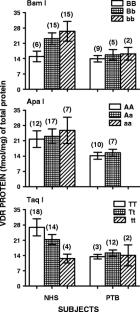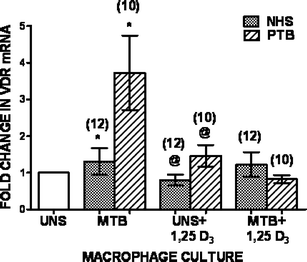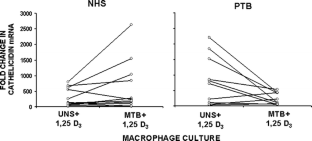 References
1.

Skull SA, Ngeow JY, Biggs BA, Street A, Ebeling PR. Vitamin D deficiency is common and unrecognized among recently arrived adult immigrants from The Horn of Africa. Intern Med J 2003;33:47–51. doi:10.1046/j.1445-5994.2003.00344.x.

2.

Lifson AR, Thai D, O'Fallon A, Mills WA, Hang K. Prevalence of tuberculosis, hepatitis B virus, and intestinal parasitic infections among refugees to Minnesota. Public Health Rep 2002;117(1):69–77.

3.

Lopez-Velez R, Huerga H, Turrientes MC. Infectious diseases in immigrants from the perspective of a tropical medicine referral unit. Am J Trop Med Hyg 2003;69:115–21.

4.

Sita-Lumsden A, Lapthorn G, Swaminathan R, Milburn HJ. Reactivation of tuberculosis and vitamin D deficiency: the contribution of diet and exposure to sunlight. Thorax 2007;62:1003–7. doi:10.1136/thx.2006.070060.

5.

Grange JM, Davies PD, Brown RC, Woodhead JS, Kardjito T. A study of vitamin D levels in Indonesian patients with untreated pulmonary tuberculosis. Tubercle 1985;66:187–91. doi:10.1016/0041-3879(85)90035-2.

6.

Wilkinson RJ, Llewelyn M, Toossi Z, Patel P, Pasvol G, Lalvani A, et al. Influence of vitamin D deficiency and vitamin D receptor polymorphisms on tuberculosis among Gujarati Asians in west London: a case-control study. Lancet 2000;355:618–21. doi:10.1016/S0140-6736(99)02301-6.

7.

Anderson P, May B, Morris H. Vitamin d metabolism: new concepts and clinical implications. Clin Biochem Rev 2003;24:13–26.

8.

Liu PT, Stenger S, Li H, Wenzel L, Tan BH, Krutzik SR, et al. Toll-like receptor triggering of a vitamin D-mediated human antimicrobial response. Science 2006;311:1770–3. doi:10.1126/science.1123933.

9.

Malecki MT, Klupa T, Wolkow P, Bochenski J, Wanic K, Sieradzki J. Association study of the vitamin D: 1alpha-hydroxylase (CYP1alpha) gene and type 2 diabetes mellitus in a Polish population. Diabetes Metab 2003;29:119–24. doi:10.1016/S1262-3636(07)70017-4.

10.

Jennings CE, Owen CJ, Wilson V, Pearce SH. A haplotype of the CYP27B1 promoter is associated with autoimmune Addison's disease but not with Graves' disease in a UK population. J Mol Endocrinol 2005;34:859–63. doi:10.1677/jme.1.01760.

11.

White JH. Vitamin D signaling, infectious diseases and regulation of innate immunity. Infect Immun 2008;76:3837–43. doi:10.1128/IAI.00353-08.

12.

Martineau AR, Wilkinson KA, Newton SM, Floto RA, Norman AW, Skolimowska K, et al. IFN-gamma- and TNF-independent vitamin D-inducible human suppression of mycobacteria: the role of cathelicidin LL-37. J Immunol 2007;178:7190–8.

13.

Chandra G, Selvaraj P, Jawahar MS, Banurekha VV, Narayanan PR. Effect of vitamin D3 on phagocytic potential of macrophages with live Mycobacterium tuberculosis and lymphoproliferative response in pulmonary tuberculosis. J Clin Immunol 2004;24:249–57. doi:10.1023/B:JOCI.0000025446.44146.52.

14.

Vidyarani M, Selvaraj P, Jawahar MS, Narayanan PR. 1,25 Dihydroxyvitamin D3 modulated cytokine response in pulmonary tuberculosis. Cytokine 2007;40:128–34. doi:10.1016/j.cyto.2007.08.005.

15.

Nursyam EW, Amin Z, Rumende CM. The effect of vitamin D as supplementary treatment in patients with moderately advanced pulmonary tuberculous lesion. Acta Med Indones 2006;38:3–5.

16.

Uitterlinden AG, Fang Y, Van Meurs JB, Pols HA, Van Leeuwen JP. Genetics and biology of vitamin D receptor polymorphisms. Gene 2004;338:143–56. doi:10.1016/j.gene.2004.05.014.

17.

Selvaraj P, Chandra G, Jawahar MS, Rani MV, Rajeshwari DN, Narayanan PR. Regulatory role of vitamin D receptor gene variants of Bsm I, Apa I, Taq I, and Fok I polymorphisms on macrophage phagocytosis and lymphoproliferative response to Mycobacterium tuberculosis antigen in pulmonary tuberculosis. J Clin Immunol 2004;24:523–32. doi:10.1023/B:JOCI.0000040923.07879.31.

18.

Selvaraj P, Vidyarani M, Alagarasu K, Prabhu Anand S, Narayanan PR. Regulatory role of promoter and 3′ UTR variants of vitamin D receptor gene on cytokine response in pulmonary tuberculosis. J Clin Immunol 2008;28:306–13. doi:10.1007/s10875-007-9152-5.

19.

Fang Y, van Meurs JB, Bergink AP, Hofman A, van Duijn CM, van Leeuwen JP, et al. Cdx-2 polymorphism in the promoter region of the human vitamin D receptor gene determines susceptibility to fracture in the elderly. J Bone Miner Res 2003;18:1632–41. doi:10.1359/jbmr.2003.18.9.1632.

20.

Pani MA, Knapp M, Donner H, Braun J, Baur MP, Usadel KH, et al. Vitamin D receptor allele combinations influence genetic susceptibility to type 1 diabetes in Germans. Diabetes 2000;49(3):504–7. doi:10.2337/diabetes.49.3.504.

21.

Nnoaham KE, Clarke A. Low serum vitamin D levels and tuberculosis: a systematic review and meta-analysis. Int J Epidemiol 2008;37:113–9. doi:10.1093/ije/dym247.

22.

Chang JM, Kuo MC, Kuo HT, Hwang SJ, Tsai JC, Chen HC, et al. 1-Alpha,25-Dihydroxyvitamin D3 regulates inducible nitric oxide synthase messenger RNA expression and nitric oxide release in macrophage-like RAW 264.7 cells. J Lab Clin Med 2004;143:14–22. doi:10.1016/j.lab.2003.08.002.

23.

Sharma OP. Hypercalcemia in granulomatous disorders: a clinical review. Curr Opin Pulm Med 2000;6:442–7. doi:10.1097/00063198-200009000-00010.

24.

Lechner D, Kallay E, Cross HS. 1Alpha,25-dihydroxyvitamin D3 downregulates CYP27B1 and induces CYP24A1 in colon cells. Mol Cell Endocrinol 2007;263(1–2):55–64. doi:10.1016/j.mce.2006.08.009.

25.

Gombart FA, Borregaard N, Koeffler P. Human cathelicidin antimicrobial peptide (CAMP) gene is a direct target of the vitamin D receptor and is strongly upregulated in myeloid cells by 1,25-dihydroxyvitamin D3. FASEB J 2005;19:1067–77. doi:10.1096/fj.04-3284com.

26.

Decker CJ, Parker R. Diversity of cytoplasmic functions for the 3′ untranslated region of eukaryotic transcripts. Curr Opin Cell Biol 1995;7:386–92. doi:10.1016/0955-0674(95)80094-8.

27.

Morrison NA, Qi JC, Tokita A, Kelly PJ, Crofts L, Nguyen TV, et al. Prediction of bone density from vitamin D receptor alleles. Nature 1994;367:284–7. doi:10.1038/367284a0.

28.

Carling T, Rastad J, Akerstrom G, Westin G. Vitamin D receptor (VDR) and parathyroid hormone messenger ribonucleic acid levels correspond to polymorphic VDR alleles in human parathyroid tumors. J Clin Endocrinol Metab 1998;83:2255–9. doi:10.1210/jc.83.7.2255.

29.

Ogunkolade BW, Boucher BJ, Prahl JM, Bustin SA, Burrin JM, Noonan K, et al. Vitamin D receptor (VDR) mRNA and VDR protein levels in relation to vitamin D status, insulin secretory capacity, and VDR genotype in Bangladeshi Asians. Diabetes 2002;51:2294–300. doi:10.2337/diabetes.51.7.2294.

30.

Yamagata M, Nakajima S, Tokita A, Sakai N, Yanagihara I, Yabuta K, et al. Analysis of the stable levels of messenger RNA derived from different polymorphic alleles in the vitamin D receptor gene. J Bone Miner Metab 1999;17:164–70. doi:10.1007/s007740050080.

31.

Fang Y, van Meurs JB, d'Alesio A, Jhamai M, Zhao H, Rivadeneira F, et al. Promoter and 3′-untranslated-region haplotypes in the vitamin d receptor gene predispose to osteoporotic fracture: the Rotterdam study. Am J Hum Genet 2005;77:807–23. doi:10.1086/497438.
Acknowledgments
We acknowledge the Council of Scientific and Industrial Research, New Delhi for providing senior research fellowship to Mr. S. Prabhu Anand and Indian Council of Medical Research, New Delhi for providing senior research fellowship to Mr. K. Alagarasu. The help rendered by clinician Dr. N. Meenakshi and staffs, namely Mrs. Kasturi Sasikumar and Mrs. Thilagavathi of Government Thiruvotteeswarar hospital of Thoracic medicine (GTHTM) and staffs of Institute of Thoracic medicine (ITM), Chennai for their kind assistance in obtaining the blood samples, is acknowledged.
About this article
Cite this article
Selvaraj, P., Prabhu Anand, S., Harishankar, M. et al. Plasma 1,25 Dihydroxy Vitamin D3 Level and Expression of Vitamin D Receptor and Cathelicidin in Pulmonary Tuberculosis. J Clin Immunol 29, 470–478 (2009). https://doi.org/10.1007/s10875-009-9277-9
Received:

Accepted:

Published:

Issue Date:
Keywords
1,25 Dihydroxy vitamin D3

vitamin D receptor

cathelicidin

tuberculosis