Abstract
Introduction
The clinical associations of NuMA and HsEg5 antibodies, the main anti-mitotic spindle apparatus autoantibodies, remain unclear due to their extremely low prevalence.
Patients and Methods
We have analysed the clinical data of 40 anti-NuMA- (0.87‰) and 7 anti-HsEg5- (0.15‰) positive patients detected during routine immunofluorescence examination of 45,804 sera. NuMA reactivity was further confirmed by immunoblotting.
Results
Antibodies to HsEg5 did not associate with any specific pathology. NuMA positivity associated with a diagnosis of connective tissue disease (CTD) in 18 patients (45%), primary Sjögren or sicca syndrome and undifferentiated connective tissue disease being the most represented. Seven patients (17.5%) were diagnosed with different organ-specific autoimmune diseases, whereas in the other 15 patients (37.5%), no autoimmune pathology could be documented.
Conclusions
Therefore, although both anti-mitotic spindle apparatus antibodies are not associated to a defined autoimmune pathology, the presence of NuMA antibodies, mainly at high titers, may be an indication for a more extensive screening of CTD.
Access options
Buy single article
Instant access to the full article PDF.
USD 39.95
Price includes VAT (USA)
Tax calculation will be finalised during checkout.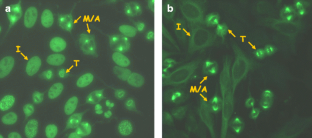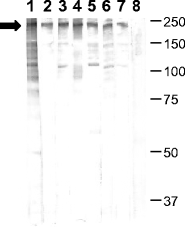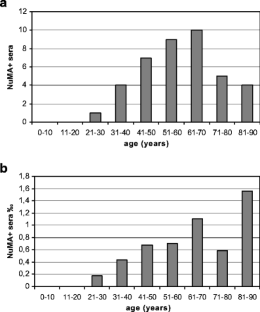 References
1.

Rattner JB, Mack GJ, Fritzler MJ. Autoantibodies to components of the mitotic apparatus. Mol Biol Rep. 1998;25:143–55.

2.

McCarty GA, Valencia DW, Fritzler MJ, Barada FA. A unique antinuclear antibody staining only the mitotic spindle apparatus (letter). New Engl J Med. 1981;305:703.

3.

Andrade LE, Chan EK, Peebles CL, Tan EM. Two major autoantigen–antibody systems of the mitotic spindle apparatus. Arthritis Rheum. 1996;39:1643–53.

4.

Whitehead CM, Winkfein RJ, Fritzler MJ, Rattner JB. The spindle kinesin-like protein HsEg5 is an autoantigen in systemic lupus erythematosus. Arthritis Rheum. 1996;39:1635–42.

5.

Lydersen BK, Pettijohn DE. Human-specific nuclear protein that associates with the polar region of the mitotic apparatus: distribution in a human/hamster hybrid cell. Cell 1980;22:489–99.

6.

Tousson A, Zeng C, Brinkley BR, Valdivia MM. Centrophilin: A novel mitotic spindle protein involved in microtubule nucleation. J Cell Biol. 1991;112:427–40.

7.

Kallajoki M, Weber K, Osborn M. A 210 kDa nuclear matrix protein is a functional part of the mitotic spindle; a microinjection study using SPN monoclonal antibodies. EMBO J. 1991;10:3351–62.

8.

Maekawa T, Leslie R, Kuriyama R. Identification of a minus end-specific microtubule-associated protein located at the mitotic poles in cultured mammalian cells. Eur J Cell Biol. 1991;54:255–67.

9.

Price CM, McCarty GA, Pettijohn DE. NuMA protein is a human autoantigen. Arthritis Rheum. 1984;27:774–9.

10.

Auer-Grumbach P, Achleitner B. Epidemiology and clinical associations of NuMA (nuclear mitotic apparatus protein) autoantibodies. J Rheumatol. 1994;21:1779–81.

11.

Grypiotis P, Ruffatti A, Tonello M, Winzler C, Radu C, Zampieri S, et al. Significato clinico dei quadri fluoroscopici specifici per il fuso mitotico in pazienti affetti da malattie reumatiche. Reumatismo 2002;54:232–7.

12.

Bonaci-Nikolic B, Andrejevic S, Bukilica M, Urosevic I, Nikolic M. Autoantibodies to mitotic apparatus: Association with other autoantibodies and their clinical significance. J Clin Immunol. 2006;26:438–46.

13.

Claus R, Lenschow U, Külz T, Kotitschke A, Meiske D, Thiesen HJ, et al. Congenital heart block associated with a maternal anti-HsEg5-like autoantibody. Rheumatology 2005;44:693–5.

14.

Claus R, Hickstein H, Külz T, Lenschow U, Meiske D, Kotitscke A, et al. Identification and management of fetuses at risk for, or affected by, congenital heart block associated with autoantibodies to SSA (Ro), SSB (La), or an HsEg5-like autoantigen. Rheumatol Int. 2006;26:886–95.

15.

Lind K, Hoier-Madsen M, Wiik A. Autoantibodies to the mitotic spindle apparatus in Mycoplasma pneumoniae disease. Infect Immun. 1988;56:714–5.

16.

Hansen BU, Eriksson S, Lindgren S. High prevalence of autoimmune liver disease in patients with multiple nuclear dot, anti-centromere, and mitotic spindle antibodies. Scand J Gastroenterol. 1991;26:707–13.

17.

Arnett FC, Edworthy SM, Bloch DA, McShane DJ, Fries JF, Cooper NS, et al. The American Rheumatism Association 1987 revised criteria for the classification of rheumatoid arthritis. Arthritis Rheum. 1988;31:315–24.

18.

Lonzetti SL, Joyal F, Raynauld JP, Roussin A, Goulet JR, Rich E, et al. Updating the American College of Rheumatology preliminary classification criteria for systemic sclerosis: addition of severe nailfold capillaroscopy abnormalities markedly increases the sensitivity for limited scleroderma. Arthritis Rheum. 2001;44:735–6.

19.

Hochberg MC. Updating the American College of Rheumatology revised criteria for the classification of systemic lupus erythematosus. Arthritis Rheum. 1997;40:1725.

20.

Vitali C, Bombardieri S, Jonsson R, Moutsopoulos HM, Alexandre EL, Carsons SE, et al. Classification criteria for Sjögren´s syndrome: a revised version of the European criteria proposed by the American–European Consensus Group. Ann Rheum Dis. 2002;61:554–8.

21.

Fries JF, Hunder GG, Bloch DA, Michel BA, Arend WP, Calabrese LH, et al. The American College of Rheumatology 1990 criteria for the classification of vasculitis. Summary. Arthritis Rheum. 1990;33:1135–6.

22.

Jennette JC, Falk RJ, Andrassy K, Bacon PA, Churg J, Gross WL, et al. Nomenclature of systemic vasculitides. Proposal of an international consensus conference. Arthritis Rheum. 1994;37:187–92.
Acknowledgments
This work was supported in part by the Asociación Lúpicos de Asturias (Association of lupus patients of Asturias, Spain).
About this article
Cite this article
Mozo, L., Gutiérrez, C. & Gómez, J. Antibodies to Mitotic Spindle Apparatus: Clinical Significance of NuMA and HsEg5 Autoantibodies. J Clin Immunol 28, 285–290 (2008). https://doi.org/10.1007/s10875-008-9170-y
Received:

Accepted:

Published:

Issue Date:
Keywords
Mitotic spindle apparatus autoantibodies

NuMA protein

HsEg5 protein

connective tissue diseases