The most important mitotic apparatus (MA) antigens are centrosome (CE), nuclear mitotic apparatus (NuMA-1, NuMA-2), midbody, and centromere F (CENP-F). We studied associations of anti-MA antibodies with other autoantibodies and their clinical significance. A total of 6270 patients were studied for the presence of anti-MA antibodies on HEp-2 cells. Sera positive for anti-MA were tested for anti-extractable nuclear antigens (ENA) antibodies. Anti-MA antibodies were detected in 56 (45 females and 11 males) of 6270 sera (0.9%). Of these 56, NuMA-1 was found in 23, NuMA-2 in 7, CE in 20, CENP-F in 5, and CENP-F/centrosome in 1 case. Anti-NuMA-1 were associated with anti-ENA antibodies (p < 0.001). Diagnoses were established in 43/56 patients: 22 connective tissue diseases, 7 infections, 6 autoimmune hepatitis, 3 vasculitis, 3 primary antiphospholipid syndrome, 1 malignancy, and 1 fever of unknown origin. The differential diagnosis of anti-NuMA-1-positive patients must include Sjögren's syndrome, while patients with anti-CE antibodies must be observed for HCV infection.
Access options
Buy single article
Instant access to the full article PDF.
US$ 39.95
Tax calculation will be finalised during checkout.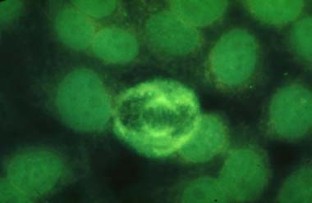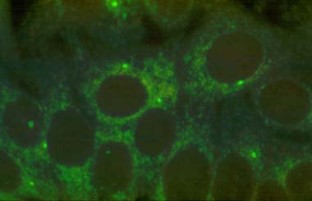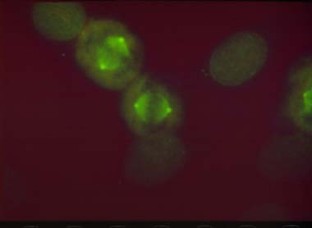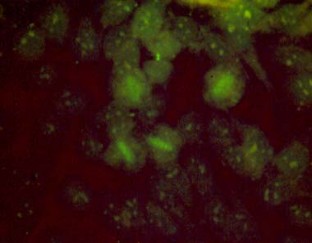 REFERENCES
1

Fritzler MJ, Rattner JB: Autoantibodies to the mitotic apparatus: Biological breakthroughs, clinical application, etiological complexity. In Autoantigens and Autoantibodies: Diagnostic Tools and Clues to Understanding Autoimmunity, K Conrad, RL Humbel, et al. (eds). Berlin, Pabst Science, 2000, pp 58–86

2

Ou Y, Rattner JB: A subset of centrosomal proteins are arranged in a tubular conformation that is reproduced during centrosome duplication. Cell Motil Cytoskeleton 47:13–24, 2000

3

Kisurina-Evgenieva O, Mack G, Du Q, Macara I, Khodjakov A, Compton DA: Multiple mechanisms regulate NuMA dynamics at spindle poles. J Cell Sci 117:6391–6400, 2004

4

Bradwell AR, Hughes RG, Harden EL: Atlas of HE-p 2 Patterns. Birmingham, Drapkins, 2003

5

Casiano CA, Martin SJ, Green DR, Tan EM: Selective cleavage of nuclear autoantigens during CD95 (Fas/APO-1)-mediated T cell apoptosis. J Exp Med 184:765–770, 1996

6

Ramirez-Sandoval R, Sanchez-Rodriguez SH, Herrera-van Oostdam D, Avalos-Diaz E, Herrera-Esparza R: Antinuclear antibodies recognize cellular autoantigens driven by apoptosis. Joint Bone Spine 70:187–194, 2003

7

Casciola-Rosen LA, Anhalt G, Rosen A: Autoantigens targeted in systemic lupus erythematosus are clustered in two populations of surface blebs on apoptotic keratinocytes. J Exp Med 179:1317–1330, 1994

8

Andrade LE, Chan EK, Peebles CL, Tan EM: Two major autoantigen–antibody systems of the mitotic spindle apparatus. Arthritis Rheum 39:1643–1653, 1996

9

Huidbuchel E, Blaschek M, Seigneurin JM, Lamour A, Berthelot JM, Youinou P: Anti-organelle and anti-cytoskeletal autoantibodies in the serum of Epstein-Barr virus-infected patients. Ann Med Intern (Paris) 142:343–346, 1991

10

Abu-Shakra M, Buskila D, Ehrenfeld M, Conrad K, Shoenfeld Y: Cancer and autoimmunity: autoimmune and rheumatic features in patients with malignancies. Ann Rheum Dis 60:433–441, 2001

11

Hochberg MC: Updating the American College of Rheumatology revised criteria for the classification of systemic lupus erythematosus. Arthritis Rheum 40:1725, 1997

12

Sharp GC: Diagnostic criteria for classification of MCTD. In Mixed Connective Tissue Diseases and Antinuclear Antibodies, R Kasukawa, GC Sharp (eds). Amsterdam, Elsevier, 1987, pp 23–32

13

Anonymous: Preliminary criteria for the classification of systemic sclerosis (scleroderma). Subcommittee for scleroderma criteria of the American Rheumatism Association diagnostic and therapeutic criteria committee. Arthritis Rheum 23:581–590, 1980

14

Vitali C, Bombardieri S, Jonsson R, Moutsopoulos HM, Alexander EL, Carsons SE, Daniels TE, Fox PC, Fox RI, Kassan SS, Pillemer SR, Talal N, Weisman MH: European Study Group on Classification Criteria for Sjogren's Syndrome. Classification criteria for Sjogren's syndrome: A revised version of the European criteria proposed by the American-European Consensus Group. Ann Rheum Dis 61:554–558, 2002

15

Bohan A, Peter JB: Polymyositis and dermatomyositis. N Engl J Med 292:344–347, 1975

16

Mosca M, Neri R, Stringini F, Carmignani A, Totti D, Tavoni A, Bombardieri S: Pregnancy outcome in patients with undifferentiated connective tissue disease: A preliminary study on 25 pregnancies. Lupus 11:304–307, 2002

17

Wilson WA, Gharavi AE, Koike T, Lockshin MD, Branch DW, Piette JC, Brey R, Derksen R, Harris EN, Hughes GR, Triplett DA, Khamashta MA: International consensus statement on preliminary classification for definite antiphospholipid syndrome. Arthritis Rheum 42:1309–1311, 1999

18

Alvarez F, Berg PA, Bianchi FB, Bianchi L, Burroughs AK, Cancado EL, et al.: International autoimmune hepatitis group report: Review of criteria for diagnosis of autoimmune hepatitis. J Hepatol 31:929–938, 1999

19

Jennette JC, Falk RJ: Small-vessels vasculitis. N Engl J Med 20:1512–1523, 1997

20

Radice A, Vecchi M, Bianchi MB, Sinico RA: Contribution of immunoflorescence to the identification and characterization of anti-neutrophil cytoplasmic autoantibodies. The role of different fixatives. Clin Exp Rheum 18:707–1712, 2000

21

Auer-Grumbach P, Achleitner B: Epidemiology and clinical associations of NuMA (Nuclear Mitotic Apparatus Protein) autoantibodies. J Rheumatol 21:1779–1781, 1994

22

Fritzler MJ, Pauls JD, Kinsella TD, Bowen TJ: Antinuclear, anticytoplasmic and anti Sjogren syndrome antigen A (SS-A/Ro) antibodies in female blood donors. Clin Immunol Immunopathol 36:120–128, 1985

23

Taimen P, Viljamaa M, Kallajoki M: Preferential expression of NuMA in the nuclei of proliferating cells. Exp Cell Res 256:140–149, 2000

24

Kammerer S, Roth RB, Hoyal CR, Reneland R, Marnellos G, Kiechle M, et al.: Association of the NuMA region on chromosome 11q13 with breast cancer susceptibility. Proc Natl Acad Sci USA 102:2004–2009, 2005

25

Yang CH, Lambie EJ, Snyder M: NuMA: An unusually long coiled-coil related protein in the mammalian nucleus. J Cell Biol 116:1303–1317, 1992

26

Whitehead CM, Winkfein RJ, Fritzler MJ, Rattner JB: The spindle kinesin-like protein HsEg5 is an autoantigen in systemic lupus erythematosus. Arthritis Rheum 39:1635–1642, 1996

27

Rattner JB, Martin L, Waisman DM, Johnstone SA, Fritzler MJ: Autoantibodies to the centrosome (centrosome) react with determinants present in the glycolytic enzyme enolase. J Immunol 146:2341–2344, 1991

28

Liao H, Winkfein RJ, Mack G, Rattner JB, Yen TJ: CENP-F is a protein of the nuclear matrix that assembles onto kinetochores at late G2 and is rapidly degraded after mitosis. J Cell Biol 130:507–518, 1995

29

Casiano CA, Landberg G, Ochs RL, Tan EM: Autoantibodies to a novel cell cycle-regulated protein that accumulates in the nuclear matrix during S phase and is localized in the kinetochores and spindle midzone during mitosis. J Cell Sci 106:1045–1056, 1993

30

Hansen BU, Eriksson S, Lindgren S: High prevalence of autoimmune liver disease in patients with multiple nuclear dot, anti-centromere, and mitotic spindle antibodies. Scand J Gastroenterol 26:707–713, 1991

31

Grypiotis P, Ruffatti A, Tonello M, Winzler C, Radu C, Zampieri S, et al.: Clinical significance of fluoroscopic patterns specific for the mitotic spindle in patients with rheumatic diseases. Reumatismo 54:232–237, 2002

32

McCarty GA, Valencia DW, Fritzler MJ: Antibody to the mitotic spindle apparatus: immunologic characteristics and cytologic studies. J Rheumatol 11:213–218, 1984

33

Hassfeld W, Chan EK, Mathison DA, Portman D, Dreyfuss G, Steiner G, Tan EM: Molecular definition of heterogeneous nuclear ribonucleoprotein R (hnRNP R) using autoimmune antibody: Immunological relationship with hnRNP P. Nucleic Acids Res 26:439–445, 1998

34

Zeng C, He D, Berget SM, Brinkley BR: Nuclear-mitotic apparatus protein: A structural protein interface between the mucleoskeleton and RNA splicing. Proc Natl Acad Sci USA 91:1505–1509, 1994

35

Hsu HL, Yeh NH: Dynamic changes of NuMA during the cell cycle and possible appearance of a truncated form of NuMA during apoptosis. J Cell Sci 109:277–288, 1996

36

Price CM, McCarty GA, Pettijohn DE: NuMA protein is a human autoantigen. Arthritis Rheum 27:774–779, 1984

37

Sato S, Fujimoto M, Ihn H, Takehara K: Antibodies to centromere and centrosome in scleroderma spectrum disorders. Dermatology 89:23–26, 1994

38

Fritzler MJ, Manns MP: Anti-mitochondrial antibodies. Clin Appl Immunol Rev 3:87–113, 2002

39

Ramos-Casals M, Jara LJ, Medina F, Rosas J, Calvo-Alen, Mana J, et al.: Systemic autoimmune diseases co-existing with chronic hepatitis C virus infection (the Hispamec Registry): Patterns of clinical and immunological expression in 180 cases. J Intern Med 57:549–557, 2005

40

Gentric A, Blaschek M, Julien C, Jouquan J, Pennec Y, Berthelot JM, et al.: Nonorgan-specific autoantibodies in individuals infected with type 1 human immunodeficiency virus. Clin Immunol Immunopathol 59:487–494, 1991

41

Bencimon C, Salles G, Moreira A, Guyomard S, Coiffier B, Bienvenu J, Fabien N: Prevalence of anticentromere F protein autoantibodies in 347 patients with non-Hodgkin's lymphoma. Ann NY Acad Sci 1050:319–326, 2005

42

Zhang JY, Zhu W, Imai H, Kiyosawa K, Chan EK, Tan EM: De-novo humoral immune responses to cancer-associated autoantigens during transition from chronic liver disease to hepatocellular carcinoma. Clin Exp Immunol 125:3–9, 2001

43

Rattner JB, Rees J, Whitehead CM, Casiano CA, Tan EM, Humbel RL, et al.: High frequency of neoplasia in patients with autoantibodies to centromere protein CENP-F. Clin Invest Med 20:308–319, 1997
ACKNOWLEDGMENTS
This study was supported in part by Ministry of Science of the Republic of Serbia, Grant No. 145032 Dj.
About this article
Cite this article
BONACI-NIKOLIC, B., ANDREJEVIC, S., BUKILICA, M. et al. Autoantibodies to Mitotic Apparatus: Association with Other Autoantibodies and Their Clinical Significance. J Clin Immunol 26, 438–446 (2006). https://doi.org/10.1007/s10875-006-9038-y
Received:

Accepted:

Published:

Issue Date:
KEY WORDS:
Mitotic apparatus

NuMA

ENA

HCV

Sjögren's syndrome