Abstract
The Kuroshio takes a large meander (LM) path since summer of 2017 for the first time since the 2004–2005 event and is the sixth LM event since 1965. It has been commonly recognized that a cool water pool is distributed broadly in the inshore region between the Kuroshio and southern coast of the Tokai district, Japan, during the LM periods. By using the recently-developed 1-km high-resolution sea surface temperature data, here we show marked coastal warming off the Tokai district during the LM periods, despite the Kuroshio not passing through the coastal area. The archived temperature-salinity profiles reveal that large positive anomalies off the Tokai district exist not only at the sea surface but also below 300 m and the water properties of which are those of the offshore Kuroshio water. The warm, salty waters are transported inshore by the westward Kuroshio which bifurcates at around 138° E, 34° N, during the LM path periods. We detect an increased upward heat release via turbulent heat fluxes along the coastal warming region from the new-generation atmosphere reanalysis data on a 25 km grid. These are common features to the past LMs and, furthermore, the region around the Kanto-Tokai districts becomes warmer than usual in warm seasons during the LM events. Our result reveals that the LM event can exert an influence upon the Japanese climate via the coastal air-sea interaction.
This is a preview of subscription content,
to check access.
Access this article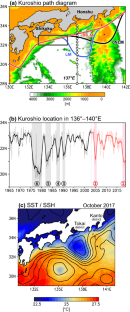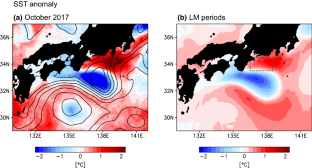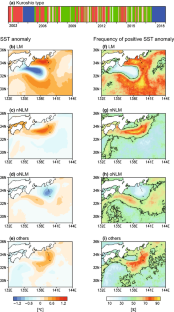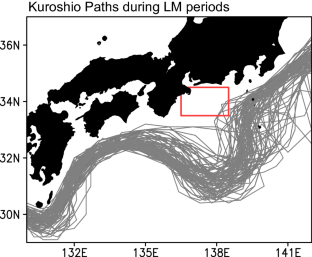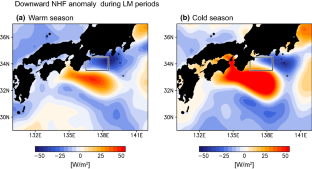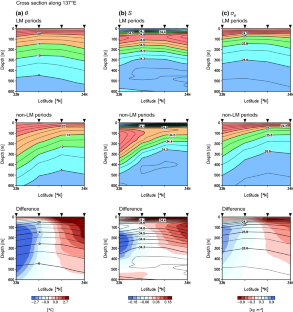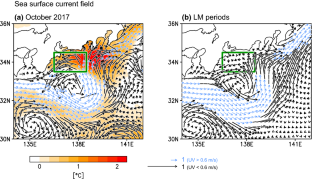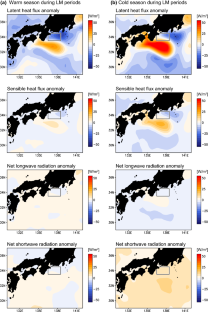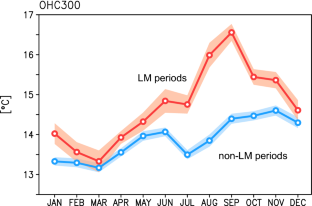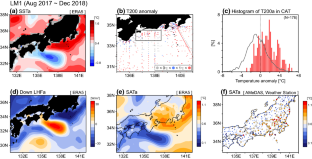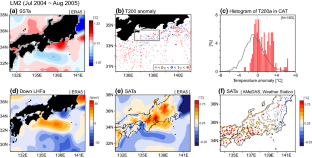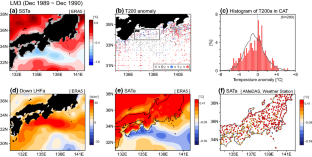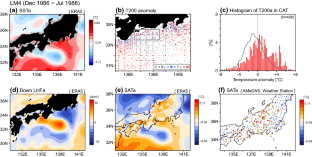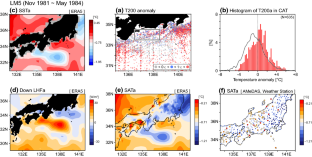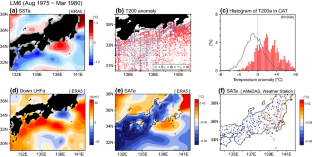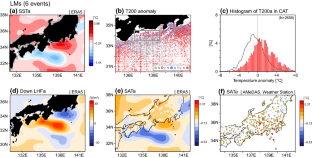 Similar content being viewed by others
References
Akima H (1970) A new method of interpolation and smooth curve fitting based on local procedures. J Assoc Comput Mach 17:589–602

Argo Science Team (2001) Argo: the global array of profiling floats. In: Koblinsky CJ, Smith NR (eds) Observing the oceans in the 21st century. GODAE Proj Off Bur of Meteorol Press, Melbourne, pp 248–258

Boyer TP et al (2018): World Ocean Database 2018. NOAA Atlas NESDIS 87, 207 pp. https://data.nodc.noaa.gov/woa/WOD/DOC/wod_intro.pdf

Chin TM, Vazquez J, Armstrong E (2013) A multi-scale, high-resolution analysis of global sea surface temperature. Algor Theor Basis Doc Vers 1 200:13

Copernicus Climate Change Service (C3S) (2017) ERA5: Fifth generation of ECMWF atmospheric reanalyses of the global climate, Copernicus Climate Change Service Climate Data Store (CDS). https://cds.climate.copernicus.eu/cdsapp#!/home. Accessed 25 Mar 2019

Donlon CJ, Martin M, Stark J, Roberts-Jones J, Fiedler E, Wimmer W (2012) The operational sea surface temperature and sea ice analysis (OSTIA) system. Remote Sens Environ 116:140–158

Fu LL, Ferrari R (2008) Observing oceanic submesoscale processes from space. Eos Trans AGU 89:488–488

Gentemann CL, Fewings MR, García-Reyes M (2017) Satellite sea surface temperatures along the West Coast of the United States during the 2014–2016 northeast Pacific marine heat wave. Geophys Res Lett 44:312–319

Hayasaki M, Kawamura R, Mori M, Watanabe M (2013) Response of extratropical cyclone activity to the Kuroshio large meander in northern winter. Geophys Res Lett 40:2851–2855

Imada Y, Watanabe M, Kawase H, Shiogama H, Arai M (2019) The July 2018 high temperature event in Japan could not have happened without human-induced global warming. SOLA 15A:8–12

Kasai A, Kimura S, Sugimoto T (1993) Warm water intrusion from the Kuroshio into the coastal areas south of Japan. J Oceanogr 49:607–624

Kawabe M (1995) Variations of current path, velocity, and volume transport of the Kuroshio in relation with the large meander. J Phys Oceanogr 25:3103–3117

Kawai H (1972) Hydrography of the Kuroshio extension. In: Stommel H, Yoshida K (eds) Kuroshio: its physical Aspects. University of Tokyo, Tokyo, pp 235–352

Kuwano-Yoshida A, Minobe S (2017) Storm-track response to SST fronts in the Northwestern Pacific region in an AGCM. J Clim 30:1081–1102

Ma X, Chang P, Saravanan R, Montuoro R (2015) Distant influence of Kuroshio eddies on North Pacific weather patterns? Sci Rep 5:17785. https://doi.org/10.1038/srep17785

Ma X, Chang P, Saravanan R, Montuoro R, Nakamura H, Wu D (2017) Importance of resolving Kuroshio front and eddy influence in simulating the North Pacific storm track. J Clim 30:1861–1880

Masunaga R, Nakamura H, Miyasaka T, Nishii K, Qiu B (2016) Interannual modulations of oceanic imprints on the wintertime atmospheric boundary layer under the changing dynamical regimes of the Kuroshio Extension. J Clim 29:3273–3296

Maximenko N (2002) Index and composites of the Kuroshio meander south of Japan. J Oceanogr 58:639–649

Miyama T, Nonaka M, Nakamura H, Kuwano-Yoshida A (2012) A striking early-summer event of a convective rainband persistent along the warm Kuroshio in the East China Sea. Tellus A. https://doi.org/10.3402/tellusa.v64i0.18962

Murazaki K, Tsujino H, Motoi T, Kurihara K (2015) Influence of the Kuroshio Large Meander on the climate around Japan based on a regional climate model. J Meteorol Soc Jpn 93:161–179

Nakamura H, Nishina A, Minobe S (2012) Response of storm tracks to bimodal Kuroshio path states south of Japan. J Clim 25:7772–7779

Nakata H, Funakoshi S, Nakamura M (2000) Alternating dominance of postlarval sardine and anchovy caught by coastal fishery in relation to the Kuroshio meander in the Enshu-nada Sea. Fish Oceanogr 9:248–258

Nonaka M, Xie SP (2003) Covariations of sea surface temperature and wind over the Kuroshio and its extension: evidence for ocean-to-atmosphere feedback. J Clim 16:1404–1413

NRIFS (2005). Anomalous phenomena of fishing sea conditions related to the Kuroshio large meander (Central block). National Research Institute of Fisheries Science (NRIFS) website. https://nrifs.fra.affrc.go.jp/ResearchCenter/3_FOME/kuroshio/index.html. Accessed May 2005 (in Japanese)

Oka E, Talley LD, Suga T (2007) Temporal variability of winter mixed layer in the mid- to high-latitude North Pacific. J Oceanogr 63:293–307

Okada M (1977) Cold water mass off the Enshunada and mean sea level along the south coast of Japan. Kaiyo-kagaku 9:264–269 (in Japanese)

Qiu B, Chen S, Hacker P (2004) Synoptic-scale air-sea flux forcing in the western North Pacific: Observations and their impact on SST and the mixed layer. J Phys Oceanogr 34:2148–2159

Sasaki YN, Yamada Y (2018) Atmospheric response to interannual variability of sea surface temperature front in the East China Sea in early summer. Clim Dyn 51:2509–2522

Sasaki YN, Minobe S, Asai T, Inatsu M (2012) Influence of the Kuroshio in the East China Sea on the early summer (Baiu) rain. J Clim 25:6627–6645

Sekine Y, Ishii H, Toba Y (1985) Spin-up and spin-down processes of the large cold water mass of the Kuroshio south of Japan. J Oceanogr Soc Jpn 41:207–212

Sugimoto S (2014) Influence of SST anomalies on winter turbulent heat fluxes in the eastern Kuroshio-Oyashio confluence region. J Clim 27:9349–9358

Sugimoto S, Hanawa K (2011) Roles of SST anomalies on the wintertime turbulent heat fluxes in the Kuroshio-Oyashio confluence region: influences of warm eddies detached from the Kuroshio extension. J Clim 24:6551–6561

Sugimoto S, Aono K, Fukui S (2017a) Local atmospheric response to warm mesoscale ocean eddies in the Kuroshio-Oyashio Confluence region. Sci Rep 7:11871. https://doi.org/10.1038/s41598-017-12206-9

Sugimoto S, Hanawa K, Watanabe T, Suga T, Xie SP (2017b) Enhanced warming of the subtropical mode water in the North Pacific and North Atlantic. Nature Climate Change 7:656–658

Tachibana Y, Iwamoto T, Ogi M, Watanabe Y (2004) Abnormal meridional temperature gradient and its relation to the Okhotsk high. J Meteorol Soc Jpn 82:1399–1415

Tanimoto Y, Kanenari T, Tokinaga H, Xie SP (2011) Sea level pressure minimum along the Kuroshio and its extension. J Clim 24:4419–4434

Titchner HA, Rayner NA (2014) The Met Office Hadley Centre sea ice and sea surface temperature data set, version 2: 1. Sea ice concentrations. J Geophys Res Atmos 119:2864–2889

Usui N, Ishizaki S, Fujii Y, Tsujino H, Yasuda T, Kamachi M (2006) Meteorological Research Institute multivariate ocean variational estimation (MOVE) system: some early results. Adv Space Res 37:806–822

Vazquez-Cuervo J, Dewitte B, Chin TM, Armstrong EM, Purca S, Alburqueque E (2013) An analysis of SST gradients off the Peruvian Coast: the impact of going to higher resolution. Remote Sens Environ 131:76–84

Wakabayashi S, Kawamura R (2004) Extraction of major teleconnection pattern possibly associated with the anomalous summer climate in Japan. J Meteorol Soc Jpn 82:1577–1588

Xu H, Tokinaga H, Xie SP (2010) Atmospheric effects of the Kuroshio large meander during 2004–05. J Clim 23:4704–4715
Acknowledgements
The authors thank Dr. Eitarou Oka and Dr. Niklas Schneider for valuable comments. The first author (SS) is supported by JSPS KAKENHI Grant numbers JP 18K03737 and 19H05704 and by the Japan Fisheries Research and Education Agency.
About this article
Cite this article
Sugimoto, S., Qiu, B. & Kojima, A. Marked coastal warming off Tokai attributable to Kuroshio large meander. J Oceanogr 76, 141–154 (2020). https://doi.org/10.1007/s10872-019-00531-8
Received:

Revised:

Accepted:

Published:

Issue Date:

DOI: https://doi.org/10.1007/s10872-019-00531-8
Keywords