Abstract
As elsewhere in Indonesia, local inhabitants in the Pangkajene and Kepulauan (PANGKEP) Regency, Spermonde Archipelago area and along the south-west coast of Sulawesi traditionally regard the coral reefs as their livelihood source. Since human activities as well as natural disturbances pose major threats to the coral reefs, these livelihoods may also be at risk. Currently, no comprehensive information on the status and condition of coral reefs in this area is available for this resource management. We determined the changes of coral reef habitat over a period of 20 years from 1994 to 2014 using a satellite Landsat multi-temporal image substantiated with in situ measurement data collected in 2014. The spectral value of coral reefs was extracted from multi-temporal Landsat imagery data, while the diffuse attenuation coefficient of water was obtained by using statistical analysis between the ratio of live coral cover and the spectral value of the visible bands. By using the unsupervised classification integrated with the data ground truth, it is stated that there has been a decline in live coral cover over a period of 20 years from 7716 ha in 1994 to 4236 ha in 2014, with a degradation rate of 174 ha/year. Based on the results, the ratio of the coral cover in the coral reef transects varied from the average of 24% for live corals to 96% for coral rubbles, implying the degraded status of coral reefs in the study area.
This is a preview of subscription content,
to check access.
Access this article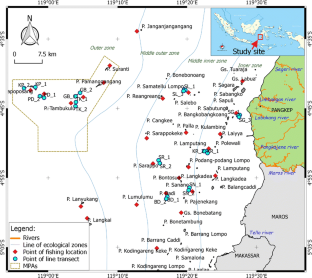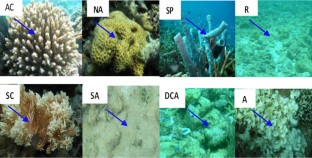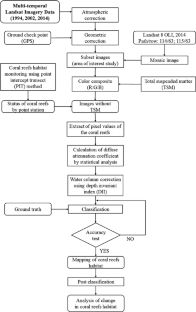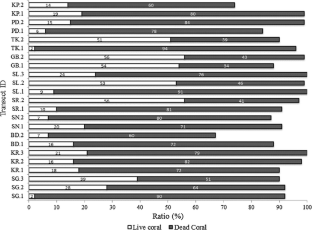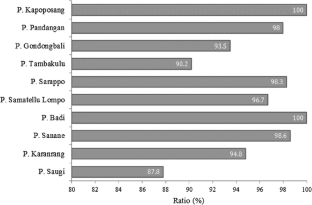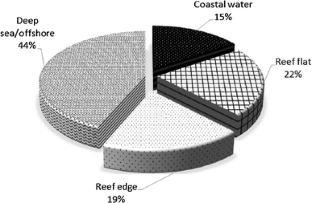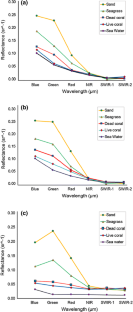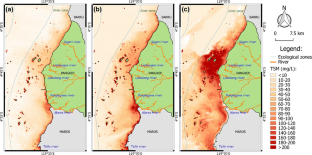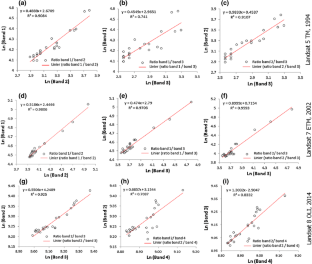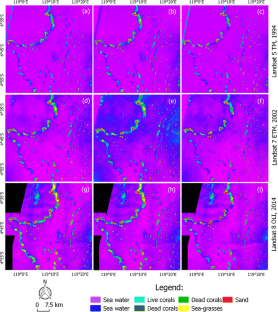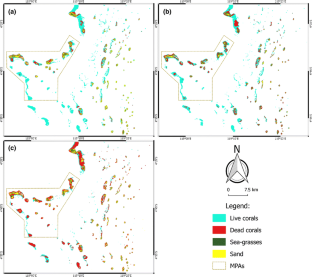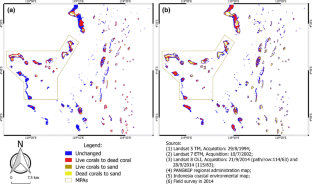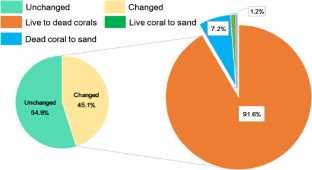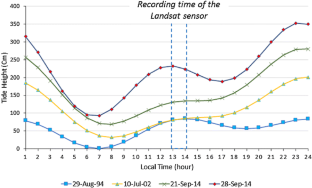 Similar content being viewed by others
References
Baboo SS, Devi MR (2011) Geometric correction in recent high resolution satellite imagery: a case study in Coimbatore, Tamil Nadu. Int J Comput Appl 14:32–37

Boschetti L, Flasse SP, Brivio PA (2004) Analysis of the conflict between omission and commission in low spatial resolution dichotomic thematic products: the Pareto Boundary. Remote Sens Environ 91:280–292

Bruno JF, Selig ER (2007) regional decline of coral cover in the Indo-Pacific: timing, extent, and sub regional comparisons. PLoS One 2:e711

Burke L, Reytar K, Spalding M, Perry A (2011) Reefs at risk revisited. World resources Institute, Washington DC, p 130

Call KA, Hardy JT, Wallin DO (2003) Coral reef habitat discrimination using multivariate spectral analysis and satellite remote sensing. Int J Remote Sens 24:2627–2639

Campbell J (1987) Introduction to remote sensing. Guilford Press, New York, p 551

Chavez PS (1996) Image-based atmospheric corrections-revisited and improved. Photogram Eng Remote Sens 62:1025–1035

Che N, Price J (1992) Survey of radiometric calibration results and methods for visible and near infrared channels of NOAA-7,-9, and-11 AVHRRs. Remote Sens Environ 41:19–27

Congalton RG, Green K (2008) Assessing the accuracy of remotely sensed data: principles and practices. CRC Press, Taylor & Francis Group, New York, p 210

Congedo L, Macchi S (2013) Investigating the relationship between land cover and vulnerability to climate change in Dar Es Salaam. Working Paper, p 58

Davies-Colley R, Smith D (2001) Turbidity, suspended sediment and water quality: a review. J Am Water Works Assoc 37:1085–1101

DFW-Indonesia (2003) Profile of destructive fishing in Spermonde Islands. http://dfw.or.id/wp-content/uploads/2011/publikasi/DF_REPORT_SPERMONDE.pdf. Accessed 2 May 2014 (in Bahasa)

Edinger EN, Jompa J, Limmon GV, Widjatmoko W, Risk MJ (1998) Reef degradation and coral biodiversity in Indonesia: effects of land-based pollution, destructive fishing practices and changes over time. Mar Pollut Bull 36:617–630

El-Askary H, Abd El-Mawla S, Li J, El-Hattab M, El-Raey M (2014) Change detection of coral reef habitat using Landsat-5 TM, Landsat 7 ETM+, and Landsat 8 OLI data in the Red Sea (Hurghada, Egypt). Int J Remote Sens 35:2327–2346

ERDAS (2008) ER Mapper User's Guide. ERDAS Inc., United State of America, p 278

Erftemeijer PL, Riegl B, Hoeksema BW, Todd PA (2012) Environmental impacts of dredging and other sediment disturbances on corals: a review. Mar Pollut Bull 64:1737–1765

Falkowski PG, Jokiel PL, Kinzie RA (1990) Irradiance and corals. In: Dubinsky Z (ed) Ecosystems of the World 25: coral reefs. Elsevier, Amsterdam, pp 89–107

Fleiss JL, Cohen J, Everitt BS (1969) Large sample standard errors of kappa and weighted kappa. Psychol Bull 72:323–327. doi:10.1037/h0028106

Gomez E, Yap HT (1988) Monitoring reef condition. In: Kenchington RA, Hudson BET (eds) Coral reef management handbook. UNESCO Regional Office for Science and Technology for Southeast Asia (ROSTSEA), Jakarta, pp 171–178

Gomez ED, Alino PM, Yap HT, Licuanan WY (1994) A review of the status of Philippine reefs. Mar Pollut Bull 29:62–68

Goodman JA, Purkis SJ, Phinn SR (2013) Coral reef remote sensing: a guide for mapping, monitoring and management. Springer Science and Business Media, USA, p 446

Green EP, Mumby PJ, Edwards AJ, Clark CD (2000) Remote sensing handbook for tropical coastal management. UNESCO Publishing, Paris, p 328

Hadjimitsis DG, Papadavid G, Agapiou A, Themistocleous K, Hadjimitsis MG, Retalis A, Michaelides S, Chrysoulakis N, Toulios L, Clayton CR (2010) Atmospheric correction for satellite remotely sensed data intended for agricultural applications: impact on vegetation indices. Nat Hazards Earth Syst Sci 10:89–95

Hedley JD, Roelfsema CM, Chollett I, Harborne AR, Heron SF, Weeks S, Skirving WJ, Strong AE, Eakin CM, Christensen TR, Ticzon V (2016) Remote sensing of coral reefs for monitoring and management: a review. Remote Sens 8(118):1–40

Hein MY, Lamb JB, Scott C, Willis BL (2015) Assessing baseline levels of coral health in a newly established marine protected area in a global scuba diving hotspot. Mar Environ Res 103:56–65

Hill J, Wilkinson C (2004) Methods for ecological monitoring of coral reefs. Townsville, Aust Inst Mar Sci, p 117

Hodgson G (1999) A global assessment of human effects on coral reefs. Mar Pollut Bull 38:345–355

Hoeksema BW (2012) Distribution patterns of mushroom corals (Scleractinia: Fungiidae) across the Spermonde Shelf, South Sulawesi. Raffles Bull Zool 60:183–212

Hourigan TF, Tricas TC, Reese ES (1988) Coral reef fishes as indicators of environmental stress in coral reefs. Mar Org Indic 1988:107–135

Ishizaka J, Fukushima H, Kishino M, Saino T, Takahashi M (1992) Phytoplankton pigment distribution in regional upwelling around the Izu Peninsula detected by coastal zone color scanner on May 1982. J Oceanogr 48:305–327

Jameson SC, Ammar M, Saadalla E, Mostafa HM, Riegl B (1999) A coral damage index and its application to diving sites in the Egyptian Red Sea. Coral Reefs 18:333–339

Jones GP, McCormick MI, Srinivasan M, Eagle JV (2004) Coral decline threatens fish biodiversity in marine reserves. Proc Natl Acad Sci USA 101:8251–8253

Jones R, Bessell-Browne P, Fisher R, Klonowski W, Slivkoff M (2016) Assessing the impacts of sediments from dredging on corals. Mar Pollut Bull 102:9–29

Jupiter S, Roelfsema CM, Phinn SR (2013) Science and Management. In: Goodman JA, Purkis SJ, Phinn SR (eds) Coral reef remote sensing. A guide for mapping, monitoring and management. Springer, London, pp 403–427

Komyakova V, Munday PL, Jones GP (2013) Relative importance of coral cover, habitat complexity and diversity in determining the structure of reef fish communities. PLoS One 8:1–12

Kordi MN, O'Leary M (2016) A spatial approach to improve coastal bioregion management of the north Western Australia. Ocean Coast Manag 127:26–42

Krejcie RV, Morgan DW (1970) Table for determining sample size from a given population. Educ Psychol Measur 30:607–610

Lillesand T, Kiefer RW, Chipman J (2004) Remote sensing and image interpretation. Wiley, New York, p 812

Lillesand T, Kiefer RW, Chipman J (2014) Remote sensing and image interpretation. Wiley, New York, p 146

Lubin D, Li W, Dustan P, Mazel CH, Stamnes K (2001) Spectral signatures of coral reefs: features from space. Remote Sens Environ 75:127–137

Luczkovich JJ, Wagner TW, Michalek JL, Stoffle RW (1993) Discrimination of coral reefs, seagrass meadows, and sand bottom types from space: a Dominician Republic Case Study. Photogram Eng Remote Sens 59:385–389

Lyzenga DR (1978) Passive remote sensing techniques for mapping water depth and bottom features. Appl Opt 17:379–383

Lyzenga DR (1981) Remote sensing of bottom reflectance and water attenuation parameters in shallow water using aircraft and Landsat data. Int J Remote Sens 2:71–82

McManus JW (1997) Tropical marine fisheries and the future of coral reefs: a brief review with emphasis on Southeast Asia. Coral Reefs 16:121–127

Mumby PJ (2001) Beta and habitat diversity in marine systems: a new approach to measurement, scaling and interpretation. Oecologia 128:274–280

Mumby PJ, Harborne AR (1999) Development of a systematic classification scheme of marine habitats to facilitate regional management and mapping of Caribbean coral reefs. Biol Cons 88:155–163

Mumby PJ, Steneck RS (2008) Coral reef management and conservation in light of rapidly evolving ecological paradigms. Trends Ecol Evol 23:555–563

Mumby P, Green E, Edwards A, Clark C (1999) The cost-effectiveness of remote sensing for tropical coastal resources assessment and management. J Environ Manag 55:157–166

Mumby PJ, Hedley J, Chisholm JRM, Clark CD, Ripley H, Jaubert J (2004) The cover of living and dead corals from airborne remote sensing. Coral Reefs 23:171–183

NAO 99b Tidal Prediction System. http://www.miz.nao.ac.jp/staffs/nao99/index_En.html. Accessed 10 Oct 2016

NASA (2009) Millennium Reef Maps Metadata Updated 11 March 2009 For Landsat images. http://oceancolor.gsfc.nasa.gov/LANDSAT/HTML/README.html. Accessed 1 Sept 2014

Nurdin N, Prasyad H (2013) Dinamika Spasial Terumbu Karang pada Perairan Dangkal Menggunakan Citra Landsat Di Pulau Langkai, Kepulauan Spermonde. Jurnal Ilmiah Geomatika 19:83–89 (in Bahasa with English abstract)

Nurdin N, Komatsu T, Djalil AR, Amri K (2015) Multisensor and multitemporal data from Landsat images to detect damage to coral reefs, small islands in the Spermonde archipelago, Indonesia. Ocean Sci J 50:317–325

Palandro DA, Andréfouët S, Hu C, Hallock P, Müller-Karger FE, Dustan P, Callahan MK, Kranenburg C, Beaver CR (2008) Quantification of two decades of shallow-water coral reef habitat decline in the Florida Keys National Marine Sanctuary using Landsat data (1984–2002). Remote Sens Environ 112:3388–3399

Parwati E, Kartasasmita M, Soewardi K, Kusumastanto T, Nurjaya IW (2013) The relationship between total suspended solid (TSS) and coral reef growth (case study of Derawan Island, Delta Berau Waters). Int J Remote Sens Earth Sci (IJReSES) 10:104–113

Pet-Soede C (2000) Options for co-management of an Indonesian coastal fishery. Dissertation, Wegenigen University. http://library.wur.nl/WebQuery/wurpubs/fulltext/121232

Purkis SJ, Pasterkamp R (2004) Integrating in situ reef-top reflectance spectra with Landsat TM imagery to aid shallow-tropical benthic habitat mapping. Coral Reefs 23:5–20

Research Center for Oceanography, Indonesian Institute of Sciences (2014) Handbook of shallow water habitats mapping. http://www.coremap.or.id/downloads/gis_1435730309.pdf. Accessed 30 Sept 2016 (in Bahasa)

Roelfsema C, Phinn S, Dennison W (2002) Spatial distribution of benthic microalgae on coral reefs determined by remote sensing. Coral Reefs 21:264–274

Scopélitis J, Andréfouët S, Phinn S, Chabanet P, Naim O, Tourrand C, Done T (2009) Changes of coral communities over 35 years: integrating in situ and remote-sensing data on Saint-Leu Reef (la Réunion, Indian Ocean). Estuar Coast Shelf Sci 84:342–352

Statistics Indonesia of Pangkajene and Kepulauan Regency (2015) https://pangkepkab.bps.go.id. Accessed 20 Dec 2016

US Geological Survey-USGS (2014) Data sets. https://earthexplorer.usgs.gov/. Accessed on 20 Dec 2014

Suwargana N (2014) Analysis of Alos AVNIR-2 imagery for coral reefs mapping (a case study: Banyuputih, Situbondo). In: Proceedings of the national seminar on remote sensing, Indonesian National Institute of Aeronautics and Space (LAPAN). http://sinasinderaja.lapan.go.id/wp-content/uploads/2014/06/bukuprosiding_588-596.pdf. Accessed 10 Oct 2014 (in Bahasa with English abstract)

Wahiddin N, Siregar VP, Nababan B, Jaya I, Wouthuyzen S (2015) Change detection of coral reef habitat using Landsat imagery in Morotai Island North Maluku Province. Jurnal Ilmu dan Teknologi Kelautan Tropis 6:507–524 (in Bahasa with English abstract)

Weinberg S (1976) Submarine daylight and ecology. Mar Biol 37:291–304

Wilkinson C (2008) Status of Coral Reefs of the World: 2008 Global Coral Reef Monitoring Network and Reef and Rainforest Research Center. Australia, Townsville, p 296

World Bank (2015) World Bank Supports Indonesia's Coral Reefs and Coastal Communities. http://www.worldbank.org/en/news/press-release/2014/02/21/world-bank-indonesia-coral-reefs-coastal-communities. Accessed 15 July 2015

World wild fund-WWF (2016) Coral Triangle. http://www.worldwildlife.org/places/coral-triangle. Accessed 20 Dec 2016

Zheng Z, Li Y, Guo Y, Xu Y, Liu G, Du C (2015) Landsat-based long-term monitoring of total suspended matter concentration pattern change in the wet season for Dongting Lake, China. Remote Sens 7:13975–13999
Acknowledgements
The lead author is grateful to the Indonesia Endowment Fund for Education Scholarship (LPDP), Ministry of Finance of Indonesia for funding of this research. This study was conducted under the framework of the Precise Impact Assessments on Climate Change of the Program for Risk Information on Climate Change (SOUSEI Program) supported by the Ministry of Education, Culture, Sports, Science, and Technology in Japan (MEXT).
Author contributions
La Ode Muhammad Yasir Haya was the primary analyst, author, and corresponding author for this work. Masahiko Fujii contributed as a supervisor and in revision of the paper.
Ethics declarations
Conflict of interest
The authors declare no conflict of interest.
About this article
Cite this article
Yasir Haya, L.O.M., Fujii, M. Mapping the change of coral reefs using remote sensing and in situ measurements: a case study in Pangkajene and Kepulauan Regency, Spermonde Archipelago, Indonesia. J Oceanogr 73, 623–645 (2017). https://doi.org/10.1007/s10872-017-0422-4
Received:

Revised:

Accepted:

Published:

Issue Date:

DOI: https://doi.org/10.1007/s10872-017-0422-4
Keywords