Abstract
Mooring and hydrographic observations were conducted from September 2012 to May 2014 at the mouth of Otsuchi Bay, a ria along the Pacific coast of Japan. Our observations quantitatively demonstrated that the circulation and the water properties of Otsuchi Bay are strongly influenced by the Tsugaru Warm Current (TWC) and Oyashio Current (OY) at seasonal and subseasonal time scales. Two bottom-mounted velocity profilers and temperature and salinity measurements beneath the near-surface halocline showed a counterclockwise lateral circulation pattern related to the TWC, which was enhanced from summer to autumn. From winter to early spring, the lateral circulation patterns related to the TWC weakened and the influence of the OY occasionally increased. When the OY was weak, surface flows became an overturning structure, with outflows in the upper layer and inflows in the lower layer. When the OY was strong and passed close to the Sanriku coast, the circulation became highly variable and intermittent. Intrusions of the markedly low-salinity OY water were observed on two occasions and persisted for periods of several weeks to several months. Salinity was sometimes less than 33.7, the lower limit of the typical TWC from late summer to autumn even when the TWC dominates. We suggested that this is the seasonal fluctuations of the TWC itself, as the upstream current of the Tsushima Warm Current is freshened in summer as a result of the influence of the Changjiang River. The surface water was generally fresher in the south of the bay than in the north, suggesting the Coriolis deflection of the river plume.
This is a preview of subscription content,
to check access.
Access this article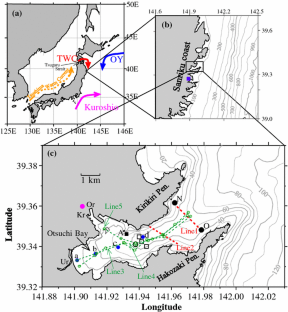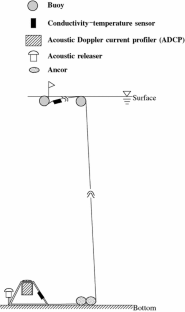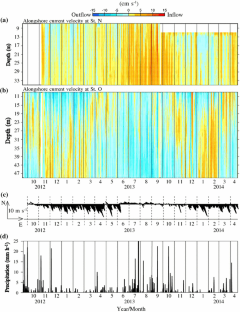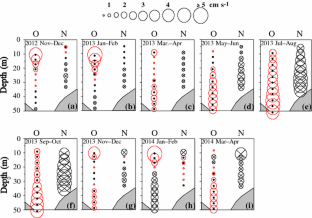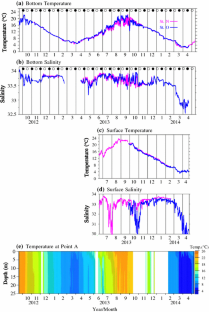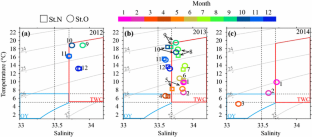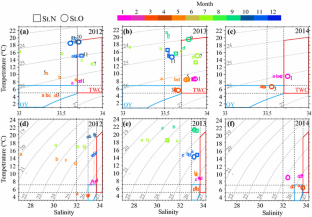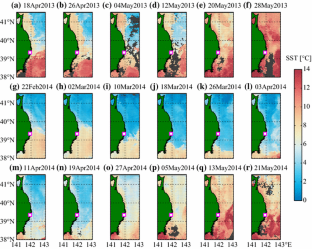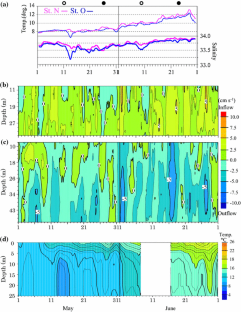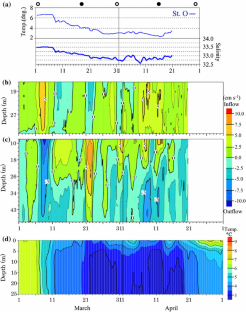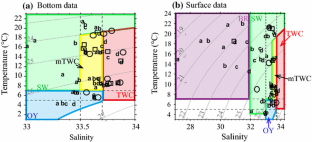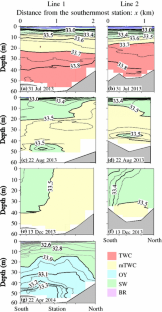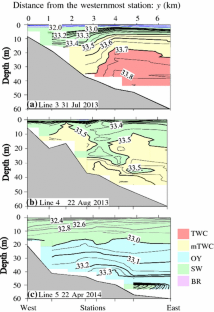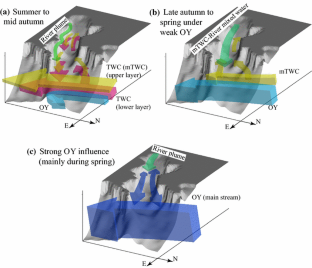 Similar content being viewed by others
References
Anbo A, Otobe H, Takagi M (2005) On the river water discharged in Otsuchi Bay. Rep Int Coast Mar Res Cent 30:4–8 (in Japanese)

Fukuda A, Katayama A, Yagi Y, Takasu H, Nishibe Y, Tsuda A, Nagata T (2016) Nutrient status of Otsuchi Bay (northeastern Japan) following the 2011 off the Pacific coast of Tohoku Earthquake. J Oceaongr. doi:10.1007/s10872-015-0296-2

Gill EA (1982) Atmosphere-ocean dynamics. Academic, San Diego

Hanawa M, Mitsudera F (1987) Variation of water system distribution in the Sanriku coastal area. J Oceanogr Soc Japan 42:435–446

Itoh S, Kaneko H, Ishizu M, Yanagimoto D, Okunishi T, Nishigaki H, Tanaka K (2016) Fine-scale structure and mixing across the front between the Tsugaru Warm and Oyashio Currents in summer along the Sanriku Coast, east of Japan. J Oceanogr. doi:10.1007/s10872-015-0320-6

Kubokawa A (1986) Instability caused by the coalescence of two modes of a one-layer coastal current with a surface front. J Oceanogr Soc Jpn 42:373–380

Kusaka A, Azumaya T, Kawasaki Y (2013) Monthly variations of hydrographic structures and water mass distribution off the Doto area, Japan. J Oceaongr 69(3):295–312

Masunaga E, Fringer O, Yamazaki H (2016) An observational and numerical study of river plume dynamics in Otsuchi Bay, Japan. J Oceanogr. doi:10.1007/s10872-015-0324-2

Nishida Y, Kanomata I, Tanaka I, Sato S, Takahashi S, Matsubara H (2003) Seasonal and interannual variations of the volume transport through the Tsugaru Strait. Oceanogr Jpn 12(5):487–499 (in Japanese)

Oguma S, Suzuki T, Nagata Y (2002) Seasonal variations in the sea off Sanriku coast, Japan. J Oceanogr 58:825–835

Okazaki M (1990) The circulation of Sea water and variation of the properties in some bays of Sanriku Coast, eastern coast of Northern Japan. Bull Coast Oceanogr 32:15–28 (in Japanese)

Okuda K, Mutoh S (1986) Features of the abnormally cold water phenomena in the Tohoku sea area and its cause. Bull Jpn Soc Fish Oceanogr 46:231–238 (in Japanese)

Otobe H, Onishi H, Inada M, Michida Y, Terazaki M (2009) Estimation of water circulation in Otsuchi bay, Japan inferred from ADCP observation. Coast Mar Sci 33(1):78–86

Sakamoto TT, Urakawa SL, Hasumi H, Itoh S, Ishizu M, Tanaka K (2016) Numerical simulation of Pacific water intrusion into Otsuchi Bay, northeast of Japan, using a nested-grid OGCM. J Oceanogr. doi:10.1007/s10872-015-0344-y

Senju T, Ookei N (2012) Hydrographic conditions northwest off the Noto Peninsula in the Japan Sea and its importance to the monitoring of the Tsushima Current. Umi to Sora 87:1–16 (in Japanese with English abstract)

Senju T, Enomoto H, Matsuno T, Matsui S (2006) Interannual salinity variations in the Tsushima Strait and its relation to the Changjiang discharge. J Oceanogr 62:681–692

Shikama N (1980) Current measurements in Otsuchi Bay. Bul Coast Oceanogr 18:1–8 (in Japanese)

Shikama N (1986) Exchange mechanism of water in a ria-type bay along Sanriku coast. Bull Jpn Soc Fish Oceanogr 50:170–174 (in Japanese)

Shikama N (1990)Characteristics in flow field of water Otushi Bay. Mar Rese Cent Rep 16:75 (in Japanese)

Tanaka KK, Komatsu S, Itoh D, Yanagimoto M, Ishizu H, Hasumi TT, Sakamoto S, Urakawa Y Michida (2016) Baroclinic circulation and its high frequency variability in Otsuchi Bay on the Sanriku ria coast, Japan. J Oceanogr. doi:10.1007/s10872-015-0338-9

Tatebe H, Yasuda I (2005) Numerical experiments on the seasonal variations of the Oyashio near the east coast of Japan. J Phys Oceanogr 35:2309–2325

Urakawa LS, Kurogi M, Yoshimura K, Hasumi H (2015) Modeling low salinity waters along the coast around Japan using a high resolution river discharge data set. J Oceanogr 71:715–739

Valle-Levinson A (2010) Contemporary issues in estuarine physics. Cambridge University, New York, p 1–315

Wagawa T, Kuroda H, Ito S-I, Kakehi S, Yamanome T, Tanaka K, Endoh Y, Kaga S (2015) Variability in water properties and predictability of sea surface temperature along Sanriku coast, Japan. Cont Shelf Res 103:12–22. doi:10.1016/j.csr.2015.04.016
Acknowledgments
This research is a contribution to the Tohoku Ecosystem-Associated Marine Science (TEAMS) project, and Regeneration, Conservation and Sustainable Uses of Living Marine Resource Productivity of the Coastal Ecosystem Complex (CEC) program funded by the Ministry of Education, Culture, Sports, Science and Technology in Japan. We also thank the members of the Fisheries Cooperative for Otsuchi Bay and the captain and crews of the R/V Yayoi. The bathymetric data were provided by the Japan Oceanographic Data Center. The offshore CTD observation data were provided by the Iwate Fisheries Technology Center. The data from the ADCP profilers are available at the Research Information and Data Access Site of TEAMS (RIAS; http://www.i-teams.jp/catalog/rias/e/index.html).
About this article
Cite this article
Ishizu, M., Itoh, S., Tanaka, K. et al. Influence of the Oyashio Current and Tsugaru Warm Current on the circulation and water properties of Otsuchi Bay, Japan. J Oceanogr 73, 115–131 (2017). https://doi.org/10.1007/s10872-016-0383-z
Received:

Revised:

Accepted:

Published:

Issue Date:

DOI: https://doi.org/10.1007/s10872-016-0383-z
Keywords