Abstract
Inter-annual variability in the formation and subduction of the lighter variety of the Central Mode Water (L-CMW) in the North Pacific is investigated using Argo profile data from 2003 to 2013. The deep mixed layer (ML) in winter (February–April) with the L-CMW property (potential temperature of 10–16 °C and salinity of 34.2–34.6) shows a zonal shift inter-annually. In winters of 2003–2005 and 2010, deep MLs are more frequently generated in the eastern part of the formation region (30°–40°N, 180°–160°W), which is mainly caused by large oceanic heat loss associated with strengthening of the westerlies. Relatively large parts of the L-CMW that formed in this eastern region survive to subduct into the subsurface layer and, in the following summer, spread widely over the North Pacific subtropical gyre. On the other hand, during the winters of 2006–2009 and 2011–2013, deep MLs were more frequently formed in the western part of the formation region (36°–40°N, 140°–155°E). These were induced by weakening of surface ocean stratification attributable to anti-cyclonic meso-scale eddies pinched off northward from the Kuroshio Extension. In contrast to the L-CMW formed in the eastern part of the formation region, the L-CMW formed in the western part is hardly detected in the subsurface layer during the following summer.
Access options
Buy single article
Instant access to the full article PDF.
USD 39.95
Price excludes VAT (USA)
Tax calculation will be finalised during checkout.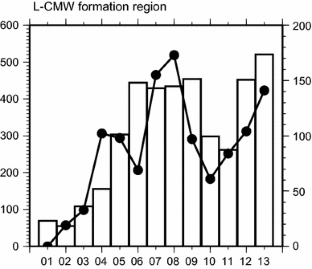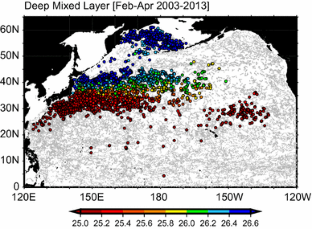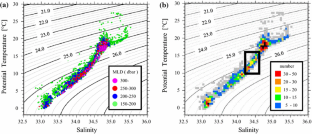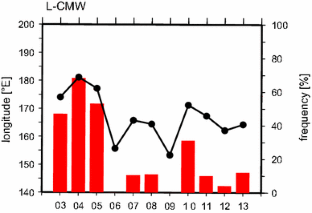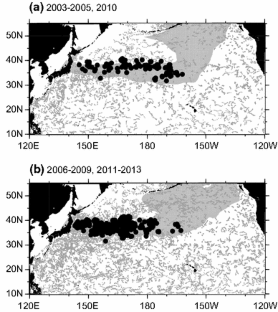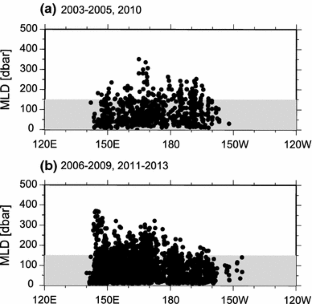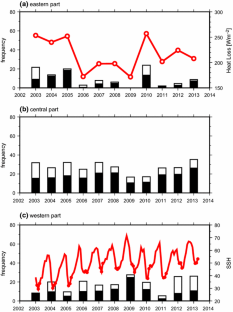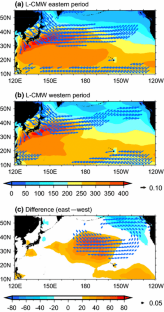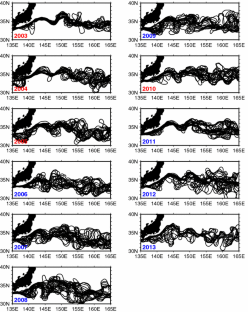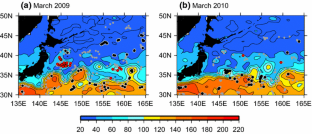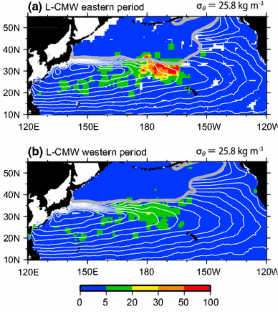 References
Akima H (1970) A new method of interpolation and smooth curve fitting based on local procedures. J Assoc Comput Mach 17:589–602

Aoki Y, Suga T, Hanawa K (2002) Subsurface subtropical fronts of the North Pacific as inherent boundaries in the ventilated thermocline. J Phys Oceanogr 32:2299–2311

Hosoda S, Ohira T, Nakamura T (2008) A monthly mean dataset of global oceanic temperature and salinity derived from Argo float observations. JAMSTEC Rep Res Dev 8:47–59

Kobashi F, Mitsudera H, Xie SP (2006) Three subtropical fronts in the North Pacific: observational evidence for mode water-induced subsurface frontogenesis. J Geophys Res 111:C09033. doi:10.1029/2006JC003479

Kouketsu S, Tomita H, Oka E, Hosoda S, Kobayashi T, Sato K (2012) The role of meso-scale eddies in mixed layer deepening and mode water formation in the western North Pacific. J Oceanogr 68:63–77

Ladd C, Thompson L (2000) Formation mechanisms for North Pacific central and eastern subtropical mode waters. J Phys Oceanogr 30:868–887

Mecking S, Warner MJ (2001) On the subsurface CFC maxima in the subtropical North Pacific thermocline and their relation to mode waters and oxygen maxima. J Geophys Res 106:22179–22198

Nakamura H (1997) A pycnostad on the bottom of the ventilated portion in the central subtropical North Pacific: its distribution and formation. J Oceanogr 52:171–188

Ohno Y, Kobayashi T, Iwasaka N, Suga T (2004) The mixed layer depth in the North Pacific as detected by the Argo floats. Geophys Res Lett 31:L11306. doi:10.1029/2004GL019576

Oka E, Qiu B (2012) Progress of North Pacific mode water research in the past decade. J Oceanogr 68:5–20

Oka E, Suga T (2005) Differential formation and circulation of North Pacific central mode water. J Phys Oceanogr 35:1997–2011

Oka E, Talley LD, Suga T (2007) Temporal variability of winter mixed layer in the mid-to-high-latitude North Pacific. J Oceanogr 63:293–307

Oka E, Kouketsu S, Toyama K, Uehara K, Kobayashi T, Hosoda S, Suga T (2011) Formation and subduction of central mode water based on profiling float data, 2003-08. J Phys Oceanogr 41:113–129

Oka E, Qiu B, Kouketsu S, Uehara K, Suga T (2012) Decadal seesaw of the central and subtropical mode water formation associated with the Kuroshio Extension variability. J Oceanogr 68:355–360

Onogi K, Tsutsui J, Koide H, Sakamoto M, Kobayashi S, Hatsushika H, Matsumoto T, Yamazaki N, Kamahori H, Takahashi K, Kadokura S, Wada K, Kato K, Oyama R, Ose T, Mannoji N, Taira R (2007) The JRA-25 reanalysis. J Meteor Soc Jpn 85:369–432

Qiu B, Chen S (2005) Variability of the Kuroshio Extension jet, recirculation gyre, and mesoscale eddies on decadal time scales. J Phys Oceanogr 35:2090–2103

Qiu B, Chen S (2010) Eddy-mean flow interaction in the decadally-modulating Kuroshio Extension system. Deep Sea Res II 57:1098–1110

Reynolds RW, Smith TM, Liu C, Chelton DB, Casey KS, Schlax MG (2007) Daily high-resolution-blended analyses for sea surface temperature. J Clim 20:5473–5496

Suga T, Takei Y, Hanawa K (1997) Thermostad distribution in the North Pacific subtropical gyre: the central mode water and the subtropical mode water. J Phys Oceanogr 27:140–152

Suga T, Motoki K, Aoki Y, Macdonald AM (2004) The North Pacific climatology of winter mixed layer and mode waters. J Phys Oceanogr 34:3–22

Suga T, Aoki Y, Saito H, Hanawa K (2008) Ventilation of the North Pacific subtropical pycnocline and mode water formation. Prog Oceanogr 77:285–297

Sugimoto S, Hanawa K, Yasuda T, Yamanaka G (2012) Low-frequency variations of Eastern Subtropical Front in the North Pacific in an eddy-resolving ocean general circulation model: roles of central mode water in the formation and maintenance. J Oceanogr 68:521–531

Takahashi T, Sutherland SC, Wanninkhof R, Sweeney C, Feely RA, Chipman DW, Hales B, Friederich G, Chavez F, Sabine C, Watson A, Bakker DCE, Schuster U, Metzl N, Inoue HY, Ishii M, Midorikawa T, Nojiri Y, Kortzinger A, Steinhoff T, Hoppema M, Olafsson J, Arnarson TS, Tilbrook B, Johannessen T, Olsen A, Bellerby R, Wong CS, Delille B, Bates NR, Baar HJW (2009) Climatological mean and decadal change in surface ocean pCO2, and net sea-air CO2 flux over the global oceans. Deep Sea Res II 56:554–577

Toyama K, Iwasaki A, Suga T (2015) Interannual variation of annual subduction rate in the North Pacific estimated from a gridded Argo product. J Phys Oceanogr (in press)

Tsujino H, Yasuda T (2004) Formation and circulation of mode waters of the North Pacific in a high-resolution GCM. J Phys Oceanogr 34:399–415

Weller RA, Plueddemann AJ (1996) Observations of the vertical structure of the oceanic boundary layer. J Geophys Res 101:8789–8806

Yasuda T, Hanawa K (1997) Decadal changes in mode waters in the midlatitude North Pacific. J Phys Oceanogr 27:858–870
Acknowledgments
The authors thank the members of the Physical Oceanography Group at Tohoku University. We also thank Dr. E. Oka for useful suggestions. The comments of two anonymous reviewers were helpful in revising the manuscript. The Argo profile data were made freely available by the International Argo Program and the contributing national programs (http://www.argo.ucsd.edu, http://argo.jcommops.org); the Argo Program is part of the Global Ocean Observing System. This study was financially supported by funds from the Japan Society for the Promotion of Science [Grants-in-Aid for Scientific Research (A) 15H02129 and (B) 25287118]; and from the Ministry of Education, Culture, Sports, Science and Technology [Grants-in-Aid for Scientific Research on Innovative Areas 22106007 ("A 'hot spot' in the climate system: Extra-tropical air-sea interaction under the East Asian monsoon system")].
About this article
Cite this article
Kawakami, Y., Sugimoto, S. & Suga, T. Inter-annual zonal shift of the formation region of the lighter variety of the North Pacific Central Mode Water. J Oceanogr 72, 225–234 (2016). https://doi.org/10.1007/s10872-015-0325-1
Received:

Revised:

Accepted:

Published:

Issue Date:

DOI: https://doi.org/10.1007/s10872-015-0325-1
Keywords