Abstract
We compared meiofaunal assemblages obtained from the landward slope of the Japan Trench off the Sanriku region of Honshu Island before the 2011 off the Pacific coast of Tohoku Earthquake, 4.5 months and 1.5 years after the earthquake. Sediment samples were collected after the earthquake along two transects. Meiofaunal density after the earthquake did not differ from that before the earthquake. However, meiofaunal composition after the earthquake was different from that before the earthquake, and the composition dispersion after the earthquake was lower than that before the earthquake. These results suggested that the turbidity current may have affected meiofaunal composition and reduced its variability. These changes were probably caused by the seismic motion and displacement of the substratum after the earthquake, rather than sediment redeposition induced by the earthquake. To assess the effect of the earthquake more thoroughly, we compared meiofaunal assemblage in the Sanriku region before and after the earthquake with that in the Kuril Trench (comparable productivity to the Sanriku region) and Ryukyu Trench (lower productivity). Differences in meiofaunal composition before and after the earthquake within the Sanriku region were lower than those between the Sanriku and Ryukyu regions. These results suggested that deep-sea meiofaunal assemblages are influenced by large-scale disturbances, but changes are within the range of variation generated by surface productivity levels.
This is a preview of subscription content, log in to check access.
Access options
Buy single article
Instant access to the full article PDF.
US$ 39.95
Price includes VAT for USA
Subscribe to journal
Immediate online access to all issues from 2019. Subscription will auto renew annually.
US$ 99
This is the net price. Taxes to be calculated in checkout.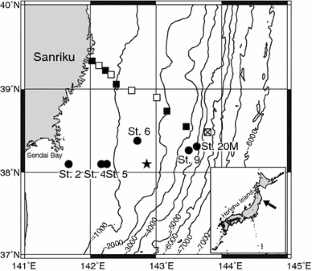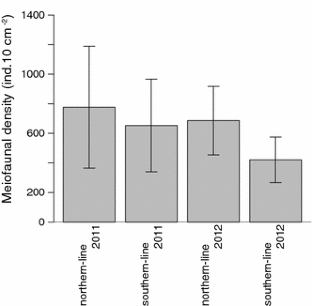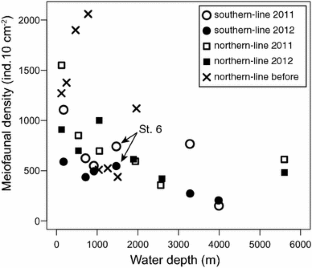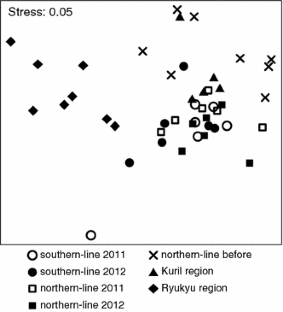 References
Altaff K, Sugumaran J, Naveed MS (2005) Impact of tsunami on meiofauna of Marina beach, Chennai, India. Curr Sci 89(1):34–38

Anderson MJ, Gorley RN, Clarke KR (2008) PERMANOVA+ for PRIMER: guide to software and statistical methods. PRIMER-E, Plymouth

Arai K, Naruse H, Miura R, Kawamura K, Hino R, Ito Y, Inazu D, Yokokawa M, Izumi N, Murayama M, Kasaya T (2013) Tsunami-generated turbidity current of the 2011 Tohoku-Oki Earthquake. Geology 41(11):1195–1198

Asano Y, Saito T, Ito Y, Shiomi K, Hirose H, Matsumoto T, Aoi S, Hori S, Sekiguchi S (2011) Spatial distribution and focal mechanisms of aftershocks of the 2011 off Pacific coast of Tohoku Earthquake. Earth Planets Space 63:669–673

Barnett PRO, Watson J, Connelly D (1984) A multiple corer for taking virtually undisturbed samples from shelf, bathyal and abyssal sediments. Oceanol Acta 7(4):399–408

Clarke KR, Gorley RN (2006) Primer v6: user manual/tutorial. PRIMER-E, Plymouth

Clarke KR, Warwick RM (2001) Change in marine communities: an approach to statistical analysis and interpretation, 2nd edn. Plymouth Marine Laboratory, Plymouth

Danovaro R (2010) Methods for the study of deep-sea sediments, their functioning and biodiversity. CRC Press, New York

Fleeger JW (1979) Population dynamics of three estuarine meiobenthic harpacticoids (Copepoda) from South Carolina. Mar Biol 52:147–156

Fujikura K, Lindsay D, Kitazato H, Nishida S, Shirayama Y (2010) Marine biodiversity in Japanese waters. PLoS ONE 5:e11836

Giere O (2009) Meiobenthology, 2nd edn. Springer, Berlin

Glover A, Paterson G, Bett B, Gage J, Sibuet M, Sheader M, Hawkins L (2001) Patterns in polychaete abundance and diversity from the Madeira Abyssal Plain, northeast Atlantic. Deep-Sea Res I 48(1):217–236

Grzelak K, Kotwicki L, Szczuciński W (2009) Monitoring of sandy beach meiofaunal assemblages and sediments after the 2004 tsunami in Thailand. Pol J Environ Stud 18(1):43–51

Grzelak K, Szczuciński W, Kotwicki L, Sugawara D (2014) Ecological status of sandy beaches after Tsunami events: insights from meiofauna investigations after the 2011 Tohoku-oki Tsunami, Sendai Bay, Japan. In: Kontar Y, Santiago-Fandino V, Takahashi T (eds) Tsunami events and lessons learned. Springer, Holland, pp 177–191

Harris PT (2014) Shelf and deep-sea sedimentary environments and physical benthic disturbance regimes: a review and synthesis. Mar Geol 353:169–184

Heip C, Vincx M, Varnken G (1985) The ecology of marine nematodes. Oceanogr Mar Biol Ann Rev 23:399–489

Ikehara K, Usami K, Jenkins R, Ashi J (2011) Occurrence and lithology of seismo-turbidites by the 2011 off the Pacific coast of Tohoku earthquake. In: Abstracts of IGCP the fifth international symposium on submarine mass movements and their consequences, p. 74

Ikehara K, Ohkushi K, Noda A, Danhara T, Yamashita T (2013) A new local marine reservoir correction for the last deglacial period in the Sanriku region, northwestern North Pacific, based on radiocarbon dates from the Towada-Hachinohe (To-H) tephra. Quat Res 52(4):127–137

Ikehara K, Irino T, Usami K, Jenkins R, Omura A, Ashi J (2014) Possible submarine tsunami deposits on the outer shelf of Sendai Bay, Japan resulting from the 2011 earthquake and tsunami off the Pacific coast of Tohoku. Mar Geol 349:91–98

Itoh M, Kawamura K, Kitahashi T, Kojima S, Katagiri H, Shimanaga M (2011) Bathymetric patterns of meiofaunal abundance and biomass associated with the Kuril and Ryukyu trenches, western North Pacific Ocean. Deep-Sea Res I 58(1):86–97

Jackson JA (1997) Glossary of geology, 4th edn. American Geological Institute, Virginia

Kitahashi T, Jenkins RG, Nomaki H, Shimanaga M, Fujikura K, Kojima S (2014) Effect of the 2011 Tohoku Earthquake on deep-sea meiofaunal assemblages inhabiting the landward slope of the Japan Trench. Mar Geol 358:128–137

Kotwicki L, Szczuciński W (2006) Meiofaunal assemblages and sediment characteristics of sandy beaches on the west coast of Thailand after the 2004 tsunami event. Res Bull Phuket Mar Biol Cent 67:39–47

Lambshead PJD, Tietjen J, Glover A, Ferrero T, Thistle D, Gooday AJ (2001) Impact of large-scale natural physical disturbance on the diversity of deep-sea North Atlantic nematodes. Mar Ecol Prog Ser 214:121–126

Levin LA, Etter RJ, Rex MA, Gooday AJ, Smith CR, Pineda J, Stuart CT, Hessler RR, Pawson D, Hessler R (2001) Environmental influences on regional deep-sea species diversity. Annu Rev Ecol Syst 32:51–93

Morikawa N, Fujiwara H (2013) A new ground motion prediction equation for Japan applicable up to M9 mega-earthquake. J Disaster Res 8:878–888

Noguchi T, Tanikawa W, Hirose T, Lin W, Kawagucci S, Yoshida-Takashima Y, Honda MC, Takai K, Kitazato H, Okamura K (2012) Dynamic process of turbidity generation triggered by the 2011 Tohoku-Oki earthquake. Geochem Geophys Geosyt 13:1–7

Nomaki H, Mochizuki T, Kitahashi T, Nunoura N, Arai K, Toyofuku T, Tanaka G, Shigeno S, Tasumi E, Fujikura K, Watanabe S (2015) Effects of mass sedimentation events after the 2011 off the Pacific coast of Tohoku Earthquake on benthic prokaryotes and meiofauna inhabiting the upper bathyal sediments. J Oceanogr. doi:10.1007/s10872-015-0293

R Development Core Team (2008) R: a language and environment for statistical computing. R Foundation for Statistical Computing, Vienna, Austria. http://www.R-project.org

Rex MA, Etter RJ, Morris JS, Crouse J, McClain CR, Johnson NA, Stuart CT, Deming JW, Thies R, Avery R (2006) Global bathymetric patterns of standing stock and body size in the deep-sea benthos. Mar Ecol Progr Ser 317:1–8

Richardson MD, Young DK (1987) Abyssal benthos of the Venezuela Basin, Caribbean Sea: standing stock considerations. Deep-Sea Res 34(2):145–164

Satake K, Fujii Y, Harada T, Namegaya Y (2013) Time and space distribution of coseismic slip of the 2011 Tohoku earthquake as inferred from Tsunami waveform data. Bull Seismol Soc Am 103:1473–1492

Shirayama Y, Kojima S (1994) Abundance of deep-sea meiobenthos off Sanriku, Northeastern Japan. J Oceanogr 50:109–117

Utsu T (1999) Seismicity studies: a comprehensive review. University of Tokyo Press, Tokyo (in Japanese)

Weaver PPE, Rothwell RG (1987) Sedimentation of the Madeira Abyssal Plain over the last 300 000 years. In: Weaver PPE, Thomson J (eds) Geology and geochemistry of abyssal plains. Blackwell Scientific Publications, Oxford, pp 71–86

Wei C-L, Rowe GT, Escobar-Briones E, Boetius A, Soltwedel T, Caley MJ, Soliman Y, Huettmann F, Qu F, Yu Z, Pitcher CR, Haedrich RL, Wicksten MK, Rex MA, Baguley JG, Sharma J, Danovaro R, MacDonald IR, Nunnally CC, Deming JW, Montagna P, Lévesque M, Weslawski JM, Wlodarska-Kowalczuk M, Ingole BS, Bett BJ, Billett DSM, Yool A, Bluhm BA, Iken K, Narayanaswamy BE (2010) Global patterns and predictions of seafloor biomass using random forests. PLoS ONE 5:e15323

Wessel P, Smith WHF (1995) New version of the generic mapping tools released. EOS Trans AGU 76:329

Young DK, Richardson MD, Briggs KB (2001) Turbidites and benthic faunal succession in the deep sea: an ecological paradox. In: Aller JY, Woodin SA, Aller RC (eds) Organism-sediment Interactions. University of South Carolina Press, Columbia, pp 101–117
Acknowledgments
The authors are grateful to the officers and crew of the R.V. Tansei Maru and to the supporting staff from the Atmosphere and Ocean Research Institute (AORI), the University of Tokyo and the Japan Agency for Marine-Earth Science and Technology (JAMSTEC). We also thank Dr. Hidetaka Nomaki (JAMSTEC) for his valuable suggestions. Generic Mapping Tools (GMT, Wessel and Smith 1995) was used in this study. We would like to thank the three anonymous reviewers who provided valuable comments on an earlier draft of the manuscript. This research was partly supported by Tohoku Ecosystem-Associated Marine Sciences (TEAMS) from Ministry of Education, Culture, Sports, Science and Technology (MEXT).
About this article
Cite this article
Kitahashi, T., Watanabe, H., Ikehara, K. et al. Deep-sea meiofauna off the Pacific coast of Tohoku and other trench slopes around Japan: a comparative study before and after the 2011 off the Pacific coast of Tohoku Earthquake. J Oceanogr 72, 129–139 (2016). https://doi.org/10.1007/s10872-015-0323-3
Received:

Revised:

Accepted:

Published:

Issue Date:
Keywords
Meiofauna

Meiofaunal composition

Earthquake

Disturbance

Turbidity current

Trench slope